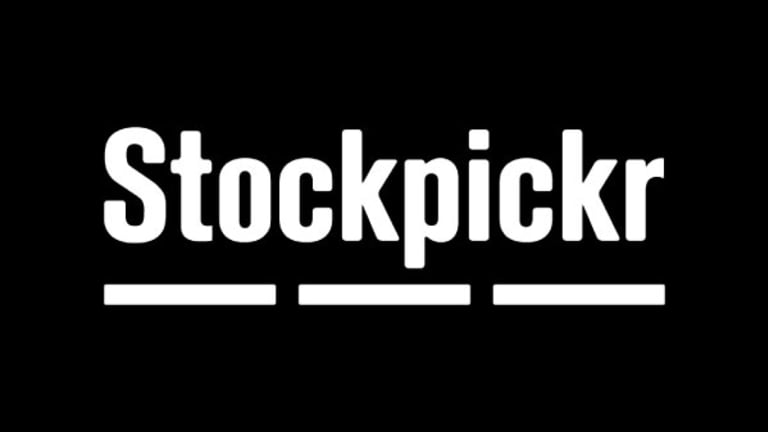 5 Rocket Stocks to Buy This Week
These stocks have both short-term gain catalysts and longer-term growth potential.
BALTIMORE (Stockpickr) -- Stocks are moving lower this morning, completely eclipsing the nearly flat stock performance we saw last week. In the past five trading days, the S&P 500 moved higher by a total of 0.07% -- that's about as flat as a major index gets.
Much of that performance is thanks to investors getting pulled in a myriad of directions; positive earnings are being offset by less-than-positive economic data. And at the same time, distractions (such as the GOP race that's heating up here at home) are pulling more eyes away from stocks as we head into February. But even though stocks are sliding sideways as a group, individual names are making an impact on investment performance in 2012.
>>5 Stocks Under $10 Set to Trigger Big Moves
That's why we're turning to a new set of Rocket Stocks to buy this week.
For the uninitiated, "Rocket Stocks" are our list of companies with short-term gain catalysts and longer-term growth potential. To find them, I run a weekly quantitative screen that seeks out stocks with a combination of analyst upgrades and positive earnings surprises to identify rising analyst expectations, a bullish signal for stocks in any market. After all, where analysts' expectations are increasing, institutional cash often follows.
In the last 137 weeks, our weekly list of five plays has outperformed the S&P 500 by 83%. With that, here's a look at
.
Cisco
So far, 2012 is turning out to be a stellar year for shareholders of
Cisco Systems
(CSCO) - Get Report
. In just the first month of this year, the $105 billion IP networking firm has seen its shares rally by more than 8%. With fundamental factors lining up in Cisco's favor, it looks like investors should be expecting more of the same for the rest of the year.
Cisco is the world's biggest data networking equipment and software provider. From routers to switches to web conferencing platforms, Cisco's goal is to connect people and devices. That hasn't always been such a simple task -- Cisco embraced the consumer electronics segment with both arms in the last few years, a move that panned out much worse than planned amid anemic consumer spending.
While Cisco ratcheted down some of its consumer businesses in the last year or two, the public about-face didn't instill confidence in the firm's management team.
Ultimately, though, Cisco's dominance of the enterprise networking business is the critical factor in the firm's success. Cisco is the league leader in a capital-intense business that's due for significant new infrastructure investments. Those tailwinds (along with deep margins and an attractive balance sheet) mean that the company should be able to deliver enviable performance in 2012.
Investors should keep an eye out for the firm's second quarter earnings call next week.
Cisco, one of the
top-yielding computer hardware stocks
, shows up on lists of
16 Stocks Picked by Prize-Winning Fund Managers
and
.
Home Depot
Home improvement retailer
Home Depot
(HD) - Get Report
hasn't been a stranger to our Rocket Stocks list in the past, and for good reason: shares of the $70 billion company have rallied more than 22.7% in the last year, not even counting the 2.59% dividend yield that shares are currently paying out. (Home Depot is one of the
highest-yielding retail stocks
.)
With home improvement spending trending higher again, this stock is primed for a repeat performance.
With around $68 billion in sales last year and more than 2,246 stores in four countries, Home Depot rings in as the largest name in home improvement retail, out-hefting top rival
Lowe's
(LOW) - Get Report
by a substantial margin. But size hasn't always been a benefit in this business, and Home Depot knows it. The firm entered the recession dragged down by an overzealous expansion strategy and an inefficient distribution network. In the last few years, Home Depot has taken steps to correct both of those critical issues.
As a result, net margins have expanded to more than 5.4% in the most recent quarter, a solid level of profitability for the retail sector. While the firm does retail a hefty debt load, it's a reasonable level for the rest of the industry. More significantly, Home Depot's massive cash flow generation abilities should keep the firm's dividend protected in 2012.
Income investors looking for retail exposure would do well to pay attention to HD.
Monsanto
Monsanto
(MON)
is one of the world's largest agrichemical companies, with $11.8 billion in annual sales. That's attractive positioning right now. Because Monsanto's business is invariably tied to soft commodities, inflation in agricultural markets means that Monsanto's core customers are better able to afford its next-generation products.
That's not to say that the company doesn't have some headwinds.
Monsanto is a controversial company. Thanks to some innovative legal wrangling, Monsanto is able to produce proprietary seed products -- it literally owns the genetic code behind its seeds. As a result, it's able to take legal action against farmers who re-use seeds they're not licensed to use.
While that's been a good financial move, it's not quite as good as a business move because it's helped to foster an adversarial relationship between MON and its core customers. That relationship will need to get improved if Monsanto wants to perform at a higher level; it's hard to be successful when your customers resent you.
Meanwhile, the firm's innovation on the research and development front continues to generate revenues. Monsanto's crop products are engineered to resist pests and increase yields, factors that will keep commercial farmers buying seeds for the foreseeable future. The firm's net cash balance sheet position is an attractive factor right now, especially given rising agricultural prices.
With analyst sentiment on the upswing, we're betting on shares this week.
Monsanto, one of
Lone Pine Capital's top holdings
as of the most recently reported quarter, shows up on a list of
7 Fertilizer Stocks Hedge Funds Love
.
Deere
Let's move onto another agriculture name,
Deere
(DE) - Get Report
. A manufacturer of everything from agricultural to construction equipment, Deere is probably one of the best-known heavy equipment manufacturers, boasting an iconic brand and a notable economic moat. So far, Deere has rallied more than 13% in 2012.
Deere celebrated its 175th birthday this past month, an operating history that's helped to entrench the firm's massive dealer network and carve out a 50% market share for North American heavy machinery. That share is dramatically less in emerging market economies, where farmers are slowly turning to western farming techniques and buying up tractors and combines en masse. Construction and ag sales in markets like China, India, and Brazil should continue to hold the biggest growth potential for the firm over the next several years.
While the firm's finance arm was seen by some as a liability during the financial crisis, strict underwriting standards and the mission-critical nature of Deere's offerings meant that defaults were far less than analysts anticipated. The fact that Deere can continue to provide in-house financing remains one of its most powerful sales tools in this environment.
Investors should keep an eye out for earnings on Feb. 15.
Deere was also featured recently in "
7 Stocks Set to Rise Above $100 in 2012
."
BB&T
Any way you slice it,
BB&T
(BBT) - Get Report
is a best-in-breed banking stock right now. BB&T operates around 1,800 branches spread throughout the Southeast, spanning Washington D.C. to Florida. While that operating area was affected by the bursting of the real estate bubble, strict underwriting meant that BB&T didn't get shellacked like larger banks when defaults started flowing in.
BB&T also stuck with its core retail and commercial banking business, another move that helped to distance this firm's performance from that of its larger peers. Instead, while less stable banks folded under FDIC receivership, BB&T was in a financial position to start acquiring their deposits and expand its reach. Today, this regional banking name retains that types of net margins that made it so attractive to begin with -- in the latest quarter, those margins weighed in at 16.9%.
That profitability is flowing through directly to shareholders right now. A 2.37% dividend yield makes BB&T one of the best ways for income investors to get exposure to the financial sector right now. We're betting on shares this week.
BB&T shows up on a list of
10 Regional Bank Stocks to Watch in 2012
.
To see all of this week's Rocket Stocks in action, check out
at Stockpickr.
-- Written by Jonas Elmerraji in Baltimore.
RELATED LINKS:
>>7 Dividend Stocks Handing Out More Cash in 2012
>>5 High-PEG Stocks to Stay Away From
>>5 Big Stocks to Trade for Gains
Follow Stockpickr on
and become a fan on
Facebook.
At the time of publication, author had no positions in stocks mentioned.
Jonas Elmerraji is the editor and portfolio manager of the Rhino Stock Report, a free investment advisory that returned 15% in 2008. He is a contributor to numerous financial outlets, including Forbes and Investopedia, and has been featured in Investor's Business Daily, in Consumer's Digest and on MSNBC.com.