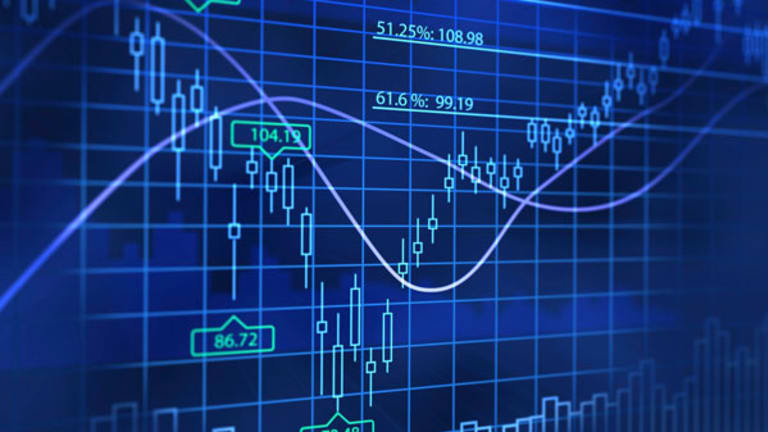 5 Rocket Stocks to Buy This Week
Apple, Cisco and Home Depot are on the list of stocks with short-term gain catalysts and longer-term growth potential.
BALTIMORE (Stockpickr) -- Last week was certainly a big one for the bulls -- all told the S&P 500 closed 4.74% higher on the week, a massive gain for just five trading days.
Mr. Market put up those impressive numbers in spite of serious levels of investor anxiety, mixed economic numbers and a hurricane bearing down the Eastern seaboard of the United States. One of the biggest boosters for stocks appears to have been Fed Chairman Ben Bernanke's much awaited Jackson Hole speech on Friday. The speech preceded a sentiment swing toward bullishness to end the week - and it's left us pointed higher this morning.
As well as stocks fared last week, we were able to do a lot better . . .
Last week's Rocket Stocks plays
generated returns of 5.71%, besting the broad market by nearly a full percentage point. This week, we'll aim to hit anther home run with five more Rocket Stocks worth buying.
Related:
5 Stocks That Could Explode on Earnings
For the uninitiated, Rocket Stocks are our list of companies with short-term gain catalysts and longer-term growth potential. To find them, I run a quantitative screen that seeks out stocks with a combination of analyst upgrades and positive earnings surprises to identify rising analyst expectations, a bullish signal for stocks in any market.
It's a strategy that's been working out pretty well. In the last 118 weeks, Rocket Stocks have outperformed the S&P 500 by 85.3%. With that, here's a look at
.
Apple
Apple
(AAPL)
has been a tech-sector darling for the last several years - and for good reason. This $355 billion computer, mobile device, and media firm has rocketed from near-bankruptcy in the late 1990s to become the most valuable publicly traded firm in the world earlier this month (it's traded that spot with
Exxon Mobil
(XOM)
a couple of times). Apple's share performance is especially impressive right now considering the fact that it's backed up by fundamentals -- right now, this company sports a P/E ratio of just 15.18 and around $76 billion in cash (no debt).
Shockingly, that means that Apple's another of the stocks that's seeing a dramatic discount right now.
One of the biggest catalysts for this stock's dominance is iOS. The mobile device platform fuels the wildly popular iPhone and iPad -- and helped to dramatically increase content revenue from Apple's iTunes and App stores. Mac sales have been consistently improving (largely as a result of their boosted profile) and new developments on the software front continue to drive hardware sales for Apple's high-margin, big-ticket products.
Last week's news that founder Steve Jobs is stepping down from his role of CEO (taking on a less demanding chairman role instead) was a shock for Wall Street; after all, Jobs' leadership has been visionary for the firm. Even so, shares are holding up quite well considering the news, and the fact that Jobs will continue to have a voice at the firm makes the transition easier for investors to stomach. This stock looks pretty cheap right now.
Cisco Systems
Another tech name in the spotlight lately is IP networking firm
Cisco Systems
(CSCO)
. Unfortunately for shareholders of this stock, Cisco's high profile has largely been driven by its fall from grace. Shares of the company are down nearly 25% on the year amid stiff networking competition and a couple of public relations fiascos. Still, it looks like a shift in analyst sentiment is taking place in shares of this stock.
Cisco is the world's leading supplier of routers, switches, and network management equipment for both consumers and enterprise users. That scale gives Cisco a sizable advantage in the highly competitive IT business -- a field that Cisco's able to pour considerable resources into to remain in the top spot. Management has added quite a bit of attention to the company's consumer business, acquiring names like Flip and Linksys to instantly carve out a profitable niche from the retail business.
While the push toward consumer products offers an attractive path toward growth, it's going to be important that Cisco not eschew its core competency (enterprise IT) to get there. That said, chances are that sellers have overcompensated in this stock's selloff. As analysts start getting bullish on Cisco once again, we're betting on shares.
Home Depot
Since starting its restructuring plan at the height of the financial crisis,
Home Depot
(HD)
has been the big box retailer to watch. The firm is the largest home improvement retailer in the world, with sales that are substantially larger than top-competitor
Lowe's
(LOW). During the housing boom years, those revenues were built on an unstable foundation that resulted in excessive retail space and a balance sheet that was vulnerable to recessionary headwinds. The company looks considerably different now.
Home Depot has been working on efficiency in the last few years, working to build out its margins and shore up its coffers as uncertainty continues to factor into stock valuations. While the floor falling out of the housing market was a major concern for home improvement retailers, the numbers show that consumers are still spending cash on home improvement purchases even if they're not buying property in this market. That pushes the biggest bear case for Home Depot and its peers right out the window.
As Home Depot pushes its geographic footprint abroad -- particularly to Mexico and China, where the chain sports a combined 67 store locations -- the firm should be able to continue on its corrected trajectory.
BlackRock
Institutional asset manager
BlackRock
(BLK)
has more than $3.6 trillion of assets under management, a metric that makes the firm the largest money manager on Earth. While shares of BlackRock's own stock have struggled to get traction in 2011, consistent revenue generation and a hefty dividend make this stock worth looking at this week.
BlackRock used to be primarily an institutional fixed-income firm, something that changed during the financial crisis when the firm acquired Barclays Global Investors in 2009. Barclays brought considerable equity management experience -- and equity assets to BlackRock's business, making the asset class the biggest source of AUM for the combined firm. The fact that BlackRock has truly unique expertise in multiple asset classes is a major benefit for the company -- it means that clients are stickier, and more likely to switch funds or strategies rather than switch managers when times get tough.
Adding to that consumer stickiness is the fact that more than two-thirds of BlackRock's clients are institutional. Because institutional clients are more likely to understand the realities of the market, they're considerably less likely to jump ship merely because stocks are under pressure. As analyst sentiment rises in BLK, we're betting on shares.
Simon Property Group
On the other hand, 2011 has already been a good year for shareholders of shopping mall REIT
Simon Property Group
(SPG)
. In spite of a nearly 7% selloff in the broad market as of Friday's close, SPG has actually managed to turn out returns of almost 16% not counting the firm's 2.78% dividend yield.
Simon Property Group has been under some pressure in recent years, shoved lower thanks to extreme exposure to the double threat of lower consumer discretionary spending and shellacked commercial real estate values. But the strength of the retail REIT model proved itself as consistent triple-net leases continued to drive regular revenues (and distributions) in SPG.
SPG's exposure to worldwide retail space is an attractive attribute for investors - because the company's properties are well diversified and desirable to tenants, Simon Property Group should continue to yield strong performance in spite of sentiment swings. That said, investors take note: It looks like analyst sentiment is swinging in the bulls' favor this week.
To see this week's sentiment plays in action, check out
at Stockpickr.
RELATED LINKS:
>>5 Stocks With Strong Fundamentals, Momentum
>>5 Breakout Trades on the Radar
Follow Stockpickr on
and become a fan on
Facebook.
-- Written by Jonas Elmerraji in Baltimore.
At the time of publication, author had no positions in stocks mentioned.
Jonas Elmerraji, based out of Baltimore, is the editor and portfolio manager of the Rhino Stock Report, a free investment advisory that returned 15% in 2008. He is a contributor to numerous financial outlets, including
Forbes
and
Investopedia
, and has been featured in
Investor's Business Daily
, in
Consumer's Digest
and on
MSNBC.com.