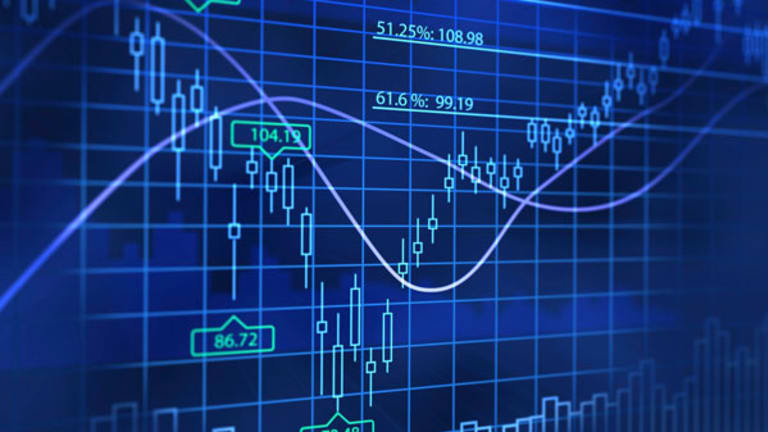 5 Rocket Stocks to Buy on a Bounce
These stocks have both short-term catalysts and longer-term growth potential.
BALTIMORE (Stockpickr) -- Stocks are struggling to hold early morning gains in Monday's trading session, an about-face from the nearly 2% rally that futures made before the 9:30 a.m. opening bell rang this morning. That's not a good sign for investors this week.
The S&P 500 shed a staggering 6.54% last week, the biggest single-week loss for the broad market since October 2008. In turn, that selling pushed 2011's year-to-date returns down to -9.64% on the year. At this point, it looks like today's attempted rally is more of a correction from last week's oversold conditions than any sort of optimism-induced buying.
Of course, this market doesn't have to be a losing battle. Once again this week, we're turning to the Rocket Stocks for pockets of strength in this market.
Related:
5 Stocks Setting Up to Break Out
For the uninitiated, Rocket Stocks are our list of companies with short-term gain catalysts and longer-term growth potential. To find them, I run a weekly quantitative screen that seeks out stocks with a combination of analyst upgrades and positive earnings surprises to identify rising analyst expectations, a bullish signal for stocks in any market. After all, where analysts' expectations are increasing, institutional cash often follows.
It's a strategy that's been working out pretty well. In the last 122 weeks, Rocket Stocks have outperformed the S&P 500 by 87.1%. With that, here's a look at
.
eBay
eBay
(EBAY) - Get Free Report
is one of the few big tech names that hasn't made many appearances on our Rocket Stocks list; the stock finally met the criteria this week. eBay is the world's leading online trading Web site, helping consumers and businesses sell more than $62 million in merchandise last year. The firm also owns complementary businesses, such as payment network PayPal and niche auction site Half.com.
eBay is one of the biggest success stories that actually survived (and thrived) after the tech bubble burst. The site's popularity is one of the biggest economic moats out there; by being first to market with the online auction model, the firm was able to attract enough users to ensure that rival sites couldn't build strong enough communities to compete. That's changed somewhat with the advent of social media networks such as Facebook, which have been able to attract users for their social features and then provide a marketplace that competes with eBay's. To combat that, eBay has slowly been shifting its focus to PayPal, a unit that currently contributes approximately 40% of the consolidated firm's revenue.
PayPal's moat is much like eBay's. Customers will use PayPal if merchants accept it, and merchants will accept PayPal if consumers use it. By leveraging the firm's already-popular auction site to build its PayPal user base, eBay was able to create one of the biggest closed-loop payment networks in the world. Customer service is one area where PayPal will need to improve to keep business -- especially as alternatives from
Google
(GOOG) - Get Free Report
and
Amazon.com
(AMZN) - Get Free Report
attempt to lure PayPal's base away.
We're betting on shares to start the week.
eBay is one of the
top holdings of Steven Cohen's SAC Capital
as well as
John Griffin's Blue Ridge Capital
.
Bed Bath & Beyond
In spite of the selling in 2011, furnishings retailer
Bed Bath & Beyond
(BBBY) - Get Free Report
has been having a good year thus far. Shares of the $14.2 billion firm have rallied 17.5% so far this year -- a significant bit of outperformance over the S&P 500. Unlike eBay, this name
has
been a frequent Rocket Stock play in the last several months. That's for good reason; while most investors have eschewed consumer discretionary spending plays like Bed Bath & Beyond, this best-in-breed retailer has turned out some excellent performance this year.
Besides its namesake Bed Bath & Beyond stores, the firm also owns niche retail brands such as Christmas Tree Shops and buybuy BABY. In spite of softness in the sector, BBBY and its mix of store brands has managed to eke out growth by offering more interesting merchandise and expanding its product mix to include less discretionary items. The firm's store expansion strategy is enviable -- Bed Bath & Beyond built out its geographic footprint using earnings rather than debt. That's left a firm with fewer obligations and better positioned financially to withstand any recessionary headwinds that may come its way.
Last week, the firm beat estimates with its third-quarter earnings call, a major factor that helped Bed Bath & Beyond skirt the selling that pushed most stocks lower last week. That
is likely to carry over into this week.
Bed Bath & Beyond, one of the
top holdings at Steve Mandel's Lone Pine Capital
, was highlighted last week in "
5 Stocks for Opportunistic Earnings Traders
."
Adobe Systems
Software maker
Adobe Systems
(ADBE) - Get Free Report
is the leader in making top-shelf software for creative professionals. With a product vault that includes standard-bearer names such as Photoshop, Illustrator and Flash, the firm's tools are the de facto standard for creating content.
Adobe has spent a lot of time and money on building out its consumer products (such as Flash and Acrobat) -- but that may be a mistake. The firm's stranglehold on professional software provides a mix of customer stickiness and deep margins that few other software firms can replicate. Continual developments in its products also create a solid recurring revenue stream from users who opt to upgrade their Creative Suite software to the latest and greatest version.
More recently, Adobe has found considerable success in marketing other noncreative web software, such as Omniture, the Web analytics platform that Adobe acquired for $1.8 billion in 2009. That niche -- and Adobe's entrance into the software-as-a-service category for its creative tools -- should be the real catalysts for growth in the near-term. As long as Adobe can avoid pouring too many resources into its consumer products, margins should remain in the deep double-digits.
Recnetly Adobe was featured in "
5 Stocks Set to Soar on Bullish Earnings
."
U.S. Bancorp
U.S. Bancorp
(USB) - Get Free Report
, one of TheStreet Ratings'
top-rated diversified financial services stocks
, was the banking model to follow during the recession. This bank managed risks well, maintained a large deposit base and built up a large fee-based business; consequently, USB managed to maintain its profitability throughout the recession -- all while snubbing the TARP funds that were forced on the firm back in early 2009.
Because the lion's share of U.S. Bancorp's revenues have remained in the consumer and commercial banking business, the firm's risks are better aligned with investors' long-term interests than most of its larger peers. While the firm got punished with lower returns during the housing bubble, it was the central factor in USB's post-recession success. Fees from wealth management and payment processing make up approximately a quarter of revenues, an attractive, recession-resistant business that's based on customer stickiness rather than balance sheet leverage.
Not surprisingly, U.S. Bancorp sports net margins that are more characteristic of a regional bank than a $45 billion financial services firm. Approximately 25% of the firm's revenues flowed down to the bottom line in the most recent quarter. A 2.15% dividend yield makes U.S. Bancorp's stock all the more attractive right now.
U.S. Bancorp, one of
, shows up on a list of
10 Financial Stocks Hedge Funds Are Buying
for the most recent quarter.
CSX
Railroad giant
CSX
(CSX) - Get Free Report
, one of TheStreet Ratings'
, owns 21,000 miles of track in the eastern U.S. Location is everything for a railroad, and CSX's positioning means that the firm has exposure to one of the most populated rail corridors in the country -- one that also happens to be home to the production sites for the majority of the firm's freight customers.
CSX generates approximately half of its revenue from coal and chemical shipments, two products that have seen decreasing sensitivity to shipping prices as a result of rising commodity prices. The consistency of those two businesses, coupled with substantially better efficiency for CSX, has meant that the firm is operating at a higher level than ever in spite of the economic challenges that have plagued the rest of the transportation sector.
Falling oil prices are probably the biggest challenge for CSX Corporation right now. Essentially, the biggest competitive advantage rail transport enjoys occurs when oil prices are high and the convenience of truck freight becomes too expensive. While knocked-down oil prices will keep some customers shipping over roads, CSX's improved operations and strong revenues should help investors hold out until oil swings higher again. We're betting on shares this week as analyst sentiment pushes higher for shares of this railroad operator.
To see this week's sentiment plays in action, check out
at Stockpickr.
-- Written by Jonas Elmerraji in Baltimore.
RELATED LINKS:
>>2 Pair Trades to Protect Your Portfolio
>>8 Dividend STocks Increasing Payouts
>>5 Downgraded Stocks That Should Be Buys
Follow Stockpickr on
and become a fan on
Facebook.
At the time of publication, author had no positions in stocks mentioned.
Jonas Elmerraji is the editor and portfolio manager of the Rhino Stock Report, a free investment advisory that returned 15% in 2008. He is a contributor to numerous financial outlets, including Forbes and Investopedia, and has been featured in Investor's Business Daily, in Consumer's Digest and on MSNBC.com.