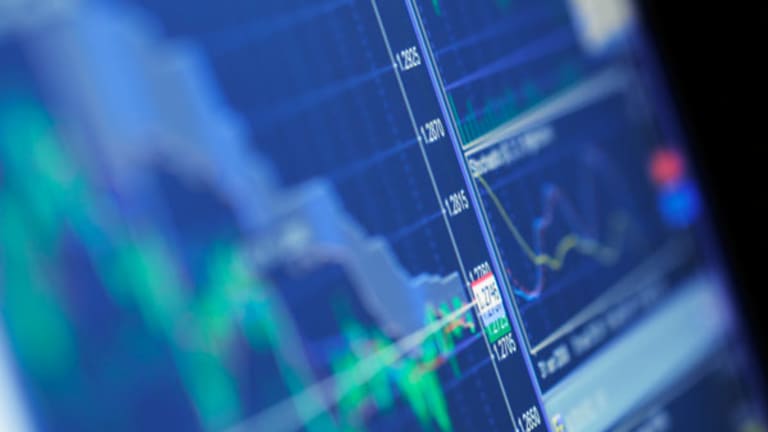 5 Rocket Stocks to Buy Into September
These stocks have both short-term gain catalysts and longer-term growth potential.
BALTIMORE (Stockpickr) -- As Monday's trading kicks off this morning, investors should be expecting a fairly muted week for Mr. Market. We've been on the receiving end of "investor overload" for the last several months, so a quiet week isn't necessarily a bad thing -- especially since the market is still in "correction mode" this week.
If there's a single word that best describes the rally we've been in since the start of June, it's "orderly." Stocks have bounced upward in a well-defined channel for those last three months, giving investors and traders a predictable range that the
is likely to stay stuck in.
Now the S&P is cooling off a bit from the top of the channel, but not for long.
>>5 Stocks Poised for Breakouts
The S&P is nearly halfway back down to support today, a signal that buying is likely to pick up again soon if this channel stays in force. And with August drawing to a close this week, that's potentially a very good thing. Historically, the fall months are significantly stronger for equity investors than the summer is, so we'll have the extra oomph of seasonality helping to push stock prices higher in September and beyond.
That's reason enough to start looking at a new set of Rocket Stocks worth buying this week.
For the uninitiated, "Rocket Stocks" are our list of companies with short-term gain catalysts and longer-term growth potential. To find them, I run a weekly quantitative screen that seeks out stocks with a combination of analyst upgrades and positive earnings surprises to identify rising analyst expectations, a bullish signal for stocks in any market. After all, where analysts' expectations are increasing, institutional cash often follows.
>>5 Stocks Under $10 Set to Soar
In the last 165weeks, our weekly list of five plays has outperformed the S&P 500 by 77.73%.
Without further ado, here's a look at
.  
eBay
First up is online auction house
eBay
undefined
. eBay's namesake auction platform owns around 15% of all the world's e-commerce volume, an impressive feat considering the more hands-on nature of buying or selling on eBay versus a more traditional online retailer. There's considerable value in the ability to pair buyers and sellers -- and eBay has built itself a seemingly impenetrable moat for providing that service.
But auctions aren't eBay's biggest focus anymore. That's because the firm makes up nearly half of its sales through its online payment arm, PayPal. At first, PayPal was little more than a way for eBay to keep auction payments in-house. Today, though, the firm is working hard to make PayPal a relevant offline payment method that's used at brick-and-mortar retailers too. Already, the firm has made some major inroads, with a new deal with
Discover Financial Services
(DFS) that will dramatically increase the usability of PayPal's digital wallet product.
>>5 Consumer Stocks Hedge Funds Love
All of that said, PayPal has earned a reputation for being difficult to deal with and locking up customer or merchant funds for months at a time. If the firm wants to keep growing PayPal (and taking home big fees for its trouble), then it'll need to resolve those customer service issues to be more in line with other payment networks.
In the meantime, the growth trajectory of both the auction businesses, and PayPal is indisputably upward.
Bed Bath & Beyond
In retail, it doesn't get much better than
Bed Bath & Beyond
(BBBY)
. The firm is one of the most popular home-furnishing retailers in the country, boasting almost 1,000 of its eponymous stores spread across North America. The firm also owns the much smaller Christmas Tree Shops, Harmon Face Value, and buybuy Baby store brands, three marquees that provide potential growth stories in the next few years.
I love Bed Bath & Beyond. It's not because the store is my go-to destination for towels and Tervis Tumblers. Instead, I love the stock because the company has managed to grow at breakneck pace without taking on
any
debt (new stores and acquisitions are paid for with cash), and without falling into the trap of building out its footprint too fast. While the firm certainly isn't "cheap" right now, it's far from expensive from a valuation standpoint.
Bed Bath & Beyond was in the worst possible industry going into the Great Recession, but the firm still managed to thrive thanks to intelligent merchandising and a customer base that was looking for a less expensive type of home improvements. As investor anxiety continues to be a defining attribute of 2012's stock market, investors would do well to remember that.
With rising analyst sentiment in BBBY, we're betting on shares.
Ralph Lauren
Despite some ups and downs, 2012 has been a good year for
Ralph Lauren
(RL)
so far. Shares of the $15 billion apparel and accessory firm have climbed almost 16%, keeping an all-important step ahead of the broad market. Ralph Lauren owns a massive portfolio of different brands, most of which include the designer/CEO's name in them in some form or fashion.
RL has a track record of success in the apparel business. The "Ralph Lauren" label is one of just a handful of clothing brands that gets the benefit of the doubt from consumers. It serves a less fickle set than brands focused solely on younger shoppers, and its price point has historically made it one of a handful of "mass affluence" brands.
While the age of RL's septuagenarian CEO of the same name should pose a concern for investors, he's done a good job of building a set of brands that transcend him. International markets have significant room for expansion of the Ralph Lauren brand, particularly at company-owned stores, which carry a higher price tag and thus much deeper margins than sales to other retailers.
As RL's footprint expands, so too should investor returns.
Teradata
If Ralph Lauren is having a good year,
Teradata
(TDC)
is having a phenomenal one. The $13 billion IT analytics company has seen the value of its shares increase by 55.6% since the first trading day of 2012. With rising analyst sentiment in shares this week, there's reason to expect that trend to continue.
Teradata has built a lucrative business on developing data warehousing solutions for large companies. For years, TDC owned the data storage business, courting some of the biggest clients in the world. But now, competition is getting stepped up with rivals popping up from less attractive businesses like PC manufacturing. TDC's first-to-market status puts a big ace in the firm's pocket -- it gives TDC familiarity with clients' nuanced data warehousing solutions and a store of proprietary technology that's more advanced than most competitors can compete with.
Ultimately, a rising tide in data warehousing should lift all ships. With more transactions than ever happening digitally, firms need the capacity to securely store everything from credit card purchases to text messages for their customers. That should ensure that TDC continues to see upward trajectory in its revenues and profitability.
Campbell Soup
Campbell Soup
(CPB)
boasts the title of being the biggest soup maker in the world, an identifier that may be attracting the wrong kind of attention. After all, to investors, there's nothing sexy about soup. That's left shares trailing the S&P's performance this year and kept a large number of short sellers betting against the stock.
Meanwhile, CPB has been earning commendable margins and paying out a hefty 3.3% dividend to investors betting that Campbell's remains a stalwart brand in consumers' pantries.
To be fair, soup is just the tip of the iceberg for CPB -- Campbell owns food brands such as Pace, Swanson and Pepperidge Farm as well. Those other brands reduce CPB's exposure to a relatively boring food staple, and increase its visibility in more lucrative and exciting parts of the grocery store. That said, there are two big headwinds challenging Campbell and enticing short sellers: rising input costs and flat sales.
Input costs are continuing to grow, particularly in agricultural commodities that are seeing record numbers this summer. At the same time, CPB's sales have effectively flat lined over the last couple of years, not necessarily an ominous sign (the firm still moves close to $8 billion worth of food each year), but not a reason to be a buyer. But sentiment could be turning the corner, especially if international growth helps to offset both headwinds.
Analyst sentiment is on the upswing this week. That makes CPB a Rocket Stock we're betting on for the end of August.To see all of this week's Rocket Stocks in action, check out
at Stockpickr.
-- Written by Jonas Elmerraji in Baltimore.
RELATED LINKS:
>>5 Unloved Stocks to Crush the S&P
>>5 Blue-Chips Ready to Boost Dividends
Follow Stockpickr on
and become a fan on
Facebook.
At the time of publication, author had no positions in stocks mentioned.
Jonas Elmerraji is the editor and portfolio manager of the
Rhino Stock Report
, a free investment advisory that returned 15% in 2008. He is a contributor to numerous financial outlets, including
Forbes
and
Investopedia
, and has been featured in
Investor's Business Daily
, in
Consumer's Digest
and on
MSNBC.com
.