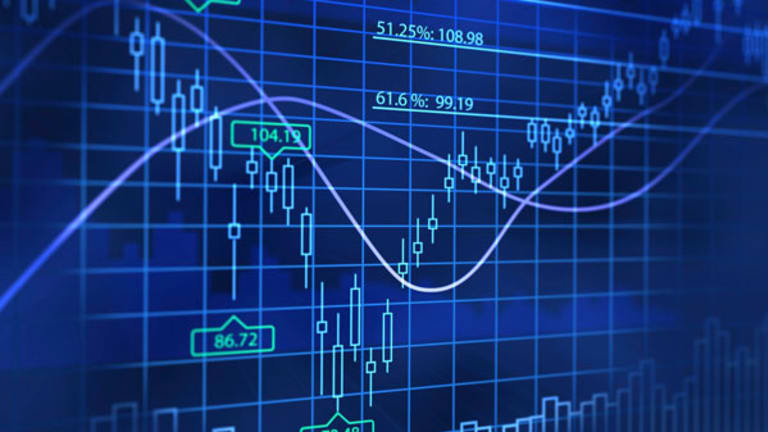 Publish date:
5 Rocket Stocks to Buy in August
This modest uptick in investor participation confirms the stock rally.
This modest uptick in investor participation confirms the stock rally.
BALTIMORE (Stockpickr) - The combination of summer doldrums, Fed tapering, and muted earnings expectations can't seem to derail the rally in stocks. And it looks like investors are finally starting to get the hint...
The
S&P 500
is more than 18% higher today than it was on Jan. 1. And as the upside from equities becomes more and more conspicuous, retail investors are starting to become buyers again. Don't mistake that for a contrarian signal -- fewer U.S. households owned stocks at the start of the year than in any time during the last two decades. That extreme was a contrarian signal to start buying; this modest uptick in investor participation is just confirmation of the rally.
So, with more upside left to wring out in 2013, we're taking a closer look at five new Rocket Stocks worth buying in August.
For the uninitiated, "Rocket Stocks" are our list of companies with short-term gain catalysts and longer-term growth potential. To find them, I run a weekly quantitative screen that seeks out stocks with a combination of analyst upgrades and positive earnings surprises to identify rising analyst expectations, a bullish signal for stocks in any market. After all, where analysts' expectations are increasing, institutional cash often follows. In the last 209 weeks, our weekly list of five plays has outperformed the S&P 500 by 80.66%.
Without further ado, here's a look at
.
Johnson & Johnson
Up first is healthcare giant
Johnson & Johnson
(
): Johnson & Johnson's reputation precedes it -- the firm is the prototypical blue chip stock, with major consumer brands like Band-Aid, Tylenol, Neutrogena and Acuvue under its belt. But it's the firm's non-consumer pharmaceutical and medical device units that provide the lion's share of Johnson & Johnson's sales.
Johnson & Johnson offers investors an attractive combination of an industry focus in the healthcare field with the diversification of disparate business units -- since J&J's biggest unit, pharma, has the lingering threat of patent losses, sales from the consumer and medical device groups are very welcome. While the acquisition of orthopedic device firm Synthes ate up a big chunk of Johnson & Johnson's net cash, the firm's balance sheet is still pristine with around $6 billion in net cash on the books.
Johnson & Johnson's combined health care business enjoys some massive net profit margins -- and those translate into huge free cash generation. Besides lining the firm's coffers, big free cash flow capabilities provide ample ways for Johnson & Johnson to return value to shareholders. The firm's 2.87% dividend yield will continue to draw income investors -- and rising analyst sentiment is spurring our interest in shares of this Rocket Stock this week.
PepsiCo
2013 has been a stellar year so far for
PepsiCo
(
): Shares of the beverage and snack food maker have rallied almost 24% since the calendar flipped over to January, besting even the S&P 500's impressive price action this year. Don't let the name fool you -- there's a lot more to PepsiCo than just its cola brand. PepsiCo is also the biggest snack food company in the world, with a portfolio of snack food names that includes Lay's, Doritos and Quaker.
Despite its global reach, PepsiCo has some serious exposure to North America -- it earns around 40% of sales here at home, thanks to a consumer population that's big on snacks and soft drinks. But that hefty exposure also provides some big growth opportunities, particularly in emerging markets where populations are huge and demographics are shifting to mirror the west. If PepsiCo can ramp up its sales mix overseas, the firm has the ability to materially grow revenues in the next few years. That's not something that many mega-cap firms can say.
In the last several years, PepsiCo has made some big investments to increase its operational efficiency -- one of the biggest was the acquisition of two of its biggest bottlers in 2010. The deal has already saved the firm more than half a billion dollars since it closed -- with the potential for much more. If PepsiCo can boost exposure to emerging markets without squeezing margins, investors stand to be rewarded in a big way...
MasterCard
PepsiCo isn't the only number two name on our list of Rocket Stocks today. Another is
MasterCard
(
). As the second-biggest payment network in the world, MasterCard lays claim to around 31% of the payment market -- between MasterCard and the industry's standard bearer
Visa
(
), the duopoly's logos are printed on 90% of the world's credit and debit cards.
Even though MasterCard may be a distant second in terms of market share, a rising tide is lifting all ships in the payment market: a global shift from paper money and checks to electronic payments stands to dramatically expand MasterCard's business. And because MasterCard is the network, not the lender, the firm's balance sheet is free from exposure to credit risks that could send banks reeling if defaults started climbing. Overall spending volume is the only thing that's tied to MasterCard's financial performance.
Card networks tend to have a positive feedback loop -- consumers choose MasterCard, for example, because it's accepted nearly universally, and merchants accept MasterCard because of the large numbers of consumers who carry the card. That network effect makes barriers to entry challenging in the payments business, and it means that MasterCard is unlikely to suddenly lose share to a newcomer. Investors should keep an eye out for second quarter earnings on Wednesday.
Hewlett-Packard
Shareholders in
Hewlett-Packard
(
) have had an interesting ride over the last couple of years. Last year, shares of the $49 billion computer maker sank like a stone thanks to a combination of poor execution and conspicuous acquisition screw-ups. But shares have been on fire since the start of 2013, rallying more than 81% over those past seven months as management staged an about-face. Now, it makes sense to ride H-P's upside momentum.
In short, the PC business is garbage. High competition, nonexistent barriers to entry, and commoditized products have been squeezing margins among PC manufacturers for the last decade, and H-P hasn't been immune. With computers making up a full third of sales, that lack of a defensible business is a scary thought -- so management has been working hard to carve out a meaningful moat in the enterprise space. There's clearly a lot more upside in selling hardware, software, and services to corporate IT departments...
H-P seems to have finally figured out execution. Most importantly, it's been generating considerable free cash from operations that management has put to work to ramp up shareholder yield through debt extinguishment, buybacks, and dividends. With cloud computing likely to remain a major tailwind in the enterprise space, H-P should be able to keep up its momentum for the rest of 2013.
This week, with rising analyst sentiment in shares of Hewlett-Packard, we're betting on shares...
Delphi Automotive
Delphi Automotive
(
) is another name that's posted a huge return in 2013; shares of the $17 billion auto parts supplier have climbed 45% year-to-date. A big part of that success has come from growth in the automotive industry. On average, consumers are driving older cars than ever before, and record-low interest rates are incentivizing drivers to upgrade their vehicles while money remains cheap. As automakers sell more cars, Delphi sells more parts.
Delphi started off as a parts business for
General Motors
(
) that got spun off in 1999 -- some 14 years (and more than a few financial catastrophes) later, the firm still has major ties to the Detroit car giant. GM buys everything from electrical components to safety products to powertrain modules from Delphi, adding up around 20% of Delphi's total revenue. That means that GM's improving fortunes trickle down to Delphi's income statement in a very meaningful way.
Switching costs are extremely high for Delphi's customers. To switch suppliers, an automaker would need to re-engineer its vehicles in many cases, providing Delphi with an insurance policy on its parts. Delphi's scale helps too -- few parts suppliers boast Delphi's size or the engineering ability. As the economy continues to recover, particularly in markets like Europe, expect Delphi to churn out even stronger performance...
To see all of this week's Rocket Stocks in action, check out
at Stockpickr.
At the time of publication, author had no positions in stocks mentioned.
-- Written by Jonas Elmerraji in Baltimore.
Jonas Elmerraji, CMT, is a senior market analyst at Agora Financial in Baltimore and a contributor to
TheStreet
. Before that, he managed a portfolio of stocks for an investment advisory returned 15% in 2008. He has been featured in
Forbes
,
Investor's Business Daily
and on
CNBC.com
. Jonas holds a degree in financial economics from UMBC and the Chartered Market Technician designation. Follow Jonas on Twitter @JonasElmerraji.