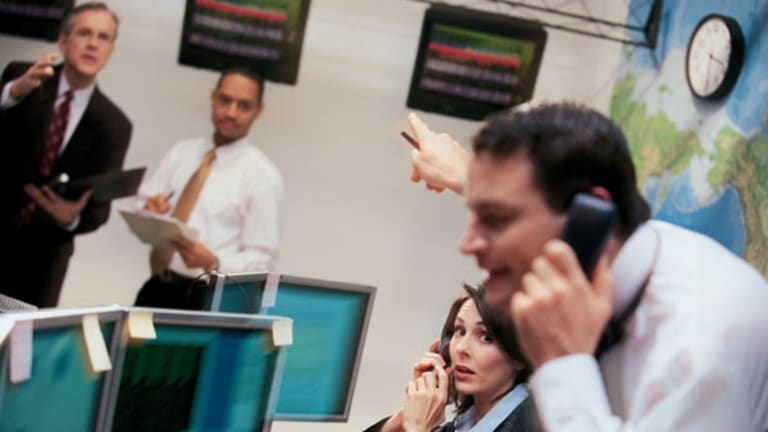 5 Rocket Stocks to Buy for S&P 2,000
These stocks have both short-term gain catalysts and longer-term growth potential.
These stocks have both short-term gain catalysts and longer-term growth potential.
BALTIMORE (Stockpickr) – The big S&P 500 index is within striking distance of the 2,000-point level this week, a milestone that investors are watching closely as the final week of August trading kicks off.
What's the significance of 2,000? Well, nothing frankly. But the fact that it's a big round number with a lot of attention on it means that there are some important bullish sentiment implications if buyers can propel the big index through that price level with minimal resistance from gains-takers. During a stretch of summer where top-calling has been rampant, it'll provide a good hint that investors should expect this "buy-the-dips rally" to extend itself well into the second half of the year.
As I write, we're a measly 0.5% away from S&P 2,000 this mornin
But to make the most of the continued rally in stocks, it makes sense to focus on one subset that's predisposed to outperform the market averages. I'm talking about the "Rocket Stocks". Today, we're looking at five fresh Rocket names for a new week.
For the uninitiated, "Rocket Stocks" are our list of companies with short-term gain catalysts and longer-term growth potential. To find them, I run a weekly quantitative screen that seeks out stocks with a combination of analyst upgrades and positive earnings surprises to identify rising analyst expectations, a bullish signal for stocks in any market. After all, where analysts' expectations are increasing, institutional cash often follows. In the last 262 weeks, our weekly list of five plays has outperformed the S&P 500's record run by 79.66%.
Without further ado, here's a look at this week's Rocket Stocks.
Bank of America
Banking giant Bank of America (BAC) - Get Report isn't a very familiar name to our Rocket Stocks list. Despite being one of the most high-profile financial stocks in the marketplace, BofA has also been one of the worst-positioned. The firm took on huge risks heading into the financial crisis, and then it took on even bigger ones by acquiring Countrywide. The result has been a big bank with a labyrinthine balance sheet replete with a significant number of skeletons in its closets.
That changed last week, when the firm announced that it had reached a settlement with the DoJ for more than $16.65 billion, a move that wipes the slate clean going forward for Bank of America's federal and state probes. Despite the big price tag, it's a big relief for shareholders who've had black clouds over their heads for the last five years and change. Without legal liabilities eating into BAC's capital ratio, the firm should be able to maintain higher levels of profitability, and in turn, return more value to shareholders going forward.
After all, BofA is one of the biggest integrated banking firms on the planet. The firm has more than 5,150 banking centers spread across the world, and more than 16,250 ATMs. The convenience of that huge geographic footprint comes with some big advantages in courting low-cost deposits from savers. Look for dividend hikes to be a big catalyst for upside at BAC; the Fed has been slow to allow Bank of America to hike its payouts, but the newly lowered risk profile should make regulators more comfortable with a bigger dividend.
Consolidated Edison
Speaking of dividend hikes, regulated utility Consolidated Edison (ED) - Get Report takes the next spot on this week's Rocket Stocks list.
Con Ed is the resident power company in New York City and much of New Jersey, positioning that gives the firm access to power demand in one of the country's biggest metropolitan areas. And like most regulated utility names, Con Ed pays out a huge dividend yield: at current price levels, the firm's dividend works out to 4.4%, a massive shareholder check given the historically low interest rates found in other asset classes. And Con Ed has raised its dividend payout every year for the last four decades.
Around 90% of Con Ed's revenue comes from providing steam, natural gas, and electricity to customers, giving the firm a simpler business than many peers. The remaining 10% comes from non-regulated enterprises, such as energy marketing and infrastructure, such as the firm's small solar business. That's an attractive business mix right now, as more utilities try to shed non-regulated assets that have had a hard time generating meaningful returns in this environment -- ED doesn't need to do anything, it's already positioned the way its peers want to be.
A return to the "flight to yield" environment that we saw earlier this year could spell some big capital gains at ED in 2014. Meanwhile, rising analyst sentiment in shares is our reason for jumping on this Rocket Stock this week.
Under Armour
Sports apparel stock Under Armour (UA) - Get Report is having a good year in 2014: since the calendar flipped to January, shares of this Baltimore-based name have rallied more than 61%. That's come on the heels of big growth within the walls of this name. UA has gone from marketing niche apparel for hardcore athletes to making mainstream gear that can be found in more than 115 company-owned retail stores here in the U.S., and at thousands of other physical and online retailers.
Under Armour's ability to compete with the likes of Nike (NKE) - Get Report is particularly impressive. The athletic apparel market isn't just hugely competitive, it's also very saturated here in the U.S., the very spot that UA has been focusing its efforts on. In total, overseas sales only make up under 10% of the firm's total revenues; but that lack of international exposure provides ample growth opportunities once UA starts to exhaust its top-line expansion stateside. Willingness to expand into new categories (like footwear several years ago) has helped to spur growth at Under Armour -- the firm doesn't shy away from risks, and its sales trajectory reflects that.
So does its valuation. Under Armour may be a lot of things, but it's not cheap right now. While the firm's debt-neutral balance sheet is attractive, this stock trades for a whopping 91 times trailing earnings, thanks to a $15 billion valuation. But for investors looking for a way to get exposure to market momentum in 2014, it's hard to beat UA's trajectory here.
Keurig Green Mountain
Keurig Green Mountain (GMCR) is another spectacular momentum name for 2014. Since the first trading session of January, shares of the Keurig single-serve coffee maker have rallied more than 76%. And that momentum is following through into the final week of August.
Keurig owns the most popular brand of single-serve coffee pods -- its namesake machines provide the firm with a very attractive "razor and blade model" for its business. By buying Keurig machines (at a fairly big sunk cost), consumers become tied to the K-Cup platform, generating sticky revenues for GMCR. Because of the firm's partnerships with a huge collection of premium beverage brands, GMCR is able to collect premium pricing for its K-Cups. That diversity of choice also helps consumers spend their cash on a Keurig machine, rather than the competition.
A lot of Keurig's valuation is being propped up by the forthcoming Keurig Cold beverage machine, which has attracted the likes of Coca-Cola (KO) - Get Report as investors and partners. The firm's departure into the cold beverage world should open up a dramatically increased number of daily servings from the firm's machines. And while the firm's price tag is hardly cheap, it's also not extremely expensive right now; the firm carries nearly $1 billion in net cash and trades for a little over 30 times trailing earnings at current prices. That's fire from a fire sale, but investors aren't paying "castle in the sky" prices either.
Alexion Pharmaceuticals
Orphan drugmaker Alexion Pharmaceuticals (ALXN) - Get Report has built a $33 billion business out of developing treatments for those with rare diseases. The firm's bread and butter is Soliris, a treatment for rare blood disorders that's achieved orphan status with the FDA, a legal distinction that gives the firm the big financial incentives versus a more conventional drug candidate in terms of patent protection, drug approval and insurance reimbursement (Soliris costs as much as $500,000 per year).
The firm is working to replicate that success with new drugs and new indications for Soliris. Right now, the firm has Phase II and III trials in play, working on neurological and renal disease treatments that have been developed in-house and through acquisitions. If the firm can bring another name to market soon, the presence of two blockbuster drugs on its income statement would dramatically boost the firm's ability to finance new pipeline research and grow its scale even more.
That's not to say that ALXN is lacking in funds. The firm carries more than $1.5 billion in net cash as of this writing, enough dry powder to pay for opportunistic acquisition opportunities, or to handle unexpected speed bumps in its pipeline. This week, with rising analyst sentiment in shares of ALXN, we're betting on shares.
-- Written by Jonas Elmerraji in Baltimore.
RELATED LINKS:
>>5 Stocks Rising on Unusual Volume
>>Hedge Funds Hate These 5 Energy Stocks -- Should You?
>>5 Stocks Insiders Love Right Now
Follow Stockpickr on Twitter and become a fan on Facebook.
At the time of publication, author had no positions in the names mentioned. Jonas Elmerraji, CMT, is a senior market analyst at Agora Financial in Baltimore and a contributor to TheStreet. Before that, he managed a portfolio of stocks for an investment advisory returned 15% in 2008. He has been featured in Forbes , Investor's Business Daily, and on CNBC.com. Jonas holds a degree in financial economics from UMBC and the Chartered Market Technician designation. Follow Jonas on Twitter @JonasElmerraji