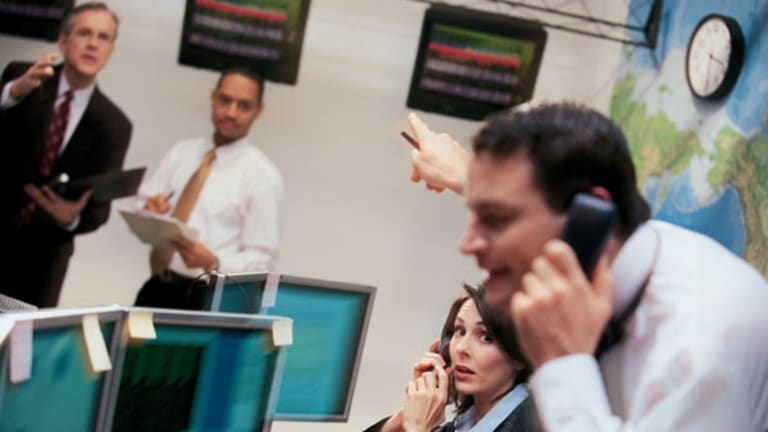 5 Rocket Stocks to Buy for May
These stocks have both sort-term gain catalysts and longer-term growth potential.
BALTIMORE (
) -- As the weather starts warming up across the U.S., so too are stocks. While the broad market spent most of April consolidating, last week's bounce off of trendline support pushed the
S&P 500's
performance positive for the last month.
Now, as May's first trading session pops up on investors' radar, Mr. Market looks well-positioned to keep his momentum going. To take full advantage, we're turning to a new set of Rocket Stock names.
>>Stocks Are Doomed. Buy More Stocks.
For the uninitiated, "Rocket Stocks" are our list of companies with short-term gain catalysts and longer-term growth potential. To find them, I run a weekly quantitative screen that seeks out stocks with a combination of analyst upgrades and positive earnings surprises to identify rising analyst expectations, a bullish signal for stocks in any market. After all, where analysts' expectations are increasing, institutional cash often follows. In the last 197 weeks, our weekly list of five plays has outperformed the S&P 500 by 75.1%.
Without further ado, here's a look at
.
>>5 Stocks Poised for Big Breakouts
Wal-Mart
Up first is retail giant
Wal-Mart
(
). Wal-Mart sells products to more than 200 million consumers each week, earning almost $470 billion in revenues across more than 10,000 stores. That earns the firm the crown of being the biggest retailer worldwide, a title that comes with considerable benefits. Even though WMT's mammoth size makes it more difficult to maneuver for growth, the firm has managed to keep slowly pushing its top-line numbers higher and higher each year.
>>3 Huge Stocks on Traders' Radars
Wal-Mart's model is built on price. The firm's scale gives it a unique amount of leverage over suppliers, many of which see WMT as their biggest -- or only -- customer. For that reason, the firm can command the lowest possible prices, and it can pass them onto customers. Even though competition is fierce, Wal-Mart's massive footprint and emphasis on bargain price tags should keep shoppers flowing in.
Not all of WMT's moves have been stellar. International operations have been a drag on earnings for around a decade, and margins have suffered from the intense competition seen here at home. That said, Wal-Mart's embrace of exclusive service revenue partnerships, like the Straight Talk Wireless brand it runs with Tracfone, makes a lot of economic sense in this market.
Don't expect Wal-Mart to get unseated from its throne anytime soon.
Kimberly-Clark
Paper products may not be the most exciting business in the world, but they have fuelled some exciting gains for shareholders of
Kimberly-Clark
(
) this year -- shares of the $40 billion tissue and paper towel firm have rallied more than 22% since the start of January. Kimberly-Clark owns a handful of popular consumer paper brands, including Kleenex, Scott and Huggies.
>>5 Stocks Insiders Love Right Now
The consumer staples sector has been on fire in the past few months, and clearly, Kimberly-Clark's collection of brands have benefitted from the stock performance push. KMB has spent the last few years focusing on boosting profits. To do that, the firm has cut exposure to less attractive markets and ratcheted up its presence in places such as Latin America, where growth rates continue to look stellar. It's also ramped up the benefits for consumers here at home, pushing its products an arm's length away from the cheaper private-label competitors it's facing on store shelves.
With net margins pushing back up towards double-digits again, this stock is throwing off mountains of cash and a hefty dividend payout that currently yields 3.2%. With rising analyst sentiment in shares of KMB this week, we're betting on shares of this Rocket Stock.
General Mills
Another name that's benefitted hugely from an emphasis on consumer-driven stocks is
General Mills
(
) -- shares of the cereal maker have rallied nearly 23% since the first trading day of 2013. I use the term "cereal maker" lightly; while General Mills is probably best known for its breakfast cereal brands -- which include Cheerios, Chex and Wheaties -- the firm owns a broad portfolio of food labels, from Yoplait yogurt to Pillsbury baked goods and Haagen-Dasz ice cream.
>>5 Big Names to Trade for Earnings Season
That portfolio diversification helps smooth out any hiccups in consumer tastes. And in recent years, those tastes have focused on convenience. By ramping up ready-to-eat offerings (such as cereal and soup), the firm bolsters the strength of its brand. Consumers are less likely to move to store brands for products that they don't prepare. As GIS continues to spend money developing new products, it should continue to reap some significant rewards.
While GIS carries a fair amount of leverage on its balance sheet, its levels aren't out of whack for a capital-intense food producer. More important, those debt obligations are more than covered by cash flows -- with enough left over to fund a 3% dividend yield. Investors looking for a defensive play on the food business could do worse than General Mills.
Franklin Resources
If there's any sector that's done as well as consumer staples in 2013, it's been financials. That shouldn't be a huge surprise -- a rising market goes hand-in-hand with rising fees for financial firms, so the ascent stocks have made in the last six months and change has been a boon to the financial sector. Case in point:
Franklin Resources
(
).
Franklin manages more than $820 billion in stock, bond and hybrid funds targeted towards retail investors -- and as the firm's assets under management rise, so too do its management fees. As the fifth-biggest asset manager in the country, Franklin enjoys a nice balance between size and positioning. Because it's an independent asset manager, it skirts the negative implications of big banks' investment arms but retains the scale to turn out deep margins in the double-digits. The firm's retail focus should be rewarding in 2013, especially as investors who have been hesitant to have money in stocks start to dip a toe into the market again.
BEN's 130,000 advisors provide a direct sales path between the firm and its clients. And because those advisors build relationships with individual investors, its funds tend to be stickier than those at other firms with big retail investor exposure. While Franklin's asset mix is fixed-income-heavy right now, as favor starts turning to equities, the firm's profits should start turning up as well.
Cardinal Health
Last up is
Cardinal Health
(
), a firm that's made an attractive business out of being the middleman for pharmaceuticals and medical devices. As a distributor, Cardinal packages, inventories, and handles logistics for drugs, taking the burden off of its suppliers and its customers. Cardinal does that through scale. Because of the volume of drugs it handles, it can distribute them more efficiently than most of the organizations on either side of the transaction.
But that middleman status does come with some risks. If either side of the deal (pharmaceuticals, medical supply makers or major pharmacies) decide that profitability looks too attractive for firms such as CAH, they can always opt to fulfill that role in-house. A concentrated customer list at Cardinal means that a lot of the firm's business depends on renewing a handful of contracts; the
Express Scripts
(
) contract loss last year was a high profile reminder of that fact. Losing one of the firm's major retail pharmacy clients would be a big problem for the firm, and investors should be aware of that.
Even so, Cardinal looks well positioned going into 2013. As an aging population continues to require more drugs, Cardinal should have a strong tailwind lapping at its back. Now, with rising analyst sentiment coming into CAH this week, we're betting on shares.
To see all of this week's Rocket Stocks in action, check out
at Stockpickr.
-- Written by Jonas Elmerraji in Baltimore.
RELATED LINKS:
>>5 Stocks Under $10 Set to Soar
>>4 Stocks Poised to Win -- or Lose -- From the Expanding Drought
>>5 Booze Stocks to Buy in 2013
Follow Stockpickr on
and become a fan on
Facebook.
At the time of publication, author had no positions in stocks mentioned. Jonas Elmerraji, CMT, is a senior market analyst at Agora Financial in Baltimore and a contributor to
TheStreet
. Before that, he managed a portfolio of stocks for an investment advisory returned 15% in 2008. He has been featured in
Forbes
,
Investor's Business Daily
, and on
CNBC.com.
Jonas holds a degree in financial economics from UMBC and the Chartered Market Technician designation. Follow Jonas on Twitter @JonasElmerraji