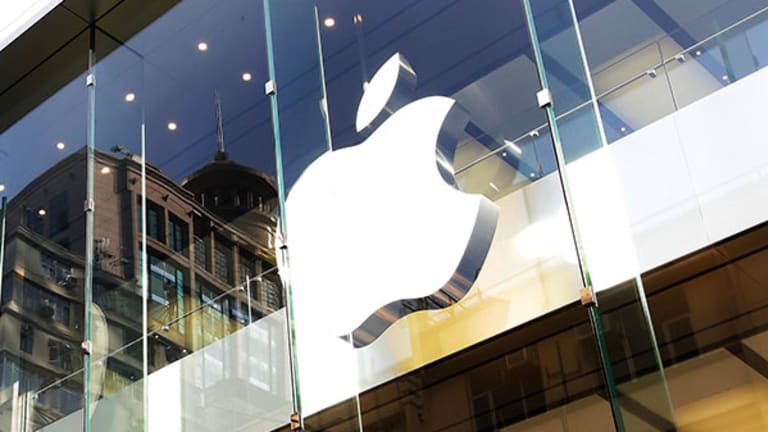 5 Rocket Stocks to Buy for February Gains: Apple, Mallinckrodt and More
These stocks have both short-term gain catalysts and longer-term growth potential.
These stocks have both short-term gain catalysts and longer-term growth potential.
BALTIMORE (Stockpickr) -- January wasn't exactly a good month to be a stock market investor. Overall, the big S&P 500 index shed 3.1% for the first month of 2015 -- to find a worse January, you'd have to reward six years to the first month of 2010. Must Read:Warren Buffett's Top 10 Dividend Stocks
Suffice it to say, Mr. Market has a lot of convincing to do in February.
The good news is that February has been a far more bullish month in recent years – particularly those that corrected hard in January. On average, over the past six years, the S&P has rallied 2.87% in February, more than enough to make up for the 0.88% loss that stocks booked in January during those years.
To take advantage of a potential turning tide in 2015, we're turning to a fresh set of Rocket Stocks to buy for February gains.
For the uninitiated, "Rocket Stocks" are our list of companies with short-term gain catalysts and longer-term growth potential. To find them, I run a weekly quantitative screen that seeks out stocks with a combination of analyst upgrades and positive earnings surprises to identify rising analyst expectations, a bullish signal for stocks in any market. After all, where analysts' expectations are increasing, institutional cash often follows. In the last 285 weeks, our weekly list of five plays has outperformed the S&P 500's record run by 80.27%.
Without further ado, here's a look at this week's Rocket Stocks.
Apple
Mega-cap tech stock Apple (AAPL) - Get Report has been a very high-profile exception to the market correction in January -- shares of the Cupertino, California-based device maker have rallied 6.14% since the calendar flipped to 2015. That's a big deal: It adds up to more than $40 billion in wealth creation last month based on Apple's current market capitalization. And Apple still looks set to outperform in the month ahead.
Apple is the biggest tech stock on the planet. Apple's business ranges from its Macintosh line of computers to the iPhone and iPad to the largest online content store in iTunes. Apple has been incredibly successful at wringing deep margins out of businesses that rivals barely break even at. A big part of that success comes from the firm's tight integration of the hardware, software and services that it sells. That control over more of the user experience means that Apple can charge premium pricing for features without the need for technical-superior hardware specs.
From a financial standpoint, Apple is in spectacular shape. The firm currently carries $141.6 billion in net cash and investments, enough to pay for just over 20% of its own market capitalization right now -- that's a big risk reducer. Apple's record iPhone sales announcement last week is a big reminder that growth and size aren't mutually exclusive for APPL, even today. With shares testing highs heading into this week, expect Apple's momentum to hold up in February.
TE Connectivity
Being the world's largest connector manufacturer may not sound that exciting, but TE Connectivity's (TEL) - Get Report top-dog status in its electrical component niche has paid off for shareholders in the past year -- over the last 12 months, TEL has generated returns of 17.5%, beating the S&P's 11.9% climb over the same stretch. A solid first quarter means that TEL is entering February on a high note -- and shares are sitting at a high water mark too.
TE Connectivity manufactures electronic components used in everything from transportation to communications to industrial tools. The firm's produces are sold in more than 150 countries worldwide, and sales are distributed evenly between North America, Asia, and Europe. Because TEL's fortunes generally ebb and flow with overall economic activity, that even spread of sales regions helps to reduce risks.
Generally, industrial production tends to be pretty capital-intense, and TEL is no exception to that rule. That said, the firm's balance sheet offsets a $4.2 billion debt load with approximately $900 million in cash and investments, a tradeoff that keeps leverage reasonable. With rising analyst sentiment in TEL this week, we're betting on shares of this Rocket Stock.
Mallinckrodt
Mallinckrodt (MNK) - Get Report is enjoying a spectacular run following its first full calendar year as a standalone company. Since January of last year, Mallinckrodt has more than doubled, stomping the S&P's performance by nearly a factor of ten. Now, as MNK presses into new highs in 2015, this $12 billion pharmaceutical Rocket Stock looks like it'll carry its bullish trajectory forward here.
Mallinckrodt spun out from medical device maker Covidien (COV) in 2013, making its former parent a pure-play medical device maker, and becoming a pure-play pharmaceutical stock. The firm's specialty is generic pain drugs -- and it enjoys deep margins manufacturing low-cost drugs in a highly regulated environment. MNK also has growing branded drug and nuclear imaging businesses.
An aging population should continue to fan the fire of MNK's growth, particularly in the firm's core generic pain drugs, where Mallinckrodt's moat comes from its regulatory edge (and a big piece of the DEA's controlled substance quota), not a technical edge. As long as MNK can avoid overspending on acquisition targets, it should continue to drive its price higher. Look for more transparency over MNK's numbers once the dust settles from the firm's recent acquisition spree.
Wisconsin Energy
It's not hard to see why $12.6 billion utility company Wisconsin Energy (WEC) - Get Report is appealing in this market. With a 3.03% dividend yield and an interest rate environment where the Fed is likely to keep postponing a rate hike, income stocks are likely to keep outperforming in early 2015. And as a regulated utility, WEC is basically a purpose-built income stock.
Wisconsin Energy Corp. is an electric and gas utility that provides more than 2.1 million customers in the Midwest. The firm's planned acquisition of Integrys Energy Group (TEG) would add another 1.7 million customers in the region to WEC's scale. The acquisition is instantly transformative to WEC, nearly doubling the firm's scale overnight – it also boosts WEC's ownership in American Transmission Company to 60%, diversifying Wisconsin Energy's income statement with an attractive business that it already held a minority interest in.
Generally speaking, Wisconsin is a favorable regulatory environment, and that bodes well for WEC's ability to convert infrastructure investments into meaningful long-term growth rates. It'll be key for management to shore up WEC's balance sheet once the Integrys deal closes – while rates are low now, the potential of a rate hike down the road would provide the double whammy of higher debt service and a lower stock market valuation. Meanwhile, with analyst sentiment on the rise this week, we're betting on shares of WEC.
Endo International
$12 billion pharmaceutical firm Endo International (ENDP) - Get Report has been showing investors some strong relative strength over the last six months. Over that time, ENDP has climbed 17.7% higher, nearly five times better performance than the S&P over that same timeframe. Endo's current iteration has only been around since last February, when Endo Pharmaceuticals and Paladin Labs combined under the Endo International banner – the combined company sold $2.6 billion in pharmaceuticals and medical devices in the trailing 12 months.
Endo's biggest business is generics -- not unlike Mallinckrodt -- a big pipeline of generic drug releases should help to drive growth in 2015 (last year, generics saw growth rates in the low teens). While generics growth is welcome, the revenues that ENDP earns there aren't as high quality as its branded specialty pharmaceuticals. The firm will ideally need to keep investing heavily in R&D to improve its pipeline (ENDP has already been on an M&A spree in the last couple of years, which is an expensive way to grow).
Many of the same macro catalysts at MNK also carry over to ENDP, namely the rapidly rising healthcare costs of an aging demographic. Look out for earnings on February 27 as a potential catalyst in shares of Endo International.
-- Written by Jonas Elmerraji in Baltimore.Must Read:10 Stocks George Soros Is Buying
Follow Stockpickr on Twitter and become a fan on Facebook.
At the time of publication, author was long AAPL. Jonas Elmerraji, CMT, is a senior market analyst at Agora Financial in Baltimore and a contributor to TheStreet. Before that, he managed a portfolio of stocks for an investment advisory that returned 15% in 2008. He has been featured in Forbes , Investor's Business Daily, and on CNBC.com. Jonas holds a degree in financial economics from UMBC and the Chartered Market Technician designation. Follow Jonas on Twitter @JonasElmerraji