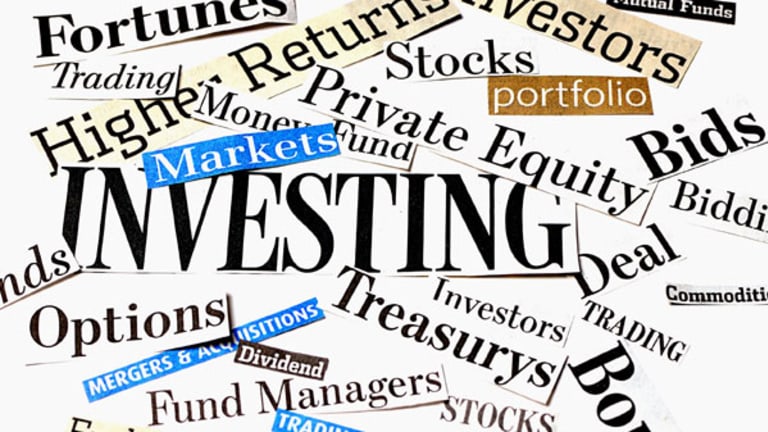 5 Rocket Stocks to Buy for December Gains: Apple and More
Statistically speaking, December is the strongest month of the year.
Statistically speaking, December is the strongest month of the year.
BALTIMORE (Stockpickr) -- This morning's kick-off to trading may be overshadowed by Cyber Monday shopping volumes -- but it's still significant. Today's opening bell marks the first trading session of December, and the final countdown to the New Year. As I write, 2015 is just 20 full trading sessions away.
As the market opens in December, the big S&P 500 Index is on track to post 13% gains for the 2014 calendar year. And statistically speaking, December is the strongest month of the year.
Couple that with an environment that's forced central banks to ramp up QE efforts, and dropping commodity prices, and the chances of a stock-boosting intervention from the Fed are skyrocketing too. That doesn't mean it's smart to close your eyes and buy stocks with both hands here, but it does mean that select names should continue to rally for the month ahead.
To take full advantage of the market's year-end momentum, we're turning to a set of five new Rocket Stocks.
For the uninitiated, "Rocket Stocks" are our list of companies with short-term gain catalysts and longer-term growth potential. To find them, I run a weekly quantitative screen that seeks out stocks with a combination of analyst upgrades and positive earnings surprises to identify rising analyst expectations, a bullish signal for stocks in any market. After all, where analysts' expectations are increasing, institutional cash often follows. In the last 276 weeks, our weekly list of five plays has outperformed the S&P 500's record run by 77.63%.
Without further ado, here's a look at this week's Rocket Stocks.
Apple
Up first is Apple (AAPL) - Get Report . Apple has been a regular component of our Rocket Stocks list in 2014, and for good reason: this technology behemoth has consistently been one of the best-performing names this year, rallying nearly 50% since the start of January. Put another way, in the past ten months, Apple has added $227.63 billion to its market capitalization, and contributed a whopping 11.96% of the S&P 500's total performance in 2014. That's a staggering performance -- but there's reason to count on more upside in Apple this month.
Apple owns the most attractive niche of the consumer electronics business. The firm's integrated hardware and software offerings in the Macintosh computer line and iPhone and iPad portables mean that Apple is able to collect dramatically thicker margins than its less-entrenched rivals. The Apple ecosystem means that consumers are less likely to jump ship to competing platforms -- high levels of interoperability between devices and sunk costs in app purchases help to encourage loyalty. Most importantly, consumer satisfaction is consistently ranked best-in-breed at Apple, which means that customers don't just keep buying Apple products because they're forced to -- they buy them because they want to.
Financially, Apple doesn't trade for the deep discount that it did just a year and change ago. It's no longer the biggest bargain hidden in plain sight. But that shouldn't get in the way of growth, particularly as new verticals like the Apple Watch and Apple Pay hit the firm's revenues in 2015. Momentum is the name of the game in Apple, and with shares hitting new all-time highs, AAPL is a Rocket Stock worth buying this week.
Hewlett-Packard
Another large-cap tech name that's been outperforming to a huge degree is Hewlett-Packard (HPQ) - Get Report -- since the first trading session of 2014, H-P has rallied almost 40%. And as the firm breaks apart its core businesses, it stands to unlock even more value for shareholders in the year ahead.
Hewlett-Packard is best-known for its consumer-facing printer and PC businesses, but as those two legacy units become increasingly commoditized, HPQ is focusing more attention on enterprise hardware, software, and services. The enterprise IT business is still a lucrative business with a deep moat, and it makes sense for H-P to break those deeper-margin efforts apart from its consumer arm. Right now, each of those two arms accounts for around half of the firm's operating profits.
Financially speaking, Hewlett-Packard is in good shape. The firm currently has approximately $4 billion in net debt on its balance sheet, an amount that's easily covered by cash from operations. That said, the firms' financial position would be dramatically better were it not for some high-profile value-destroying acquisitions. As long as management can avoid the temptation to buy its way to growth, shareholders are well-positioned for upside ahead.
General Dynamics
Defense contractor General Dynamics (GD) - Get Report has a big business providing Uncle Sam with a wide spectrum of equipment, ranging from submarines and jets to armored vehicles and computer systems. The firm earns approximately 70% of its revenues from the U.S. Government -- the balance comes from its Gulfstream business jet unit, which builds medium and large-category jet aircraft. That sales mix actually gives GD one of the lowest concentrations of government sales in the defense sector.
As one of the biggest and most well-established defense names, General Dynamics has some big advantages over potential rivals. Because of the huge costs of developing submarine or tank programs, competition is low (for example, GD owns three of the six major submarine shipyards in the U.S.). And while that means that General Dynamics' fortunes ebb and flow with the budget at DoD, the mission-critical nature of the firm's offerings should all but guarantee a strong sales pipeline.
On the commercial front, business jets are seeing a resurgence following a cyclical bottom carved out by the Great Recession. As more global deals increase the needs for executive jets with longer ranges, Gulfstream's products should continue to draw a long backlog, and create ongoing service and parts revenues. With rising analyst sentiment in shares of GD this week, we're betting on shares of this Rocket Stock…
Delta Air Lines
Delta Air Lines (DAL) - Get Report continues to be one of the best-in-breed airline stocks in 2014 -- and one of the big beneficiaries of the free-fall in oil prices. Fuel is, by far, the single largest cost involved in running an airline. It's big enough that Delta opted to purchase its own oil refinery as an ongoing hedge against oil prices. But the big drop in crude prices is offering far more padding to Delta's bottom line than any amount of hedging could.
Delta is one of the country's legacy carriers, and one of the largest airlines in the world, with more than 720 aircraft serving 247 mainline destinations globally. While discount carriers have commoditized the domestic leisure traveler, legacy airlines still own the most lucrative international routes, and as a result, they're better able to court frequent business travelers with loyalty programs. Delta has been a first mover in getting its loyalty program to reward dollars spent on the airline over miles travelled, a shift that should incent the most profitable customers to keep flying on Delta planes.
That willingness to think outside the box has made some big, important changes at Delta beyond frequent flyer miles. For example, that thinking led to Delta's oil refinery purchase, and a big investment in UK-based Virgin Atlantic. Increased focus on key hubs like Seattle (a gateway to Asia from the U.S.) should help to secure more high-margin traffic. Meanwhile, falling oil prices should benefit the industry as a whole in December.
Charles Schwab
San Francisco-based brokerage and banking firm Charles Schwab (SCHW) - Get Report looks attractive this winter -- just not for the reasons you think. Right now, all eyes are transfixed on brokers amid extended record low interest rates. Typically, brokerage firms earn a huge chunk of their revenues on float and margin interest, two revenue sources that have fallen off a cliff thanks to low rates. The thing is, rates aren't likely to rise in the foreseeable future, particularly with the Fed's favorite inflation gauges tumbling to levels not seen since 2011, and central bankers in Japan, China, and the EU entering crisis mode.
But that's just fine for Schwab.
That's because, while rates are low, the firm has quietly been riding the rising tide of a long-term equity rally. So, as trading volumes perk up, and the firm's asset management business grabs more AUM, so too should fee revenues. Schwab has invested heavily in the tools to provide advice to customers, distancing itself from the discount image that it flourished under during the dot-com boom. Instead, Schwab wants to collect bigger fees by building deeper relationships with brokerage customers.
To that end, it's also entered the banking business, creating a cheap source of deposits and cross-selling opportunities for the brokerage business. The introduction of Schwab Intelligent Portfolios next quarter will bring the hot concept of "robo advisers" to its huge client base -- potentially disrupting the growth of venture capital darling Wealthfront thanks to its no-fee offering and the fact that independent advisors can use the software for their clients as well. That new business could help differentiate SCHW from the other brokers vying for investors' dollars.
With rising analyst sentiment in Schwab, we're betting on shares this week.
To see all of this week's Rocket Stocks in action, check out the Rocket Stocks portfolio at Stockpickr.
-- Written by Jonas Elmerraji in Baltimore.
Follow Stockpickr on Twitter and become a fan on Facebook.
At the time of publication, author was long AAPL.
Jonas Elmerraji, CMT, is a senior market analyst at Agora Financial in Baltimore and a contributor to TheStreet. Before that, he managed a portfolio of stocks for an investment advisory that returned 15% in 2008. He has been featured in Forbes , Investor's Business Daily, and on CNBC.com. Jonas holds a degree in financial economics from UMBC and the Chartered Market Technician designation.
Follow Jonas on Twitter @JonasElmerraji
Jonas Elmerraji, CMT, is a senior market analyst at Agora Financial in Baltimore and a contributor to
TheStreet
. Before that, he managed a portfolio of stocks for an investment advisory returned 15% in 2008. He has been featured in
Forbes
,
Investor's Business Daily
and on
CNBC.com
. Jonas holds a degree in financial economics from UMBC and the Chartered Market Technician designation. Follow Jonas on Twitter @JonasElmerraji.