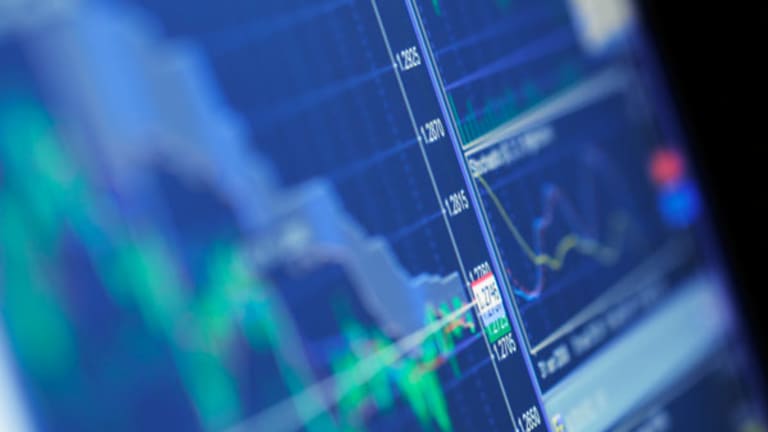 5 Rocket Stocks to Buy for August Gains
These stocks have both short-term gain catalysts and longer-term growth prospects.
BALTIMORE (Stockpickr) -- It may be hard to believe, but August trading kicks off on Friday. That means that investors need to be buckling in for the "new month, new market" phenomenon that's been moving stocks for the better part of the last year.
In August, expect earnings to have a big impact on where stock prices end up four weeks from now. As I write, just under half of the names in the S&P 500 have reported their second quarter numbers to Wall Street so far – and the results have been overwhelmingly positive. Since earnings season began, 78% of reporting S&P constituents have beaten analysts' expectations for the quarter. That's the highest beat rate in years.
To take full advantage of the earnings momentum, we're turning to a new set of "Rocket Stocks" worth buying this week.
For the uninitiated, "Rocket Stocks" are our list of companies with short-term gain catalysts and longer-term growth potential. To find them, I run a weekly quantitative screen that seeks out stocks with a combination of analyst upgrades and positive earnings surprises to identify rising analyst expectations, a bullish signal for stocks in any market. After all, where analysts' expectations are increasing, institutional cash often follows. In the last 259 weeks, our weekly list of five plays has outperformed the S&P 500's record run by 80.1%.
Without further ado, here's a look at this week's Rocket Stocks.
Facebook
There's no two ways about it: Facebook (FB) - Get Meta Platforms Inc. Class A Report has been on a tear this year. Since the calendar flipped to January, the social network is up almost 38%, pushing through to new highs last week following a solid earnings call. That's an indication that FB is maturing as a business -- and its utterly massive 1.3 billion monthly active users are good evidence of that. On average, FB generated nearly $2.31 in revenue for every individual user on its site last quarter.
Despite the fact that Facebook still lacks the sort of direct revenue model that peers like LinkedIn (LNKD) sport, the firm is proving that quantity can trump quality in terms of users. It's important to note that while the U.S. only makes up 20% of traffic, it contributes a whopping 45% of sales. That indicates that there's still a huge opportunity in shares, as emerging markets slowly move towards the levels of monetization seen here at home.
New offerings are the potential game-changer at FB. The firm is behaving like a more mature tech company with its acquisition strategy, and new verticals like Facebook Connect and Facebook Payments could help entrench the firm in users' lives (driving ROI as a result). The firm's willingness to subsidize consumer services to boost its core advertising business is a good example of Facebook adopting a time-tested model that larger peers have already found success with (a la Google (GOOG) - Get Alphabet Inc. Class C Report). With rising analyst expectations in FB this week, we're betting on shares.
Starbucks
Decades after introducing the world to the $5 cup of coffee, Starbucks (SBUX) - Get Starbucks Corporation Report remains the league leader in the coffee business. Starbucks is the biggest coffee shop chain in the world, with more than 20,500 stores spread across the world. The firm's brand portfolio has grown as well: Its products are sold under the Tazo, Teavana, Evolution Fresh, La Boulange and Seattle's Best brands in addition to the firm's namesake label. SBUX has also stretched its wings beyond retail stores, with a growing presence on grocery shelves as well.
Despite no shortage of rivals looking to collect a piece of the lucrative high-end coffee business, Starbucks still owns considerable brand cachet. In fact, one in every three retail coffee cups bear the firm's logo. That should help to guarantee continued strong growth rates for investors – it's been no small feat that management has been able to expand stores' footprints to a material degree for so long. And there's still ample clear runway left internationally today.
From a financial standpoint, Starbucks is in good shape. The firm currently carries a net cash and investments position of just over $400 million, more or less negligible net debt for a firm of SBUX's scale. Beyond international growth, new at-home products here in the U.S. could be an important driver of revenues in the years ahead. Look at Friday's earnings reaction as an opportunity to buy the dip.
Southwest Airlines
Southwest Airlines (LUV) - Get Southwest Airlines Co. Report is another name that's been on fire in 2014: since the calendar flipped to January, shares of the $20.5 billion air carrier are up more than 55%. A lot of that outperformance has come from overall growth in the airline industry – after a long stretch of broad market underperformance, airlines are enjoying the upswing from a cyclical low. Thing is, Southwest performed far better than its peers when times were tough, and it looks primed for more of the same now that times are good.
Southwest Airlines is the nation's leading discount air carrier. The firm's point-to-point network reaches nearly 100 destinations, providing low-cost direct flights to pleasure and business travelers. Southwest was a pioneer in rolling out a single airframe (the Boeing (BA) - Get Boeing Company Report 737) across its entire fleet to cut costs, and it was also a long-time leader in oil hedging. The latter enabled Southwest to enjoy unheard of levels of profitability when peers were swimming in red ink.
Today, the firm is expanding its reach again, adding on new, more lucrative routes such as Hawaii, Cabo, and Cancun. On the business side of the equation, the combination of low fares and improved perks for Rapid Rewards frequent flyers should help to court a slightly larger contingent of the coveted corporate traveler.
From a technical standpoint, LUV's momentum looks stellar heading into August.
Polaris Industries
Polaris Industries (PII) - Get Polaris Inc. Report is in the business of building toys for grown ups. The firm's products include ATVs, motorcycles, and snowmobiles sold under the Polaris, Victory, Indian, and GEM brands. The firm sells its vehicles through a network of more than 1,750 North American dealers, and a distributor network that spans more than 100 countries.
Polaris has built up a strong reputation in the recreational ATV market, and that inroad is helping the firm to take a bigger share of bigger-ticket vehicles like motorcycles. With exceptionally low interest rates in the market right now, Polaris has been a big beneficiary of increases in consumer spending. Put simply, money is cheaper than ever, and it's become far easier for consumers to justify the price tag from a big-ticket toy.
The firm isn't just about recreation. It also targets commercial vehicle sales, building small electric vehicles popular for corporate or educational campuses, and ATVs used by park police. New low-cost manufacturing facilities overseas should help boost margins and lower international lead times for new products in 2014.
Hyatt Hotels
Last up on our Rocket Stocks list is luxury hotelier Hyatt Hotels (H) - Get Hyatt Hotels Corporation Class A Report, a name that's shown investors 25% gains since the calendar flipped to January. Hyatt operates approximately 550 hotels spread across more than 40 different countries. The firm's brands include a cavalcade of offshoots from the Hyatt brand, spanning a broad spectrum of service levels, from Park Hyatt at the full-service luxury level to Hyatt Summerfield Suites, an extended stay hotel chain that targets corporate accounts.
Hyatt has historically generated higher returns than the average large hotel chain, the result of its exposure to the luxury segment of the market and a high percentage of company owned (rather than franchised) properties. While that sales mix was an earnings drag during the depths of 2008, it's magnifying the firm's earnings power on this end of the economic cycle. Compared to similar-sized brands, Hyatt's exposure is U.S.-centric, another factor that's paying off as domestic travel remains strong at the same time that international economies are experiencing volatility.
The tradeoff for Hyatt shareholders is a balance sheet that's more leveraged than most peers -- the result of a higher-than-average mix of capital-intense company-owned hotels. Earnings on July 31 could be a big catalyst for shares, especially given the current environment. With rising analyst sentiment in Hyatt and a spectacular earnings beat-rate market-wide, we're betting on shares ahead of the call.
To see all of this week's Rocket Stocks in action, check out the Rocket Stocks portfolio at Stockpickr.
-- Written by Jonas Elmerraji in Baltimore.
RELATED LINKS:
>>4 Stocks Rising on Unusual Volume
>>5 Stocks Insiders Love Right Now
>>5 Defense Stocks to Trade for Gains
Follow Stockpickr on Twitter and become a fan on Facebook.
At the time of publication, portfolios managed by the author were long LUV. Jonas Elmerraji, CMT, is a senior market analyst at Agora Financial in Baltimore and a contributor to TheStreet. Before that, he managed a portfolio of stocks for an investment advisory returned 15% in 2008. He has been featured in Forbes , Investor's Business Daily, and on CNBC.com. Jonas holds a degree in financial economics from UMBC and the Chartered Market Technician designation. Follow Jonas on Twitter @JonasElmerraji