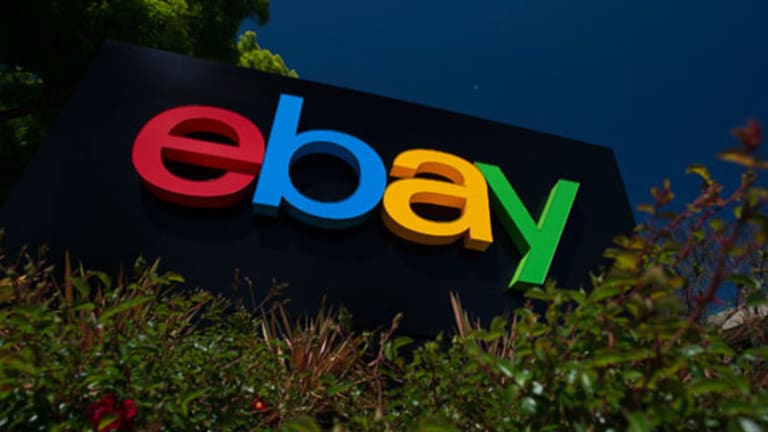 5 Rocket Stocks to Buy for a Santa Claus Rally: Facebook, eBay and More
There's real potential for stocks to set to record highs before the calendar flips to 2015.
BALTIMORE (Stockpickr) – Stocks posted their biggest weekly gain in almost two years last week, reversing a similarly material corrective move from the prior week. Put simply, stock investors are getting a Santa Claus rally to end 2014.
Don't be fooled by the short, low-volume Christmas trading week – even though U.S. markets are operating on a shortened schedule for the holidays, there's real potential for stocks to set to record highs before the calendar flips to 2015. Historically, the final weeks of the year tend to come with gains as investors position themselves ahead of the New Year.
This year, to take full advantage of a potential Santa Claus Rally, we're turning to a fresh set of five Rocket Stocks to buy for gains today.
For the uninitiated, "Rocket Stocks" are our list of companies with short-term gain catalysts and longer-term growth potential. To find them, I run a weekly quantitative screen that seeks out stocks with a combination of analyst upgrades and positive earnings surprises to identify rising analyst expectations, a bullish signal for stocks in any market. After all, where analysts' expectations are increasing, institutional cash often follows. In the last 279 weeks, our weekly list of five plays has outperformed the S&P 500's record run by 77.28%.
Without further ado, here's a look at this week's Rocket Stocks.


Facebook
Up first is social networking giant Facebook (FB) - Get Meta Platforms Inc. Report . 2014 has been a blockbuster year for shares of FB: since the calendar flipped to January, shares of this $223 billion tech name have rallied more than 46%, stomping the rest of the broad market. And there's good reason to expect that momentum to carry over into 2015 as well.
Facebook owns the most-visited website on the internet. The site's users spend more time on FB's pages than any other site online, making it a logical place for advertisers to spend money. The firm also holds some of the most valuable demographic information on its users, a fact that dramatically increases the firm's ability to sell ultra-targeted ads at premium pricing. Facebook should be able to parlay its recent success in the mobile ad space into bigger revenue growth in the quarters ahead – mobile users are among the most engaged, and the limited screen real estate of mobile devices makes it an effective ad platform.
At this point, Facebook still has some work to do in convincing advertisers that they should be allocating more resources to Facebook versus more conventional pay-per-click networks. That said, the breakneck revenue growth of the past several years is proof positive that Facebook is making significant progress. While shares are far from cheap at current valuations, the upside momentum is hard to ignore here. With rising analyst sentiment in shares of FB, we're betting on this Rocket Stock this week.
eBay
eBay (EBAY) - Get eBay Inc. Report is benefiting in a big way from the transition to electronic payments. While most consumers know eBay best for its namesake online marketplace, the firm's PayPal unit has become a major platform for both online and mobile payments – and a major contributor to revenues. eBay's decision to split apart those two businesses, announced back in September, should go a long way in unlocking shareholder value.
Today, PayPal makes up approximately half of the firm's sales. The unit's huge installed base gives it a major leg up on the competition, but that also puts a big target on its back. The firm will need to keep offering innovative payment products and resolve customer communication issues if it wants to grow its share of the online payments business. The other half of eBay's revenues come from the firm's namesake auction site. Of that, half of auction sales are international.
By being on all sides of transactions (eBay provides services to both buyers and sellers and facilitates payments), the firm has found a lucrative business catering to small business, with everything from shopping cart software to invoicing platforms. As B2C transactions make up a bigger share of eBay's marketplace sales, the big transaction volume should help to drive significant fee growth in the quarters ahead. Look for earnings next month as a potential upside catalyst in EBAY.
PNC Financial Services Group
Pittsburgh-based PNC Financial Services Group (PNC) - Get PNC Financial Services Group Inc. (The) Report is enjoying some strong price action in 2014: since the beginning of the year, shares of PNC are up more than 18%. And as long as this broad-based rally persists in the S&P 500, financial sector stocks like PNC should continue to enjoy upside. That's particularly true at PNC, a firm that's been putting more emphasis on its growing asset management business this year.
PNC is one of the biggest regional banks in the U.S., with 2,700 branches spanning 17 states and Washington D.C. The firm's asset management arm boasts more than $131 billion in assets under management. While an extended low interest rate environment has created some challenges for lenders like PNC, the increased reliance on newer fee-based businesses like asset management helps to offset some of those detractors.
New efforts to increase efficiency should help the bank take advantage of a big deposit base and a relatively under-sized loan book. Likewise, another double-digit year for the S&P should translate into asset growth in the money management business, as well as increased willingness from PNC's conventional banking customers to invest in equities. With a cheap valuation, fat margins, and a major tailwind from the stock rally, PNC looks like a solid way to get financial sector exposure as we head into 2015.
PPG Industries
Specialty coatings and glass company PPG Industries (PPG) - Get PPG Industries Inc. Report is another Pittsburgh-based stock that's enjoying a market-beating year in 2014; it has rallied more than 20% in the trailing 12 months. PPG makes coatings that are used in a bevy of applications, from specialty coatings used to protect aircraft and car surfaces to the paint used in your house. It's the specialty group that provides the biggest advantages for PPG, as proprietary coatings give the firm pricing power (and deeper margins).
In recent years, PPG has been moving more towards the proprietary side of the business, shedding commodity chemicals in favor of products that come with an economic moat. For example, industrial customers work with PPG to develop specialized coatings for their processes, switching costs are high and customers are sticky. Increased focus on emerging markets is a smart move for PPG (most notably lately with the acquisition of Mexico's Comex), and more than a quarter of sales come from outside the U.S. today.
From a financial standpoint, PPG is in good shape. As of the most recent quarter, the firm carries approximately $3 billion in cash and investments, enough to offset its entire $3.3 billion debt load. Earnings in early January have the potential to trigger another leg higher, considering the fact that PPG is trading around all-time split-adjusted highs this week.
Southwest Airlines
For a long time, the conventional wisdom in airline investing has been that the best way to make a small fortune in airline stocks was to start with a large fortune. That hasn't been the case in 2014. In fact, the airline industry has been one of the single-best industries to park your portfolio – and as oil prices continue to plummet, best-in-breed airline stocks like Southwest Airlines (LUV) - Get Southwest Airlines Company Report should continue to outperform in a meaningful way.
Southwest invented the discount airline segment, offering consumers direct flights with a point-to-point network that reaches nearly 100 destinations. Innovation has been Southwest's secret weapon to avoid the pitfalls of a notoriously cyclical industry. The decision to stick with an all-Boeing fleet, for instance, has helped the firm score deep discounts when buying planes, and it's helped keep maintenance and training costs much lower than peers with more varied fleets. And Southwest is still moving forward today – the introduction of long-haul and international routes should enable LUV to earn bigger margins with less competition.
The firm's 41 years of consecutive profitability are unheard of in the airline business, and that's a testament to its management teams. Just like with any airline, jet fuel is Southwest's single biggest cost. And while the firm has been adept at hedging rising oil prices in the past, it's limited that hedge book more recently. That timing has proven fortuitous too – with oil prices at multiyear lows, LUV should see major margin expansion when it reports its numbers next month. With rising analyst sentiment in shares of LUV this week, we're betting on shares.
-- Written by Jonas Elmerraji in Baltimore.
Follow Stockpickr on Twitter and become a fan on Facebook.
At the time of publication, author had no positions in the names mentioned.
Jonas Elmerraji, CMT, is a senior market analyst at Agora Financial in Baltimore and a contributor to TheStreet. Before that, he managed a portfolio of stocks for an investment advisory that returned 15% in 2008. He has been featured in Forbes , Investor's Business Daily, and on CNBC.com. Jonas holds a degree in financial economics from UMBC and the Chartered Market Technician designation.
Follow Jonas on Twitter @JonasElmerraji
Jonas Elmerraji, CMT, is a senior market analyst at Agora Financial in Baltimore and a contributor to
TheStreet
. Before that, he managed a portfolio of stocks for an investment advisory returned 15% in 2008. He has been featured in
Forbes
,
Investor's Business Daily
and on
CNBC.com
. Jonas holds a degree in financial economics from UMBC and the Chartered Market Technician designation. Follow Jonas on Twitter @JonasElmerraji.