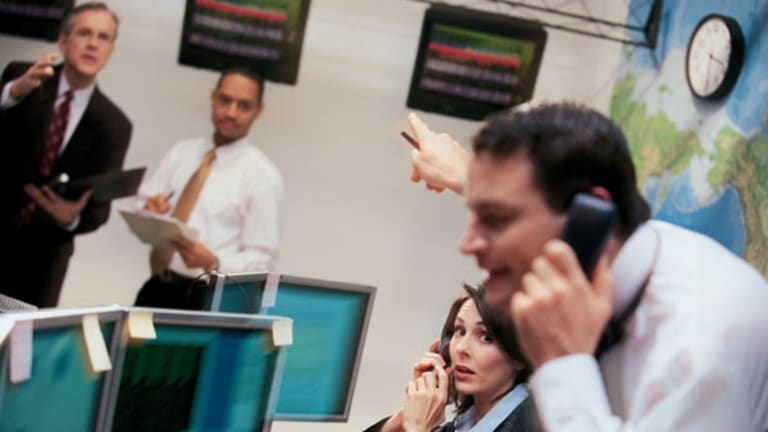 BALTIMORE (
) -- 'Twas the night before Christmas when all through Wall Street, not a creature was stirring, not even an equities research intern. As families all across the country settle in for the holidays, there's one thing that those people aren't doing: trading. That's why this week tends to be the quietest week for stocks all year.
>>5 "Magic Formula" Stocks for 2013
But quiet's not a bad thing...
Even though the week between Christmas and New Year's Day typically sports exceptionally low volume, it historically provides investors with a melt-up known as a "Santa Claus Rally." As investors count down the final days and hours of trading in 2012, that would be a welcome phenomenon -- especially as the headline risk of the fiscal cliff continues to put a knot in investors' stomachs.
Despite Friday's cliff-induced selloff, stocks actually managed to hold their ground pretty well last week, the
S&P 500
climbing 1.17% in spite of the selling. So while stocks aren't exactly starting Christmas Eve with the most inspiring trajectory, it's a little early to count out a Santa Claus rally.
And even though the market will be operating on a shortened schedule this week (closing at 1pm today and closed all day on Christmas), we're positioning ourselves to take advantage. That's why we're turning to a new set of Rocket Stock names this week.
For the uninitiated, "Rocket Stocks" are our list of companies with short-term gain catalysts and longer-term growth potential. To find them, I run a weekly quantitative screen that seeks out stocks with a combination of analyst upgrades and positive earnings surprises to identify rising analyst expectations, a bullish signal for stocks in any market. After all, where analysts' expectations are increasing, institutional cash often follows. In the last 181 weeks, our weekly list of five plays has outperformed the S&P 500 by 74.7%.
>>Outwit the S&P in 2013 With 5 Hated Stocks
Without further ado, here's a look at
.
Northrop Grumman
First up is
Northrop Grumman
(NOC) - Get Northrop Grumman Corporation Report
, one of the country's biggest defense contractors. Northrop has been facing the same challenges as its peers, with the black clouds of shrinking defense spending hanging over its head. So, like others, they've been pushing outward, and courting other revenue sources outside of DoD.
IT services is one of the big opportunities that NOC has to offer right now, and it's been able to secure lucrative contracts in other parts of the Federal government. Unmanned aerial vehicles offer somewhat of a cushion -- despite growing negative public sentiment for drones, the military see the aircraft as a way to heighten U.S. patrols in especially volatile areas without risking flight crews' lives. They should continue to be a growing portion of Northrop's sales as the firm fills orders at home and with allies. The firm's staunch technology focus (from UAVs to cyber security services) gives it a defensible niche against the more conventional contractors.
Financially, Northrop Grumman is in solid shape, with the firm's debt load almost fully offset by its cash on hand. Whlie that doesn't include Northrop's pension obligations (another $4 billion), the total balance sheet obligations aren't overblown. With rising analyst sentiment in this defense giant, we're betting on shares.
Cardinal Health
Pharmaceutical and medical instrument distributor
Cardinal Health
(CAH) - Get Cardinal Health, Inc. Report
is the middleman between pharma firms and the pharmacies and hospitals that sell drugs directly to consumers. When a retail pharmacy needs inventory, for instance, it turns to Cardinal's network to get warehoused and repackaged drugs -- sparing either of the other parties from needing expertise in those tasks.
That's a good business -- if you can get it. Because Cardinal doesn't really have an economic moat, its profits are pretty highly scrutinized by both the pharmaceutical firms and the pharmacies. Theoretically, if being the middleman is too lucrative, then someone else can step in to do it cheaper. But Cardinal's big advantage is scale. Because firm boasts enormous clients like
CVS Caremark
(CVS) - Get CVS Health Corporation Report
and
Walgreen
(WAG)
, CAH can focus on efficiency and keep its costs lower than any individual smaller rival. So while Cardinal's net margins weigh in at right around one percent, it's earning one percent on almost $110 billion a year.
Cardinal's balance sheet is in solid shape, with total debt almost completely offset by cash on hand. The firm's impressive cash flow generation means that Cardinal can pay out a consistently strong dividend in spite of its paper-thin margins. While this firm may not have a moat, its business is less easily replicated than it may seem at first glance.
Michael Kors Holdings
Michael Kors Holdings
(KORS)
is having a stellar run in 2012: since the first trading day in January, shares of the apparel stock have doubled. Michael Kors has established an attractive niche in the luxury apparel and accessories business, making everything from clothes and handbags to watches and jewelry. And like other leaders in the space, the firm's namesake retail stores are a major growth driver right now...
That growth has been stair-step on KORS' income statement, with revenues climbing from just $377 million in fiscal 2008 to more than $1.2 billion last year. Distribution in major department stores gives Michael Kors considerable volume, but the firm's own retail stores offer a lot more: they're a major contributor to the enormous net margins that this firm books, and they give KORS ultimate pricing power at the cost of increased fixed expenses. Because the firm has been selective about where it builds (opting for high dollar volume malls), it should be able to withstand any unforeseen economic hiccups.
Since going public a year ago, Michael Kors has been one of the best post-IPO performers of its class. And an uptick in consumer spending makes it look like that trend will continue into 2013. A pristine balance sheet with ample cash and a tiny debt position helps round out the picture for this Rocket Stock...
Cisco
As the standard bearer in the IP networking business,
Cisco
(CSCO) - Get Cisco Systems, Inc. Report
gets a lot of eyes on it. Despite a somewhat soft market for corporate spending, IT dollars have been flowing in the last several years as new trends like cloud computing up the infrastructure that firms need to offer customers. That's helped spur on the solid growth rates that Cisco's been booking in each of the last four years.
A big installed base gives Cisco an inherent advantage in selling its big-ticket networking components. Because IT departments want minimal headaches when adding onto their infrastructure, going with a single vendor is typically the most painless approach -- and that's boosted customer stickiness for CSCO. That's not to say that there hasn't been increased competition lately; as enterprise IT spending continues to climb higher, more firms want to eat Cisco's lunch. To avoid that, the firm is going to have to keep innovating.
One result of Cisco's dominant position in the IP networking business is a mountain of cash -- around $30 billion after all of its debt is accounted for. Cash comes with some concerns for big tech companies, namely the propensity to overpay for acquisition opportunities. And even though Cisco's latest targets haven't come cheap, they've been small enough to not dilute shareholder vale enough to matter. That said, Cisco's management needs to return more value to shareholders in the form of dividends or buybacks in this market -- holding $30 billion in cash in a low rate,
comparatively high inflation environment isn't viable for long.
The need to return cash to shareholders isn't exactly a secret, so when that value return happens, expect CSCO's share price to jump in kind...
SandRidge Energy
Last up on this week's Rocket Stocks list is
SandRidge Energy
(SD) - Get SandRidge Energy, Inc. Report
, a mid-cap oil and gas company that's just starting to show signs of strength after what's been a pretty painful 2012. SandRidge is an independent E&P, but it also owns an oil field services unit and midstream operations. The integrated nature of that business is attractive, as long as SD can continue to wear all of those hats well.
SandRidge overleveraged itself back in 2008, having piled up tons of debt just as the credit markets seized and liquidity became hard to come by again. Since then, the firm has been working on shoring up its finances, and its pared down its energy projects to unload less attractive exposure. While the decline of natural gas prices to record lows has been a big headwind for the firm, their long awaited rebound should bring with it a huge spike in profitability.
In the last few years, SD has increased its exposure to oil, picking up attractive conventional oil properties at the same time that crude prices have hovered around historic inflation-adjusted highs. As SandRidge comes off a bottom in the final quarter of 2012, investors look like they could have an opportunity to pick up shares at a bargain price. Meanwhile, rising analyst sentiment and performance is popping SandRidge on our list this week...
To see all of this week's Rocket Stocks in action, check out
at Stockpickr.
And if you haven't already done so,
today to create your own dividend portfolio. 


>>5 Financials Ready to Cut You a Bigger Check
>>5 Stocks Warren Buffett Loves
>>5 Toxic Stocks to Dump Before 2013
Follow Stockpickr on
and become a fan on
Facebook.
At the time of publication, author had no positions in stocks mentioned. Jonas Elmerraji, CMT, is a senior market analyst at Agora Financial in Baltimore and a contributor to
TheStreet
. Before that, he managed a portfolio of stocks for an investment advisory returned 15% in 2008. He has been featured in
Forbes
,
Investor's Business Daily
, and on
CNBC.com.
Jonas holds a degree in financial economics from UMBC and the Chartered Market Technician designation.