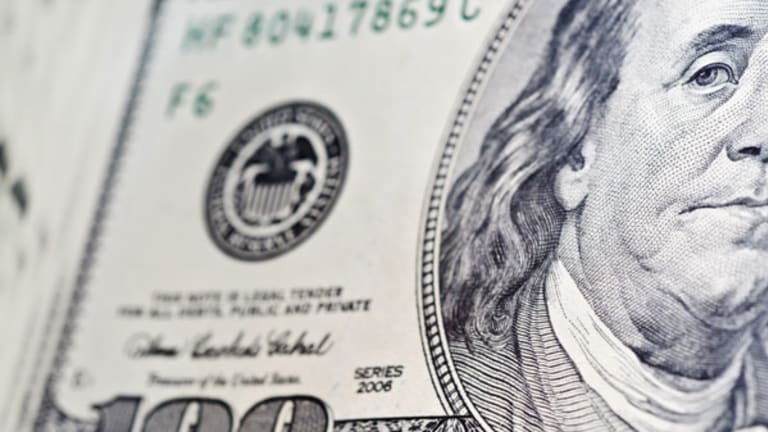 5 Rocket Stocks to Buy for a Relief Rally
Cisco and MasterCard are among a handful ready to benefit from a post-Thanksgiving week pop.
The following commentary comes from an independent investor or market observer as part of TheStreet's guest contributor program, which is separate from the company's news coverage.
BALTIMORE (
) -- As investors emerge from their turkey-induced comas and resume trading this morning, it's sure to be another action-packed week.
Even though last week's trading was shortened by the Thanksgiving holiday, it definitely lived up to volatile expectations. All told, the
S&P 500
managed to fall 4.69% in the last four trading days, the worst Thanksgiving week for the stock market since 1932. That's also ratchets the market's streak to seven consecutive down days.
After that much downward pressure, investors are going to be looking for a relief rally this week. Positive projected sales numbers from today's Cyber Monday sales could help spark some stock buying -- the e-commerce equivalent of Black Friday is expected to provide online retailers with record sales numbers. Because consumer sentiment numbers are a crucial metric for the broad economy, holiday spending is going to be an important input for investors over the next few weeks.
So, with the possibility of a relief rally on the horizon, we'll turn to a new set of Rocket Stock names this week...
For the uninitiated, "Rocket Stocks" are our list of companies with short-term gain catalysts and longer-term growth potential. To find them, I run a weekly quantitative screen that seeks out stocks with a combination of analyst upgrades and positive earnings surprises to identify rising analyst expectations, a bullish signal for stocks in any market. After all, where analysts' expectations are increasing, institutional cash often follows.
Related:
5 Sin Stocks That Could Pop on a Short Squeeze
In the last 130 weeks, our weekly list of five plays has outperformed the S&P 500 by 79.53%. With that, here's a look at
.
Cisco
It's been a rough year for
Cisco
(CSCO) - Get Report
: shares of the networking giant have slid more than 13% year-to-date, dragged down by too many diverse businesses and too little focus on its core competencies. Shares have shown little strength this year, gapping significantly lower on earnings data twice this year as investor demand was completely sapped from shares. Now, though, Cisco look like it's turned the corner.
For starters, Cisco has been executing a restructuring plan that should increase operational efficiency and reduce the number of fragmented and underperforming businesses under its corporate umbrella. By shedding divisions that are dragging on earnings, the firm should be able to get on investors' radar once again. That doesn't mean Cisco will completely unload its lower margin businesses; consumer products don't offer the same advantages to the firm that its enterprise business does, but the growth potential of consumer networking means that management is keeping its consumer businesses alive in spite of some shareholder objections.
From a financial position, Cisco is in strong shape. The firm has a massive net cash position that it has put to work paying shareholders a dividend for the first year in company history. If management can keep its focus on shareholder value and away from potentially distracting (and pricey) acquisition targets, Cisco should be able to keep its new upward trajectory going in 2012.
MasterCard
On the other hand, upward trajectory hasn't been a problem for
MasterCard
(MA) - Get Report
this year. Shares of the payment processing giant have already climbed more than 54% in 2011, and relative strength continues to look attractive for shareholders. So, can this stock sustain its upside?
The short answer is "yes." Right now, MasterCard lays claim to around 31% of the payment cards in the world; while that means that the firm is second fiddle to
Visa
(V) - Get Report
, it also means that there's considerable room for the firm to grow as it competes for a bigger share of the fast growing electronic payments business. Consumers don't necessarily need to spend more for MasterCard to benefit -- they just need to switch from paper (that is, cash and checks) to plastic.
While challenges from peers and regulators will be important to watch for MasterCard, the firm's success abroad will be crucial, particularly in emerging markets. We're riding the wave of rising analyst sentiment for MA this week.
Xerox
Xerox
(XRX) - Get Report
has long been one of the biggest names in printers and copiers, but the company's current positioning is all about changing the game. Xerox's business model revolves around document management. From printing to storing to processing documents for large businesses, Xerox wants its products and services to be part of the equation -- and in many cases, they are.
But Xerox's success has drawn considerable competition into the field, driving down margins and putting the company's interests back into developing new technology. Today, Xerox has been pushing color printing and electronic document services, two offerings that could potentially cannibalize the firm's traditional black and white printer sales -- but they are businesses that management realizes can actually generate bottom line growth down the line. At the same time, it's developing new tools for its commercial printing customers, technology that could trickle down to office machines.
Services currently hold the most hope for Xerox near-term. If the firm can offer customers ways to trim costs and improve the usefulness of its printing resources, it should continue to generate higher-margin revenue in both good times and bad.
Tractor Supply Company
With this quarter's focus on retail sales, it makes sense to take a closer look at
Tractor Supply Company
(TSCO) - Get Report
, a mid-cap home improvement retailer based in Brentwood, Tennessee. Don't let Tractor Supply's name fool you - the company's 1,001 stores are about more than just agriculture equipment. Instead, its shelves are stocked with everything from home and lawn products to hardware and gifts.
Tractor Supply has seen significant top-line growth since before the recession, and it did it without the margin squeeze that so many of its home improvement retailer peers saw in recent years. Instead, Tractor Supply has boosted its net margins to almost 4.5% consistently, an attractive profit cut for a firm that's seen its top line grow by double-digits on average each of the last few years.
Geographic footprint is a key success factor for this firm. The company builds its locations in rural communities outlying major metropolitan areas, positioning that offers enough consumer concentration to support a store with the demographics that will want the products Tractor Supply sells. While TSCO's footprint is currently large, there's still significant room for new stores in the market. Today, with a hefty cash position and effectively no debt, investors should be paying attention to this alternative to the popular big box names.
Kansas City Southern
Railroad operator
Kansas City Southern
(KSU) - Get Report
owns 3,200 miles of track in the central and southern U.S., as well as operations over 2,700 miles of track in Mexico and a 47-mile span by the Panama Canal. While the smallest of 11 Class I railroads in the U.S., Kansas City Southern's exposure to Mexico makes it a particularly interesting name right now as investors look for ways to diversify away from the dollar.
As oil prices stay volatile, the significantly lower cost of rail freight is starting to catch shippers' attention again. Rail is generally six times cheaper per ton shipped than over-the-road trucking, even if it requires a few more steps to get from one shipping depot to another. As oil prices flirt around triple-digits again, they should benefit railroads like Kansas City Southern more than they hurt them.
Going into December, the big uncertainty factor for KSU is the labor dispute that's going on between railroads and the seven unions that represent workers. Under current rules, rail workers would be able to strike starting on Dec. 6. At this point, though, negotiations haven't been contentious, and the potential for a strike is being delayed until February -- a good thing for railroads, who need more time to reach a deal.
Ultimately, KSU's hedged exposure to the U.S. and the likelihood of a deal being reached quickly bode well for Kansas City Southern going into 2012. While KSU doesn't boast the benefits of some of its larger peers (namely a dividend payout), its business is still worth watching -- especially with analyst sentiment on the rise this week.
To see all of this week's Rocket Stocks in action, check out
at Stockpickr.
-- Written by Jonas Elmerraji in Baltimore.
RELATED LINKS:
>>4 Stocks Under $10 With Big Upside Potential
>>7 Relative Strength Trades to Beat the Market in 2012
>>4 Stocks Under $10 With Big Upside Potential
Follow Stockpickr on
and become a fan on
Facebook.
At the time of publication, author had no positions in stocks mentioned.
Jonas Elmerraji is the editor and portfolio manager of the
Rhino Stock Report
, a free investment advisory that returned 15% in 2008. He is a contributor to numerous financial outlets, including
Forbes
and
Investopedia
, and has been featured in
Investor's Business Daily
, in
Consumer's Digest
and on
MSNBC.com
.