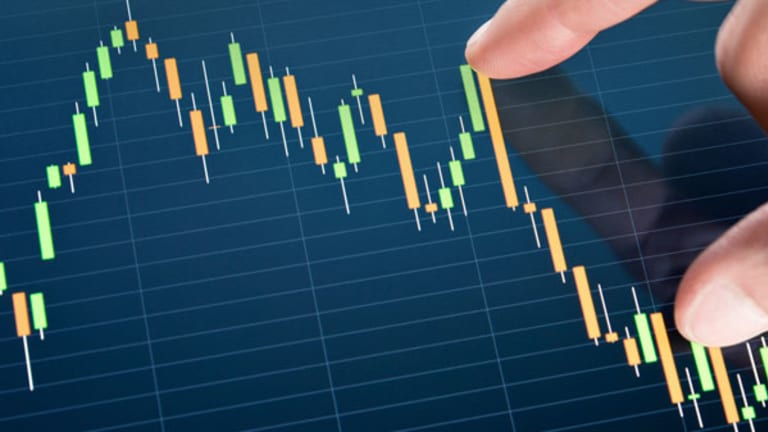 Publish date:
5 Rocket Stocks to Buy for a Happy New Year
Even though stocks have been in corrective mode for the last couple of weeks, 2012 was probably a more bullish year than it felt like.
Even though stocks have been in corrective mode for the last couple of weeks, 2012 was probably a more bullish year than it felt like.
BALTIMORE (Stockpickr) -- It may be New Year's Eve today, but Mr. Market isn't pulling out the noisemakers and hunkering down to watch the ball drop just yet; we've got the final trading day of 2012 to get through first.
>>5 Huge Trades for a Volatile 2013
And early indications point the year ending on a high note today...
Even though stocks have been in corrective mode for the last couple of weeks, 2012 was probably a more bullish year than it felt like. Stocks rallied more than 11.5% between January's first trading session and Friday's close, making the year a solid performer on a historical basis. If it didn't feel like it to you, you're not alone -- investors have been underestimating the market's performance since the housing crash sent retail investors fleeing from stocks.
Bloomberg
estimates that Americans have missed out on $200 billion of stocks gains because of that.
Now, the fact that the
S&P 500
remains in a well-defined uptrend heading into 2013 bodes well for a repeat performance. So it may be a good time to tune into the stock stories getting told on Wall Street right now. That's why we're turning to a new set of Rocket Stock names this week.
For the uninitiated, "Rocket Stocks" are our list of companies with short-term gain catalysts and longer-term growth potential. To find them, I run a weekly quantitative screen that seeks out stocks with a combination of analyst upgrades and positive earnings surprises to identify rising analyst expectations, a bullish signal for stocks in any market. After all, where analysts' expectations are increasing, institutional cash often follows. In the last 182 weeks, our weekly list of five plays has outperformed the S&P 500 by 72.9%.
>>5 Stocks Warren Buffett Loves
Without further ado, here's a look at
.
Wells Fargo
2012 has been a stellar year for
Wells Fargo
(WFC) - Get Wells Fargo & Company Report
. Shares of the $180 billion banking giant have rallied more than 23% so far this year, besting the broad market by a wide margin. Wells Fargo has earned a reputation as the best of the bank stocks -- and by and large, that's a reputation that the 160-year-old firm has lived up to.
Wells Fargo is a conventional retail bank. The firm earns the lion's share of its business as a lender and deposit gatherer, a model that had been eschewed by most of the larger U.S. banks heading into the financial crisis of 2008, only to be re-embraced when the dust cleared. 2008 was a big year for Wells Fargo -- it gave the firm an opportunity to acquire Wachovia at fire sale prices, doubling in size and greatly increasing its exposure on the East Coast.
Historically, Wells Fargo has boasted better margins than its peers, the result of access to extremely cheap deposits. That remains the case today, although the firm is augmenting its strategy with more fee-based revenue streams from its wealth management and retirement services arm. That combination should continue to benefit Wells' shareholders -- especially as interest rates start their uphill climb in the next couple of years.
AstraZeneca
Biopharmaceutical maker
AstraZeneca
(AZN) - Get Astrazeneca PLC Sponsored ADR Report
is one of the biggest drug makers in the world, with a stable of drugs that brings in more than $33.5 billion a year in sales. The firm's patents include top-producing names like Nexium, Crestor, and Symbicort, three drugs that accounted for almost half of AstraZeneca's revenues last year.
While the patent dropoff has been as much a concern for AZN as it has been for other big pharma peers, generics haven't eaten into the firm's sales as much as expected. In the last couple of years, even drugs with recent generic competition have been able to boost their market share thanks to strong marketing campaigns, easing some worries about the patent cliff that AZN has looming on the horizon. That's not to say that investors aren't worried about patent expirations -- AstraZeneca loses protection on some truly key drugs in the next few years -- but the firm's pipeline has hopes of gaining back a lot of that.
It doesn't hurt that the firm has close to $7 billion in cash. That helps to offset $11 billion in debt, and gives the firm the option to make more acquisitions in the next year before AZN gets to the point where leverage is a concern. Meanwhile, the firm has been using its cash to reward shareholders to the tune of 6% a year in dividends. While AZN isn't without its concerns right now, the risks are priced in and the tailwinds aren't.
Baidu Inc.
"The Chinese Google" is probably the best way to describe what Beijing-based
Baidu Inc.
(BIDU) - Get Baidu, Inc. Sponsored ADR Class A Report
does. The $35 billion firm is the incumbent internet search provider in the People's Republic, boasting around half a million advertising customers and search traffic that puts it in the top five most-trafficked sites in the world.
Baidu's business model is effectively the same as Google's, with paid-search making up the brunt of its strategy. It's real economic moat comes from the challenges of operating in the challenging Chinese market -- with Google's exit from China in 2010, one of the biggest competitors sent a conspicuous message to other western search providers that doing business in China wasn't worth the trouble, limiting the chances that someone else will take Google's place (and market share). Financially, BIDU boasts a stellar balance sheet with $21.2 billion in debt offsetting a paltry $2.4 billion debt load -- that gives BIDU plenty of dry powder to pursue growth opportunities.
Chinese firms fell out of favor with U.S. investors in a big way in the last year and change, and BIDU's size didn't make it an exception. Concerns over the large number of cases of financial fraud present a problem for both sides -- and there's been talk of Chinese investors pulling listings off of U.S. exchanges to counter the low valuations. That could actually be a good thing for U.S. owners of Chinese firms as going-private transactions inject some quick gains into these stocks. Baidu, for its part, remains one of the more transparent Chinese ADRs on the NASDAQ.
Salesforce.com
Customer relationship management software maker
Salesforce.com
(CRM) - Get salesforce.com, inc. Report
has been benefitting from its leading spot in the market -- shares have rallied more than 61% since the start of the year, buoyed by strong fundamental performance. Salesforce serves more than 100,000 businesses spread across the globe, helping them interact with their own customer lists, enabling everything from sending newsletters to tracking sales. That mission-critical nature of Salesforce's offering gives the firm a big economic moat for shareholders right now.
The growing popularity of computing has become a major growth driver for software-as-a-service firms, and Salesforce has taken full advantage. The company was one of the first major software vendors to offer a hosted CRM solution. That first-to-market status for Salesforce means that it's got a measurable jumpstart over peers who are attempting to move customers over to their platforms.
Software-as-a-service is also a more lucrative model for software firms like CRM. Instead of selling a software license and then trying to convince customers to spend big bucks on the next iteration of the software, the cloud model lets CRM charge recurring fees while trickling feature improvements onto the platform. And because integration with customers' systems takes place deep in the Salesforce platform, switching costs are extremely high for businesses to move to rival services. With a spotless balance sheet and rising analyst sentiment in shares, we're betting on this Rocket Stock for the first week of the new year.
Hertz Global Holdings
Car rental giant
Hertz Global Holdings
(HTZ) - Get Hertz Global Holdings, Inc. Report
is adjusting to a major change this quarter -- the firm just closed the acquisition of Dollar Thrifty Automotive Group in November, adding significant capacity to the firm's network. Hertz is one of the biggest car rental firms worldwide, with around 8,500 locations in 150 countries. That network size makes competition extremely challenging -- only Hertz and a handful of peers can offer travelers car rental desks wherever they are in the world.
The car rental business is capital intense, and Hertz got punished for its exposure during the financial crisis. Between a leveraged balance sheet and the drop-off in business travelers post-2008, car rental companies were in an unfriendly market. But investors over-corrected, and Hertz has done a good job of rebounding from its 2009 lows. While balance sheet leverage is a concern (financing all of the new cars in its fleet isn't cheap), it's fueling deeper margins in this low-rate environment we're in now.
An aging average car age in the U.S. bodes well for Hertz. Since disposing of its older fleet cars is an integral part of its business, a hot used car market means that the firm can earn significant money on disposal as well as rental income. Right now, Hertz has ample cash to handle any bumps in the road, and rising analyst sentiment puts this firm on our Rocket Stocks list for the first time.
To see all of this week's Rocket Stocks in action, check out
at Stockpickr.
At the time of publication, author had no positions in stocks mentioned. Jonas Elmerraji, CMT, is a senior market analyst at Agora Financial in Baltimore and a contributor to
TheStreet
. Before that, he managed a portfolio of stocks for an investment advisory returned 15% in 2008. He has been featured in
Forbes
,
Investor's Business Daily
, and on
CNBC.com.
Jonas holds a degree in financial economics from UMBC and the Chartered Market Technician designation.