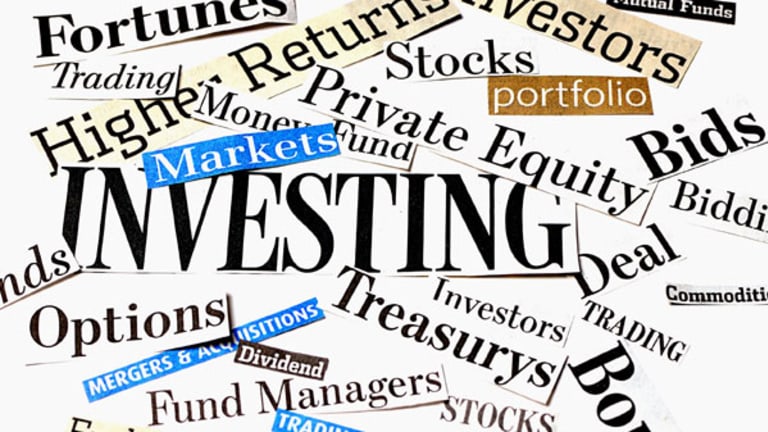 5 Rocket Stocks to Buy Before the World Ends
BALTIMORE (
) -- Between the end of the world on Friday and the Fiscal Cliff clock ticking down to the wire, it may seem surprising to some that the
S&P 500
is managing to hold its ground just 3% and change off from its Fall 2012 highs. But there's more to Mr. Market's machinations than just those two factors.
End of the world talk aside, the fiscal cliff has been accompanied by much less volatility than the debt ceiling debacle ushered in last year. Part of the reason for that is the fact that most fear selling of stocks has already happened. We came into this quarter with the investor sentiment skewed definitively against equities, and historically that's been a good indication that stocks were about to start a new primary trend higher.
Ignoring the economic impact of the cliff, income investors are unlikely to unload stocks because of the cliff for one simple reason: there isn't a good alternative.
With interest rates being held near zero, equities are the last bastion of positive real returns for scores of investors. So, while sentiment is still against stocks right now (a good
), investors are realizing that they hate other asset classes even more.
That's why we're turning to a new set of Rocket Stock names this week.
For the uninitiated, "Rocket Stocks" are our list of companies with short-term gain catalysts and longer-term growth potential. To find them, I run a weekly quantitative screen that seeks out stocks with a combination of analyst upgrades and positive earnings surprises to identify rising analyst expectations, a bullish signal for stocks in any market. After all, where analysts' expectations are increasing, institutional cash often follows. In the last 180 weeks, our weekly list of five plays has outperformed the S&P 500 by 74.8%.
Without further ado, here's a look at
.
MasterCard
MasterCard
(MA) - Get Mastercard Inc. (MA) Report
is having a strong showing in 2012 -- shares of the $60 billion payment network have rallied around 30% since the first trading day in January, buoyed by strong fundamental performance this year. MasterCard is the number-two payment card network in the word, behind standard-bearer
Visa
(V) - Get Visa Inc. Class A Report
, with around 31% of the world's credit cards carrying a MasterCard logo.
The payment network business is lucrative for a few reasons. First, it's important to remember that MasterCard is the network, not the card issuer. Since it doesn't extend credit itself (its partner banks do), it doesn't carry any credit risk on its balance sheet. Instead, MasterCard earns its money by taking a tiny cut of every transaction that it facilitates, taking huge margins for its trouble. Because barriers to entry are extremely high for the payment card business, it's unlikely that we'll see any unfamiliar names eating share from MA and its big peers -- even though newcomers like PayPal and
Google
(GOOG) - Get Alphabet Inc. Class C Report
are making a presence in retail point of sale systems, they're not close to seeing big dollar volume yet.
Ultimately, a rising tide should lift all ships in the payment industry, at least in the short-term. As more consumers around the world transition to the security and convenience of electronic payments, growth opportunities will continue to present themselves to MA's top line. That's why we're betting on shares of this Rocket Stock right now.
Mylan
Generic pharmaceutical maker
Mylan
(MYL) - Get Mylan N.V. (MYL) Report
is seeing similar price performance this year. Year-to-date, MYL is up more than 30% after a handful of new FDA approvals helped to spur guidance higher on the year. Mylan is one of the biggest generics manufacturers in the world, carrying more than 900 products sold worldwide. Generics weren't enough for Mylan, though. The firm has turned to proprietary drugs to find bigger margins, turning out successful specialty offerings headed by the EpiPen.
Mylan's manufacturing capabilities give it a big advantage right now. Because the firm has facilities that are more sophisticated than most other generics makers, it can compete in the biosimilars business, a more challenging space that's rewarded by much higher margins and much less competition. At the same time, as patent-protected specialty drugs become a more significant portion of sales, the firm should establish a big moat compared to other generic drug makers.
Financially, Mylan is in decent shape, even if its debt load is a little higher than at peers. Double digit margins and ample cash generation capabilities help to offset that. With an aging global population likely to create tailwinds for drug firms over the medium-to-long-term, Mylan is well positioned for even more upside in 2013.
VeriFone Systems
VeriFone Systems
(PAY)
is all about getting its customers paid. The firm makes point-of-sale (POS)systems and provides payment processing services to merchants, turning those credit card swipes into cash in businesses' accounts. VeriFone enjoys league leader status in the POS market, supplying around half of the country's credit card terminals.
VeriFone has two big tailwinds right now: the hardware upgrades retailers are making to comply with tougher security standards, and the increased use of mobile payment terminals in conventional brick-and-mortar stores. The increased adoption of pricier computer-based terminals is a nice margin booster as well, especially as the computer components become increasingly commoditized. On the payment services side, it's PAY's own business that's commoditized.
At the end of the day, it all comes down to rates, and if VeriFone can't offer the best transaction fees for retailers, they'll go with someone else. One advantage for PAY is the fact that its hardware is so prevalent and can be made proprietary -- even so, card payment networks (like MasterCard) hold the power on the service side of the business. Strong financial health helps to make VeriFone look attractive right now, with almost half a billion in cash offsetting a very manageable $1.3 billion debt load. With analyst sentiment on the rise, we're betting on shares this week.
CBS Corporation
Media giant
CBS Corporation
(CBS) - Get CBS Corporation Class B Report
has its hand in nearly every format -- it owns an eponymous TV network and production unit, pay TV channel Showtime, CBS Radio, a billboard advertising group, and publishing house Simon & Schuster. That diversified portfolio of companies is especially valuable when held together, as it offers CBS exceptional cross-promotion and content sharing opportunities that standalone firms can't leverage.
The biggest chunk of CBS is its namesake network. The channel boasts a collection of hit shows, content deals with giants like NFL (CBS is broadcasting Super Bowl XLVII in February), and bigger advertising checks than cable networks can muster. It's not just the national network that's under CBS' umbrella -- the firm owns local networks in 30 markets, generating local ad sales and retransmission fees from local cable companies.
Content is the biggest hidden asset for media firms like CBS right now, and while the true value of CBS' library won't be known for a while, online video services like
Netflix
(NFLX) - Get Netflix, Inc. (NFLX) Report
and
Amazon
(AMZN) - Get Amazon.com, Inc. Report
should unlock considerable value in the meantime. Even though the media business is far from cheap, CBS sports a decent balance sheet and plenty of tertiary assets in cash liquidity needs arise.
Texas Instruments
Last up today is
Texas Instruments
(TXN) - Get Texas Instruments Incorporated Report
, the Dallas-based semiconductor firm that's better known among school kids for its line of calculators. Texas Instruments is the world's largest analog chipmaker, building electronics that take analog inputs (like audio or temperature) and digitize them for a computer's consumption. The business is a lucrative one, especially as electronic devices continue to become more and more ingrained in consumers' lives -- more analog inputs means more analog chips.
The firm has been doubling down on the chip business, spending money on next generation manufacturing equipment and acquiring National Semiconductor last year in a deal that dramatically boosted TXN's share of the analog chip market. While that acquisition did add some debt to Texas Instruments' formerly debt-free balance sheet, it's a modest obligation compared to the amount of cash that the firm is able to generate.
Chipmakers have been under fire for most of this year, but Texas Instruments' exposure to high growth areas like mobile phone components should keep its top line growing faster than its share price in the near-term. Meanwhile, with rising analyst sentiment perking up in shares of this Rocket stock right now, we're betting on shares.
To see all of this week's Rocket Stocks in action, check out
at Stockpickr.
RELATED LINKS:
>>5 Dividend Stocks to Fight Off the Fiscal Cliff
>>5 Stocks Warren Buffett Loves
>>5 Toxic Stocks to Dump Before 2013
Follow Stockpickr on
and become a fan on
Facebook.
At the time of publication, author had no positions in stocks mentioned. Jonas Elmerraji, CMT, is a senior market analyst at Agora Financial in Baltimore and a contributor to
TheStreet
. Before that, he managed a portfolio of stocks for an investment advisory returned 15% in 2008. He has been featured in
Forbes
,
Investor's Business Daily
, and on
CNBC.com.
Jonas holds a degree in financial economics from UMBC and the Chartered Market Technician designation.