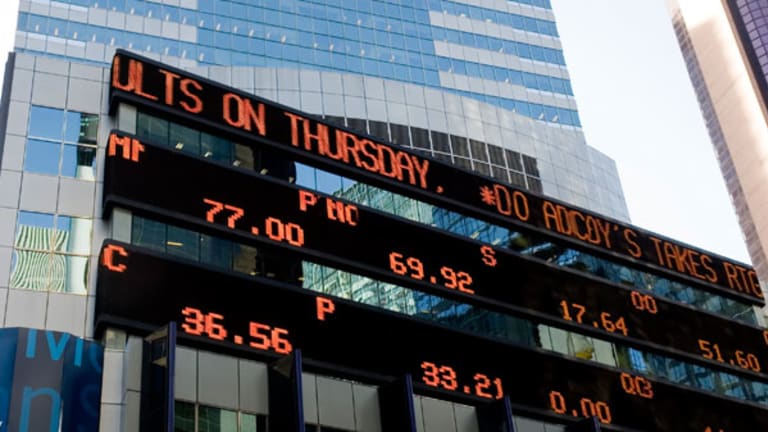 Publish date:
5 Rocket Stocks to Buy as the S&P Rebounds
These stocks have both short-term gain catalysts and longer-term growth potential.
These stocks have both short-term gain catalysts and longer-term growth potential.
BALTIMORE (
) -- Last week was a "consolidation" week for stocks; that's a nice way of saying that performance stank in the
S&P 500
over the past five trading sessions.
All told, the S&P gave back 1.01% between Monday's open and Friday's close, a pretty hefty single-week dip considering the extremely low-volatility rally that's been in force since all the way back in November. But let's put things in perspective for a moment: That sort of a price move would have just been regular trading noise this time last year when the
was sitting almost twice as high as it is now.
>>5 Stocks Poised for Breakouts
Investors continue to look for signs of a top in stocks. With new highs just a stone's throw away (and at a price level that failed the last two times it was touched), investors are searching out any excuse to sell. But from a technical and fundamental standpoint, the S&P 500 doesn't look overbought -- it still looks exceptionally bullish.
So, to take full advantage of any upside in the week ahead, we're turning to a new set of Rocket Stock names.
For the uninitiated, "Rocket Stocks" are our list of companies with short-term gain catalysts and longer-term growth potential. To find them, I run a weekly quantitative screen that seeks out stocks with a combination of analyst upgrades and positive earnings surprises to identify rising analyst expectations, a bullish signal for stocks in any market. After all, where analysts' expectations are increasing, institutional cash often follows. In the last 194 weeks, our weekly list of five plays has outperformed the S&P 500 by 73.7%.
>>Trade These 5 Huge Stocks for Gains
Without further ado, here's a look at
.
BlackRock
If you don't own shares of
BlackRock
(BLK) - Get Report
, you've missed out on some significant upside in 2013. Shares of the $42 billion asset manager have rallied 19% so far year-to-date, doubling the broad market's performance over that same period. That rally makes a lot of sense -- to an investment manager, a broad stock rally means higher assets under management for BLK and, in turn, more revenue. In other words, we're in a very constructive market for BlackRock both fundamentally and technically.
>>5 Hidden Earnings Bargains Worth Buying Now
Bigger is better for asset managers, so BlackRock's position as the biggest investment manager in the world (with $3.8 trillion under management) gives it some big scale advantages. Much of that scale comes from the firm's 2009 acquisition of Barclays Global Investors, a move that fortuitously boosted BLK's equity exposure just a few months after stocks bottomed after the crash. Timing has proven to be everything at BlackRock, and that good timing continues to be worth watching now.
Now BlackRock is working hard to grab more retail investors for its investment products. One big inroad comes from ETFs, which BlackRock offers under its iShares banner. The firm's decision to partner up with major retail brokers to offer commission-free ETFs should help spur an increase in retail AUM as Mr. Market plows onward and upward.
Priceline.com
Online travel site
Priceline.com
(PCLN)
is coming off the heels of a correction from Fall 2012, but this momentum stock's primary trend is still up. Priceline dug out an economic moat by becoming the most popular "Name Your Own Price" travel site, connecting bargain-conscious consumers with excess inventory that hotels and airlines were trying to fill at lower prices. While that's niche has changed more recently, Priceline's dominance in online travel hasn't.
>>5 Stocks With Big Insider Buying
International markets offer some big growth opportunities for Priceline right now. It's becoming increasingly common for travel sites to pen "lowest price" guarantees with hotels, a phenomenon that effectively means that it doesn't matter where you buy your next trip; you're probably going to end up paying the same price anyway. But there is a lot more flexibility abroad, particularly in emerging markets in Asia and Latin America. There, consumers are looking for travel outlets that have the biggest inventories of rooms and air carriers, and experienced travel firms like Priceline are well positioned to take advantage as a result.
Priceline's attractive balance sheet gave it the wherewithal to acquire
Kayak
( KYAK), a deal that's been ongoing pending approval from UK regulators. The Kayak acquisition will give Priceline a travel media site that serves as a stronger online destination than a commerce site alone. With rising analyst sentiment in this Rocket Stock right now, we're betting on shares.
InterncontinentalExchange
Atlanta-based
IntercontinentalExchange
(ICE) - Get Report
may be a relative newcomer to the financial industry, but it's making up for its lack of history by buying someone with plenty of history:
NYSE Euronext
(NYX)
. Founded in 2000, ICE quickly established itself as a go-to exchange and clearing house for global derivatives markets. Today, the firm operates four regulated exchanges located in the U.S., Canada and the United Kingdom.
While legacy players dominate the trading of fungible derivatives, ICE is a major player in the OTC market for "less commoditized commodities," helping to match buyers and sellers of more specialized securities. The firm's clearing business is a very attractive complement to its exchange and OTC trading arm -- it essentially lets ICE fill a role that a third-party would otherwise get a piece of. Buying NYSE Euronext will change that considerably, giving ICE control of an iconic financial market during one of its most competitive environments in history.
The combined firm will be able to provide its customers with conventional equity products as well as the OTC energy offerings that have made up the majority of InterncontinentalExchange's revenues. With hefty margins and strong balance sheet health, ICE looks in good shape to acquire NYSE -- and this equity rally should help to balloon the value of its new asset quickly.
XL Group
$9 billion insurer
XL Group
(XL) - Get Report
is a leader in the property-casualty insurance and reinsurance business, providing wholesale insurance products for commercial and industrial customers as well as for other insurers. The firm has historically been one of the most innovative names in risk management products, helping firms to reduce the chances of getting wiped out by a catastrophe.
While the insurance industry has become extremely commoditized in recent years, there are still some advantages that come from scale -- and XL has scale. That gives XL the ability to underwrite big, hugely unlikely risks for large corporations that smaller insurance firms don't have the balance sheet to absorb. New products are another big de-equalizer for XL's insurance book; as the firm continues to offer new, innovative financial protection products, firms demanding those offerings have no choice but to pay what XL's underwriting arm wants to charge them.
Like other insurance firms, XL took a substantial hit following the financial crisis of 2008. But also like peers, XL has made leaps and bounds to re-solidify its investment portfolio. Now, XL Group's 22.8% ascent in 2013 doesn't look like it's coming to an end any time soon.
Safeway
Mid-cap grocery stock
Safeway
(SWY)
may not be the most exciting name on our Rocket Stock list this week, but the food and drug retailer is a way to harness the awesome relative strength in consumer stocks this quarter. The firm owns close to 1,700 stores spread across the U.S., Mexico and Canada, as well as an ownership stake in gift card company Blackhawk. Blackhawk's not going to be a Safeway unit for long -- its IPO just got priced at $20 to $22 per share this morning, and will trade on the Nasdaq under the symbol HAWK.
Safeway is one of the best-in-breed stocks in the conventional grocery business. Safeway has been one of the first companies to embrace private label brands and so-called "Lifestyle" store upgrades that cater to a higher-end customer. Those two changes should be a big source of margin growth for Safeway, which operates in an industry where margin cushion is paramount.
With rising analyst sentiment in Safeway right now, we're betting on shares for this week.
To see all of this week's Rocket Stocks in action, check out
at Stockpickr.
-- Written by Jonas Elmerraji in Baltimore.
RELATED LINKS:
>>2 Oil and Gas Stocks Spiking on Big Volume
>>5 Stocks to Keep on Your M&A Deal Radar in April
>>5 Stocks Under $10 Set to Soar
Follow Stockpickr on
and become a fan on
Facebook.
At the time of publication, author had no positions in stocks mentioned. Jonas Elmerraji, CMT, is a senior market analyst at Agora Financial in Baltimore and a contributor to
TheStreet
. Before that, he managed a portfolio of stocks for an investment advisory returned 15% in 2008. He has been featured in
Forbes
,
Investor's Business Daily
, and on
CNBC.com.
Jonas holds a degree in financial economics from UMBC and the Chartered Market Technician designation.