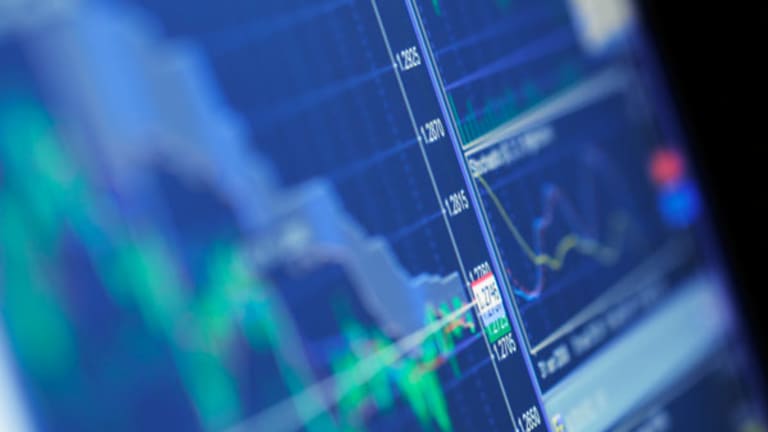 5 Rocket Stocks to Buy After the Storm
These stocks have both short-term gain catalysts and longer-term growth potential.
These stocks have both short-term gain catalysts and longer-term growth potential.
BALTIMORE (
) -- Mother Nature just might have the best Halloween costume of all this week: the so-dubbed "Frankenstorm" that's ravaged the Eastern seaboard this week. The storm has had a real impact on markets, with Hurricane Sandy keeping U.S. stock and options markets closed until today.
It's the
that NYSE opted to board up its trading floor ahead of a storm. The last was Hurricane Gloria back in 1985.
>>5 Stocks Poised for Breakouts
With markets open once again, we're focusing on five new names that should be able to benefit in spite of the storm: a new handful of Rocket Stocks.
For the uninitiated, "Rocket Stocks" are our list of companies with short-term gain catalysts and longer-term growth potential. To find them, I run a weekly quantitative screen that seeks out stocks with a combination of analyst upgrades and positive earnings surprises to identify rising analyst expectations, a bullish signal for stocks in any market. After all, where analysts' expectations are increasing, institutional cash often follows.
>>5 Big Stocks to Trade for Gains
In the last 174 weeks, our weekly list of five plays has outperformed the S&P 500 by 72.68%.
Without further ado, here's a look at
.
BlackRock
Investment management giant
BlackRock
(BLK) - Get Report
is up first this week. With close to $3.7 trillion in assets under management, BlackRock is by far the biggest manager in the world. It's not just size that matters, where the money's stashed is also important, and BLK's allocations are attractive.
Currently, less than half of BLK's funds are in equities, around a third is in fixed income, and the rest sits in alternatives. With investors still feeling squeamish about stocks, that limited equity allocation is nice. And since BlackRock got its start as a fixed income shop, it's been able to take full advantage of the treasury rally that's been roaring as risk-averse investors poured all of their assets into risk-free government debt.
>>5 Dividend Winners Better Than Treasuries
Part of the trick is going to be in convincing investors to keep their money at BlackRock when they eventually make the move over to equities again. With inflation outpacing the paltry return on Treasuries right now,
. The fact that BLK gets most of its assets from other institutions should help keep those assets in-house; the group that tends to be less fickle and more willing to stay in a fund than nonprofessionals.
That said, if BlackRock is willing to court more retail investors, it'll have a big growth avenue ahead of it in the next few years. We're betting on shares of this asset manager this week.
BlackRock was also featured recently in "
5 Stocks With Big Insider Buying
."
Yahoo!
With new CEO Marissa Mayer at the helm, investors are starting to give
Yahoo!
(YHOO)
the benefit of the doubt again. Mayer's reputation preceded her, and though she's only been running Yahoo for three months and change, expectations are high that she'll be able to stage a turnaround at the one-time tech sector darling. That's helped the firm to shift into an uptrend since early April.
>>4 Tech Stocks to Trade (or Not)
Even though Yahoo! has been bashed by its detractors, there's still a lot to like about this stock. For starters, the firm sold its crown jewel investment in China's Alibaba in a move that converted around half of YHOO's market capitalization into balance sheet cash. That abundance of dry powder gives the firm plenty of resources to turn the ship around for investors -- and dramatically reduces the risk that would come from a tech company with more intangible value. When it comes to valuation, cash is still king.
And Yahoo!'s web properties are still pretty impressive themselves. The firm still attracts more than 650 million unique visitors per month, making it one of the biggest destinations online today. It's likely we'll see Yahoo! start spending some money on M&A or internal investment, but with all eyes on Mayer, it's much less likely that the firm will overpay for its growth opportunities.
Yahoo! still looks undervalued right now, so we're betting on shares.
Under Armour
Under Armour
(UA) - Get Report
, on the other hand, isn't undervalued - not even close. The $5.5 billion firm currently trades for a P/E of nearly 50, more than double the earnings premium you'd see at rival
Nike
(NKE) - Get Report
. But Under Armour's growth trajectory makes up for the premium pricing in shares, and so does one of the most attractive brand names in the sports apparel business.
UA's selling point is its technology: its signature moisture-wicking performance fabric happens to be one of the most imitated offerings among its peers. As the firm adds new products to its portfolio (its foray into footwear was a big move it made a few years ago), it should be able to expand its top line in existing markets, while at the same time pushing to altogether new markets. Despite the fact that the sports apparel market is pretty saturated here at home, UA has been able to grow by grabbing share from other firms, an impressive feat.
International sales have a lot of room to get bigger on Under Armour's income statement. Only around 10% of sales come from abroad, whereas more than two-thirds of Nike's sales come from overseas. That gives UA a big, less saturated market to tackle in the future. A balance sheet with a deep net cash position should help it get there with minimal hiccups.
Intuitive Surgical
It's been a solid year for
Intuitive Surgical
(ISRG) - Get Report
. Shares of the $21 billion surgical equipment firm have rallied close to 16% so far this year. Intuitive develops and sells robotic surgical systems for hospitals that want to be able to perform less-invasive surgeries than would be possible if done by a surgeon's hand. The firm's da Vinci system is currently deployed in more than 2,000 hospitals around the globe.
There's a lot to like about the robotic surgery business. For starters, it offers palpable advantages to patients, who see fewer complications and faster recovery times with smaller incisions. ISRG's installed base only covers a small number of the world's hospitals, but it's effectively the only established robotic surgery equipment vendor out there. As a growing number of surgeons get trained on the da Vinci system, switching costs of adopting a new platform start to get quite high, giving ISRG a sticky customer base and a big competitive advantage. The firm is also able to earn large recurring revenues by servicing machines and selling surgical instruments.
Like Under Armour, Intuitive Surgical is hardly a value stock. But again, growth more than makes up for any premium pricing that investors have been paying for shares (and that premium has been shrinking too as fundamentals catch up with share price).
With no debt and more than a billion dollars in cash, ISRG looks stellar from a financial standpoint as well. We're betting on shares this week.
Sherwin-Williams
Last up is Cleveland-based
Sherwin-Williams
(SHW) - Get Report
, the $14 billion paint company that's rallied more than 56% this year on the heels of strong financial performance. The firm owns an attractive portfolio of brands that range from its namesake label to Dutch Boy, Krylon and Thompson's Water Seal.
>>10 Companies That Prove that Stock Picking Is Still Alive
Sherwin-Williams is unique because it owns approximately 3,340 stores spread throughout North America. Those stores offer customers the chance to talk to paint experts who have more in-depth knowledge of SHW's products than a big box retailer can provide. Owning stores isn't a cheap proposition, but the benefits of owning its own distribution network are substantial, particularly for sales to professional painters.
While a soft real estate market was a drag on earnings for Sherwin-Williams a couple of years ago, the firm managed to push its top line numbers above their pre-recession peaks last year. And now, as more consumers look to invest in home improvements in the year ahead, SHW should be able to keep its stock rally in force.
To see all of this week's Rocket Stocks in action, check out
at Stockpickr.
-- Written by Jonas Elmerraji in Baltimore.
RELATED LINKS:
>>Dow 55,000? It's Closer Than You Think
>>5 Stocks Ready for a Dividend Boost in 2012
>>5 Fast-Growing Mid-Caps for a Rebounding Economy
Follow Stockpickr on
and become a fan on
Facebook.
At the time of publication, author had no positions in stocks mentioned. Jonas Elmerraji, based out of Baltimore, is the editor and portfolio manager of the Rhino Stock Report, a free investment advisory that returned 15% in 2008. He is a contributor to numerous financial outlets, including
Forbes
and
Investopedia
, and has been featured in
Investor's Business Daily
, in
Consumer's Digest
and on
MSNBC.com.