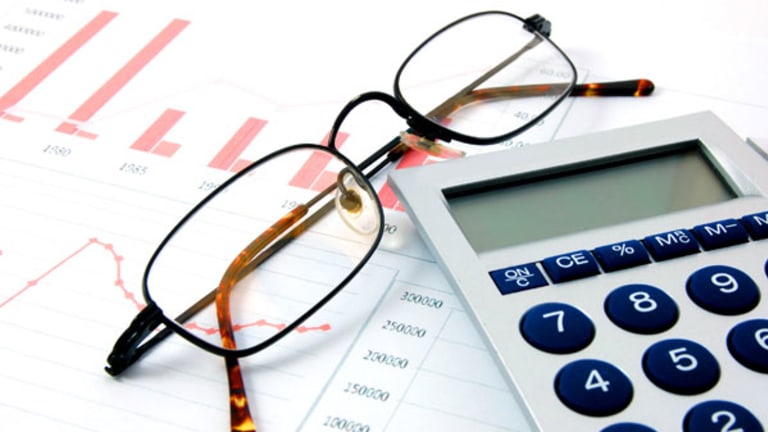 5 Rocket Stocks Ready to Rally This Week
These stocks have both short-term gain catalysts and longer-term growth prospects.
These stocks have both short-term gain catalysts and longer-term growth prospects.
BALTIMORE (Stockpickr) -- How do you think earnings season is going?
If you're pleased with companies' financial performance this quarter, you're in the minority. Investor sentiment is at such a negative extreme this month that
should be paying attention.
>>5 Stocks Hedge Funds Love -- and So Should You
A quick glimpse at the news headlines shows that's the case: the phrase "earnings season disappoints" returned nearly twice as many results on Google News for the last month as a positive query did. But the bearishness isn't justified - so far this earnings season, 75% of the
S&P 500
has beaten Wall Street's expectations. That's an important message for investors who are willing to listen.
After all, stocks are around 15% higher since June - if that's a bear market, bring on the recession.
While too many investors remain fixated on the more conspicuous missteps (like
Google's
(GOOG) - Get Report
premature earnings miss courtesy of
R.R. Donnelley
(RRD) - Get Report
on Thursday), we're taking a look at
set to rally this week.
>>5 Stocks Under $10 Set to Soar
For the uninitiated, "Rocket Stocks" are our list of companies with short-term gain catalysts and longer-term growth potential. To find them, I run a weekly quantitative screen that seeks out stocks with a combination of analyst upgrades and positive earnings surprises to identify rising analyst expectations, a bullish signal for stocks in any market. After all, where analysts' expectations are increasing, institutional cash often follows.
In the last 173 weeks, our weekly list of five plays has outperformed the S&P 500 by 75.49%.
Without further ado, here's a look at
.  
Time Warner
As good as stock performance has been in 2012, media stock
Time Warner
(TWX)
has managed to do even better. Shares of the $42 billion firm have rallied more than 24% so far this year, on top of a 2.3% dividend payout.
Time Warner's impressive performance has everything to do with its valuable vault of content. The firm owns a portfolio of television networks that include HBO, CNN and TNT, the largest combined film studio in the world in Warner Bros. and New Line Cinema, and a publishing arm that produces print names like People and Time.
Since 2009, TWX has become a content pure-play. The firm split off its cable utility and internet service provider from the rest of the company, taking some of the more capital-intense assets off of its balance sheet and unlocking shareholder value through a series of spin-offs. The biggest benefit to Time Warner today is the fact that the firm is able to share content between units to earn a higher return on every title in its library. Films produced at Warner Bros. can be promoted on TNT, and then shown on the network down the line, in both cases earning the stock more money than a less integrated name could muster.
TV is Time Warner's cash cow. The unit is fuelled by original content, which Time Warner has been increasingly using to generate unconventional revenues through online streaming content deals with the likes of
Netflix
(NFLX) - Get Report
and
Amazon
(AMZN) - Get Report
.
Investors should keep a closer eye on this Rocket Stock as earnings approach on Nov. 7.
Time Warner shows up on lists of
10 Multimedia Stocks With Double the S&P 500's Gains
and
5 Rising Dividend Payers for a Bullish but Skittish Stock Market
.
Danaher
It's been a more standard year for diversified manufacturer
Danaher
(DHR) - Get Report
-- shares have matched the market's performance for most of 2012. But this stock could be due for some outperformance in the next few months as industrial sales turn up from a cyclical trough. Danaher is a niche player that operates in a large number of niches: because the firm sells everything from advanced medical to tools and testing instruments, it's less susceptible to the ebb and flow of consumer sales than many other manufacturers are.
>>5 Big Stocks to Trade for Gains
Growth by acquisition has been Danaher's strategy for the past several years, giving the firm to immediately step into a new business as long as it can buy it at a good price. Much of that acquisition strategy has been fueled internally by cash, resulting in a very manageable debt load for investors. With a net cash position that's ballooned in the last few years, and equity valuations still depressed under the thumb of anxious investors, that should open the door to some attractive tuck-in acquisition opportunities for Danaher this year.
Danaher is fastidious about its financial performance. It avoids buying new businesses that will dilute its double-digit margins, and it has managed to deliver stair-step growth on its income statement in each of the last three years. We're betting on shares of this Rocket Stock this week.
Halliburton
Halliburton
(HAL) - Get Report
is one name that's been absent from our list of Rocket Stocks for a while. Shares of the oilfield service firm has been struggling for most of the year, held lower by charges related to the Macondo spill as well as oil prices that have tracked lower for much of the year. Despite those headwinds, most of the risks have worked their way out of this stock's outlook -- and more upside in Halliburton is coming into play as we approach 2013.
>>5 Stocks With Big Insider Buying
HAL helps oil companies pull crude out of the ground. The firm is involved in pressure pumping, drilling, and other services for sites in more than 80 countries. Even though oil prices have been tracking lower this year, they're still on the high side of their historic range. High oil means that a greater number of oil wells suddenly become economically viable, which drives demand for oil servicers such as Halliburton. That's unlikely to change in the near future.
At the end of the day, a number of macro factors point to oil prices remaining high, and since Halliburton built its business on doing the specialized tasks that its customers don't want to do, it should be able to sustain the growth pace that it's been on for the last few years. Even if this year hasn't been a blockbuster for the stock, it's on track to reverse course.
Cognizant Technology Solutions
While outsourcing becomes a hot topic on the election circuit this year, New Jersey-based
Cognizant Technology Solutions
(CTSH) - Get Report
is making big business of it. The firm is one of the biggest providers of outsourced IT services, ranging from software development to computer network maintenance. This $20 billion firm's unique model should help it to continue to capture the dollars that U.S. companies can't afford to spend here at home.
Cognizant is like a number of other outsourcing firms based in India - the company has a workforce with advanced technology expertise who demand less money than their developed country counterparts. But CTSH's big coup was deciding to base themselves here in the U.S., where they can avoid the cultural conflicts that purely Indian firms sometimes run into. That's also helped to fuel a more lucrative U.S.-based consulting business that acts as a complement to the outsourced work that its teams do. The combination has helped to fuel net margins that consistently come in above 14%.
As the economy continues to convalesce, companies looking for places to cut costs are honing in on cost centers like IT departments. That should help keep Cognizant's impressive growth on pace for the next few years. A debt-free balance sheet with more than $2.4 billion in cash on hand doesn't hurt either.
SunTrust Banks
Last up on our list of Rocket Stocks this week is
SunTrust Banks
(STI) - Get Report
, an Atlanta-based regional banking stock with around 1,700 branches spread on the Southern East coast. Regional banks have been looking increasingly attractive over the last several months, both technically and fundamentally as valuations slip and corporate profits continue to grow. Now, with much less competition for mortgage origination than there was before the recession, STI is earning bigger spreads on a higher volume of home sales.
Even though SunTrust built up massive exposure to Florida ahead of the financial crisis, the slightly better underwriting standards of regional banking firms spared STI from the performance at bigger banks. Still, the firm was one of the last names in its peer group to dig its way out of the crisis and return to consistent profitability, and that's kept investors from really piling into STI, until more recently.
Since then, SunTrust has repaid TARP, it's worked its margins back into the deep double-digits, and it's been paying out a modest dividend. With investment banking and other fee-based businesses now contributing around 40% of revenues, the firm's dependence on interest rates is lower than most peers, a very good thing in this environment.
That's why we're betting on shares of this Rocket Stock this week.
To see all of this week's Rocket Stocks in action, check out
at Stockpickr.
-- Written by Jonas Elmerraji in Baltimore.
RELATED LINKS:
>>5 Takeover Targets to Buy Before Wall Street Finds Out
>>5 Stocks to Benefit From the Changing Media Landscape
>>4 Stocks Under $5 Moving Higher
Follow Stockpickr on
and become a fan on
Facebook.
At the time of publication, author had no positions in stocks mentioned.
Jonas Elmerraji is the editor and portfolio manager of the
Rhino Stock Report
, a free investment advisory that returned 15% in 2008. He is a contributor to numerous financial outlets, including
Forbes
and
Investopedia
, and has been featured in
Investor's Business Daily
, in
Consumer's Digest
and on
MSNBC.com
.