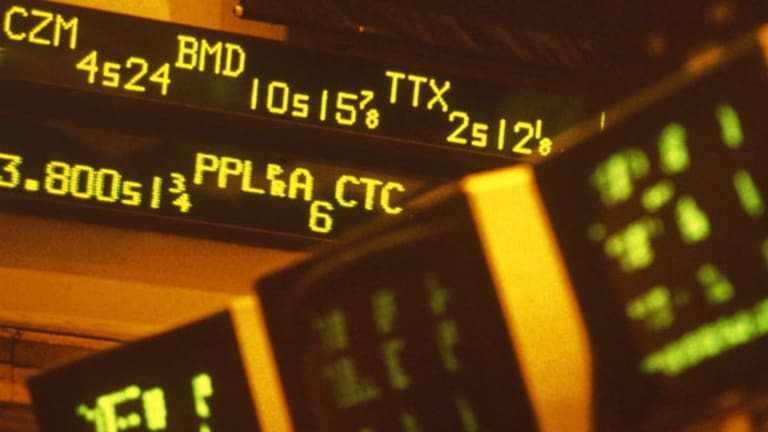 5 Rocket Stocks Ready to Rally This Week
These stocks have both short-term gain catalyst and longer-term growth potential.
BALTIMORE (Stockpickr) -- The final week of September is kicking off on a high note. Year-to-date, the S&P 500 is up more than 16%, making it a stellar year from a historical standpoint. And there are plenty more trading days left in 2012 for investors who've been late to the game.
Traditionally, seasonality during the Fall months is great for investors. In fact, over the last decade, September through December has statistically been the best-performing chunk of the year, earning average performance of 6%. Of those months, September is typically the worst performer; if the 4% stocks have rallied so far this month is the
worst
of it, then it'll be interesting indeed to see how this year ends.
>>8 Stocks Poised for Breakouts
With many fund managers late to the game in buying stocks this year, it also seems likely that we'll see institutional buyers in "window dressing mode" as we tick into the fourth quarter over the weekend. Being out of stocks for the past couple of months has been enough to get hammered versus a benchmark in 2012, and managers are going to be looking to start buying some popular stock names to make up for it.
That's why we're turning to a new set of Rocket Stocks this week.
For the uninitiated, "Rocket Stocks" are our list of companies with short-term gain catalysts and longer-term growth potential. To find them, I run a weekly quantitative screen that seeks out stocks with a combination of analyst upgrades and positive earnings surprises to identify rising analyst expectations, a bullish signal for stocks in any market. After all, where analysts' expectations are increasing, institutional cash often follows.
>>5 Stocks Under $10 Set to Soar
In the last 169 weeks, our weekly list of five plays has outperformed the S&P 500 by 77.11%.
Without further ado, here's a look at
.  
Procter & Gamble
We'll start off this week with
Procter & Gamble
(PG) - Get Procter & Gamble Company Report
, the prototypical blue-chip stock. P&G is a nearly $200 billion consumer product manufacturer, with household name brands such as Tide, Charmin and Cover Girl under its belt. In all, the firm lays claim to 25 individual brands that bring home more than $1 billion in annual revenues, providing impressive diversification on its income statement. That's a big part of Procter's defensive positioning for investors seeking security right now.
Procter & Gamble is thinking hard about cost in 2012. The firm is working to pull $10 billion in costs out of its income statement, boosting margins and ultimately hiking the amount of free cash that's available to give to shareholders.
>>5 High-Yielding Stocks in a Strong Bull Trend
Elsewhere, growth is largely coming from abroad. P&G's U.S. business is largely saturated, so while growth is out there, it's hard to come by. The firm's emerging market sales are a bit more open, especially as staple consumer products in the West start making their way to becoming staples in developing countries.
One of the most defensive factors about P&G is its dividend payout. Currently, the firm pays a hefty 3.24% dividend yield, a particularly impressive payout given the prolonged zero-rate policy that we're getting from the
Fed
right now.
Investors who want a mix of safety and income should be looking at P&G this fall.
I also featured P&G recently in "
5 Consumer Stocks Hedge Funds Love
."
Philip Morris International
It's been a strong year for global tobacco firm
Philip Morris International
(PM) - Get Philip Morris International Inc. Report
. The company has managed to eke out a tiny edge over the S&P 500 on top of its already impressive 3.69% dividend payout. While PM doesn't quite have the defensive bent that Procter does, it's still a good core income holding -- and enough of a momentum name to be included in our latest Rocket Stocks cut.
>>5 Big Dividend Payers With Rising Share Prices
Philip Morris International is the second-largest tobacco firm in the world, with more than 28% of the ex-U.S. global market. In 2008,
Altria
(MO) spun off PM, effectively taking its most attractive business and chopping it off from is U.S. operations. While the U.S. market for tobacco products is rife with regulation and demographic shifts are turning away from smoking, international tobacco sales are up -- especially in emerging markets.
PM's strong brand portfolio includes flagship Marlboro in addition to second-tier names like L&M, Parliament and Chesterfield. That positioning with the world's best brand should help it dig into new markets where Marlboro has brand awareness from media exposure. Because PM earns money in foreign currencies and reports in greenbacks, the strength of the U.S. dollar has been the biggest challenge for PM.
That said, as we near the fiscal cliff, other currencies should start to gain traction on the dollar. That could provide currency gains (or at least halt currency losses) for Philip Morris International shareholders.
UnitedHealth Group
Health insurance giant
UnitedHealth Group
(UNH) - Get UnitedHealth Group Incorporated Report
covers an astounding 78 million Americans. That big customer list endows UNH with some pretty nice benefits: It gives the firm a lot of leverage over medical providers, which in turn drives cost-conscious patients to turn to UNH's services. As secondary services become a bigger piece of UNH's revenue pie (especially after the effects of healthcare reform), that big client list is going to come in handy.
>>5 Blue-Chip Stocks Ready for Buyers
Despite the effects of so-called Obamacare, health insurance remains a lucrative business. And in fact, some facets of the latest round of healthcare reform actually boost UNH's bottom line, namely Medicaid expansions that let the firm get subsidies for even more patient care. UNH's scale is also important because it's one of just a few firms that can offer national presence. Huge employers that want to provide consistent insurance options will often find that UNH offers the easiest solution.
Insurance is an asset-light business, and it's made even better by UNH's management unit that merely administers employers' self-funded health insurance programs. Financially, UNH is in good shape, with impressive enough free cash generation to
back in June.
Investors should keep an eye on third-quarter earnings on Oct. 15.
Coach
Luxury handbag maker
Coach
(COH)
has found its ticker symbol on our Rocket Stocks list more than a few times over the last few years -- and for good reason. Shares of the company have rallied close to 300% since 2009. Now investors are wondering whether that breakneck trajectory can continue. My vote is going in the "yes" column.
Coach makes and retails handbags and other accessories (such as wallets and umbrellas) through a network of around 465 North American stores and a large presence online and in third party channels like department stores. In the last few years, overseas has been the big story -- and newer stores in markets such as China and Japan have warranted a hefty growth premium in the stock's price. The firm thrived through the recession by lowering prices and focusing on "mass affluent" customers, a bet that ultimately paid off in spades.
Growth in markets such as China should ultimately continue to keep Coach's top-line numbers swelling. In spite of that, though, the super-high premium of yesteryear is gone. Now the firm sells for a paltry earnings multiple of 16 and a dividend yield of more than 2.1%.
This stock looks like a (relative) bargain right now, so we're betting on shares this week.
CA
CA
is one of the major enterprise IT outfitters, providing information technology management software to firms that are focused on securing that administering their networks. The firm has made a big transition from primarily selling computer hardware to focusing on higher-margin businesses like software and integration services. That shift has proven prescient, especially as more and more PC hardware firms pile into the enterprise IT arena.
CA has also done a good job of positioning itself in line with the buzzwords of the day: namely cloud computing and virtualization. As those technologies continue to grow in popularity in corporate America, CA should continue to push its sales numbers higher, particularly with a customer list that already includes 99% of the Fortune 1000. That said, mainframes remain an integral part of CA's business (around 60% of sales), a factor that could become a drag as traditional IT customers continue eschewing mainframes in favor is less centralized computing options.
The firm remains in good financial shape, with a deep net cash position that accounts for nearly a tenth of CA's market capitalization. The firm's Oct. 23 second-quarter earnings call could be a big catalyst for upside in the next month.
To see all of this week's Rocket Stocks in action, check out
at Stockpickr.
-- Written by Jonas Elmerraji in Baltimore.
RELATED LINKS:
>>5 Huge Stocks Ready to Slingshot Higher
>>8 Stocks Soaring Higher With Big Volume
Follow Stockpickr on
and become a fan on
Facebook.
At the time of publication, author had no positions in stocks mentioned.
Roberto Pedone, based out of Windermere, Fla., is an independent trader who focuses on stocks, options, futures, commodities and currencies. He is also an outside contributor to Beconequity.com and maintains the website Maddmoney.net, which he sold to Blue Wave Advisors in 2008. Roberto studied International Business at The Milwaukee School of Engineering, and he spent a year overseas studying business in Lubeck, Germany.