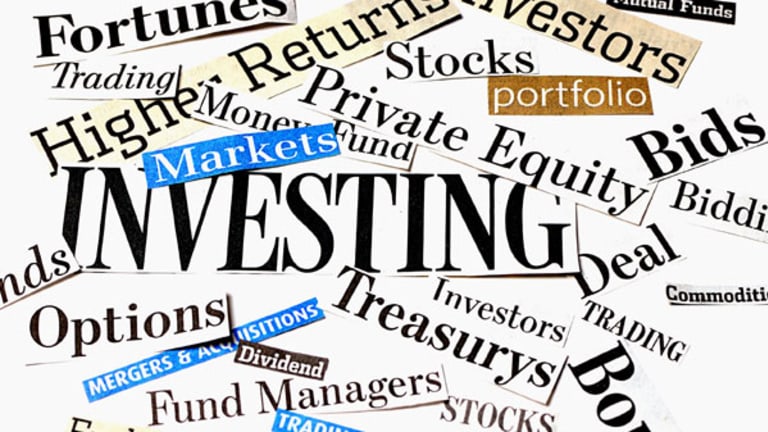 5 Rocket Stocks Geared to Rally This Week
Last week's action looks technically like a key reversal, putting an end to the correction that's been eating away at open gains since mid-September.
BALTIMORE (Stockpickr) -- If Friday was any indication, today's Cyber Monday sales should be record breaking. While the Fiscal Cliff continues to close in, there was a silver lining in the record $59 billion in sales that shoppers spent over Black Friday weekend.
>>5 Dividend Stocks Itching to Pay You More
Consumers' willingness to part with cash is a valuable economic statistic -- even if it's not quite as exciting as the gloom and doom of the fiscal cliff. But investors certainly took their cues from the Black Friday deals last week: the
S&P 500
rallied 3.62% during last week's shortened trading, a very strong showing that pushed the big index's year-to-date gains back above 10%.
More importantly, last week's action looks technically like a key reversal, putting an end to the correction that's been eating away at open gains since mid-September. So, even though Mr. Market is in correction mode this morning, it looks like we're back in a buying zone for stocks. That's why we're taking a closer look at five new Rocket Stocks to start the week.
For the uninitiated, "Rocket Stocks" are our list of companies with short-term gain catalysts and longer-term growth potential. To find them, I run a weekly quantitative screen that seeks out stocks with a combination of analyst upgrades and positive earnings surprises to identify rising analyst expectations, a bullish signal for stocks in any market. After all, where analysts' expectations are increasing, institutional cash often follows. In the last 178 weeks, our weekly list of five plays has outperformed the S&P 500 by 74.91%.
>>5 Stocks Insiders Are Snapping Up
Without further ado, here's a look at
.
Suncor Energy
Suncor Energy
(
(SU) - Get Report
isn't your conventional integrated oil giant. Suncor's bread and butter is oil sands, an unconventional source of petroleum that Suncor has been able to convert to conventional crude more effectively than most. Suncor's oil sands currently make up around 60% of daily production capacity, complementing conventional oil and gas production and a portfolio of four refineries in the U.S. and Canada.
From an exploration and production standpoint, oil sands are attractive because they carry less exploration risk than conventional oil wells. Sands are mined, which means that you can literally see the richness of an oil sand deposit. Because sands make up a significant chunk of North America's oil reserves, Suncor's expertise in oil sands development offers the firm a big strategic advantage.
While oil sands carry less exploration risk, they also carry less profitability -- the costs of pulling oil out of the sands aren't immaterial, and that means smaller margins for SU. Even so, those costs are variable, which means that the firm can scale up and scale down its operations without having to risk profitability. In 2009, Suncor merged with Petro-Canada, dramatically increasing the firm's downstream exposure. With a couple years of integration behind it, and sustained high oil prices boosting the firm's returns, Suncor's finances look strong for 2013.
Salesforce.com
Shareholders of
Salesforce.com
(CRM) - Get Report
have been enjoying themselves this year -- shares of the $22 billion enterprise software firm have rallied more than 57% since the first trading day of January, easily besting the broad market's returns over that same period. Salesforce makes customer relationship management software, tools that help firms manage their customer Rolodex, marketing efforts, and customer service efforts. With more than 100,000 users, CRM's mission-critical offering gives the firm a big economic moat for shareholders right now.
Salesforce is proof positive that being first matters. The firm was one of the first major software firms to embrace cloud computing, dragging substantial sales growth out of what was little more than a buzzword for most peers.
Software-as-a-service is also a more lucrative model for software firms like CRM. Instead of selling a software license and then trying to convince customers to spend big bucks on the next iteration of the software, the cloud model lets CRM charge recurring fees while trickling feature improvements onto the platform. And because integration with customers' systems takes place deep in the Salesforce platform, switching costs are extremely high for businesses to move to rival services. With rising analyst sentiment in shares of CRM, we're betting on shares of this Rocket Stock this week.
ARM Holdings
UK-based
ARM Holdings
(ARMH)
is the biggest chipmaker that isn't. ARM generates more than 75% of its sales from licenses and royalties, leveraging its brain trust to design the intellectual property and leaving most of the risks of manufacturing up to its licensees. While that hasn't spared ARM from the broad decline in chip stocks, the firm's exposure to high-growth mobile device chips has at least helped to lessen the blow.
ARM's $16 billion market capitalization and rich IP portfolio make it one of the more interesting names in the semiconductor industry. While it's a large-cap stock, it's small enough to make a reasonable takeover candidate for more than a few peers and rivals in the industry. And that's thanks largely due to the lack of capital-intense manufacturing assets on its balance sheet -- a fact that investors should find equally attractive.
The firm carved out a niche in low-power mobile device chips early on, leaving giants like
Intel
(INTC) - Get Report
playing catch up in recent years to turn out its own mobile offerings. While Intel has a lot more cash to throw at mobile chip development, the downturn in the semi business is likely to make INTC less willing to part with cash (particularly when it's expected to keep paying a 4.5% dividend yield). Financially, ARMH is in excellent shape too -- it's got a debt neutral position on its balance sheet, with around 500 million GPB in cash and investments after debt is taken out of the equation.
While that cash hardly makes ARMH a bargain stock at current earnings multiples, its price trajectory helps to justify it.
Church & Dwight
In a world where conventional consumer product stocks are the biggest blue chips on the NYSE, it's no huge surprise that mid-cap name
Church & Dwight
(CHD) - Get Report
doesn't have the same name recognition among investors that
Procter & Gamble
(PG) - Get Report
or
Clorox
(CLX) - Get Report
get. But while C&D's market cap isn't blue chip, its brands are: Arm & Hammer, Oxiclean, Nair and Orajel are some of the best-known names in CHD's portfolio.
Innovation has been big for Church & Dwight. By leveraging legacy names like Arm & Hammer in new products, the firm has managed to fuel growth in one of the oldest consumer brands in the country. Arm & Hammer's ownership of a boring, low-moat business like baking soda is attractive too -- it provides hefty margins and opened the door for the double-digit annualized growth that CHD has turned out in the shadow of the Great Recession.
Church & Dwight is in solid financial shape, with net margins in the double digits and a debt load that's more than manageable. While the firm's dividend payout falls short of the sort of income that gets shelled out at bigger consumer product firms, a handful of high-growth brands more than makes up for it.
Varian Medical Systems
Palo Alto-based radiation technology firm
Varian Medical Systems
(VAR) - Get Report
makes devices used for cancer treatment, x-rays, and even nonmedical applications like security products. The firm is the league leader in the oncology market, having established one of the first commercial radiation therapy systems to hit the market. Radiation systems are complex, and as a result making them is capital intense and fraught with challenges -- that gives Varian a measurable advantage over competitors.
New advances in Varian's systems provide higher levels of precision in irradiating cancerous cells, a big advantage considering the side effects of radiation on healthy cells. That fact, coupled with Varian's name, should help spur sales of new therapy equipment as medical facilities upgrade or grow their treatment capabilities. An aging population is another big factor for Varian in the coming years -- as the pool of patients in need of Varian's offerings increases, so too should the firm's sales.
Varian's expertise in high-precision medical applications makes less exacting devices a no-brainer for the company. Newer markets like x-rays and security take the firm's existing IP and manufacturing expertise and simply apply it to a new use -- that dramatically reduces the development costs that Varian shells out to bring products to market relative to peers. As emerging market healthcare systems modernize their disease-fighting arsenals, Varian should see a big opportunity in boosting its international presence as well.
To see all of this week's Rocket Stocks in action, check out
at Stockpickr.
RELATED LINKS:
>>5 Dividend Stocks Itching to Pay You More
>>5 Stocks With Large Insider Buying
>>Profit From 5 Stocks Everyone Hates
Follow Stockpickr on
and become a fan on
Facebook.
At the time of publication, author had no positions in stocks mentioned. Jonas Elmerraji, CMT, is a senior market analyst at Agora Financial in Baltimore and a contributor to
TheStreet
. Before that, he managed a portfolio of stocks for an investment advisory returned 15% in 2008. He has been featured in
Forbes
,
Investor's Business Daily
, and on
CNBC.com.
Jonas holds a degree in financial economics from UMBC and the Chartered Market Technician designation.