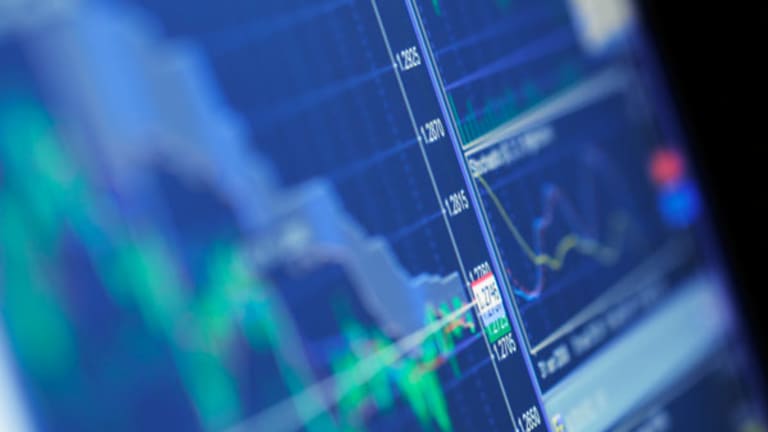 5 Rocket Stocks for Turkey Day Trading
These stocks have both short-term gain catalysts and longer-term growth potential.
BALTIMORE (
) -- Thursday's Thanksgiving holiday should drive a nice wedge into the market's trading this week, wince U.S. markets shut down all day Thursday and then close again at 1 p.m. Eastern on Friday in observance. The short trading week means that light volume and a relatively uneventful week are par for the course.
>>5 Dividend Stocks That Want to Pay You More
But quiet weeks tend to be conducive to gains. According to one study, Thanksgiving week ends higher than it started around two-thirds of the time. Add December's historically strong seasonality to the mix, and suddenly the recipe for gains in the market from this point looks a whole lot more compelling than the recipe for Aunt Edna's stuffing on Thursday.
So while most investors spend their time drawing out their battle plans to get the best Black Friday deals, we're taking a closer look at
worth buying this week.
For the uninitiated, "Rocket Stocks" are our list of companies with short-term gain catalysts and longer-term growth potential. To find them, I run a weekly quantitative screen that seeks out stocks with a combination of analyst upgrades and positive earnings surprises to identify rising analyst expectations, a bullish signal for stocks in any market. After all, where analysts' expectations are increasing, institutional cash often follows. In the last 224 weeks, our weekly list of five plays has outperformed the
S&P 500
by 92.14%.
>>5 Big Trades to Take for a Fed Taper
Without further ado, here's a look at
.
American Express
First up is financial giant
American Express
(
). Amex is the No. 3 payment network in the country, but its powerful brand and closed-loop network give it some big advantages that bigger rivals
Visa
(
) and
MasterCard
(
) just don't have.
>>5 Stocks Under $10 Set to Soar
American Express isn't just a payment network -- it's also the lender behind the logo on its cards. By focusing on attracting high-spending high-credit consumers and businesses with its rewards programs and benefits (instead of focusing on issuing credit in volume), the firm created a profitable niche in its flagship charge card products. The lack of a revolving credit line means that Amex enjoys higher creditworthiness among its members -- and it also sports the highest dollar volume across its network, even if its cards aren't carried by nearly the number of customers that more mass-market rivals have.
In recent years, Amex has been working on expanding its reach by letting third-party banks offer cards that run on its network. That's a viable strategy for Amex to move down-market because it grows the firm's dollar volume without exposing American Express to any additional credit risk - its partners carry that risk.
As spending continues to climb higher in the U.S., Amex should continue to benefit.
Ecolab
2013 has been a standout year for shares of cleaning and sanitation product maker
Ecolab
(
). Since the calendar flipped over to January, ECL has rallied 50%, outperforming the S&P's impressive performance by a factor of two.
Chances are, you've helped to contribute to that success too. Ecolab is one of the biggest names in commercial cleaning products, which means that if you've ever eaten at a restaurant or stayed in a hotel, there's a good chance that ECL's offerings were used on site.
>>Profit From 5 Trades Warren Buffett Made
Ecolab offers businesses a critical product line that represents a relatively small chunk of their expenses. Because businesses stake their reputations on cleanliness, they're less likely to switch to unfamiliar rivals -- especially because of the relatively trivial costs of Ecolab's offerings and the dispensing hardware that many facilities already have installed. Entrenched relationships between sales people and customers mean that it's easier for Ecolab to justify add-on products to an account; the firm's huge commission-based sales force is the lynchpin of Ecolab's success.
Those add-on products now include water treatment offerings thanks to the 2011 acquisition of Nalco and specialty chemicals through last year's buy of Champion Technologies. While both of those purchases added to ECL's debt load, a healthy balance sheet to begin with means that Ecolab still operates with healthy leverage.
With rising analyst expectations in shares this week, we're betting on this sanitation stock.
CSX
Even though railroads haven't exactly been a groundbreaking technology for more than 150 years, don't underestimate their value as businesses as we head into 2014. The case in point is
CSX
(
), one of the largest railroad operators in the world, with more than 21,000 miles of track concentrated in the eastern U.S. CSX may not be changing the fundamentals of how rail transport works, but it is revolutionizing its investment fundamentals.
>>5 Stocks Insiders Love Right Now
CSX specializes in shipping coal, chemicals and intermodal containers across its network. That hefty exposure to commodities has been a solid tailwind for CSX, thanks to commodity prices that remain on the higher end of their historic ranges. In the last five years, CSX has improved its efficiency by leaps and bounds, wringing bigger margins out of every train car that it pulls across its tracks. And in the years ahead, oil prices should continue to be a big driver of the railroad's success.
In a world with triple-digit crude oil prices, trains make a lot of sense for freight shippers. While trucking (the biggest alternative to rail freight) is generally a more simple solution for a distribution chain, it's also more expensive -- generally four times more expensive than train shipping per ton. That's a material difference as fuel costs cause shipping costs to swell.
Look for CSX to extend its 39% gains in 2013.
Gap
In the fickle fashion industry, specialty retailer
Gap
(
) has found some big successes by not chasing trends. Instead, it's managed to build a solid following by selling upmarket closet staples to mass-affluent consumers, the golden goose of retail demographics.
>>Why You Should Buy Hedge Funds' 5 Favorite Stocks
But Gap isn't all about its namesake store. The firm also owns Old Navy, Banana Republic, Piperlime and Athleta, brands that broaden the business beyond Gap's core customer in various ways.
All together, that adds up to more than 3,000 stores spread across the world, with another 500 franchise locations in emerging markets. Gap's emerging markets strategy is especially attractive; it means that Gap can enjoy the upside of exposure to new markets without taking on any of the financial risk of opening stores in unfamiliar locales. Once again, "sticking with what you know" is paying off for Gap.
And the end result of all of those efforts comes in the form of hefty margin generation. Last quarter, Gap's net margins weighed in at 8.48% -- that's a stellar profit conversion rate for a retail stock. With a balance sheet that's effectively debt neutral when cash is accounted for, Gap is well positioned to keep on executing well in 2014.
AutoZone
AutoZone
(
) has the benefit of some big tailwinds pushing at its back right now -- something that's evident from the 32% rally that shares have enjoyed year-to-date. AutoZone is an auto parts retailer that owns a network of more than 4,600 stores here in the U.S., and another 321 in Mexico, making it the largest aftermarket car part seller in North America.
>>4 Stocks Spiking on Unusual Volume
As I write, the average age of the North American car fleet is higher than it's ever been before. As the continent's drivers try to extend their vehicles' lives longer and longer, parts stores like AutoZone stand to continue to benefit. The firm's business isn't relegated to do-it-yourselfers -- AutoZone also boasts more than 3,000 commercial locations in its retail stores, providing parts for repair shops and service stations. Obviously, margins on the commercial side of the business don't match the profitability that AZO enjoys on the retail side, but volumes help make up for the shortfall.
In particular, Mexico holds a lot of growth for AutoZone, in large part because the trends of lengthening cars' useful lives are magnified down there due to a much older national car fleet. More important, a presence in Mexico opens up the possibility for more locations in the lucrative Latin American market -- and the firm's entree into Brazil is a big next step.
With rising sentiment in AZO this week, we're betting on shares of this Rocket Stock today.
To see all of this week's Rocket Stocks in action, check out
at Stockpickr.
-- Written by Jonas Elmerraji in Baltimore.
RELATED LINKS:
>>4 Stocks Under $10 Making Big Moves
>>3 Stocks Breakout Out on Big Volume
>>5 Earnings Short-Squeeze Plays
Follow Stockpickr on
and become a fan on
Facebook.
Jonas Elmerraji, CMT, is a senior market analyst at Agora Financial in Baltimore and a contributor to
TheStreet
. Before that, he managed a portfolio of stocks for an investment advisory returned 15% in 2008. He has been featured in
Forbes
,
Investor's Business Daily
and on
CNBC.com
. Jonas holds a degree in financial economics from UMBC and the Chartered Market Technician designation. Follow Jonas on Twitter @JonasElmerraji.