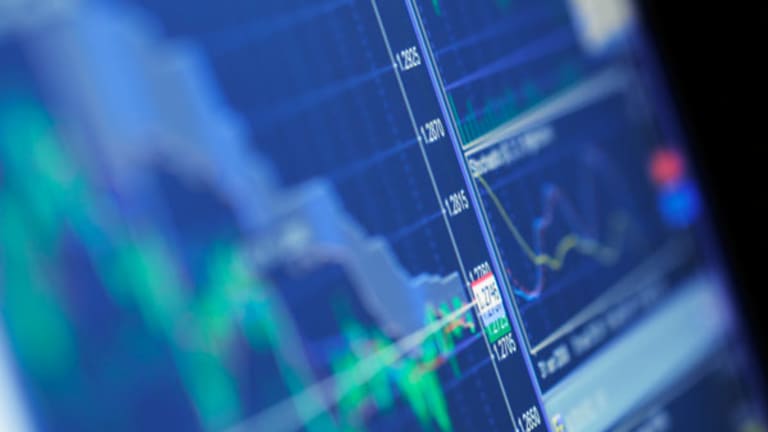 5 Rocket Stocks for June Gains
These stocks with rising analyst expectations have both short-term gain catalysts and longer-term growth potential.
BALTIMORE (Stockpickr) -- A strong start to the market this morning bodes well for investors this week as the first trading day in June opens in less than 24 hours. May has been slow-going for investors, turning out the worst monthly performance since back in August 2010. That poor performance hasn't necessarily been portfolio-crippling, though, and the summer may still hold upside for investors who've been holding onto their positions.
New calendar months can have a surprisingly impactful presence in the marketplace as traders turn their books over anew and seasonality comes into play. While June is hardly known for its positive market performance, the end of QE2 will likely provide some closure for investors who have been reluctant to take on additional exposure until the effects of shutting off the government liquidity tap are known.
With upside catalysts in place to start the month, we'll look to maximize potential gains with a new set of Rocket Stock plays for the week.
Related:
5 Stocks Setting Up to Break Out
For the uninitiated, Rocket Stocks are our list of companies with short-term gain catalysts and longer-term growth potential. To find them, I run a quantitative screen that seeks out stocks with a combination of analyst upgrades and positive earnings surprises.
It's a strategy that's been working out pretty well -- in the last 105 weeks, Rocket Stocks have outperformed the
by a very material 77.97%.
Here's a look at
.
Amgen
$55 billion drugmaker
Amgen
(AMGN) - Get Free Report
is one of the league leaders in developing biotechnology-based human therapeutics that are used to treat everything from immune system deficiencies to cancer. Now, with year-to-date stock performance largely in-step with the broad market and analyst attention on Amgen's fundamentals, shareholders could be no the verge of benefiting from increased buying.
Like most major drug makers, though, Amgen is battling the aging of its lucrative patent portfolio. With a couple of the firm's most successful drugs already available as generics in some markets, and others set to expire in the next few years, the company has been pouring cash into its pipeline to either reformulate existing offerings or bring new therapies to market.
While those headwinds are challenging, Amgen is frankly better-situated than many of its peers. A smaller chunk of the firm's blockbuster drugs are due to expire in the next few years, giving Amgen's R&D arm a readily available stream of free cash flow to develop the next big-name drug. Likewise, investors have been taking advantage of that cash flow prowess too.
Amgen currently sports a net-cash balance sheet position and enough liquidity to fund a meaningful share buyback, distribution or acquisition. Look for continued success in shares in 2011.
One big bet on Amgen in the first quarter comes from
Carl Icahn's Icah Capital Management
, which initiated a million-share position in the stock.
NetApp
Data management firm
NetApp
(NTAP) - Get Free Report
has been riding an enviable trend in the last year as enterprise customers have ramped up their demand for better data storage hardware and software. In turn, shares have rallied hard, climbing 47% over the course of the last 12 months. Now, with analyst sentiment swinging in favor of shares again, NetApp could be in store for additional upside.
In the last decade, consumers' appetites for data have increased precipitously as new technologies such as smartphones and streaming video made it easier than ever to use mountains of data. As a result, the companies that store, host and serve that data have seen an accelerating need to increase their capacities and ramp up capital spending on new datacenters and data management solutions. NetApp has one of the biggest beneficiaries along the way.
While competition is certainly strong right now -- especially as large, traditional PC makers such as
Dell
(DELL) - Get Free Report
attempt to capture a growing chunk of the enterprise market to compensate for hemorrhaging margins in the computer business -- NetApp's large installed base gives it a leg up over most peers at the moment. As long as the company continues to innovate, it should continue to hold its position.
Lee Ainslie at Maverick Capital
certainly hopes so; in the first quarter, Maverick initiated a 3 million-share position in NetApp.
Lorillard
To say that black clouds have been hanging over
Lorillard's
(LO)
head is an understatement. The cigarette maker derived more than 90% of its revenue from menthol cigarettes last year, a product category that the FDA has been threatening with the possibility of increased regulation or even an outright ban.
But while regulatory uncertainty has been making investors anxious, Lorillard has been quick to adapt, developing non-mentholated variants of its massively popular Newport brand in response.
Ultimately, the potential for a complete ban of menthol cigarettes is unlikely right now, and investors have been accumulating bargain-priced shares of this dividend-payer as a result. Despite the 40% rally that Lorillard's shares have seen in 2011, the stock still sports a 4.52% dividend yield. It's that focus on shareholder value that's kept investors loyal.
That loyalty may be tested later in June, however. That's when the FDA is expected to come out with an update on its stance on menthol cigarettes. Expect that decision to significantly move Lorillard's share price. In the meantime, we'll ride the rising tide of analyst sentiment for this sin stock play.
Lorillard, one of TheStreet Ratings'
, is one of the
top holdings of Renaissance Technologies
, with a 2.7 million-share stake as of the most recently reported period.
KeyCorp
Ohio-based regional bank
KeyCorp
(KEY) - Get Free Report
has carved out a position as a sizable player in the U.S., with more than 1,000 branches and close to $100 billion in assets. Like most regional peers, KeyCorp's balance sheet is composed of its own loans, a factor that helped keep underwriting standards higher than the majors during the height of the real estate boom.
As such, nonperforming assets have remained reasonable (even if the firm had some capital concerns in 2008), and net margins remain deep in the double digits.
In the post-crash marketplace, KeyCorp is working hard to reinvent itself, focusing on retail banking and building fee-based relationships (such as investment management) with its depositary clients. Those are the right directions to move in both from a financial health standpoint and from the standpoint of remaining competitive with peers that are building up both of those two businesses as well.
This regional is likely to be a high performer now that the bank's undesirable factors have been shaken out.
KeyCorp shows up on recent lists of
Stocks With Notable Insider Activity
and
Dividend Stocks Increasing Payouts
.
O'Reilly Automotive
Last up this week is
O'Reilly Automotive
(ORLY) - Get Free Report
, an $8 billion auto parts retailer. The recession-induced tailwinds that auto parts stores have enjoyed for the last few years have all but dried up at this point, as consumers become more willing to part with cash and take advantage of historic lows on interest rates.
Still, that largely applies to only the most credit-worthy consumers, and a more long-term upswing is likely to linger from consumers who are stuck with the nation's aging auto fleet.
O'Reilly has been hard at work to build its presence nationwide, acquiring CSK Auto in 2008. The move shouldn't go unnoticed by investors as O'Reilly steps up to similar scale as rivals like
Advance Auto Parts
(AAP) - Get Free Report
.
Betting on O'Reilly's success is
Steve Mandel at Lone Pine Capital
, with a 5.6 million-share position as of the most recent reporting period.
To see this week's sentiment plays in action, check out
at Stockpickr.
-- Written by Jonas Elmerraji in Baltimore.
RELATED LINKS:
>>5 High-Yield Stocks Due for a Squeeze
>>5 Stocks Setting Up to Break Out
Follow Stockpickr on
and become a fan on
Facebook.
At the time of publication, author had no positions in stocks mentioned.
Jonas Elmerraji is the editor and portfolio manager of the Rhino Stock Report, a free investment advisory that returned 15% in 2008. He is a contributor to numerous financial outlets, including Forbes and Investopedia, and has been featured in Investor's Business Daily, in Consumer's Digest and on MSNBC.com.