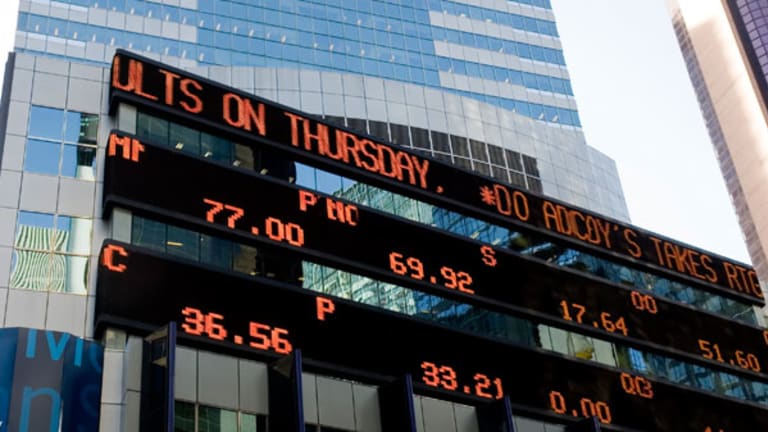 5 Retail Stocks for Your Shopping Bag
With holiday shopping seasons approaching, here are several stocks that benefit from outlet sales -- as well as a few to avoid.
MILLBURN, N.J. (Stockpickr) -- Outlet shopping is a big business, benefiting both the consumer and the retailer for a variety of reasons.
For example, at outlet stores, consumers seeking to "trade up" to luxury brands can do so without having to pay up.
Retailers can also segregate merchandise from their regular-priced stores for clearance and discount without jeopardizing or cannibalizing their regularly priced goods
>>3 Cheap Dow Stocks Poised to Rebound in 2012
Outlets tend to be located in or near vacation and resort towns. When on vacation, consumers are not as budget-conscious and are less fiscally disciplined. They also tend to make spur-of-the-moment purchases.
Finally, outlets have extensive store variety with something to offer every member of the family and people of all ages and tastes.
With the holiday shopping season just around the corner, let's take a look at
several stocks that benefit from outlet sales
-- as well as two to avoid.
Tanger Factory Outlet Centers
Recently, I wrote highlighted
. One subsector of real estate investment trusts, retail, is divided further into shopping centers, regional malls and free-standing malls (commonly referred to as strip malls). Typically, outlet shopping centers tend to be free-standing.
There are two REITs that own a great deal of outlet centers. The first is
Tanger Factory Outlet Centers
(SKT) - Get Report
. Tanger specializes in factory outlet real estate development and management. For a REIT, Tanger pays a modest dividend of about 2.8%. What I like about Tanger is its growth. While the mega regional mall concept is still a big part of American consumerism, growth in that sector has peaked. On the other hand, factory outlets are a growth business.
Sales for Tanger are growing in the low double digits. The company estimates that funds from operations will be in the range of $1.38 to $1.42. At the midpoint, Tanger shares sell at a reasonable 19.9 times FFO.
The second REIT that owns a great deal of factory centers is
Simon Property Group
(SPG) - Get Report
, the largest REIT in its sector and one of the largest REITs in general. While well-managed, Simon lacks the sales and earnings growth that Tanger can generate because Simon is heavily invested in the regional mall business. The dividend payout for Simon, 2.6%, is less than that of Tanger.
>>20 Highest-Yielding Retail Stocks
Hence, my selection in this category is Tanger. Now let's look at some of the retailers that occupy these outlet centers.
Coach
While initially focused on the female consumer, luxury handbags and accessories maker
Coach
(COH)
is increasingly expanding its product offering to men. The company not only derives its revenue from its branded stores in high-end malls but also from international sales and outlet locations.
At outlet locations, you can pay as much at 70% off inventory, if you don't mind buying last year's styles, overstocks or discontinued lines of merchandise. Most women I know (that includes my wife, daughters and friends' wives) could not care less. They care about the quality and style of Coach at discounted prices.
Coach is expected to grow earnings by 16% in fiscal 2012 (the company's fiscal year ends at the end of June). I would note that this already factors in weakness in Japan due to the aftermath of the tsunami and nuclear catastrophes in that island nation. The loss of sales in Japan could account for several percent of earnings growth in fiscal 2012 and 2013.
Selling at 18 times 2012 earnings makes this luxury goods retailer with a strong outlet strategy a compelling stock pick.
Coach is also one of the
top holdings of Columbia Wanger Asset Management
, as of the most recently reported period.
Fossil
I have to tell you that I am not a jewelry person. Other than my wedding band and Wharton '82 college ring, I don't wear jewelry. But I am fond of a good watch. One up-and-coming retailer operating in big shopping malls and outlet stores is watchmaker
Fossil
(FOSL) - Get Report
, whose stores and watches have a luxury appearance to them but carry a more-reasonable price tag. You can get a Fossil for a fraction of the price of a Rolex, Omega or Tag Heuer. Fossil compliments its affordable line of watches with a high-end line of clothing and handbags.
Fundamentally, the company is growing sales in the mid- to high-20s percentages and earnings in the high-teen to low-20s percentages. The stock sells at 20 times 2011 estimates and 16 times forward estimates.
>>5 Earnings Stocks to Squeeze the Bears
Add some Fossil to your outlet shopping collection.
PVH
It seems that at every outlet that I visit there are separate Izod, Bass, Van Heusen and Tommy Hilfiger stores. What they all have in common is that these are brands owned by
PVH
(PVH) - Get Report
, formerly Phillips-Van Heusen. Izod, Bass, Arrow and Van Heusen are grouped under the company's Heritage Brand segment. PVH also owns the Calvin Klein brand.
As you can see, PVH has the outlet shopping strategy mastered, with brands and products across a range of price categories and merchandise that appeal to consumers of various ages and lifestyles.
The company is expected to grow earnings by 20% in 2011, thanks to the Tommy Hilfiger acquisition in 2010. In 2012, earnings are expected to moderate to a healthy mid-teens growth rate. The stock sells at 14 times 2011 estimates and 13 times forward estimates.
It's important to note that PVH consistently exceeds Wall Street estimates, and the 2012 earning consensus is likely too low. As a result, PVH could earn as much as $6 in 2012, putting my price target for next year at $84. Furthermore, I expect the company to further capitalize on the Hilfiger brand and potentially add to other brands in the coming years, especially in the teen/tween space.
PVH shows up on a list of
30 Top-Rated Fast-Growth Stocks
.
Ralph Lauren
There is no luxury clothing retailer better than
Ralph Lauren
(RL) - Get Report
. Chairman and CEO Ralph Lauren designed a signature collection that was known for its Polo emblem and use of vibrant colors for men, women and children. There is no doubt about it: Polo Ralph Lauren charges very high prices in its mall-based stores for its merchandise (clothing, bed and bath, and perfumes/colognes), which puts its products out of reach for many consumers. However, using the outlet channel, Polo Ralph Lauren has brought its products to the mid-level consumer at deeply discounted prices. Compared with other brands, even at the outlet stores, Polo Ralph Lauren may be pricey, but at these outlet prices, many people can afford to trade up.
That is not all for Polo Ralph Lauren. The company also sells its merchandise at mall-based department stores such as
Macy's
(RL) - Get Report
and has a huge and growing presence in international markets, especially in Europe and the Far East. The company sports an excellent balance sheet, which will help to further expand its existing stores and the newer Club Monaco concept.
Ralph Lauren will grow earnings and sales in the mid-teens percentages in the foreseeable future. I have a $175 price target for the end of next year.
Ralph Lauren is one of
for the most recently reported period.
Not all outlet stocks are good investment opportunities. Here are two worth avoiding.
Crox
Recently,
Crocs
(CROX) - Get Report
the footwear company stunned investors with a significant earnings warning. The company provided guidance well below previous EPS expectations of 40 cents a share. CROX now expects to earn 31 cents to 33 cents for the September quarter. Revenue is expected to range from $273 million to $275 million, below expectations of $280 million.
Crocs, for all intents and purposes, has one product, a rubberized sandal that is primarily used in warm weather. Sure, the company is trying to diversify with boots and sneakers, but let's get serious: This is a one-trick pony. I recently went into one of its outlet stores. The store was devoid of shopper whereas all the other outlet apparel and shoe stores were very busy.
Furthermore, the company's products are already cheap in regular stores, so consumers don't get much of a bargain at the outlets. And its products are easily replicated and do not have a brand image worth paying for.
For another take on Crox, it shows up on a recent list of
.
Gap
Gap
(GPS) - Get Report
is a moderately priced retailer operating under the Gap, Old Navy and Banana Republic brands. The company's products focus on children to young adults and tend already to be toward the moderate to low end in terms of pricing. Thus, there are minimal bargains to be had at the outlets for Gap.
The company has struggled to generate excitement for its targeted audience, and in many cases, it attracts moms who are shopping for kids. Once children are old enough to discern brands, they will insist on shopping at the teen/tween/young adult chains such as
Abercrombie & Fitch
(ANF) - Get Report
,
American Eagle Outfitters
(AEO) - Get Report
or
Aeropostale
(ARO)
.
-- Written by Scott Rothbort in Millburn, N.J.
RELATED LINKS:
>>5 Earnings Stocks to Squeeze the Bears
>>11 Stocks to Play the Groupon IPO
>>5 Stocks Setting Up to Break Out
Follow Stockpickr on
and become a fan on
Facebook.
At the time of publication, Rothbort had no positions in stocks mentioned, although positions can change at any time.
Scott Rothbort has over 25 years of experience in the financial services industry. He is the Founder and President of
, a registered investment advisor specializing in customized separate account management for high net worth individuals. In addition, he is the founder of
, an educational social networking site; and, publisher of
The LakeView Restaurant & Food Chain Report
. Rothbort is also a Term Professor of Finance at Seton Hall University's Stillman School of Business, where he teaches courses in finance and economics. He is the Chief Market Strategist for The Stillman School of Business and the co-supervisor of the Center for Securities Trading and Analysis.
Mr. Rothbort is a regular contributor to
TheStreet.com's RealMoney Silver
website and has frequently appeared as a professional guest on
Bloomberg Radio
,
Bloomberg Television
,
Fox Business Network
,
CNBC Television
,
TheStreet.com TV
and local television. As an expert in the field of derivatives and exchange-traded funds (ETFs), he frequently speaks at industry conferences. He is an ETF advisory board member for the Information Management Network, a global organizer of institutional finance and investment conferences. In addition, he is widely quoted in interviews in the printed press and on the internet.
Mr. Rothbort founded LakeView Asset Management in 2002. Prior to that, since 1991, he worked at Merrill Lynch, where he held a wide variety of senior-level management positions, including Business Director for the Global Equity Derivative Department, Global Director for Equity Swaps Trading and Risk Management, and Director for secured funding and collateral management for the Global Capital Markets Group and Corporate Treasury. Prior to working at Merrill Lynch, within the financial services industry, he worked for County Nat West Securities and Morgan Stanley, where he had international assignments in Tokyo, Hong Kong and London. He began his career working at Price Waterhouse from 1982 to 1984.
Mr. Rothbort received an M.B.A., majoring in Finance and International Business from the Stern School of Business, New York University, in 1992, and a B.Sc. in Economics, majoring in Accounting, from the Wharton School of Business, University of Pennsylvania, in 1982. He is also a graduate of the prestigious Stuyvesant High School in New York City. Mr. Rothbort is married to Layni Horowitz Rothbort, a real estate attorney, and together they have five children.