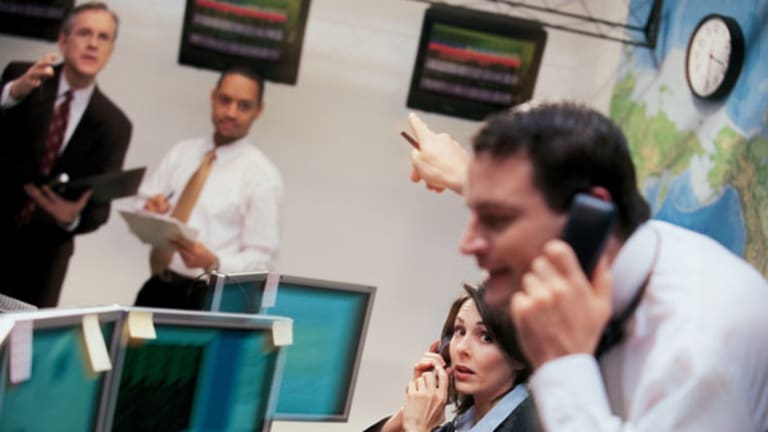 5 Retail Stock Short-Squeeze Plays
These heavily shorted retail stocks could surge higher on any positive catalyst.
These heavily shorted retail stocks could surge higher on any positive catalyst.
BALTIMORE (Stockpickr) -- Few industries are as attuned financially to the ebb and flow of consumer sentiment as retail is. Retail stocks were among the first (and worst) to see pullbacks in 2008 as the economy soured and consumers hoarded cash. Retail stocks were also among the first to see their top lines benefit from a resurgence of spending.
Now that investors have become increasingly anxious about the economy once again, we're taking a look at five retail stocks that have potential for a short squeeze. The timing is especially important right now, with the University of Michigan's preliminary Consumer Sentiment numbers for October set to hit Wall Street on Friday morning. A strong showing could shake out some unconvicted shorts in this market.
>>Also:
5 Retail Stocks Set for a Comeback
When that happens, you've got the potential for a profitable short squeeze on your hands.
A short squeeze is the buying frenzy that ensues when a heavily shorted stock starts to look attractive again to investors, causing short-sellers to cover their positions -- and share price to skyrocket. One of the best indicators of just how high a short-squeezed stock could go is the short interest ratio, which divides shares short by average daily trading volume in order to get a ballpark estimate of the number of days it would take for short-sellers to cover their positions. The higher the short ratio, the higher the potential profits when the shorts get squeezed.
>>Also:
5 NYSE Short-Squeeze Opportunities
Here's a look at
that have the potential to see a short squeeze at current levels.
Shares of
Dollar General
(DG) - Get Report
have already made double-digit moves in 2010, much to the chagrin of the shorts. Owners of this discount store chain have seen their stakes climb nearly 30% since the first trading days of January. Still, that ascent hasn't halted bets against this stock: Dollar General currently sports a short ratio of 12.9.
This isn't the first time I've written about Dollar General -- the chain's deeply discounted offerings helped shares make our
list several times in the last few months. Now that recessionary challenges have cooled and shares of DG have rallied, the high-growth case for this firm has largely played out.
>>Also:
The company's biggest detractor right now is its debt load -- which is also one of the main drivers of short-sellers right now. Although I'm not as bullish on this stock as I once was, I think that Dollar General will be able to use its cash-generating abilities to pay back its way into Wall Street's good graces. When short-sellers realize that, they'll want to run for the hills.
On the other side of this trade is the
(FCNTX), a mutual fund with Morningstar's coveted five-star rating. Other Contrafund holdings include
Apple
(AAPL) - Get Report
and
Google
(GOOG) - Get Report
.
>>Also:
A strong balance sheet alone hasn't been enough to keep small-cap grocery chain
Weis Markets
(WMK) - Get Report
from the short-sellers. With a short ratio of 22.6, it would take more than four weeks for short-sellers to close their positions at current volume levels.
Weis is a 98-year-old grocery chain with 165 stores, the vast majority of which are located in Pennsylvania. Weis has remained viable for nearly a century by maintaining a conservative growth strategy, staying free of debt, and focusing on markets that peers don't view as attractive enough to compete with outright. As a result, the firm retains industry-leading margins and pays out a respectable dividend to shareholders.
>>Also:
Top-Rated Food and Staples Stocks
While investors shouldn't expect this company to double revenues in the next five years, strong fundamentals ensure that this stock will remain a viable income play for long-term holders.
Such is the argument of funds like the
Allianz NFJ Small-Cap Value Fund
(PSVIX), which owns more than 262,000 shares of the grocery chain. Other positions include
Lubrizol
( LZ) and
Cooper Companies
(COO) - Get Report
.
>>Also:
6 Retail Stocks Poised to Move
The last several years have been a bit harder going for
Sears Holdings
(SHLD)
, but investors shouldn't discount this household name just yet.
While peers have slashed costs liberally over the course of the last couple of years, working hard to adapt to potentially long-lasting sales declines, Sears continues to bleed red right now. That's certainly less than an auspicious indication of this company's ability to remain relevant.
But the level of losses is significant. A strong collection of brands under its belt (barring Kmart, in my opinion) not only adds significant value to the company's equity right now -- these brands have helped Sears float to within a hair of turning a profit in its latest quarter. A positive push of consumer sentiment could be just the catalyst Sears needs to squeeze out some of its long-standing shorts. As the company starts selling names like Craftsman and Kenmore through other channels, earnings should be within reach.
So hope shareholders of Bill Miller's
(LMVTX), which owns shares of Sears in addition to stakes in
IBM
(IBM) - Get Report
and
Cisco
(CSCO) - Get Report
.
For the rest of this week's short-squeeze opportunities, including
hhgregg
(HGG)
and
The Bon-Ton Stores
(BONT)
, check out the
Retail Short-Squeeze portfolio for 2010
at Stockpickr.
>>Who Else Owns Sears?:
And to find short-squeeze plays of your own, be sure to check out the
community for insights and investment ideas.
RELATED LINKS:
>>7 Vulnerable Gold Stocks to Sell
>>4 Health Care Stocks to Consider
Follow Stockpickr on
and become a fan on
Facebook.
At the time of publication, author had no positions in stocks mentioned.
Jonas Elmerraji is the editor and portfolio manager of the Rhino Stock Report, a free investment advisory that returned 15% in 2008. He is a contributor to numerous financial outlets, including Forbes and Investopedia, and has been featured in Investor's Business Daily, in Consumer's Digest and on MSNBC.com.