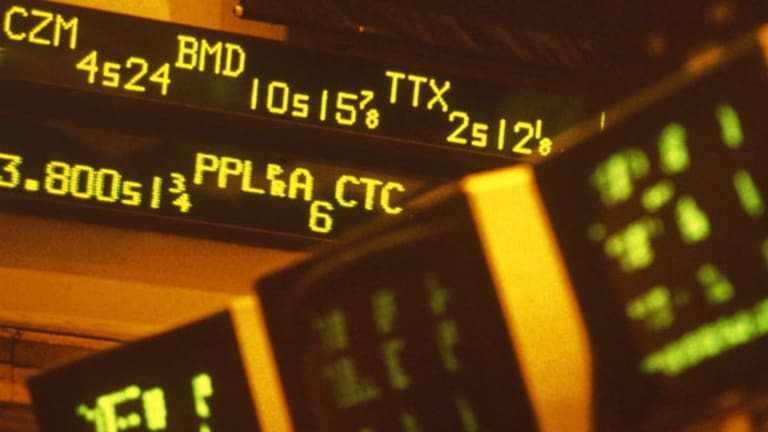 5 REITs You Should Buy in May
REITs are starting to resume their rallies this spring. Here's a technical look at how to trade them.
BALTIMORE (Stockpickr) -- It's a good time to be a stock investor. After yesterday's 0.72% climb in the S&P 500, the big index is back within grabbing distance of the 1,600 level -- a big round-number price for the S&P that carries some psychological significance right now.
For the scores of investors sitting on the sidelines right now, a move through 1,600 would be a good reminder that they're not getting a 12% return from their money market funds this year. And that kick in the pants is exactly what Mr. Market needs to dish out if this rally is going to accelerate into 2013.
>>Stocks Are Doomed. Buy More Stocks.
In the meantime, sector leaders are continuing to lead right now -- and real estate investment trusts, or REITs, are starting to resume their rallies this spring. Today, we'll take a technical look at how to trade them.
For the unfamiliar,
is a way for investors to quantify qualitative factors, such as investor psychology, based on a stock's price action and trends. Once the domain of cloistered trading teams on Wall Street, technicals can help top traders make consistently profitable trades and can aid fundamental investors in better planning their stock execution.
So without further ado, let's take a look at
worth trading now.
>>5 Stocks Poised for Big Breakouts
Sun Communities
Up first is
Sun Communities
(
), a $1.8 billion REIT that owns manufactured housing and RV communities. The last six months have been strong for Sun, with shares up more than 25% -- the S&P has "only" managed an 11.7% climb over that same time period. Now, with a bullish setup showing up in shares again, SUI looks primed to keep its rally going.
>>5 Rocket Stocks to Buy for May
Sun Communities is forming an ascending triangle pattern, a bullish setup that's formed by a horizontal resistance level above shares and an uptrending support level coming in as a "price floor" below shares. As SUI bounces in between those two price levels, it's getting squeezed closer and closer to a
above resistance at $50. When that happens, we've got a buy signal in this stock.
SUI is extremely close to that breakout zone today, with shares bumping up against that price that's constrained shares up until now. That means we could see a definitive breakout this week. When it happens, I'd recommend keeping a
at the
.
Hudson Pacific Properties
We're seeing a triangle of a different sort in shares of
Hudson Pacific Properties
(
), a $1.3 billion office REIT. Like SUI, Hudson has been rallying higher for the last few quarters, but now shares are consolidating sideways in a symmetrical triangle pattern. This pattern is formed by converging resistance and support lines tightening on HPP's share price action. While the symmetrical triangle is less bull-biased than the ascending triangle in SUI, the buy signal is the same: Wait for the breakout above resistance.
>>4 Stocks Looking to Break Out
Whenever you're looking at any technical price pattern, it's critical to think in terms of buyers and sellers. Triangles, rectangles, and other pattern names are a good quick way to explain what's going on in this stock, but they're not the reason it's tradable. Instead, it all comes down to supply and demand for shares.
That resistance line at trendline, for example, is a price where there's an excess of supply of shares; in other words, it's a place where sellers have been more eager to take recent gains and sell their shares than buyers have been to buy. That's what makes the breakout above it so significant. A breakout indicates that buyers are finally strong enough to absorb all of the excess supply above that price level. Wait for that signal before putting your money on the line.
American Assets Trust
American Assets Trust
(
) is another stock that's consolidating after a big move higher over the last few months. AAT, a diversified REIT, saw shares take a parabolic move higher in the last quarter of 2012 and the first quarter of this year, only to start track sideways in mid-March. Sideways consolidations aren't uncommon after a big move -- they give investors a chance to catch their breath and figure out their next moves.
The important part of AAT's price action is that there's a trade to be made in this stock.
That's because AAT is currently forming a rectangle, a technical pattern that's formed by horizontal resistance and support levels that are boxing-in shares. The trade signal comes when AAT breaks out of the rectangle. A move through $33.50 resistance is a buy signal, while a drop through support at $31.85 is a sell (or short) signal.
Statistically, consolidations that come after big uptrends tend to resume their bullish bent, so that makes it worth paying attention to the top-side of AAT's rectangle. Until a breakout happens, you should interpret this price action as meaning that current investors haven't made up their minds about what to do next with this stock. Until that changes, you shouldn't either.
BioMed Realty
You don't have to be an expert technical analyst to figure out what's going on in shares of
BioMed Realty
(
), a mid-cap REIT that leases space to health care and science tenants. A quick glimpse at the chart is enough to tell you what's going on here.
BMR has been trading within a tight channel since November, a trading range that's bounded by a trend line resistance and trend line support level. Those support and resistance levels give us a high probability range for BioMed to trade within. And as you might expect, the ideal time to be a buyer is on a bounce off of support.
That's exactly what shares are testing this week.
When you're looking to buy a stock within a trend channel, buying
after
a bounce off of support makes sense for two big reasons: It's the spot where shares have the furthest to move up before they hit resistance, and it's the spot where the risk is the least (because shares have the least room to move lower before you know you're wrong). BioMed is testing support this morning, as shares attempt to catch a bid at that lower line on the chart -- there's considerable demand along that trend line. I'd look to build a position if strength stays in the market by this afternoon.
Redwood Trust
Last, but certainly not least, is
Redwood Trust
(
), a mortgage REIT. Just like BioMed, Redwood is currently bouncing higher within an uptrending channel. And even though this stock's price action has been a little bit more volatile than BMR's, this stock looks tradable right now.
Redwood's channel has come with its share of tests over the last couple of quarters. Shares popped through the top of the channel back in March, but they settled back into a short-term downtrend immediately after, bringing RWT back to re-test trendline support for a sixth time this week. While the downtrend looks ominous at first, remember that it's one degree smaller than that uptrend that's been in place since October.
So until that trendline support level gets violated, it's the more important of the two trends to watch; it should still have the wherewithal to overpower that near-term downtrend.
adds some extra evidence to this trade. While 14-day RSI had been trending lower alongside the short-term downtrend in RWT, it popped higher this week. Since momentum is a leading indicator of price, that bodes well for Redwood's ability to bounce here. I'd recommend being a buyer of this REIT on the next white-bar day.
To see this week's trades in action, check out the
Technical Setups for the Week portfolio
on Stockpickr.
-- Written by Jonas Elmerraji in Baltimore.
RELATED LINKS:
>>3 Tech Stocks Rising on Unusual Volume
>>5 Hated Earnings Stocks That Deserve Your Love
>>5 Stocks Under $10 Set to Soar
Follow Stockpickr on
and become a fan on
Facebook.
At the time of publication, author had no positions in stocks mentioned. Jonas Elmerraji, CMT, is a senior market analyst at Agora Financial in Baltimore and a contributor to
TheStreet
. Before that, he managed a portfolio of stocks for an investment advisory returned 15% in 2008. He has been featured in
Forbes
,
Investor's Business Daily
, and on
CNBC.com.
Jonas holds a degree in financial economics from UMBC and the Chartered Market Technician designation. Follow Jonas on Twitter @JonasElmerraji