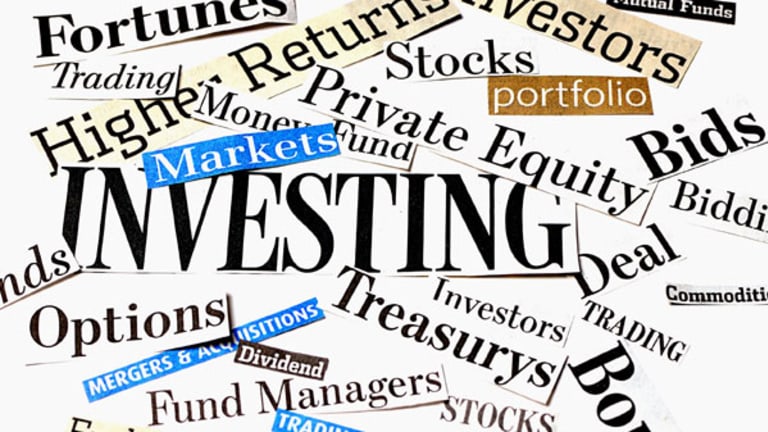 5 Popular Twitter Stocks to Trade for Gains
These five stock ideas from the Twittersphere could deliver breakout gains to your portfolio this week.
BALTIMORE (Stockpickr) -- With investors riding a relatively flat market roller coaster this week, there has to be a more effective way to spot stocks with the most potential. That's why we're turning to Twitter today to find five new names worth trading.
Since its introduction, the microblogging tool has been popular among traders looking to share investment setups with the trading community. Today, with 300 million users, it's reached a level of popularity that makes it an even more useful resource for investors looking to generate trading ideas in 140 characters or less.
Brevity has been a big part of Twitter's success -- and a reason for the service's popularity among traders. After all, it doesn't take more than a few seconds to blast off a tweet about your latest trade, or thoughts about a significant market move. Third-party services such as StockTwits also aggregate stock market tweets in real time, providing an interesting sentiment gauge or an instant opinion on your latest position.
>>Follow Stockpickr on
and become a fan on
Facebook.
The Twittersphere heated up this summer when it was announced that a $40 million London-based hedge fund was now applying algorithms to Twitter to generate trading signals. That fund launch comes not too long after researchers at Indiana University, Bloomington found that Twitter could predict up or down days with 87.6% accuracy.
While there are still some issues with relying too heavily on Twitter for trading signals (a model with high predictive ability isn't necessarily economically viable), the site can be a good starting point for traders looking for stocks getting attention from the investing community. With that in mind, let's look at technical setups in five stocks and ETFs that are popular on Twitter this week.
For the unfamiliar,
is a way for investors to quantify qualitative factors, such as investor psychology, based on a stock's price action and trends. Once the domain of cloistered trading teams on Wall Street, technicals can help top traders make consistently profitable trades and can aid fundamental investors in better planning their stock execution.
Here's a look at
five Twittersphere technical setups
that could deliver breakout gains to your portfolio this week.
PowerShares QQQ Trust
We'll kick off with the triple-Qs today. The
PowerShares QQQ Trust
(QQQ) - Get Report
-- also called the triple-Qs -- is an exchange-traded fund that tracks the performance of the
Nasdaq 100 Index
, a market average of the 100 largest domestic non-financial stocks that trade on the Nasdaq market. And while the Nasdaq 100 is showing some correlation to the more popular
S&P 500
, there's a clear difference between the two indices from a
right now.
QQQ broke out above key resistance at $59 back at the start of the month, providing investors with a bullish signal. But shares never took off -- instead, QQQ has been consolidating above that $59 mark (which is now support), threatening a throwback that would send shares back down to that price level.
>>5 Rocket Stocks to Buy This Week
But while lower ground sounds like a negative, it's really not.
A throwback down to $59 is potentially positive because confirmed support at that price level dramatically reduces the risk of taking a trade on QQQ. While
that throw back come with statistically smaller ultimate gains than those that rally out the gate, investors shouldn't eschew this setup just because it's testing support.
Wait for a thrust higher before taking a position in the triple-Qs.
Qualcomm
A similar setup is taking place in shares of mobile communications giant
Qualcomm
(QCOM) - Get Report
, a stock that's incidentally a constituent of the Nasdaq 100 Index. Like the index, Qualcomm broke out above an important
at the start of the year ($57 in the case of QCOM), only to throw back to newfound support at that level this week. In Qualcomm's case, the throwback was even more pronounced, testing support right at yesterday's open.
So how do you trade this Twitter favorite?
Qualcomm's thrust off of $57 yesterday is a good technical sign for shareholders. It tells us that there's still significant demand for shares of QCOM -- enough to overwhelm supply at or below the $57 level. That's the indication we need to see that the newfound support level is still in effect -- more importantly, it provides new investors with an opportunity for a limited-risk entry in this stock.
Yesterday's bounce is enough of a buy signal in and of itself, but tomorrow's earnings call adds a major uncertainty factor. Consider adding a starter position at this price, then ramping up to a full-sized position provided earnings don't disappoint.
Qualcomm shows up on recent lists of
21 Stock Picks That Experts Agree On
and
9 Stocks Giving Mutual Funds a Break This Year
.
Amazon.com
Another tech sector giant on Twitter's radar this week is
Amazon.com
(AMZN) - Get Report
, a stock whose own earnings call is slated for after the closing bell this evening. Amazon (another Nasdaq 100 constituent), had been showing investors some fairly bearish technical posturing throughout the fourth quarter of 2011 -- but now a bottoming pattern is providing a turn-of-fate for this e-commerce mammoth.
In Amazon's case, the pattern to watch for is a rounding bottom with a
right at $200. A rounding bottom is a pattern that indicates that sentiment is slowly shifting for shares of AMZN -- and while it's typically a trickier setup to trade, Amazon's pattern is fairly straightforward. The $200 level has acted as a stiff resistance level since the start of December, providing a clear-cut breakout level for long-side traders.
Essentially, $200 is a price above which there's a glut of supply of Amazon's shares. That is, above $200 is where sellers become more eager to sell and take profits than buyers are to buy. A breakout above that price level demonstrates that the glut of supply at $200 has been absorbed by buying pressure and there's no longer a "price ceiling" in place for shares. When that happens, $220 looks like a reasonable price target.
Either way, I'd recommend keeping a protective stop just below the 50-day
.
Amazon, one of the
Top 10 Stocks of the Past Decade
, shows up on a list of the
10 Best Revenue Growth Stocks for 2012
.
Rovi
Rovi
(ROVI)
is a digital entertainment firm that's showing traders a familiar pattern right now. This mid-cap stock has been consolidating sideways for most of 2012, giving traders a chance to mentally absorb some of the significant price moves that have taken place in shares of ROVI over the last quarter. Now, this stock is offering up a solid if/then trade.
Simply put, this stock's Iif/then setup works like this:
If
shares break out above $32.50 resistance,
then
buy.
If
shares break down below $29support,
then
ROVI is a short candidate again. An upside breakout would have the biggest trading implications right now because of the large gap in shares back in November -- a push above $32.50 would put share prices into that gap.
, as measured by 14-day RSI, has been uptrending since November, tipping Mr. Market's hand toward an upside bias for this trade. While that factor adds to the probability of a breakout, it's crucial to wait for price to push outside of its range before taking a position in this stock.
Rovi, one of
, was also featured in "
5 Big Surprise Stock Losers of 2011
."
iShares Silver Trust
Last up on our list of Twitter-centric names is the
iShares Silver Trust
(SLV) - Get Report
, an extremely popular ETF that tracks the spot price of silver. While SLV has been a good choice for the last 12 months (it's up around 19% over that period), it's been a much less attractive bet over the shorter term: SLV is down more than 16% in the trailing six months.
That said, there's an indication that we may have some upside coming to this metal in 2012.
SLV is currently coming up on a test of $34, a price level that's acted as staunch resistance the last couple of times shares attempted to move through it. Again, here's a situation where a glut of supply of shares is causing $34 to act as a price ceiling. A breakout above that price would be a significant buy signal for SLV.
Even so, this isn't a trade that you'd want to get in on early. That's because SLV is currently well above its nearest two significant support levels (S1 and S2), creating an especially high risk trade for those who are buying in anticipation of a breakout above $34. It makes a lot of sense to wait for the breakout before pulling the trigger on this metal fund.
To see these plays in action, check out the
Technical Setups for the Week portfolio
at Stockpickr.
-- Written by Jonas Elmerraji in Baltimore.
RELATED LINKS:
>>6 Stocks Reaping the Benefits of Big Buybacks
>>5 Stocks Under $10 Set to Trigger Big Moves
>>5 Stocks Set to Soar on Bullish Earnings
Follow Stockpickr on
and become a fan on
Facebook.
At the time of publication, author had no positions in stocks mentioned.
Jonas Elmerraji is the editor and portfolio manager of the Rhino Stock Report, a free investment advisory that returned 15% in 2008. He is a contributor to numerous financial outlets, including Forbes and Investopedia, and has been featured in Investor's Business Daily, in Consumer's Digest and on MSNBC.com.