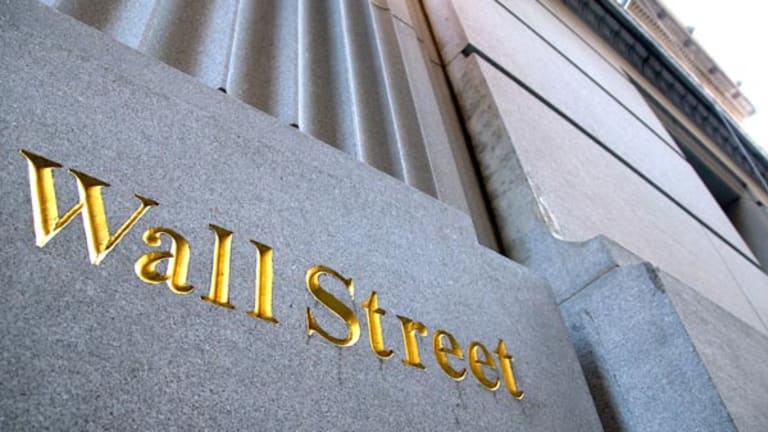 5 Shale Oil Companies With Best Prospects
A big find in Texas has increased the value of a handful of U.S. oil-shale plays.
A big find in Texas has increased the value of a handful of U.S. oil-shale plays.
BOSTON (TheStreet) -- The Eagle Ford shale formation in Southwest Texas has proved to be one of the biggest onshore oil discoveries in years.
Exploration and production companies are ramping up activity in the region, attempting to capitalize on the liquid-rich territory and high oil prices.
Marathon Oil's
(MRO) - Get Report
recent purchase of 141,000 net acres in Eagle Ford from Hilcorp Resources marks the highest acquisition price (near $25,000 per acre) on record in the area.
The Eagle Ford region is of significant interest to energy companies, due to the fact that the area has more oil than other traditional shale plays (which historically have contained significant amounts of natural gas). The region also contains a higher share of calcite and silica, making it more brittle and easier to fracture.
And Eagle Ford could overtake the Barnett and Haynesville shale gas plays in Texas and Louisiana, potentially becoming the biggest in Texas and even the U.S., according to a recent report by U.K.-based Evaluate Energy.
So how can investors get in on the boom in the Eagle Ford region? And is it too late? Not according to Chris Smith and Jason Simmons at DrillingInfo.com, who expect the surge in activity to continue.
"Texas is such an oil-friendly state in regards to industry regulation," they say. "And the high percentages of available oil (as compared to gas in other shale regions) combined with such high rates of return on investment make Eagle Ford a very attractive area."
Investors looking to capitalize on activity in the Eagle Ford formation can play it one of two ways. One is to invest in the biggest producers in the region.
The second is to try and find smaller companies with sizeable acreage that could become takeover targets for larger oil conglomerates looking to expand in the region.
The No. 1 producer is
EOG Resources
(EOG) - Get Report
, which has the largest position in the Eagle Ford shale with 520,000 net acres. Chief Executive Officer Mark Papa recently mentioned on the company's last quarterly call that Wall Street was undervaluing its Eagle Ford position. More specifically, that the company's 900 million barrels of oil-equivalent in the region wasn't being accounted for.
And his comments regarding the investment potential in Eagle Ford were bullish: "We're looking at a play that at least on a direct basis is going to yield us north of 100% rate of return for $10 billion to $15 billion of investment," Papa said. At a market value of $29 billion, EOG may not be a takeover candidate, but with the company's diversified acreage position (it also maintains leadership positions in the Bakken and Barnett shale plays), it might be the best play in Eagle Ford. EOG has also made considerable strides in transitioning from a natural gas to a liquids company. With analysts calling for $6.12 in earnings per share for 2012, the stock is trading at a very reasonable forward P/E of 17.7.
Smaller companies that might be potential acquisition targets include the following:
Goodrich Petroleum
(GDP) - Get Report
: The company has 40,000 acres in Eagle Ford and, according to energy investment boutique Howard Weil, it has Eagle Ford non-proven value per share of $12.74 (or nearly 68% of its current equity value). With a debt-to-equity ratio of nearly 72%, Goodrich has a less-than-stellar balance sheet and might be a target for a better-positioned oil company. Consider Goodrich to be a speculative high-risk, high-reward investment.
Carrizo Oil and Gas
(CRZO) - Get Report
: The company has 41,000 acres in Eagle Ford after a recent purchase of 13,000 acres for a seemingly reasonable $1,650/acre. According to Howard Weil, Carrizo has had early success in drilling, with initial production of "high liquids content." Carrizo, like other gas plays, is looking to transition more into oil exploration and has been aggressively expanding production. According to Jason Simmons at DrillingInfo.com, Carrizo offers diversified exposure, due to its other sizeable stakes in the Barnett and Niobrara shale regions.
Magnum Hunter Resources
(MHR)
: The company has significant leverage to Eagle Ford, with 25,000 net acres, but with diversified assets including 59,000 acres in the Marcellus shale and 81,000 acres in the Williston Basin (Bakken). Assuming a somewhat conservative $10,000 per acre, the Eagle Ford land could be worth 250 million, or more than $2 per share, representing 32% of the current price of $6.20 per share. Suntrust has a $12.50 price target on shares of Magnum, believing that "shares are undervalued especially when considering recent asset sales in Eagle Ford, Marcellus and Bakken along with the upcoming growth prospects of the company in the three regions."
SM Energy
(SM) - Get Report
: SM has 250,000 net acres in Eagle Ford and, according to Howard Weil, it is "the most leveraged public company to Eagle Ford on an acreage-to-enterprise-value basis." According to Bank of America-Merrill Lynch research analyst Rhett Bruno, SM's Eagle Ford assets are worth $43/share (or 64% of current market value). Bruno has an $82 price target on shares of SM, representing 21% upside from the recent close of $67.50 per share. "SM's discount to the group should narrow as drilling validates emerging-play concepts and expands the depth of the company's inventory. Key drivers include: well results from Eagle Ford, Haynesville, Bakken, Granite Wash and Marcellus."
Equity research manager Chris Stuart, CFA, joined TheStreet Ratings after working as a senior investment analyst with Merrill Lynch covering small-cap equity and alternative investment strategies. Prior to that, Stuart worked for One Beacon Insurance as an actuarial analyst and at H&R Block as a financial adviser. Stuart earned his bachelor's degree in finance from the University of Massachusetts, Amherst. He holds a Chartered Financial Analyst (CFA) designation and is a member of the Boston Security Analysts Society (BSAS) and the CFA Institute.