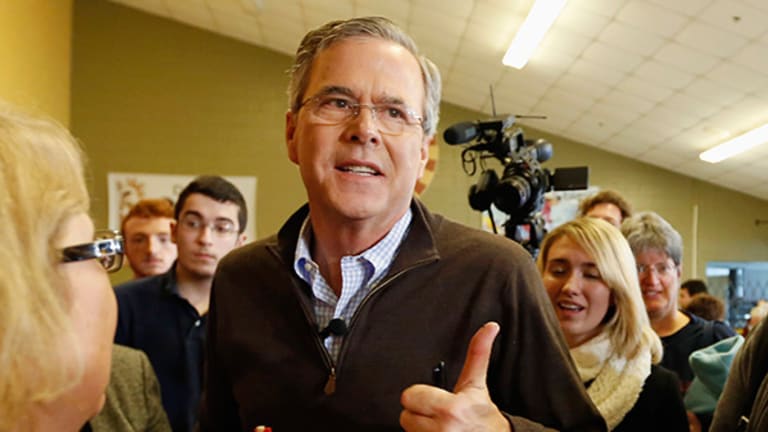 5 Myths About Money in Politics That May Affect Voters' Decisions
Here are five myths that may lead to miscalculations and overestimation of certain candidates' campaign contributions and affect voters' decisions.
With November approaching, political analysts have started crunching the numbers behind the 2016 presidential campaigns.
Although Democrats and Republicans have been criticized for the millions of dollars they receive in contributions both parties have said that they want campaign finance reform. The unlimited sums of money in campaigns can often lead to miscalculations or overestimation of a candidate's campaign contributions.
Here are five myths related to campaign finance.
Myth 1 : Outside groups support a certain candidate through unlimited contributions.
Fact: Although outside groups are legally allowed to raise unlimited amounts, that money could be used to favor or condemn a candidate.
Corporations and individuals raise unlimited sums of money but this can be to advocate for or against them. They are prohibited by law from directly contributing to a candidate or candidate's committee.
Outside spending groups such as super PACs can spend unlimited money on advertisements that may or may not sway voter.
Sometimes, super PACs can spend more money against a certain candidate or party than for them.
For example, super PAC Priorities USA Action, which is pro-Democratic presidential candidate Hillary Clinton, has spent most of its total independent expenditure against Republicans rather than for Democrats. 
Myth 2: Democrats get more funding from the finance, insurance and real estate sector, with Clinton receiving the most from Wall Street.
Fact: Since 1990, this sector has contributed more to Democrats than to Republicans on just two occasions (1990 and 2008).
Republicans have received far more funding, excluding outside contributions, from the finance, insurance and real estate sector. Post-2010 Dodd-Frank Act, the donations from the sector showed more inclination toward Republicans than Democrats.
Clinton's campaign committee has directly received most from retired industry, which isn't a part of finance, insurance and real estate sector. In the federal documents, if individuals check their occupation as "retired" then they belong to the retired "industry" category.
The real estate industry ranks fourth for Clinton, and commercial banks, a subset of the finance sector, ranks last in the list of Clinton's top 20 contributing industries that have directly donated to her committee.
The securities and investment industry, another subset of the finance sector, has contributed mostly through super PACs to Clinton's campaign.
A restriction for contributions other than committees and PACs requires that there is no co-ordination whatsoever with the candidate or the candidate's committee. Simply put, if an outside group raises a certain amount for a candidate through outside groups, then he or she has no control over how it is spent.
Myth 3: Top contributing industries are the biggest lobbyists.
Fact: This isn't always the case, as some top contributors this year have limited or no lobbying records.
In 2016, the top five industries that have contributed the most to election campaigns are securities and investment, retired, real estate, lawyers/law firms, and oil and gas. With the exception of oil and gas, none of these are in the top five lobbying industries this year. 
Myth 4:Big campaign contributions mean a big win.
Fact: The millions of dollars in politics may still not provide enough muscle to help a candidate to win.
The maximum amount raised in this year's presidential election among Republicans by super-PACs was in favor of former candidate Jeb Bush. However, he withdrew from the race anyway.
Myth 5:  All campaign contributions are disclosed to the public.
Fact: Limited liability companies and political non-profits aren't legally bound to disclose the sources of funds yet can contribute unlimited sums of money.
Dark money groups allow unlimited sums of money to enter the political stream with no disclosure of the sources of funds. Even though super PACs have to legally disclose the list of their donors, an exception can be made if the donors include dark money groups such as LLCs and political non-profits. 
The total outside funding by undisclosed donors, excluding the party committee, this year is about $51.67 million, according to the Center for Responsive Politics.
Much of the debate around campaign finance happens around dark money groups and unlimited sums of money raised by super PACs.
This article is commentary by an independent contributor.