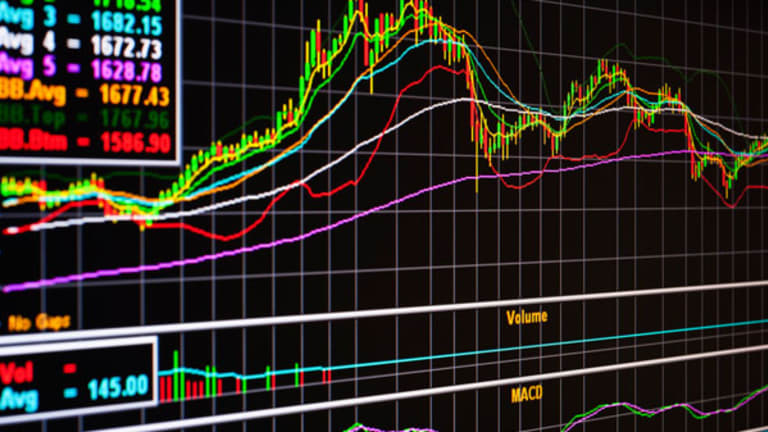 5 Must-See Charts of the Week
Here's a look at how some of the biggest names on Wall Street are trading technically.
BALTIMORE (Stockpickr) -- Major market indices are staying flat this morning as analysts across the country digest how their estimates for everything from GDP to jobs to consumption numbers are stacking up.
Across the board, most experts are expecting to see incremental increases this morning -- and so far, numbers have been coming in below Wall Street's hopes. You can bet that traders are taking notice as they position themselves ahead of the upcoming Memorial Day market weekend.
Although trading the news is outside of our purview, it's safe to say that the reality of how actual reported numbers mesh up with expectations will have a big effect on all market participants. More important, it's bound to create some attractive trading opportunities in some of the biggest-name stocks on Wall Street.
To take advantage, we're looking at five more Must-See Charts this week.
Related:
Does Technical Trading Really Work?
In case you're not familiar with
, technical charts are used every day by proprietary trading floors, Wall Street's biggest financial firms and individual investors to get an edge on the market. And according to some sources, skilled technical traders can bank gains as much as 90% of the time.
Here's a look at several
big-name stocks that are telling important technical stories
right now.
Coca-Cola
With the official start of summer just a month away, you can bet that scores of people the world over will be reaching for a Coke to combat the heat. While that's hardly a reasonable trading catalyst, heavy volume is indicating that traders are certainly looking at shares of
Coca-Cola
(KO) - Get Free Report
this week nonetheless. And they should be, with a solid "if/then trade" setting up in shares.
Simply put, an if/then trade is a setup that provides two trading alternatives that are contingent on shares breaching a technically significant level. For Coke, with shares consolidating within a tight range, a breakout above resistance triggers a buy signal, whereas a crack below support triggers a short signal.
It's worth noting that Coke has seen some sizable whipsaws in the past that appeared to signal a breakout in either direction only to close back within the horizontal channel. That's why it's especially crucial to wait for confirmation before taking a trade on this stock; that confirmation comes on a close outside support or resistance, followed by an open that meets that same criteria.
A big bet on Coca-Cola comes once again from
, whose Berkshire Hathaway maintained its 200 million-share position in the stock in the first quarter. At 24.8% of the Berkshire portfolio, Coke is its biggest holding. One of TheStreet Ratings'
, Coke is also one of
20 top-yielding food and beverage stocks
.
Pfizer
2011 is already turning out to be a strong year for pharmaceutical giant
Pfizer
(PFE) - Get Free Report
, one of the
20 highest-yielding drug stocks
. Shares of the $164 billion pharma stock have rallied more than 18% year-to-date, vs. a paltry 5% gain in the S&P 500. Now, with shares consolidating around support, traders who want to ride this trend could be in store for more upside.
Pfizer has been trading in a relatively tight uptrending channel for the last several months, with shares somewhat constrained by dynamic support and resistance levels. Those levels give us some solid insights into the high-probability range of the stock. With excesses of supply above the channel and demand below, bounces within the channel are much more likely than breaks outside of it. As a result, accumulating a position as shares near support is a low risk scenario.
Still, low risk isn't the same as devoid of risk. After all, trend lines do fail eventually. To combat that factor, it's necessary to wait for an actual bounce off of that uptrending support level before going long. That bounce is confirmation that Pfizer's "price floor" is holding up.
With a secondary support level at the 50-day
, chances for a bounce look strong. If you decide to take this trade, consider a protective stop just below the stock's previous significant trough at $19.50.
Pfizer, a top holding of
David Tepper's Appaloosa Management
, at 7.4% of the total portfolio, and of
Lee Ainslie's Maverick Capital
, at 4.5% of the total, shows up on a recent list of
9 Dow Stocks Likely to Outperform
.
Sprint
While its larger rivals remain embroiled in a mix of high profile rivalries and consolidations, shares of
Sprint
(S) - Get Free Report
are in breakout mode right now, following the completion of an ascending triangle setup late last week. The breakout in Sprint has been catching traders' attention recently, as volume moves higher amid the stock's 15% run since last week.
But while shares may still be in breakout mode, buyers should beware as shares approach their minimum measuring objective. A measuring objective provides traders with a reasonable upside target based on the specifications of the pattern that lead up to the breakout. As Sprint nears its minimum measuring objective, it's likely to start encountering some resistance as investors take profits and shorts get eager.
That said, I certainly wouldn't recommend shorting Sprint right now. Measuring objectives are a minimum upside target; as such, it's quite possible that Sprint will continue to move higher, just not as probable. More likely, we'll see some consolidation as investors digest gains, and consider their next moves.
If you want to be a buyer of Sprint, wait for a more definitive buy signal.
In the first quarter,
David Einhorn's Greenlight Capital
maintained a 55.9 million-share position in Sprint, which shows up on a recent list of the
Top 5 Stocks on Credit Suisse's Focus List
.
AT&T
Meanwhile, Sprint competitor
AT&T
(T) - Get Free Report
is enjoying the fruits of its own sizable move higher following the announcement that it would be acquiring T-Mobile USA from its German parent in a $39 billion cash and stock deal (pending approvals).
While shares have moved up considerably in the last couple of months, an ostensibly bearish setup suggests that investors may be soon to give some of those gains back.
That's because AT&T, one of TheStreet Ratings'
top-rated telecommunications stocks
, is showing a descending triangle setup right now (the opposite of the pattern that spurred Sprint's rally). A break below $31 is the sell signal to go short.
That said, because AT&T's descending triangle is fairly shallow, so too are its measuring objectives -- support at $30 makes it likely that shares won't see a catastrophic fall, but it's one worth watching for shorter-term traders.
If you do decide to take this trade, keep a protective stop just above the pattern at $31.50.
A big bet on AT&T comes from
Bruce Berkowitz's Fairholme Capital
, which, despite trimming its position by more than 90% in the first quarter, still holds over 640,000 shares.
iShares Silver Trust
Last up this week is a vestige from
last week's Must-See Charts column
: the
iShares Silver Trust ETF
(SLV) - Get Free Report
.
Last week, the theme was trading the commodity recovery, and that's exactly what's taken place with SLV. As the easiest way to get exposure to physical silver, SLV had the distinction of being one of the most high-profile exchange-traded funds of the last few months. Most notable was the fund's 30% fall, which led many traders to question whether it made sense to cut losses.
Related:
5 Silver Mining Stocks Poised to Rebound
When shares hit support at $32, I said that it might be a good opportunity to add onto a position at a lower cost basis -- and sure enough, SLV held support at that level and bounced higher. With shares up nearly 7% from last week's price and fast approaching resistance at the 50-day moving average, now would be a good time for short-term traders to take profits. On a longer-term horizon, it still makes sense to hold on.
To see this week's potential trades in action, check out the
High Volume Technicals portfolio
on Stockpickr.
-- Written by Jonas Elmerraji in Baltimore.
RELATED LINKS:
>>5 Stocks With Big Insider Buying
>>5 High-Yield Stocks Due for a Squeeze
Follow Stockpickr on
and become a fan on
Facebook.
At the time of publication, author had no positions in stocks mentioned.
Jonas Elmerraji is the editor and portfolio manager of the Rhino Stock Report, a free investment advisory that returned 15% in 2008. He is a contributor to numerous financial outlets, including Forbes and Investopedia, and has been featured in Investor's Business Daily, in Consumer's Digest and on MSNBC.com.