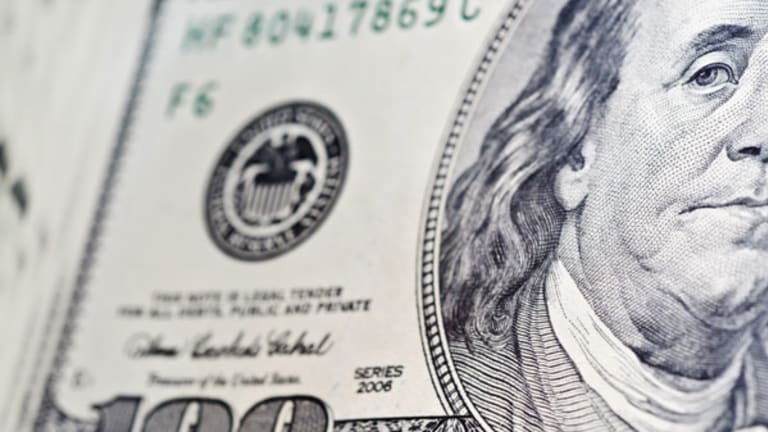 5 Mobile Phone Stocks That Could Pop in 2012
These heavily shorted stocks could get squeezed much higher on any positive catalyst.
BALTIMORE (Stockpickr) -- There have been a lot of eyes on the mobile phone industry in the last year. From the very high-profile failed merger attempt by AT&T (T) and T-Mobile to massive volatility in shares of Sprint Nextel (S), it's no surprise that cell phone stocks have Wall Street's attention right now.
Revenue growth has also been a major reason for investors' infatuation with mobile communications companies. As the penetration rate on cell phones increased domestically, legacy telcos have seen their businesses shift from primarily landline sales to primarily mobile sales. A rising tide of mobile phone sales has essentially lifted all ships in the industry over the last decade.
But not all cellular stocks are created equal -- and right now, investors are heavily shorting plenty of names. That's creating an opportunity for a short squeeze.
>>5 Breakout Stocks to Eye for a Buy
In case you're not familiar with the term, a short squeeze is the buying frenzy that ensues when a heavily shorted stock starts to look attractive again to investors, causing share price to skyrocket. One of the best indicators of just how high a short-squeezed stock could go is the short-interest ratio, which estimates the number of days it would take for short-sellers to cover their positions. The higher the short ratio, the higher the potential profits when the shorts get squeezed.
(Stockpickr also highlighted several short-squeeze opportunities in yesterday's "
5 Stocks Set to Soar off Bullish Earnings
.")
Naturally, these plays aren't without their blemishes -- there's a reason that these stocks are being heavily shorted. But for investors looking for exposure to a speculative play with a beefier risk/reward tradeoff, these could be powerful upside plays for the coming year.
Without further ado, here's a look at our list of
mobile phone short-squeeze opportunities for 2012
.
SBA Communications
The last quarter has brought strong performance for shareholders of
SBA Communications
(SBAC) - Get Report
, a $4.9 billion wireless communications company. Shares of the firm have rallied more than 14% in the trailing three months, buoyed by strong earnings in early November. Even so, with a short interest ratio of 10.4, this stock remains heavily shorted right now.
SBA Communications owns more than 9,000 wireless communications towers spread throughout North America. The firm's primary business consists of leasing its tower space to wireless carriers who need the capacity that SBA's towers can provide. The push toward smartphones and other mobile internet-enabled devices has led to a serious capacity shortage among North American wireless carriers -- that's a major tailwind for SBA's leasing abilities.
While competition and increasingly commoditized offerings pose some challenges to SBA in the years ahead, the firm's excess space around its current antenna sites provide room for expanding its capacity at a lower cost than most peers. While leverage is high at SBA, even for the capital-intense tower business, the firm has been steadily paying down its debt burden.
The firm's fourth-quarter earnings call early next month could provide a catalyst for a short squeeze in shares.
SBA shows up on a list of
.
Millicom International Cellular
Millicom International Cellular
(MIICF: Pink Sheets) is an emerging markets mobile phone provider that services more than 40 million people spread throughout Central America, South America, and Africa. The dynamics of the mobile phone business are starkly different in emerging market economies, where cell phones are often both the only line of communication and a key tool for banking and commerce. Where U.S. firms are focused on increasing smartphone usage (and data consumption), Millicom is interested in hitting geographic areas with low cell phone penetration.
The difference is also readily apparent in the firm's financials. With net margins that rang in at more than 41% in the firm's most recent fiscal year, this Luxembourg-based firm is generating cash at levels that domestic phone carriers can't touch. All the while, management has been actively paying down debt and growing its dividend payout.
Right now, Millicom earns the majority of its revenues in Latin America, where its enjoyed fast-paced growth for the last several years. As that market matures, the company will need to get impressive growth out of its African business if it wants to keep investors happy. The firm's decision to delist from the Nasdaq and instead move to the Pink Sheets doesn't impact long-term investors -- instead, it merely cuts the huge administrative costs of listing in the U.S. Better still, the somewhat decreased liquidity of the Pink Sheets means that any short squeeze would be magnified for MIICF.
A short interest ratio of 10.2 means that it would take more than two weeks for shorts to cover their positions at current volume levels.
Level 3 Communications
It's no surprise that
Level 3 Communications
(LVLT)
has a target on its back. In the last quarter, this $4 billion communications firm has seen its shares slide by more than 24%. But selling pressure may be abating as this stock finally starts getting its act together. A short ratio of 10.5 means that it would take more than two weeks for short sellers to exit LVLT.
In a nutshell, Level 3's business is focused on moving data around and helping to increase the deliverability of content. That makes the firm's services an important (if opaque) part of cellular carriers' back-end systems. In an environment where capacity is one of the biggest bottlenecks to providing end users with mobile service, Level 3's offerings should continue to benefit from high demand, as long as the firm can keep its finances in check.
Owning networks is a capital-intensive business, and that's apparent on Level 3's balance sheet. The firm has a large debt load that's been a perennial source of anxiety for shareholders. A move toward paying down that debt in the next few quarters should help eliminate some short pressure in the mid-term.
Meanwhile, Feb. 8 earnings could be an upside catalyst for this stock.
Level 3, one of
, shows up on a list of
Hedge Funds' Best Picks for 2012
.
United States Cellular
Mid-cap mobile phone carrier
United States Cellular
(USM) - Get Report
provides voice and data service to more than 6 million customers in 26 states. That makes USM the country's sixth-largest cell phone carrier, a position that trails its next-largest peer by a significant margin. Even though this stock doesn't boast the scale of the firms it's forced to compete with, management has gotten creative with its offerings in an attempt to lure lines from the bigger players.
A major part of that strategy is the "Belief Project," an initiative that differentiates USM's customer service and customer loyalty incentives away from those of its peers. In general, poor customer service at major carriers has become expected, and USM's decision to focus on service has actually had a palpable impact on the firm's subscriber churn rate. While the switching argument isn't quite as compelling at USM at this point, investors shouldn't eschew the firm outright in 2012.
Because USM hasn't resorted to competing on cost (something that the firm can't realistically beat peers on), it boasts an attractive mix of subscribers right now. The vast majority of customers are on family plans, a setup that provides a stickier customer base. At the same time, smartphones provide a disproportionate advantage for USM's income statement - a push toward upselling existing customers has proven successful in recent years.
With a short interest ratio of 19, it would take nearly two months of buying pressure for short sellers to exit their positions in USM.
I also featured USM last month in "
5 Stocks to Trade for Gains in the Tech Sector
."
Telephone and Data Systems
Up next is
Telephone and Data Systems
(TDS) - Get Report
, a firm whose fate is intertwined with that of U.S. Cellular. That's because TDS owns an 83% stake in USM's shares, the subsidiary's operations making up the lion's share of TDS' business. That hefty exposure has stacked short sellers against the parent company as well; TDS currently has a short interest ratio of 18.6.
Beyond the U.S. Cellular business, TDS is also one of the top-ten largest local telephone exchange companies in the country, providing service to more than 1 million lines. Through that business, the firm also provides Internet and satellite TV services (through a partner) to customers, dramatically increasing its revenues per user earned over those of vanilla telephone fixed-line phone operators.
While regulatory challenges effectively tie TDS' hands to its present geographic region, growing revenue per user has been an effective way to increase net margins at TDS.
From a financial standpoint, TDS is in strong shape, with a manageable long-term debt load (par for the course in the fixed-line business) and nearly $1 billion in balance sheet liquidity. That combination should keep the firm's modest dividend payout intact in 2012.
To see this week's short squeezes in action, check out the
Mobile Phone Short Squeezes portfolio
on Stockpickr.
-- Written by Jonas Elmerraji in Baltimore.
RELATED LINKS:
>>5 Technical Setups to Trade This Week
>>5 Rocket Stocks to Buy This Earnings Season
>>7 Stocks at New 52-Week Highs
Follow Stockpickr on
and become a fan on
Facebook.
At the time of publication, author had no positions in stocks mentioned.
Jonas Elmerraji is the editor and portfolio manager of the Rhino Stock Report, a free investment advisory that returned 15% in 2008. He is a contributor to numerous financial outlets, including Forbes and Investopedia, and has been featured in Investor's Business Daily, in Consumer's Digest and on MSNBC.com.