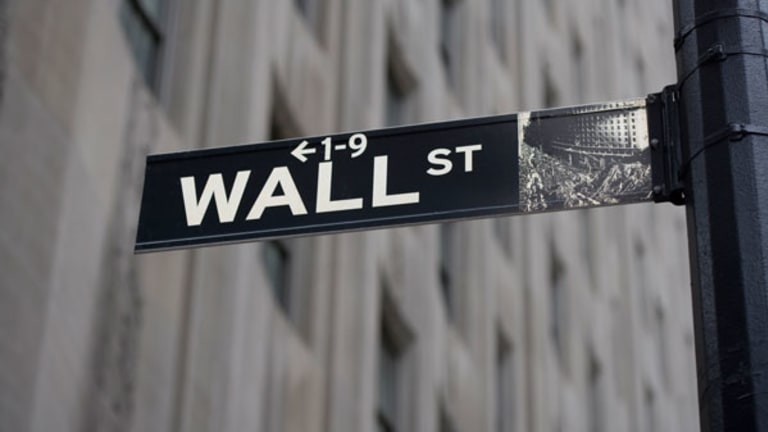 5 M&A Deal Stocks You Can Buy at a Bargain
In a market where fundamentals are being discounted, M&A actions can provide amazing value for purchasing firms' balance sheets.
BALTIMORE (Stockpickr) -- Mergers and acquisitions -- better known in the industry as M&A -- aren't getting much attention right now. But they should be.
Investors have been focused on their own portfolios in 2012, trying to figure out a market that rallied hard in the first few months of the year, only to become a lot more confusing in the next few. But while the news cycle has dominated investors' attention, M&A activity has quietly been perking up. In the second quarter, M&A deals weighed in at more than $510 billion -- a full 8% increase over the deals that got penned in the first quarter.
>>5 Stocks Insiders Love Right Now
But more significant than that, companies are finding that they can get deals on the cheap. The average buyout premium dropped to just 10.32% last quarter, the lowest quarterly incentive in more than a decade, and down from the 28.14% extra that firms had to pay investors to acquire their portfolio companies.
In other words, it's a buyer's market out there for stocks - and corporate America agrees.
Right now, companies are sitting on top of record cash reserves in a toxic interest rate environment. That's creating serious incentives for firms to part with some of that massive pile of cash if they want to keep shareholders happy. After all, in markets where fundamentals are being discounted, M&A actions can provide amazing value for purchasing firms' balance sheets.
>>ACTIVE STOCK TRADERS: Check out Stockpickr's special offer for Real Money, headlined by Jim Cramer, now!
For the most part, Wall Street hasn't been willing to concede the bargains that are presenting themselves right now, and as a result, firms that announce M&A deals are getting punished. That's creating a big buying opportunity for investors this summer.
With that, let's take a look at
five M&A deal stocks that you can buy at a bargain
right now.
United Technologies
At $17.98 billion in value,
United Technologies'
offer to buy
Goodrich
(GR)
is one of the biggest deals in a while. The cash offer to buy Goodrich for $127.50 per share is expected to close sometime this month. The deal stands to add GR's big-margin aerospace revenues to UTX's income statement, a cash flow boost that should help to justify the hefty premium that UTX shelled out to buy the aviation firm.
Goodrich fits perfectly into United Technologies' aerospace-centric portfolio of manufacturing businesses, and despite the premium, UTX didn't overpay to acquire the landing system, flight electronics, and nacelle maker. Once the deal closes, it should expand UTX's already solid margins before one-time combination costs are factored in. Still, shares of UTX have been punished since the deal was announced back in September; shares are down around 2% since then, while the broad market is up substantially.
>>5 Stocks Poised for Breakouts
UTX has shown commitment to the GR deal in recent months, hinting that the firm may opt to raise $1 billion by selling its Pratt & Whitney power systems unit. With a 2.9% dividend yield and a bargain valuation after the GR deal closes, investors should give UTX a second look in July.
As of the most recently reported period, United Technologies was one of
.
Eaton
Eaton
(ETN) - Get Report
is another manufacturing firm that's looking like a bargain after a big-ticket M&A deal was announced in May. The $13 billion power systems company is in the process of acquiring Irish electrical component maker
Cooper Industries
(CBE)
in a deal that would double Eaton's size. Cooper shareholders are getting a combination of cash and stock for their firm that's currently worth $68.88 per share, around 2% more than CBE's last close.
The decision to buy Cooper makes a lot of sense for Eaton -- it'll give the firm a bigger reach in the power management industry, and it should create some major cost synergies after all of the merger-related costs get absorbed by the income statement. Eaton expects material EPS increases as soon as next year from the deal, something few investors should be balking at. Still, shares of Eaton have slid 8.8% since the deal was announced, a move that suggests that shares are too cheap.
>>5 European Stocks Too Cheap to Ignore
As with UTX, Eaton is paying a premium to acquire Cooper, but the firm isn't overpaying -- particularly when the cost savings of the merger are factored in. As the combined firm takes advantage of big growth opportunities in emerging markets, investors should see plenty of upside in shares.
Dell
I'm not a big fan of the computer business. In the last decade and change, computers have gone from a breakneck growth industry to a commoditized business where manufacturers (save for
Apple
(AAPL) - Get Report
, of course) have to sacrifice margins for market share. That makes
Dell
(DELL) - Get Report
the standard bearer of an undesirable industry. But acquisitions could be this PC-maker's salvation in 2012.
Its most recent, the purchase of
Quest Software
(QSFT)
, is a perfect example of what the company should be doing right now. Quest develops and supports software for enterprise systems management, selling its tools to IT departments the world over. Dell announced its intention to buy Quest last month, penning a $2.25 billion cash deal that represented a tiny 14.2% premium to QSFT's share price.
>>4 Earnings Reports Bigger Than RIM's
Quest gives Dell exposure to the software side of the enterprise market, an area that Dell has been pouring resources into over the last few years. With significant demand for enterprise infrastructure in the next few years, Dell's decision to embrace IT department needs over desktop users is going to be a good one for shareholders. Yes, the lion's share of Dell's sales still come from PC-sales, but as the more profitable server and storage business grows, building PCs will become less crucial. GAnd with a massive $11.4 billion net cash position, Dell needs to be putting its coffers to work to avoid seeing its accounts atrophy from negative real interest rates on the low-risk investments that corporate treasury management teams typically chase.
SAP
Another tech name that's been on the M&A circuit is enterprise resource planning giant
SAP
(SAP) - Get Report
, a $72 billion firm that boasts more than 180,000 customers spread all over the world. On May 22, SAP announced that it was buying
Ariba
(ARBA) in a $4.3 billion cash deal that factored in a modest 18.8% premium. Ariba's cloud-based commerce platform will get tacked onto SAP's nascent online business offerings.
Competition has been fierce in the cloud ERP market in the last few years, with the overlap between offerings from SAP and rivals like
Oracle
(ORCL) getting larger by the day. The Ariba acquisition adds a massive business-to-business community to SAP's portfolio of services, giving it a feature with a huge barrier to entry for competitors.
Like Dell, SAP is flush with cash right now - in its latest quarter, the firm reported just under $4 billion in net cash. While this deal will have a bigger impact on SAP's balance sheet than Dell's did, it's also expected to be accretive to the firm's earnings next year. With SAP's shares effectively flat since the announcement, there's a buying opportunity to be had here.
Energy Transfer Partners
Last up is
Energy Transfer Partners
(ETP)
, a $10.5 billion master limited partnership in the natural gas transportation and storage business. ETP owns close to 20,000 total miles of natural gas pipelines spread throughout the country, a business that traditionally throws off significant cash for investors -- especially given ETP's tax status. But the firm is spreading its wings with the acquisition of
Sunoco
(SUN) that was announced at the end of April.
The $6.8 billion cash and stock deal significantly diversifies ETP's balance sheet, giving it dramatically more exposure to crude oil, and not just natgas prices that have skimmed along multiyear lows for most of 2012. Because Sunoco's retail business can easily be split off, a large chunk of ETP's investment can be recouped after the acquisition closes. The firm is likely much more interested in Sunoco's logistics and pipeline operations anyway.
And since the deal should be immediately accretive to earnings, ETP should have even more fuel for its absolutely massive 7.8% dividend yield, even if payouts struggle in the near-term. Ultimately, Energy Transfer Partners is getting the opportunity to add a valuable business to its balance sheet at a big discount to last year's valuations, and investors can buy the ETP today for an 8% price discount from when the acquisition was announced.
To see these M&A plays in action, check out
on Stockpickr.
-- Written by Jonas Elmerraji in Baltimore.
RELATED LINKS:
>>5 Stocks Ready to Boost Dividends
>>4 Stocks John Paulson Is Buying
>>5 Stocks Set to Soar on Bullish Earnings
Follow Stockpickr on
and become a fan on
Facebook.
At the time of publication, author had no positions in stocks mentioned.
Jonas Elmerraji is the editor and portfolio manager of the Rhino Stock Report, a free investment advisory that returned 15% in 2008. He is a contributor to numerous financial outlets, including Forbes and Investopedia, and has been featured in Investor's Business Daily, in Consumer's Digest and on MSNBC.com.