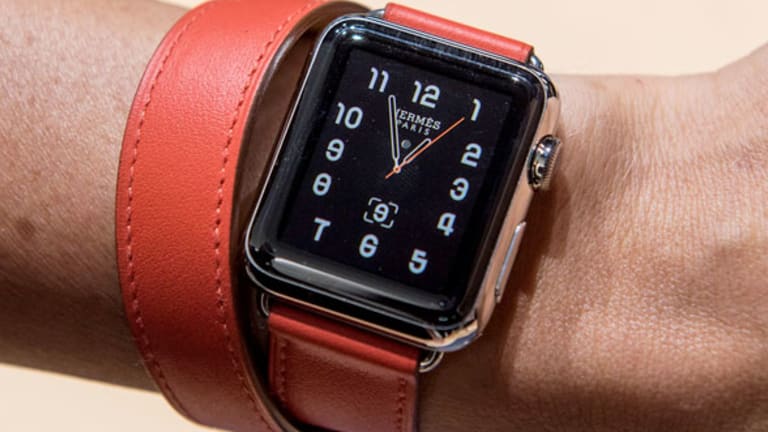 5 Luxury Smart Watches That Look Better Than the Apple Watch
Apple is about to go head-to-head with Swiss watchmakers debuting their initial entries into the luxury smart watch space.
NEW YORK (TheStreet) -- A digital smart watch may never reach the level of an heirloom fit to pass on to the next generation, but tech giant Apple (AAPL) - Get Report is sure going to try its damnedest to go after this lucrative market. 
On Wednesday, Apple unveiled a partnership with French luxury house Hermès to release an Apple Watch with a custom Hermès interface and a host of fancy straps. Three different leather bands, handmade by Hermès in France, will be available at select stores starting Oct. 5. Securing one of the luxurious new watches, which also feature the Hermes name etched on the stainless steel case of Apple's time-telling tech gadget, will cost a pretty penny. 
A 42mm case with the single Hermes leather band will retail for $1,150, or $1,500 for a slightly more fashion-forward band that wraps partially around one's wrist.
At first blush, Apple's tie-up with Hermes seems to address a major gripe about the Apple Watch among watch snobs, which is that it is nothing more than a gussied-up tech gadget that depreciates in value as soon as it's released. Whether Apple has truly cracked the code for an entrance into the luxury watch space will be severely tested beginning this holiday season and into 2016 as storied Swiss watchmakers finally release their initial forays into timepieces that utilize smart technology.
Although not as dynamic as the Apple Watch -- many of the Swiss smart watches don't send alerts for calls or texts, for example -- one thing is abundantly clear from the sexy new arrivals: they keep the spirit of Swiss matchmaking alive, with the smart technology, while useful, still taking a backseat to craftsmanship and historical watch designs.
TheStreet runs down the top five luxury smart watches about to do battle with the Apple Watch Hermes edition, ranked from lowest-priced to highest-priced.


5. Mondaine Helvetica No 1 Smart Watch
Price: $950
The Mondaine, which at initial glance appears to be a standard high-end wristwatch, was the first Swiss luxury smartwatch to hit the market earlier in the year. It features an activity tracker, a sleep monitoring tracker, sleep cycle alarms, and active alerts. All of the data that the watch measures and collects is gathered and then sent to a phone or tablet via Bluetooth and a downloadable app.
User data can be backed up and stored in the cloud. The watch boasts over two years of battery life, compared to an Apple Watch that needs daily charging.


4. Frederique Constant Horological Smartwatch
Price: $995 (with leather strap); $1,150 (with metal strap)
Switzerland-based watchmaker Frederique Constant tweaks the Apple Watch on its website in explaining its smart watch's attributes. "A quality product with longevity created from fine materials and made by hand," writes the company, adding "there is no digital screen on Horological Smartwatches -- instead, the beautiful diamond cut hands on the watch dial analogically display information."
Pomp aside, the Horological Smartwatch which is already on the market, is rather similar to the Mondaine. It's also able to track sleep patterns, and walking/running activity. Alerts come in the form of a quick double beep via a built-in speaker, as opposed to the Apple's Watch's gentle vibrations via its haptic engine. The battery is projected to last about 25 months.

3. Tag Heuer Carrera Wearable 01
Price: $1,400
Details have been scant on the Wearable 01, a classic tactic used by luxury houses to build buzz in the lead up to a new product launch. What is known is that the smart watch will run on Google's (GOOG) - Get Report Android platform, with Intel (INTC) - Get Report developing the hardware. In terms of design, it will closely resemble the understated ruggedness of Tag Heuer's popular Carrera line, pictured above. It's expected to be available in November.

2. Bvlgari Diagono Magnesium
Price: $4,800
Not scheduled for release until 2016, the Diagono Magnesium smart watch contains a Near Field Communication (NFC) chip that allows owners to exchange information with a device simply by tapping the watch against it. This means, like the Apple Watch, it can be used to make payments, start car engines and unlock doors.

1. Breitling B55 Connected
Price: $7,000+ (estimated)
Owners of the Breitling B55 Connected can use their phone to perform certain adjustments on the smart watch, such as setting the time, alarms, and display parameters. The watch draws its design inspiration from Breitling's long history of catering to pilots, and resembles the non-smartwatch B50 edition from the company. It does not receive text messages or social media updates however, nor does it monitor health statistics.
The B55 Connected is projected to be in the market sometime before the holiday season. Based on the B50's pricing of around $6,000 with a titanium strap, the B55's smart technology will likely boost its price north of $7,000.