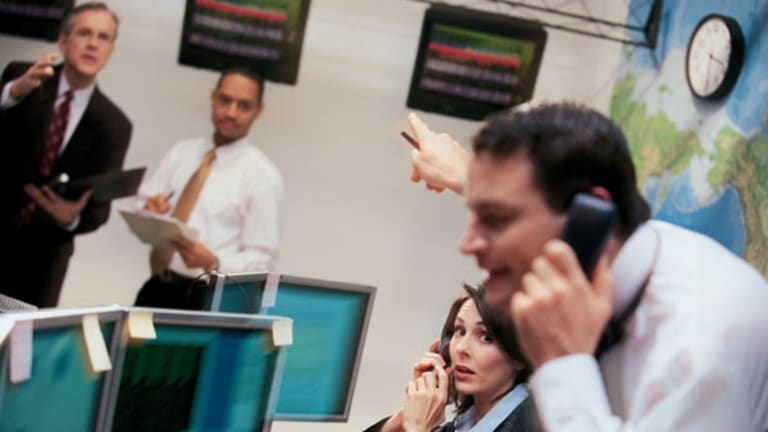 5 Low-Risk Stocks to Buy for 2012
These low-PEG, low-beta stocks offer excellent value opportunities as we look ahead to the next year.
These low-PEG, low-beta stocks offer excellent value opportunities as we look ahead to the next year.
MILLBURN, N.J. (Stockpickr) -- My investment strategy seeks out stocks that are cheap relative to their growth rate -- referred to as growth at a reasonable price, or GARP. To that end, I seek out stocks that are selling at low price-earnings-to-growth, or PEG, ratios.
The price-to-earnings, or P/E, ratio is a measure of risk. It calculates the multiple of earnings an investor is willing to pay. The higher the multiple, the greater the stock price will react to changes in earnings per share. A stock sporting a lower multiple is considered safer because of the lesser impact that earnings has upon stock price. Lower-P/E stocks tend to compensate investors by paying dividends.
Back in May, I recommended
. Since that date, the
S&P 500
is down over 5%. Of the four stocks, only one is down --
FedEd
(FDX) - Get Report
, which shed 9.2%. The rest have seen positive returns:
Apple
(AAPL) - Get Report
is up 15.1%,
Ralph Lauren
(RL) - Get Report
is up 9.6%, and
Buffalo Wild Wings
(BWLD)
is up 6.4%.
>>7 Trades to Beat the Market in 2012
Another part of my strategy is to avoid stocks with high PEG ratios as those tend to be overpriced, be priced for perfection (that is, they leave no room for error) and invite too much risk into one's portfolio. In July, I recommended avoiding (or shorting)
five stocks with high PEG ratios
. With the S&P down about 4.5% since then,
Amazon
(AMZN) - Get Report
is down 8.6%,
Fortinet
(FTNT) - Get Report
is down about 11.1%,
Dolby Labs
(DLB) - Get Report
is down 20.7%,
Salesforce
(CRM) - Get Report
is down 21.3%, and
SodaStream
(SODA) - Get Report
is off 59.6%.
Now I'm taking my research one step further by combining PEG with beta. Beta is the sensitivity of a stock's price to that of the market portfolio. Most people use the S&P 500 as a proxy for the market portfolio.
Why use beta? Beta is a measure of market risk. I am concerned that the broad markets are stuck in an endless series of intertwined economic do-loops with a risk that they progress to a never-ending condition. A "do-loop" is a term used by computer programmers to describe repetitive tasks that are supposed to terminate upon a certain condition being satisfied. But a programming flaw could produce a never-ending do-loop that hangs the program up and could potentially cause a system crash.
Here are some of the seemingly endless economic do-loops that we're currently facing:
1.
The Euro Debt Do-Loop
: Every time we seem to arrive at a solution to the problems in the eurozone, we go back to the beginning. It started with Spain. Then it went to Greece. Then to Italy. Now back to Spain. Will it ever end?
2.
The Technical Do-Loop
: The S&P 500 is within a few points of where it stood on Aug. 31, Oct. 20 and just about a year ago. It seems that we have gone absolutely nowhere, in an endless market do-loop -- though we have traveled far and wide in the intervening periods between those dates. The only true winners have been the stock pickers who've been able to identify the right stocks and the brokers who have racked up huge commissions along the way.
3.
The Capital Hill Do-Loop
: We suffered through the period leading up to the extension of the debt ceiling on Aug. 2. Now we have to relive this with the painful negotiations of the Super Committee. How many people will worry about another credit downgrade of the U.S. once the Super Committee comes to an agreement?
4.
The Daily Futures Do-Loop
. U.S. index futures head lower after the U.S. market close, reverse into the evening, tank when Europe opens, rebound after the morning U.S. economic or earnings data is released, sell off into the European close -- and then comes the wild card, the U.S. close.
So now, taking all of this into consideration, I am seeking companies with low risk relative to the overall markets that still exhibit reasonable prices relative to levels of earnings growth. I screened for stocks with raw beta of less than 1, PEG ratios of less than 1 and market capitalizations of more than $500 million. From the output, I ranked the stocks according to the sum of the raw beta plus the PEG ratio and analyzed each company from a fundamental perspective.
Let's take a closer look at
five stocks that I consider excellent value opportunities
as we look ahead to the next year.
United Therapeutics
United Therapeutics
(UTHR) - Get Report
is a biotechnology company specializing in the care of cardiovascular diseases. The company is also engaged in active research of products for the treatment of life-threatening diseases such as cancer and infectious diseases.
Given the nature of the company's business, this stock poses the greatest risk of the companies on my list regarding the execution of its business plan. Fundamentally, the company has been generating excellent operating cash flow, which has enabled the pay-down of long-term debt.
2011 was a big year for United Therapeutics, with earnings expected to more than double. That earnings growth is expected to slow down in 2012 -- but not enough to get you sick.
United Therapeutics' raw beta is 0.66.
United Therapeutics shows up on a recent list of
13 Biotech Stocks Bought and Sold by Hedge Funds
.
Allied Nevada Gold
One of the most frustrating trades in 2011 has been the gold miners. Despite the price of physical gold rising about 20% so far in 2011, gold mining shares have been disappointments. The
Market Vectors Gold Miners ETF
(GDX) - Get Report
, a basket of gold mining companies, has declined just over 7% this year.
Allied Nevada Gold
(ANV)
has struggled -- as has the rest of the industry -- to generate earnings growth in 2011.
On the other hand Allied Nevada's stock has advanced 29% in 2011. The company sees growth coming in the future not so much from gold production but from silver production. Furthermore, management sees mining costs trending lower rather than higher.
A good reason for that is that Allied Nevada's mines are located in the state of Nevada. Hence, the company does not feel the adverse effects from foreign currency and global management which many of its competitors experience.
Allied Nevada Gold's raw beta is 0.74
Allied Nevada Gold is one of
the top holdings of Seth Klarman's Baupost Group
and also shows up in
Vinik Asset Management's portfolio
.
Apple
Apple
(AAPL) - Get Report
, which I included on my previous
, remains one of the cheapest stocks around. The stock has still managed to increase in value over 16% this year, despite falling 12% since reaching an all-time high in October.
The iPhone 4S is a huge success. In 2012, the iPhone 5 and iPad 3 are likely to get introduced. The company's computers continue to grab market share away from Windows-based systems. The December quarter is expected to be the company's best ever. Earnings are expected to grow by 25% in 2011 and 12% in 2012. Yet the stock trades at just under 10 times 2012 earnings.
Apple's raw beta is 0.77
Apple shows up on recent lists of
5 Gadget Stocks for the Holidays
and
9 Top Goldman Sachs Stocks for 2012
.
DirecTV
DirecTV
(DTV)
provides digital home entertainment to over 27 million direct subscribers and nearly 4 million partnered subscribers in the U.S. and Latin America. The company added nearly 2 million subscribers in 2011. ARPU (average revenue per subscriber) increased 3.5% in the U.S. and nearly 12% in Latin America so far this year. Earnings are expected to grow by over 30% in both 2011 and 2012. The stock sells at just 10.5 times 2012 estimates.
Compare that with forward price-to-earnings for competitors such as
Time Warner Cable
(TWC)
, at 11.2;
Cablevision
(CVC)
, at 11.4; and
Comcast
(CMCSA) - Get Report
, 11.5. The stock is an excellent generator of cash flow. That said, if there is one issue I have with DirecTV management, it is its insistence on increasing leverage to repurchase stock.
DirecTV's raw beta is 0.85.
DirecTV, one of
, was also one of
Warren Buffett's 6 New Investments
in the most recently reported quarter.
Hasbro
The stock that best fits my criteria is
Hasbro
(HAS) - Get Report
-- and with the holiday shopping season upon us, it's appropriately themed to boot. Hasbro makes some classic and timeless games and toys under brands such as Parker Brothers and Playskool and titles such as Monopoly, Nerf, Play Doh, Transformers and GI Joe. Hasbro has successfully integrated its business and offerings into the new digital age. From generation to generation, Hasbro is part of American homes.
Earnings are expected to grow by 11% in 2011 and 13% in 2012. The stock sells at 11 times forward earnings. On top of all that, cash flow is strong enough to pay an annual dividend of 3.3%.
Hasbro, one of TheStreet Ratings'
and one of the
top-yielding consumer durables stocks
, has a raw beta of 0.80.
To see these stocks in action, visit the
portfolio on Stockpickr.
-- Written by Scott Rothbort in Millburn, N.J.
RELATED LINKS:
>>5 Rocket Stocks to Buy for a Relief Rally
>>4 Stocks Under $10 With Big Upside Potential
Follow Stockpickr on
and become a fan on
Facebook.
At the time of publication, author was long BWLD and AAPL stock, long AAPL calls and short CRM stock, although positions can change at any time.
Scott Rothbort has over 25 years of experience in the financial services industry. He is the Founder and President of
, a registered investment advisor specializing in customized separate account management for high net worth individuals. In addition, he is the founder of
, an educational social networking site; and, publisher of
The LakeView Restaurant & Food Chain Report
. Rothbort is also a Term Professor of Finance at Seton Hall University's Stillman School of Business, where he teaches courses in finance and economics. He is the Chief Market Strategist for The Stillman School of Business and the co-supervisor of the Center for Securities Trading and Analysis.
Mr. Rothbort is a regular contributor to
TheStreet.com's RealMoney Silver
website and has frequently appeared as a professional guest on
Bloomberg Radio
,
Bloomberg Television
,
Fox Business Network
,
CNBC Television
,
TheStreet.com TV
and local television. As an expert in the field of derivatives and exchange-traded funds (ETFs), he frequently speaks at industry conferences. He is an ETF advisory board member for the Information Management Network, a global organizer of institutional finance and investment conferences. In addition, he is widely quoted in interviews in the printed press and on the internet.
Mr. Rothbort founded LakeView Asset Management in 2002. Prior to that, since 1991, he worked at Merrill Lynch, where he held a wide variety of senior-level management positions, including Business Director for the Global Equity Derivative Department, Global Director for Equity Swaps Trading and Risk Management, and Director for secured funding and collateral management for the Global Capital Markets Group and Corporate Treasury. Prior to working at Merrill Lynch, within the financial services industry, he worked for County Nat West Securities and Morgan Stanley, where he had international assignments in Tokyo, Hong Kong and London. He began his career working at Price Waterhouse from 1982 to 1984.
Mr. Rothbort received an M.B.A., majoring in Finance and International Business from the Stern School of Business, New York University, in 1992, and a B.Sc. in Economics, majoring in Accounting, from the Wharton School of Business, University of Pennsylvania, in 1982. He is also a graduate of the prestigious Stuyvesant High School in New York City. Mr. Rothbort is married to Layni Horowitz Rothbort, a real estate attorney, and together they have five children.