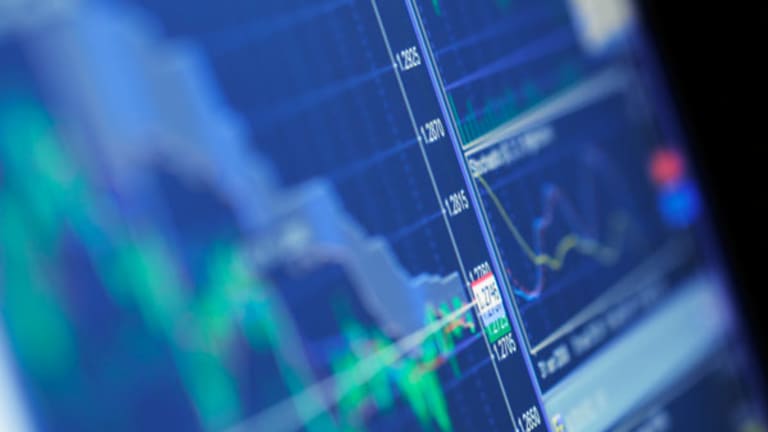 5 Loser Stocks Poised for Rebounds
These stocks, some of the worst performers of 2011, have big upside potential.
These stocks, some of the worst performers of 2011, have big upside potential.
MILLBURN, N.J. (Stockpickr) -- Recently I took a look at stocks that have outperformed this summer that I think will continue to outperform. Now I want to look at the opposite end of the performance spectrum: down-and-out stocks.
Very often, a stock that is down big is down for very good reasons -- usually because of fundamental problems associated with its business model or financial condition. But that's not always the case, and sometimes hard-hit stocks present buying opportunities. With that in mind, I want to highlight several
stocks poised to rebound from huge declines so far this year
.
To find these stocks, I began by looking at the
S&P 500
from the beginning of the year through the close of business Sept. 12. Of the 500 stocks in the large-capitalization index, 314 have declined.
Related:
6 Cash-Rich Stocks to Buy Before 2012
The worst performer was employment solutions company
Monster Worldwide
(MWW)
, down 65.8% -- and for good reason. It will take a long time for this company, whose Web sites match up job seekers and employers, to recover. I still believe that 2012 analysts' estimates may be too high.
Also among the biggest losers of 2011 are
U.S. Steel
(X) - Get Report
,
Hudson City Bancorp
(HCBK)
,
American International Group
(AIG) - Get Report
,
Janus Capital
(JNS)
and
Hewlett-Packard
(HPQ) - Get Report
, but they have not made my list of potential rebounds either. I am not confident that these stocks have a positive risk/reward profile in the near future.
So which stocks do have the potential to rebound? Let's take a closer look at
five of 2011's worst performers with upside potential
.
Akamai Technologies
Akamai Technologies
(AKAM) - Get Report
, a leading provider of solutions for Internet content delivery and security protection, Akamai is certain to benefit from the cloud computing boom, which is still in its early stages and is expected to growth at an estimated 25% annual rate for several years to come. But this year, Akamai has stumbled a bit as a 12% rise in revenue was barely brought to the bottom line.
Akamai delivers string cash flow from operations, and it reinvests that cash flow in research and development, strategic investments and cash buybacks. Akamai will be getting back on its horse in 2012 and should produce low-teen-percentage earnings growth. The stock's performance has more than reflected the poor 2011 results, but Akamai is due for a bounce in the fourth quarter and has the potential for solid appreciation in 2012 to as much as $30.
Akamai, which is frequently the source of takeover rumors, could fetch an even higher price if it is indeed acquired.
Akamai shows up on a recent list of
10 Stocks That May Outperform Through 2011
.
AK Steel
AK Steel
(AKS) - Get Report
was cruising along until it reported second-quarter results. Then the bottom fell out of the stock after the company reported a significantly disappointing EPS of 32 cents vs. consensus expectations of 50 cents. Profits per ton were $46 vs. expectations of $60. Input costs were also higher than expected. It seems that everything that could have gone wrong for AK Steel did go wrong.
Yet, as you can see from its chart, the price has stabilized since the dramatic post-earnings drop. Expectations are very low and may already be priced in. Carbon steel prices have declined by 4% to 5% since June 2011 but remain about 15% higher year over year. A third-quarter report that is less dire than expected could give AK Steel the impetus it needs for a rebound.
If the stocks gets to $10, that would be just fine. It could even get back to $14. I would be inclined to take a speculative position here and sell half at $10 and then scale the rest out every point higher on the way to $14.
One final point is worth mentioning: U.S. Steel fared even worse than AK Steel so far this year -- in fact, it was the year's third-worst performer. AK Steel is on my list instead because it has a better balance sheet.
AK Steel shows up on a recent list of
5 Steel Stocks Heating Up on Jobs Plan
.
Bank of America
There is no doubt that
Bank of America
(BAC) - Get Report
is still in deep due to its mortgage woes. CEO Brian Moynihan, though not totally without blame, was left to clean up problems that his predecessor, Ken Lewis, left in the wake of the financial crisis.
As it turns out, one of those problems may be the company's saving grace. The once-maligned purchase of Merrill Lynch may now be the crown jewel of Bank of America. The value of Merrill Lynch is well over the current price of the stock. Bank of America, unlike in 2008, has an ample amount of liquidity and will not face Lehman Brothers-like short-term funding and potential default problems.
thought enough about the company that he made a $5 billion investment in it several weeks ago.
I waited patiently to buy shares of Bank of America and did so at around $6.25. There is potential for the stock to rebound to as much as $10 if the financials see some daylight, especially if there is a resolution to the European debt crisis.
Bank of America shows up on recent lists of
and
6 Banks Set for a Third-Quarter Earnings Implosion
. It was also highlighted in "
2 Pair Trades for a Stagnant Economy
."
Ford Motor
Ford Motor
(F) - Get Report
is the strongest of the domestic automakers. The company has bettered consensus estimates for both the first and second quarters this year. Each time management has provided a tepid outlook, yet earnings are still expected to rise 3% this year and sales to jump 14%. Ford did not have to file bankruptcy or go hat in hand for financing to the U.S. taxpayer during the financial crisis.
I believe there are two issues weighing on this stock. First is the pending labor negotiation with the United Auto Workers. Since
General Motors
(GM) - Get Report
and Chrysler workers are prohibited from striking, Ford Motor is a great strategic target for the labor union. The union has already voted to authorize a strike if talks between the company and the union break down. This appears to be standard operating procedure for the UAL. I believe that Ford CEO Alan Mulally will do what he can to prevent a strike. In the meantime, Ford's Focus and Fusion are two of the hottest selling cars in the U.S.
The second issue comes from Europe. With a slow European economy and lack of bank financing available to consumers, sales of all cars in Europe are on the decline.
I have traded in and out of the Ford warrants over the past two years and currently have a long position.
Ford, one of TheStreet Ratings'
, was featured recently in "
5 Big Stocks to Trade for Gains
."
Genworth Financial
Financial security company
Genworth Financial
(GNW) - Get Report
, which provides insurance, wealth management, investment and other financial solutions, came public in an IPO from
General Electric
(GE) - Get Report
in 2004. The company reported a net loss of 15 cents per share in its most recent quarter as a result of increasing its reserves in the its U.S. mortgage insurance business -- but this masks the strength in the company's wealth management, retirement and insurance businesses, which all delivered solid year-over-year growth in earnings and other business specific metrics.
I see upside for GNW to $10 per share, and I think the downside risk is limited. I certainly don't see the stock reaching its lows from the depths of the financial crisis. The best way to play GNW might be with long term call options struck at $4 or $5.
To see these stocks in action, check out the
Worst-Performing Stocks of 2011 With Upside Potential
portfolio. And also check out "
7 Top Stocks That Should Continue to Outperform
."
-- Written by Scott Rothbort in Millburn, N.J.
RELATED LINKS:
>>5 Big Stocks to Trade for Gains
>>5 Stocks Flashing Insider-Buying Alerts
>>7 Top Stocks That Should Continue to Outperform
Follow Stockpickr on
and become a fan on
Facebook.
At the time of publication, Rothbort was long BAC, AKAM and F/WT, although positions can change at any time.
Scott Rothbort has over 25 years of experience in the financial services industry. He is the Founder and President of
, a registered investment advisor specializing in customized separate account management for high net worth individuals. In addition, he is the founder of
, an educational social networking site; and, publisher of
The LakeView Restaurant & Food Chain Report
. Rothbort is also a Term Professor of Finance at Seton Hall University's Stillman School of Business, where he teaches courses in finance and economics. He is the Chief Market Strategist for The Stillman School of Business and the co-supervisor of the Center for Securities Trading and Analysis.
Mr. Rothbort is a regular contributor to
TheStreet.com's RealMoney Silver
website and has frequently appeared as a professional guest on
Bloomberg Radio
,
Bloomberg Television
,
Fox Business Network
,
CNBC Television
,
TheStreet.com TV
and local television. As an expert in the field of derivatives and exchange-traded funds (ETFs), he frequently speaks at industry conferences. He is an ETF advisory board member for the Information Management Network, a global organizer of institutional finance and investment conferences. In addition, he is widely quoted in interviews in the printed press and on the internet.
Mr. Rothbort founded LakeView Asset Management in 2002. Prior to that, since 1991, he worked at Merrill Lynch, where he held a wide variety of senior-level management positions, including Business Director for the Global Equity Derivative Department, Global Director for Equity Swaps Trading and Risk Management, and Director for secured funding and collateral management for the Global Capital Markets Group and Corporate Treasury. Prior to working at Merrill Lynch, within the financial services industry, he worked for County Nat West Securities and Morgan Stanley, where he had international assignments in Tokyo, Hong Kong and London. He began his career working at Price Waterhouse from 1982 to 1984.
Mr. Rothbort received an M.B.A., majoring in Finance and International Business from the Stern School of Business, New York University, in 1992, and a B.Sc. in Economics, majoring in Accounting, from the Wharton School of Business, University of Pennsylvania, in 1982. He is also a graduate of the prestigious Stuyvesant High School in New York City. Mr. Rothbort is married to Layni Horowitz Rothbort, a real estate attorney, and together they have five children.