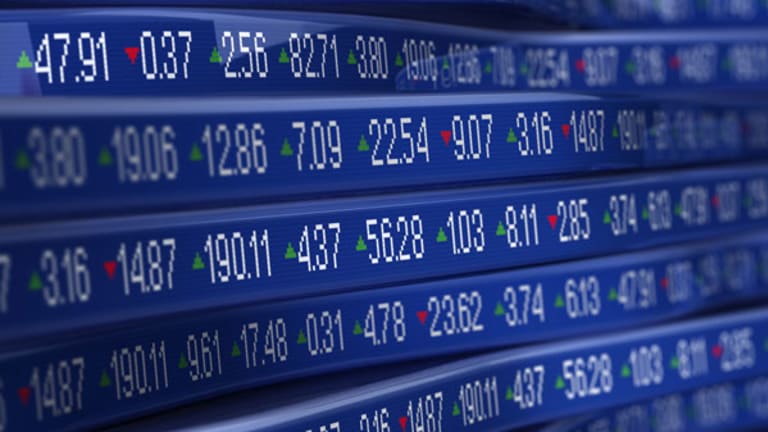 5 Investment Ideas From Wall Street: Jan. 30
Analysts weigh in on how to pick stocks in tough sectors like financials and media.
NEW YORK (
) -- In today's daily series, analysts weigh in on how to picks stocks in tough sectors like financials and media:
1) Credit Card Stocks the Way to Go
Competition in the credit card industry is still fierce. But could signs of stabilization in pricing make room for investment opportunities?
"With the Fed on hold until at least late 2014, we continue to like the positioning of the card companies relative to other financials," writes Citigroup.
December mail volumes were light but Citigroup notes that for the full year, mailings were up 37%, perhaps due to a marketing ramp up, in particular online advertising.
Citigroup's top pick is
Capital One Financial
(COF) - Get Report
, which it says trades at 6.4x its estimate for 2013. "While COF's fourth quarter results were disappointing given the higher expense trend, we view it as largely offensive in nature and supportive of future loan growth. And we like COF's overweight position in the high ROE card business."
The McLean, Va. Based lender
recently reported earnings of $407 million, or 88 cents a share for the fourth quarter, missing the estimate of $1.56 a share by analysts polled by Thomson Reuters. The company said that the sharp increase in noninterest expenses was mainly due to a seasonal ramp in marking expenses and as well as an increase in operating expenses including a $90 million litigation expense.
However, one positive in the company's latest earnings was that total loan balances increased 5% sequentially and 8% year-over-year to $135.9 billion as of the end of December. Credit card balances grew 6% year-over-year to $65.1 billion. Commercial loans grew 14% to $34 billion.
Overall sentiment from analysts toward the company is strong as Capital One heads into a huge transition after two major acquisitions. 15 out of 20 analysts rate the shares a buy, while four analysts have neutral ratings, and one recommends selling the shares.
Citigroup's second pick in the credit card space is
American Express
(AXP) - Get Report
. The company, which reported fourth quarter results on Jan 19, saw earnings rise 12% as cardholder spending rose. U.S. card loans grew 4% from a year ago to $53.7 billion and cardholder spending totaled $3,933 on average during the quarter, up from $3,629 a year earlier, according to the report.
2) Look for Bright Spots in Media
Media companies still face a tough slog given that newspaper advertising remains under pressure. That said, there are a few bright spots.
JP Morgan writes that shareholders of
New York Times
(NYT) - Get Report
and
Gannett
(GCI) - Get Report
might see some returns as sentiment improves in coming weeks with the two companies and others reporting earnings. Gannet reports on Jan. 30, New York Times on Feb. 2 and
E.W. Scripps
(SSP) - Get Report
in late February.
NY Times may get a boost from its pay wall, while Gannet also has plans to launch pay walls for some of its publications. The firm writes that it believes both companies "will likely step up their capital returns to shareholders in come months," based on recent conversations with Gannet management and following NY Times' sale of Regional Media Group.
The bad news is that advertising remains soft and print spending is under pressure as news takes to the Web. "We look for ad declines at NY Times and Gannet to approximate 5.9% and 5.5%, respectively... this marks a modest improvement from third quarter ad declines I the 7% to 8% range," writes JP Morgan. While the firm remains "broadly neutral on the group," it writes that "capital returns and digital initiatives could improve sentiment for these stocks."
One area that companies could take optimistic outlook on is TV ads, in light of a ramp up in spending towards political coverage.
E.W. Scripps is a name that the analysts like in particular: "It is largely a broadcast stock but still trades at a newspaper multiple," writes JP Morgan, rating the stock at overweight. The firm has an $11 per share price target for E.W. Scripps, which currently trades at $8.41.
"We like SSP shares in 2012 for the company's consistent ability to garner outsized share of political ad dollars in election years, its growing concentration in TV boosted by its recent acquisition of McGraw-Hill stations, and strong balance sheet. We see upside to estimates from stronger political dollars (incl. the Florida primary), while its three NBC stations should also benefit from the Super Bowl and Summer Olympics," writes JP Morgan.
Next>
3) REITS Might Gain in 2012
Analysts at UBS are reassessing their forecast for REITs after the Fed Reserve said it would anchor the key interest rate near 0% until late 2014. REITs, or real estate investment trusts, sell like stocks and invest either in real estate directly or through mortgages and properties. These trusts often offer higher yields and liquidity compared to investing in real estate directly.
The Fed's previous intention was to keep interest rates low through at least mid-2013. "Should we really get that excited over a one-year extension of this strategy?" the analysts ask. "Our answer is a definitive 'maybe.'"
UBS gives three scenarios in which REITs could rise 5% to 10% in 2012: "1) Commercial mortgage rates decline, causing private market cap rates to follow; 2) Economic growth surprises to the upside, causing earnings estimates to increase; 3) Neither
of the two scenarios occur, yet the commercial real estate market takes the bait and creates another Fed induced bubble ala 2005-2007 by compressing the spread between cap rates and mortgage."
UBS says it's taking
Regency Centers
(REG) - Get Report
off its UBS Select REIT Portfolio and adding
Equity Residential
(EQR) - Get Report
instead. "The addition of EQR reflects modest recent underperformance, likelihood that EQR does not acquire the final piece of Archstone, and expectation for solid Q4 core results and guidance. We have raised our target price on EQRfrom $57 to $61 to reflect these views," it writes.
Next>
4) Three Regional Bank Stock Picks
Now that banks have reported their fourth quarter results, BMO Capital Markets has picked its favorite post earnings regional names.
The company likes
Fifth Third Bancorp
(FITB) - Get Report
,
U.S. Bancorp
(USB) - Get Report
and
Regions Financial
(RF) - Get Report
. The latter name now replaces
PNC Financial Services
(PNC) - Get Report
.
"We see more potential upside in RB over the next year, driven by credit quality improvement and a less dilutive capital raise to repay TARP," writes the firm. "For our small-cap banks, we continue to like
Bank CenterCredit
( CCBN),
Cathay General Bancorp
(CATY) - Get Report
and
East West Bancorp
(EWBC) - Get Report
."
BMO writes that regional bank stocks are trading at 10.9x its revised 2012 earnings estimates, and that small-cap bank are trading at even high valuations.
"A concern for us is that the Fed's recent pledge to leave interest rates "lower for longer" (until late 2014) seems at odds with a gradual economic recovery; and, a sustained low rate environment will hurt bank margins and earnings/profitability."
More banks missed forecasts in the fourth quarter than beat them. The financial sector remains stuck going forward as downward earnings revisions have outnumbers upward revisions again for both 2012 and 2013. That's part of the reason why BMO suggests that investors focus on the regional banking sector.
"Next potential catalysts for the group are the Senior Loan Officers Survey in early February and capital management announcements post the Fed's Comprehensive Capital Analysis and Review (CCAR) stress test results in mid-March. Both of these could incrementally positive for the group," it says.
Fifth Third Bancorp stock was
recently upgraded by TheStreet Ratings from hold to buy. The company has shown a positive earnings pattern in the past two years.
U.S. Bancorp
continued its winning streak by reporting record net revenue for the fourth quarter and a strong return on assets of 1.62%. It's earnings of 69 cents a share beat analysts' consensus.
Out of 26 analysts covering U.S. Bancorp, 15 rate the shares a buy, nine have neutral ratings, and two analysts recommend selling the shares.
Next>
5) Make a Bet on Financials for 2012
JP Morgan says that the current market is a healthy one. With that thesis, the firm is recommending that investors add cyclical and financial stocks
"We expect cyclicals to outperform during a three-month pause.... Following a 20% rally (in 4 months), three sectors showed consistent outperformance (discretionary, technology and energy)...investors are still too defensively positioned and a rotation into cyclicals simply takes time. But we believe financials is among the most under-owned and see a pullback in this sector as being 'bought' by investors," writes the firm.
Financial stocks make up one-third of the 15% gainers year to date, according the firm and could move even higher based on two reasons: 1) stabilization in Europe and 2) an emerging U.S. housing recovery.
The firm's top financial picks are
Citigroup
(C) - Get Report
in the large cap sector;
Allstate Corp
(ALL) - Get Report
in the non-life insurance space;
Och-Ziff Capital Management
(OZM)
with brokers, asset managers and exchanges;
Zions
(ZION) - Get Report
in the small and mid-cap bank sector;
Prudential Financial
(PRU) - Get Report
within life insurance;
Long Apollo Investment
(AINV) - Get Report
in specialty and consumer finance; and
SL Green Realty
(SLG) - Get Report
within REITs.
-- Written by Chao Deng in New York.
>To contact the writer of this article, click here:
Chao Deng
.
>To follow the writer on Twitter, go to:
@chao_deng
>To submit a news tip, send an email to:
.