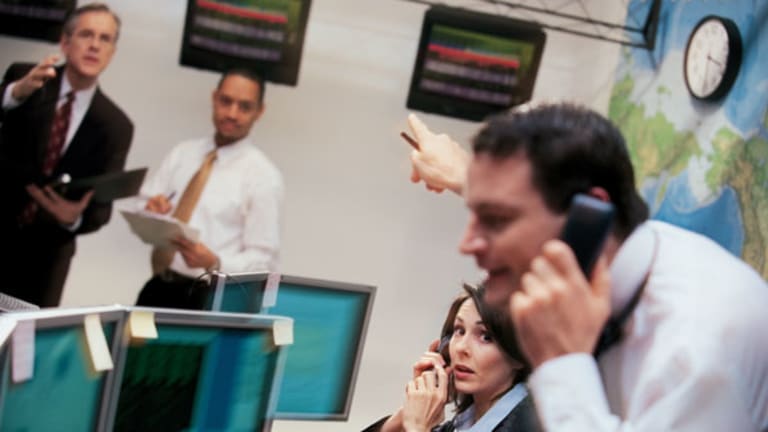 5 Investment Ideas From Wall Street: Jan. 27
From Korea to Brazil, here's what you need to know to invest overseas.
NEW YORK (
) -- From Korea to Brazil, today's daily investment series is all about putting your money in overseas markets. After a horrible year for emerging markets in 2011, analysts say a rebound may be in the works. Here's what you need to know before building an international equities basket:
1) Two Sectors Shine in South Korea
Technology and consumer remain Credit Suisse's top picks for sectors to invest in within the South Korean market.
While the Korean Stock Exchange's KOSPI index has rebounded this year, sector gains are far from equal. The broader market is up 10.2% since the end of the 2011 third quarter. Meanwhile, for the same time period, utilities are up 15.8% and technology stocks are up 12.5%. Leading the losses have been telecoms, down 15.7%, and consumer stocks, down 13.5%.
Investors should watch for fourth quarter results from Korean corporations. "In the case for energy and material sectors, for example, the Street has cut fourth quarter 2011 operating profit estimates by about 19% in early January this year from that of October and November 2011," writes Credit Suisse. "On the other hand, sectors such as auto, technology and consumer have all seen an increase in OP estimates for fourth quarter 2011, by about 5%, 3% and 5%, respectively..."
Credit Suisse doesn't want to jump to conclusions for the year based on preliminary data, but it does believe that tech and consumers could lead earnings for the year.
The firm picks ten top stocks for the year: Samsung Electronics, multinational steel maker
POSCO
(PKX) - Get POSCO Report
, Hyundai Motor, auto parts company Hyundai Mobis, Korea's largest chemical company LG Chemical, Hyundai Department Store, Hyundai Home Shopping, the world's largest LCD panel maker LG Display, online video game company NCsoft and the largest financial company in Korea Shinhan Financial Group.
2) Brazil Gets a Leg Up
Brazil is getting a large share of inflows to emerging markets so far this year. That might be because of the country's flexible approach to monetary policy.
As risk aversion fades, JP Morgan writes that inflows have been key for a market rebound. Some 36% of inflows to emerging market equity funds went to Brazil. The Ibovespa, an index of about 50 stocks on the Sao Paulo Stock, Mercantile & Futures Exchange, is up more than 10% this January and foreigners have poured in $2.7 billion year to date, notes the firm.
After a horrible year for the Latin American market in 2011, Brazil in particular is seeing a strong turnaround. Last year, foreigners put 74% less into than Brazilian market than they did in 2010. This year, a surge in foreign inflows is suggesting that investors from abroad are a lot more risk inclined. In fact, JP Morgan notes that they're even quicker to catch on than their Brazilian counterparts are.
"Foreign investors reached 39% of Bovespa total volume (the best mark since March 2006) and ended 2011 as the main investor class of the Brazilian stock exchange. On the opposite side, retail investors flew from the Bovespa, as December registered their weakest participation since the beginning of the historical series. Retail investors now account for only 18% of total Bovespa volume. This lastcategory suffered significant losses compared to last year, when their average participation reached 26.5%. Institutional investors' participation remained flat in December with 32% of the market share."
As for why the firm is bullish on Brazil for 2012, it says that the macro environment is supportive. "We see Brazil as the country with the most policy flexibility in the emerging market universe, with the capacity to continue to cut interest rates and provide for fiscal stimulus if growth were to weaken," the analysts write, also noting that inflation seems to be easing this year.
The Bovespa Index current trades at 63,607 and JP Morgan analysts are forecasting 73,000 by the year end. That's a near 15% rise for the year. The firm recommends that investors buy cyclical stocks in Brazil. Think banks, homebuilders and retail.
Next>
3) Breakout the BRICs for 2012
Investors of emerging markets, listen up.
The MSCI BRICs index, with a gain of 12.2% so far this year, is beating global emerging markets, up 8.9% for the year. According to Geoffrey Dennis, analyst at Citigroup, "outperformance should be a key theme for 2012."
All four BRIC markets (Brazil, Russia, India and China) are ranked in the top eight for best performing emerging markets year to date. India is up 17.1%, Brazil up 14.1%, Russia up 11.1% and China up 9.4%.
Dennis' thesis is that "BRICS are at the forefront of the falling inflation and interest rate trends in emerging markets... All four BRIC countries have eased monetary policy recently."
The Citigroup analyst also points out that that valuations for BRICs are cheaper than their non-BRIC emerging market counterparts. "For example, BRICs currently trade at 9.6x forward verses 11.9x for the non-BRICs."
The firm is most bullish on China, followed by Brazil, Russia then India and forecasts at least a 25% gain for global emerging markets. In short, Citigroup says, buy on a pullback.
But take heed. Emerging markets got killed in 2011. India lost a whopping 38%. And, the "rotation" that Citigroup writes about may not sustain through the entire year.
Investors can find exchange-traded funds that track equities in BRIC countries as well as indices in emerging markets.
TheStreet's
top rated emerging market ETFs for 2012 include the
Vanguard MSCI Emerging Markets ETF
(VWO) - Get Vanguard FTSE Emerging Markets ETF Report
and the
SPDR S&P Emerging Markets ETF
(GMM)
.
Next>
4) Tips for Building a China Portfolio
If the rally in MSCI China sustains for the year, investors might want to look into distinguishing between sectors that will help buoy the trend and those that won't.
Credit Suisse writes in a recent research note that the four most undervalued sectors are banking, materials, real estate and energy. On the other end of the spectrum, the firm says that consumer staples are trading at a 124% premium to the region.
"We continue to suggest investors switch from staples to these more undervalued sectors," it writes, adding that earnings downgrades of consumer staples have been those for MSCI China overall. "We also note that real estate and materials led the rally from 2008 lows when TED spreads peaked and China eased." The TED spread is the difference between the interest rate that banks charge each other and the interest rate on U.S. Treasury bills.
Here's a list of Credit Suisse's top picks from its Asian Model Portfolio: Industrial and Commercial Bank of China, China Construction Bank, China National Offshore Oil Corporation, Sinopec, China Overseas Land & Investment, Anhui Conch and
China Mobile
(CHL) - Get China Mobile Ltd. Report
.
Next>
5) Watch Warnings for a Global Double Dip
Risks abound in investing in Europe. Credit Suisse says that falling Euribor spreads are its number one concern. The firm has a list of seven indicators that it tracks as part of its "double dip watch."
The Euribor spread, currently at 79 basis points, is down 21 basis points from their high. Nevertheless, Credit Suisse is eying the spread closely: "While Euribor spreads have fallen, we are still putting this indicator together with the Organization for Economic Cooperation and Development's leading indicator as potentially signaling a hard landing."
The Euribor is the rate at which European banks say they see each other lending in euros for three months, while the Euribor spread is the difference between the euro interbank offered rate and overnight index swaps. The latter is essentially a measure of banks' reluctance to lend to one another in Europe. Market participants take it as a rough gauge for a European banking contagion. Hence, a tighter spread is good news even though the current spread is still high by historic standards.
The OECD's leading indicator index is an early measure of economic expansion or contraction.
For the full picture, investors should be watching several other indicators to get a sense of the state of emerging economies. Credit Suisse says five other indicators point more toward a soft-landing scenario: 1) German IFO Business Expectations 2) European Purchasing Managers Index 3) U.S. non-farm payrolls 4) U.S. retail sales and 5) U.S. capital expenditure.
-- Written by Chao Deng in New York.
>To contact the writer of this article, click here:
Chao Deng
.
>To follow the writer on Twitter, go to:
@chao_deng
>To submit a news tip, send an email to:
.