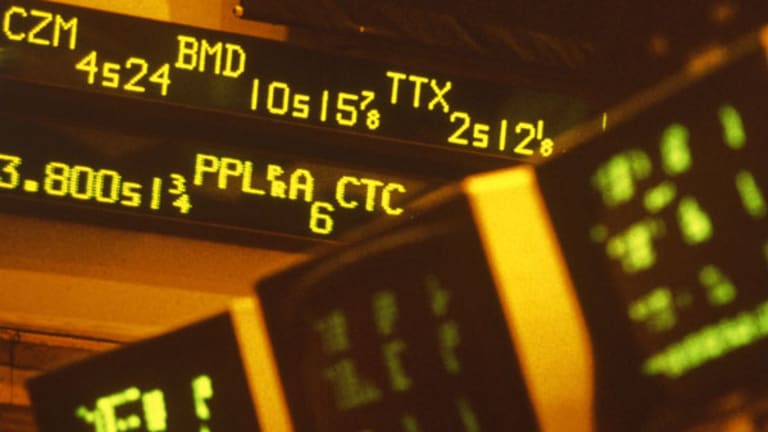 5 Investment Ideas From Wall Street: Jan. 26
Get picky on food and beware of Trojan auto stocks.
NEW YORK (
) -- In today's investment ideas, Wall Street analysts have some tips for investing in Europe and U.S. auto stocks. They also tell you how to position yourself for the rise in global food demand as well as outerwear trends during a warm winter:
1) Get Picky on Food
Demand for food in emerging markets will rise. How does one take advantage of this? Take a look at opportunities in grain processors.
David Driscoll, analyst with Citigroup, writes in a recent note: "The grain processors reside in a secular growth agricultural sector, which is currently earning below its cost of capital. As a result very few new projects are being announced, although this must ultimately happen if the emerging markets want more food. This means eventual pricing power and better margins are on the horizon for the sector over the next several years."
Citigroup says it has already seen signs of improvement in the margins of oilseed crushing.
Bunge Limited
(BG) - Get Report
and
Corn Products International
( CPO) are the firm's top large and small cap food picks. "Valuations across the group are trading 25% to 50% below 10-year historic average valuation levels, signaling a very pessimistic view placed on the grain processors by the market," writes the firm.
Among trends that may boost the stock of food processors, prices for corn sweeteners are expected to increase in 2012. Citigroup estimates that the corn sweetener and starches industry in North America was able to drive up prices by 13% to 15% in 2012. For signs of whether demand for corn sweeteners will continue to be strong in 2012, take a look at upcoming earnings from Corn Products International and
Archer Daniels Midland
(ADM) - Get Report
.
2) Beware of Trojan Auto Stocks
Auto stocks have surged on average 14% since the beginning of the year. "But be wary, the strong year-to-date move could create risk for shareholders, especially if fourth quarter results or 2012 guidance falls short of expectations," writes Credit Suisse, which questions whether these are now "Trojan stocks."
"There is not quite as much cushion in some of these valuations as there was a month or two ago," it adds.
Investors might want to carefully watch guidance from companies like
Ford
(F) - Get Report
,
General Motors
(GM) - Get Report
,
Delphi Automotive
(DLPH) - Get Report
,
Tenneco
(TEN) - Get Report
and
TRM Automotive Holdings
(TRW)
. These stocks might give an indication of whether the sector is overpriced. Credit Suisse warns that European production is expected to fall 12% in 2012. which may but pressure on auto companies across the board.
The firm lowered its fourth quarter earnings estimate for
Magna International
(MGA) - Get Report
after General Motors' output of full-size trucks fell in the third quarter. MGA has already seen a 29% stock run-up so far this year.
Meanwhile, TRW Automotive and
Lear
(LEA) - Get Report
are two companies trading at a discount, according to Credit Suisse. "Both stocks are priced for 2012 earnings that are about 35% below consensus, with implied European industry production down 15% to 20%. In other words, these names still offer sufficient padding even if production forecasts head lower."
Next>
3) Warm Winter Does Not Mean Poor Outerwear Sales
Citigroup recently published a slew of takeaways from one of its contacts in the outdoor retail space.
The first prediction from the firm is that orders for winter wear may not be down in 2012 because of warmer weather. "The importance of insulated shells has been declining for some time as more consumer buy layered systems (shells and fleece)," writes Citigroup. While sales of insulated outwear, cold weather boots and winter sports equipment may have underperformed during December and January, sales of other categories like fleece wear were solid.
The firm is reiterating a buy rating on
VF Corporation
(VFC) - Get Report
, which it writes has growth opportunities with The North Face and Timberland brands. The stock, which currently trades around $132, is targeted at $157. The North Face recently unveiled a new Flash Dry technology platform, which wicks sweat away from the wearer. Timberland, which continues to grow its Earthkeepers line, is planning to launch an upscale apparel line in the U.S. during the fall of 2013.
Another company Citigroup puts a buy rating on is
Dick's Sporting Goods
(DKS) - Get Report
, which trades near $42 dollars a share, leaving a $7 upside to the firm's price target.
"Continued improvement in
operating margin%, ongoing execution on solid athletic apparel trends, footwear innovation and momentum, a change in store mix to team sports away from some fitness, and new ideas in the golf category," it writes.
"Further, opportunities for accelerating square footage growth (which has already accelerated from +6% to 8%, but could increase), and continued progress in growing the e-commerce business (e-commerce represents around 6% of sales) should continue to drive sales in the short and long term."
Next>
4) How to Strategize on Europe
Has the market gotten too scared of European equities?
"In a state of fear, investors have paid less attention to the bottom-up and crowded around top-down themes, such as quality," writes UBS analysts. "On the flip side, they have shunned cheap because it does not work in a crisis."
UBS recommends that investors investing in European stock hedge their bets with cheap picks. The firm crunched numbers for value vs. growth stocks and found that year-to-date, value companies have outperformed growth by 2.3%.
"While this may just be a 'new year' phenomenon, it suggests there is money on the side-lines ready and willing to nibble on value," write the analysts. "As investors cling to the larger, high quality/growth stocks, others get left behind. Start to pick some up as a hedge against good news."
Examples of cheaper names include Germany-based
Daimler
versus
BMW
,
Associated British Foods
versus
Lindt & Sprungli
and
Vodafone Group
versus
Telefonica S.A.
.
Next>
5) Don't Touch Yahoo!!
Little has changed in investors' perception of
Yahoo
(YHOO)
after the company's lackluster earnings announcement earlier this week. The new CEO, Scott Thompson, didn't mention any new strategic plans. And, the company said zilch about a possible sale of its Asian assets during the post earnings conference call.
The company's income came in line with expectations, although revenue was a little light at $1.17 billion. Clearly, attempts to cut costs and hold market share in display advertising aren't working. Yahoo continues to fade against rivals Facebook and Google.
Credit Suisse says it's taking a "wait-and-see approach" with Yahoo. The firm lowered its fiscal year 2012 earnings estimate "to reflect a 5% reduction in net revenues given macro-uncertainty and the potential for market share pressure and lower margins owing to dilution from the Interclick acquisition and possible reinvestment spending."
Jefferies has a hold rating on the stock, writing that in the "short term, the stock should continue to meander with news flow about Asian assets' monetization; longer-term, increased investments may re-accelerate growth, but such an outcome is far from certain."
"Yahoo's results indicate sustained market share losses with no sign of a turnaround," write analysts at Benchmark.
At this point, it seems that shareholders' only hope for Yahoo is that it will restructure the Asian assets to unlock value. But given the complexities in taxes involved in a potential deal, investors shouldn't expect groundbreaking developments on that process any time soon.
-- Written by Chao Deng in New York.
>To contact the writer of this article, click here:
Chao Deng
.
>To follow the writer on Twitter, go to:
@chao_deng
>To submit a news tip, send an email to:
.