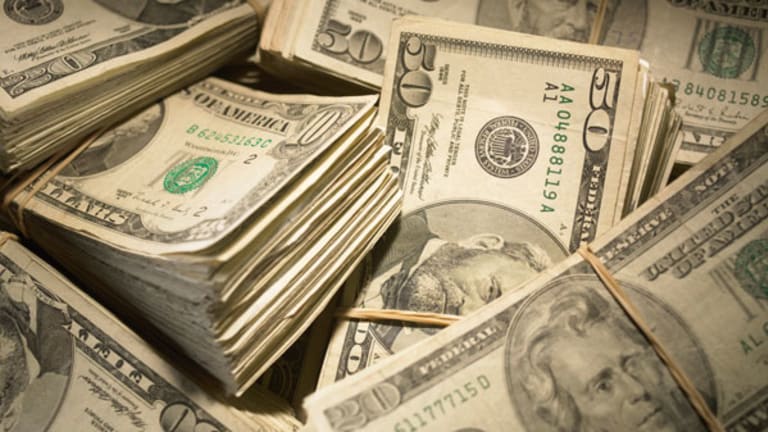 5 Investment Ideas From Wall Street: Jan. 24
Tiffany has more bling and old problems haunt the maker of Blackberry.
NEW YORK (
) -- In our daily round up of investment ideas, Tiffany has more bling and Blackberry maker Research in Motion can't shake off old problems. Analysts weigh in on what's happening in the software and biotech sectors, and tell investors how to think about the restaurant sector.
1) Tiffany Can Shine Again
Tiffany & Co.
(TIF) - Get Tiffany & Co. Report
may yet be able to shrug off a bad holiday season. "The Tiffany story is by no means broken," write analysts at Oppenheimer, who believe that transitory factors were mainly to blame for weaker sales growth. While the firm cut its price target on the stock to $75 from $93 a share, it says there's a 20% upside from the current price. Shares were last trading around $63 a piece.
Why did Tiffany suffer so much this holiday season? The store got hit by weak sales in Europe and the northeastern U.S., including at its Manhattan flagship store. Amid a weak economy, consumers likely got distracted by sales and discounts elsewhere. Tiffany, not surprisingly, doesn't believe in cutting prices.
Oppenheimer, however, is optimistic that the high-end retailer can capture market share in the jewelry sector as the global economy improves. In particular, the company might be able to leverage growing consumer economies. Last week, Tiffany announced that it would partner with Damas Jewellery in an attempt to enhance its brand in the United Arab Emirates.
Adding to Oppenheimer's thesis that Tiffany will shrug off the holiday season, sales at the company tend to rebound quickly. "In the first quarter of 2009 (period ended April 2009), Americas comps at TIF declined 32%. Americas comps rebounded to +10% by the fourth quarter of 2009 (period ended January 2010)," writes the firm.
Furthermore, lower commodity prices might ease the pressure on Tiffany's margins: "Since peaking in April 2011 silver prices have declined more than 30% to about $30 an ounce from nearly $50 an ounce."
Investors will have to wait to see what happens. Tiffany will report earnings and reveal its outlook for fiscal 2012 on March 20.
2) Same Old for RIMM
Old problems continue to haunt Blackberry maker
Research in Motion
(RIMM)
. Now that the company has announced the resignation of co-CEOs Mike Lazaridis and Jim Balsilie, and the appointment of insider Thorsten Heins from COO for Product and Sales to head honcho, what's changed? Not much, says Goldman Sachs. Analysts say the company's strategy remains uncertain.
However, given that that company has missed six out of the last eight quarters, lost half its market share, and more than 75% of its market capital in the last two years, Goldman Sachs says the corner office change is a near-term positive. The firm speculates that a sale of the company may be a greater likelihood, noting that Heins has suggested an interest in licensing the BlackBerry 10 OS. Another upside if that the new CEO may get aggressive in cost reduction.
Some investors want a break-up of RIM, which has struggled to compete against rivals
Apple
(AAPL) - Get Apple Inc. Report
and
Google
(GOOG) - Get Alphabet Inc. Class C Report
. In a conference call Monday, Heins said that he would not split the company, although he said that he was open to licensing-partnership offers.
"Past the initial reaction in the stock, we would be cautious, as new CEOs often reset guidance lower in the first quarter to more achievable levels," writes Goldman Sachs, which is keeping its one year price target on RIM at $14 a share.
Research in Motion dropped more than 8% on Monday to $15.56 a share.
Next>
3) Find the Growth in Software
Look to companies positioned in virtualization, SaaS and business intelligence for growth, says Evercore Partners. "We expect that while software stocks could remain volatile through
the first half of 2012, the risk/reward remains attractive and we continue to favor secular growth stocks such as
RedHat
(RHT) - Get Red Hat, Inc. Report
,
Salesforce.com
(CRM) - Get salesforce.com, inc. Report
,
Citrix Systems
(CTXS) - Get Citrix Systems, Inc. Report
and
VMware
(VMW) - Get VMware, Inc. Class A Report
when looking out six to nine months."
For investors picking stocks in the software sector, Evercore has six trends to consider:
1) Companies like RedHat may benefit from more broad-based use of open source software. 2) M&A may take advantage of the emerging technology Hadoop. In simple terms, Hadoop is a programming framework that supports the processing large data sets and used by players such as
Google
,
Yahoo
and
IBM
. Think applications for search engines and advertising. 3) Listen for more buzz on virtualization management in 2012. 4) 2012 will be the year of desktop virtualization, the idea of being able to access a desktop from any location and device. Watch for the any winner that emerges in this space. 5) Salesforce.com and
Qlik Technologies
(OLIK)
will show growth as IT becomes more consumer-friendly. 6) Enterprise will become more "social," leading to M&A activity.
Along the lines of Evercore's predictions, analysts at Think Equity are also bullish that enterprise software companies can outperform their peers. "Given the lackluster rebound in the global economy over the past two years, we believe new IT initiatives, both large and small, are getting additional scrutiny, which will likely impact the overall growth rate of the industry," writes Think Equity in a recent research note.
Evercore is expecting solid fourth quarter results from both VMware and Citrix Systems, two companies that report this week. The firm explains that demand for server virtualization may give these companies the most momentum in 2012. However, it also notes, "we expect guidance will be relatively conservative, as both CFO's tend to err on the side of caution in the first quarter."
Meanwhile, Think Equity's top pick for high growth stocks in the sector is
Parametric Technology
(PMTC)
.
Next>
4) Don't Get Restaurant Types Confused
Goldman Sachs says that quarterly results from quick-service and fast casual restaurants should be more substantial than the casual restaurants sector. Overall, the firm expects earnings to be a "positive catalyst" for the restaurant sector. "Recent checks suggest an improvement in casual dining trends in late December/early January, which could serve as a positive catalyst on a trading basis," it writes.
While Goldman Sachs says that high commodity prices and a more intense promotional environment will may have driven down margins for casual dining stocks, the firm says the fourth quarter was probably a trough. "Expect to see upside to consensus on profitability looking forward as moderating food costs work their way through the profit and losses," the report adds.
Analysts at the firm expect
Dunkin' Brands Group
(DNKN) - Get Dunkin' Brands Group, Inc. Report
,
Tim Hortons
(THI)
and
Darden Restaurants
(DRI) - Get Darden Restaurants, Inc. Report
to exceed expectations, and
P.F. Chang's China Bistro
(PFCB)
and
The Cheesecake Factory
(CAKE) - Get Cheesecake Factory Incorporated Report
to miss the consensus.
Next>
5) Time for a Biotech Reassessment
Is it time for this sector too cool off a bit after a strong run up? Drug development and sales is key in determining the rise and fall of an individual biotech stock, but JP Morgan is taking "a more cautious view" on performance in the overall sector for 2012. Given that these stocks got a jumpstart at the beginning of the year, JP Morgan says, it is "less willing to broadly chase the sector at current levels.''
The companies getting moved to Neutral from Overweight are
Amgen
(AMGN) - Get Amgen Inc. Report
,
ViroPharma
(VPHM)
and
Acorda
(ACOR) - Get Acorda Therapeutics, Inc. Report
. Meanwhile, JP Morgan recommends putting profits into
Gilead Sciences
(GILD) - Get Gilead Sciences, Inc. Report
or
Celgene
(CELG) - Get Celgene Corporation Report
in the large-cap sector, or
InterMune
(ITMN)
,
Medivation
(MDVN)
or
Alexion
(ALXN) - Get Alexion Pharmaceuticals, Inc. Report
in the mid-cap sector.
Biotech stocks on the Nasdaq are up 8.3% so far this year, while the New York Stock Exchange's biotechnology index BTK is up 13.8%. Among the factors that have boosted the broader market are
Bristol-Meyers Squibb's
(BMY) - Get Bristol-Myers Squibb Company Report
acquisition of
Inhibitex
(INHX)
and drug launches by
Dendreon
(DNDN)
and
Regeneron Pharmaceuticals
(REGN) - Get Regeneron Pharmaceuticals, Inc. Report
.
Amgen shares, up 25% in the last two months, have beaten both the S&P 500 index and the broader biotech gains on the Nasdaq. While JP Morgan raised its December 2012 price target on Amgen to $75 from $70 a share, it says that the stock isn't compelling right now.
"A restructuring or an increase in the payout ratio seems unlikely near term with the new management team," writes the analysts. "We don't think there are a lot of efficiency gains to be made going forward, especially with Amgen's consistent focus on innovation." The firm's management team is expected to be in place by mid-year.
ViroPharm and Acorda, similarly, have outperformed the broader sector recently, and may have limited upside. ViroPharm shares have already seen a run up after the company announced late 2011 that its exclusivity on Vancocin had been extended for three years. A sustained rally in Acorda stocks is uncertain given that it may already reflect the market's optimism toward the company's key drug labels and trials. "With the initial patient backlog now fully cleared for Ampyra, and a focus today more on a DTC type of commercial effect, we see more slow and steady market share gains ahead for Ampyra rather than an inflection point," writes JP Morgan.
-- Written by Chao Deng in New York.
>To contact the writer of this article, click here:
Chao Deng
.
>To follow the writer on Twitter, go to:
@chao_deng
>To submit a news tip, send an email to:
.