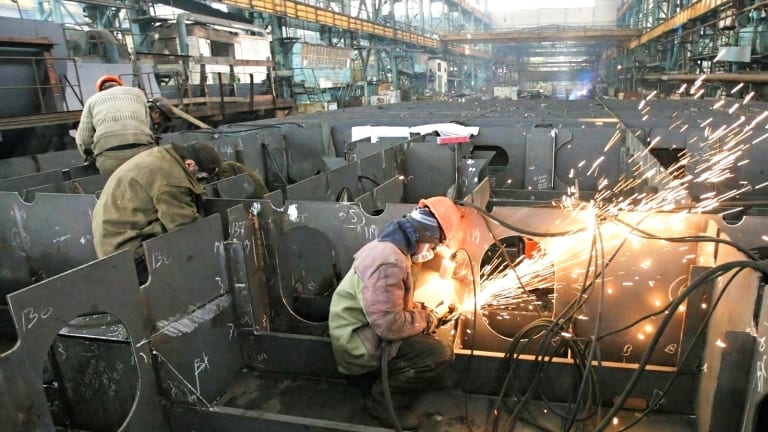 Publish date:
5 Industrial Stocks to Buy for Breakout Gains in March
Here's a technical look at five industrial trades ready to break out.
Here's a technical look at five industrial trades ready to break out.
BALTIMORE (Stockpickr) -- "What's working in this market?"
That's a question that good investors and traders ask themselves a lot. No single stock -- or group or stocks -- outperforms forever. But by paying attention to which sectors are showing signs of strength, you can ensure that you're better-positioned than most. That's especially important now, as the big S&P 500 consolidates just beneath all-time highs.
So what's working now? Well, industrials are, for starters.
The industrial sector may not be the sexiest corner of the stock market, but it's been building strength. In the last month, the Vanguard Industrials ETF (VIS) - Get Vanguard Industrials ETF Report paid out more than a third bigger returns than the rest of the S&P. That's a big deal when the big indices are fighting for single-digits.
But some individual names are positioned to do a whole lot better. To take full advantage today, we're turning to the charts for a technical look at five industrial trades ready to break out.
For the unfamiliar, technical analysis is a way for investors to quantify qualitative factors, such as investor psychology, based on a stock's price action and trends. Once the domain of cloistered trading teams on Wall Street, technicals can help top traders make consistently profitable trades and can aid fundamental investors in better planning their stock execution.
Without further ado, let's take a look at five technical setups worth trading now.
Heico
Up first on the list is mid-cap aircraft parts maker Heico (HEI) - Get HEICO Corporation Report, a stock that's undeniably been in rally mode over the course of the last six months. Since September, HEI has rallied nearly 22%, besting the S&P by a factor of five. But don't worry if you've missed the move in Heico; shares look ready to set off on another leg higher in March.
That's because HEI is currently forming an ascending triangle pattern, a bullish price setup that's formed by horizontal resistance above shares up at $63 and uptrending support to the downside. Basically, as HEI bounces in between those two technically significant price levels, it's been getting squeezed closer to a breakout above our $63 price ceiling. When that happens, we've got our buy signal.
HEI's latest swing low at $58 is a good near-term support level to keep an eye on. Once the $63 breakout happens, it makes sense to park a protective stop on the other side of that $58 level.
Illinois Tool Works
Illinois Tool Works (ITW) - Get Illinois Tool Works Inc. (ITW) Report is another industrial name that's been outperforming in recent months. Shares are up more than 12% over the last six months, beating the S&P by a big margin. Shares spent most of the last few months consolidating sideways in a well-defined rectangle, but they broke out during the middle of last month. Now, a "throwback" is giving traders a second chance at a low-risk entry in ITW.
A throwback happens when a stock breaks out, and then moves back down to test newfound support at that former price ceiling level -- in this case at $98. And while throwbacks look ominous, they're actually constructive for stock prices because they re-verify the stock's ability to catch a bid at support. For that reason, it's best to think of a throwback as a buying opportunity in ITW, not a red flag.
$100 is a big round-number that ITW has been flirting with for a while now, so it's not entirely surprising that buyers are needing to catch their breath before making a second attempt at crossing it. Shares caught a strong bid at $98 in yesterday's session, signaling that ITW is going for $100 again. If you decide to buy it here, the 50-day moving average looks like a good place to park a stop loss.


United Technologies
Large-cap industrial stock United Technologiesundefined is another name that managed to catch a big bid yesterday; shares climbed 2% during Monday's session. Like ITW, that big white candle on the chart is creating a buying opportunity in UTX. The good news is that you don't need to be an expert technical trader to see why. This chart is about as simple as they get.
UTX has been a "buy the dips stock" since the middle of October, bouncing higher on every test of trend line support along the way. That price channel in UTX is defined by a pair of parallel trend lines on either side of this stock's price action. It identifies the high-probability range for shares to stay stuck within. That makes this week's bounce a low-risk buy signal.
Relative strength is the side-indicator to watch in shares of UTX right now. Our relative strength line has been in an uptrend going back to the fall, an indication that this stock is outperforming the rest of the market in good times and bad ones. As long as the uptrend in relative strength remains intact, this stock should continue to meaningfully outperform the S&P.
Syngenta AG
The same price setup is in play in shares of materials stock Syngenta AG (SYT) . Like UTX, Syngenta has been bouncing its way higher in a well-defined uptrend since the middle of October, and shares are near the bottom of their range today. Here again, the high-probability buy comes on a bounce off of support.
Waiting for that bounce is important for two key reasons: It's the spot where shares have the furthest to move up before they hit resistance, and it's the spot where the risk is the least (because shares have the least room to move lower before you know you're wrong). Remember, all trend lines do eventually break, but by actually waiting for the bounce to happen first, you're ensuring SYT can actually still catch a bid along that line before you put your money on shares.
The 50-day has recently started acting like a reasonably good proxy for support in SYT. Once we get a buyable bounce distinctively above that line, it's a logical place to park a protective stop.
LyondellBasell Industries
Last up is LyondellBasell Industries (LYB) - Get LyondellBasell Industries NV (LYB) Report, a stock that's been a pretty notable laggard recently. Since it peaked this past fall, LyondellBasell has lost about 23% of its market value, making it a pretty nasty ride for investors who've held on. But long-suffering shareholders could be in store for a reprieve in March. This stock is starting to look "bottomy."
LYB has spent the last several months forming a long-term inverse head and shoulders pattern. You can spot the inverse head and shoulders by looking for two swing lows that bottom out around the same level (the shoulders), separated by a bigger trough called the head; the buy signal comes on the breakout above the pattern's "neckline" level. That's the $93 level in LYB.
Momentum, measured by 14-day RSI at the top of the chart, adds some extra confidence to LYB's upside. Our momentum gauge has been making higher lows since the pattern started, an indication that buying pressure is building in shares. If buyers can shove LYB through $93, it's a buy.
Author had no positions in stocks mentioned.