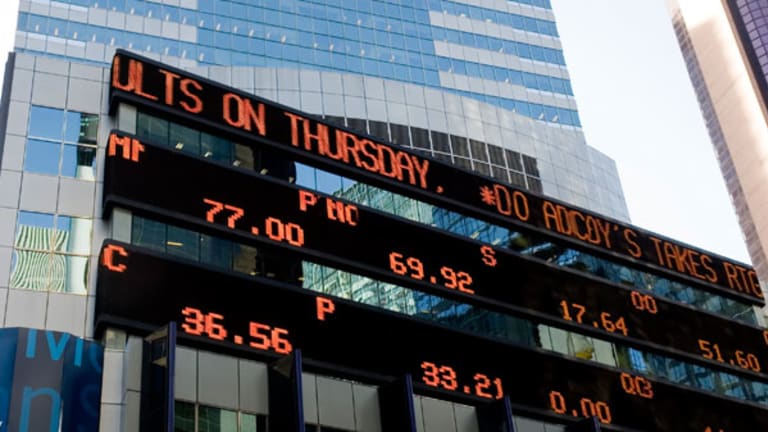 5 Income Stocks You Can Count On
Dividend-paying shares are a good bet even when the market is shaky. These stocks have a stable track record, pay dividends and are at bargain prices.
MINNEAPOLIS (Stockpickr) -- The market continues its gyrations. Up one day, down the next. Up one week, down the next. Add in the craziness of high frequency trading and investors are right to wonder if publicly traded stocks make sense in this environment. It is a fair question, but don't give up.
While it is easy to be cynical about the market there is one category of stocks that investors can indeed rely on: Income stocks. With interest rates pathetically low and the Federal Reserve signally that rates will stay low until at least 2013, dividend stocks have become extremely attractive. To the extent the market decline pushes prices even lower, yields on dividend stocks go higher.
Rain or shine, companies that pay dividends do so because they have steady, reliable cash flows. In many cases dividends have increased year after year. If indeed we are heading to a double-dip recession investors in dividend stocks should be able to sleep easy or at least easier than those owning stocks losing significant value during this market correction.
Nothing is risk free of course, but dividend stocks are about as good as it gets from my perspective. Sure the stock price of a dividend paying company can go down in value, but as long as the dividend is being paid consistently, who cares? Even if the market does go down further, stocks over the long haul usually recover whatever lost value it incurs.
With stocks already lower investors can buy dividend stocks at quite attractive levels today. Here are
to consider:
Aflac
It has been a rough year for insurance company
Aflac
(AFL)
. Shares of the company are down substantially since the spring thanks to the earthquake in Japan. Adding insult to injury the company was forced to replace the voice of its well-known advertising character, the Aflac Duck. As the economy lost steam at the beginning of the second quarter, shares of Aflac have dropped by 40%.
While it is understandable to see the stock under pressure thanks to growing speculation of a forthcoming recession, but Aflac's history would suggest that this is a stock to own, especially when shares are down. The company has a long history of paying dividends without interruption since 1973. Over the last 28 years Aflac has increased the dividend.
At current prices investors would receive a 3.4% dividend owning Aflac shares. In addition operating profits have been strong and are expected albeit slightly. For the current year the average Wall Street estimate is for Aflac to earn $6.29. That number increases 4% to $6.52 in the following year.
Given the profits, another dividend increase is likely this year. I would buy Aflac at these prices.
Aflac shows up on Stockpickr portfolios
and
.
Colgate-Palmolive
When times are tough investors gravitate to defensive stocks like
Colgate-Palmolive
(CL)
. This consumer staple company sells products that will people will buy irrespective of economic conditions. You won't get rich owning a stock like Colgate-Palmolive, but you won't get hurt either. One thing you will get is paid to own the stock as Colgate-Palmolive pays a dividend yield of 2.7% today.
Shares of the company have held up relatively well during this market correction. The stock is only down a very modest 1% since the market closed on July 22. That is significant outperformance at a time of market uncertainty. Helping support the stock and the dividend is strong profit performance.
The company has met or beaten analyst estimates for profits for several quarters. In the current year Colgate is expected to make $5.07 per share. That number grows by a solid 10% to $5.57 in the following year. Investors get both growth and dividends owning Colgate-Palmolive. I would buy this stock at these prices.
Colgate-Palmolive shows up on the Stockpickr portfolio
Top-Rated Household Products Stocks
.
Eaton Vance
The banking industry may be decimated, but there are segments of the financial services industry that are doing very well. Asset management in particular is a fee based business that generates revenue rain or shine. Diversified asset managers like
Eaton Vance
(EV)
can be expected to whether the storm with profits relatively unscathed.
Those dynamics have not prevented investors from selling shares of Eaton Vance heavily. Shares are down some 20% since the middle of July when the market correction began. That selling has created an attractive buying price for investors interested in stable dividends in addition to growth prospects.
Eaton Vance has increased its dividend for 30 years now. That trend should stay intact in the near term considering profits are expected to grow by 16% this year to the next according to average Wall Street estimates. Investors can buy shares of Eaton Vance for just 13 times current year estimated earnings. With a dividend yield of 3.4% this stock is an easy buy.
Air Products & Chemicals
Speculation of a double dip recession is hitting stocks hard across the board. Any company likely to be hit by lower revenues and profits during a weak economy has been sold with questions coming later.
Air Products and Chemicals
(APD)
provide specialty gas and materials across multiple industries across the globe. Shares are down 17% since July 22.
That selling has put the current dividend yield on the stock above 3%. I'm not sure why investors are selling this stock. The company has paid dividends uninterrupted since 1954. Over the last 29 years the company has increased its dividend every year.
At current prices shares are attractive for the yield and valuation. Wall Street has the company earning $5.73 in the current year growing 13% to $6.47 per share in the following year. Investors can buy that growth now for just 13 times current year estimates of earnings. With such a strong cash flow the dividend is solid and likely to grow. This stock is an easy buy at these prices.
Air Products and Chemicals shows up the Stockpickr portfolio
20 Top-Yielding Chemicals Stocks
.
Enterprise Products
Enterprise Products
(EPD)
is an energy service master limited partnership that provides transportation and storage to the natural gas and oil industry. No matter what happens in the economy the energy sector is likely to be highly lucrative given the tight supply. Domestically, Enterprises business in natural gas is compelling given the increased activity in that market by players in the industry.
Shares of Enterprise have held up relatively well during the current market correction. Shares are down only 9% since July 22 despite energy prices coming down from current year highs. At current prices Enterprise pays a whopping dividend yield of more than 6%. With the partnership profitable and beating analyst estimates in the last two quarters investors can buy this stable dividend stock and know that cash will continue to flow.
The average Wall Street estimate for the current year is $1.94 per share. That number increases 8% in the following year. Shares trade for 20 times current year estimates. That is a bit steep, but as long as interest rates are low this stock will be attractive to investors supporting that valuation. Oil and gas transportation is less volatile than the underlying commodity prices. Investors can count on this stable dividend stock.
To see these stocks in action, check out the
5 income stocks you can count on
portfolio on Stockpickr.
RELATED LINKS:
>>5 Big Stocks to Trade for Gains in This Market
>>Adding Alpha With Leveraged ETFs
>>5 High-Yield Stocks Set for a Short-Squeeze Pop
Follow Stockpickr on
and become a fan on
Facebook.
-- Written by Jamie Dlugosch in Minneapolis.
At the time of publication, author had no positions in stocks mentioned.
Dlugosch is the editor of Penny Stock Winners. He has over 20 years of experience in financial markets including investment banking, equity analysis and research and money management. In addition to being the Editor of Penny Stock Winners, he is also a Contributing Editor of InvestorPlace.com and founder and editor of The Rational Investor.