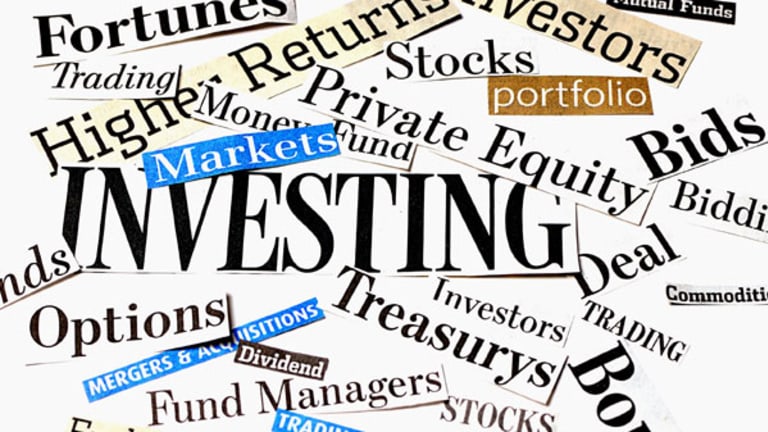 5 Huge Stocks That Could Slingshot Higher
Here's a look at how some of the biggest stocks on Wall Street are trading technically.
BALTIMORE (Stockpickr) -- The QE3 hope game continues this week, after yesterday's Fed minutes sent investors poring over the transcripts for hints at another round of easing.
That QE3 carrot has been dangling in front of investors for a while now, giving some hope to an investing public that's clearly losing faith in stocks. But while drama has ruled the financial headlines in 2012, anxious investors have been missing a colossal rally from the start of June until now. I'm not convinced that QE3 -- or any kind of easing, for that matter -- is such a good thing for investors right now.
And
I've already shown how the next round of quantitative easing
is probably based on a hard number rather than some "feeling" at the FOMC.
>>5 Unloved Stocks to Crush the S&P
If nothing else, this summer's rally proves that investors don't need easing to spark a rally in stocks, especially if they're looking cheap relative to a handful of valuation metrics and strong from a technical standpoint.
With the
plowing to new 52-week highs this week, investors had better get the message that it's time to buy right now. That's why we're taking a technical look at five huge stocks that could slingshot higher from this rally.
If you're new to
, here's the executive summary.
>>5 Blue-Chips Ready to Boost Dividends
Technicals are a study of the market itself. Since the market is ultimately the only mechanism that determines a stock's price, technical analysis is a valuable tool even in the roughest of trading conditions. Technical charts are used every day by proprietary trading floors, Wall Street's biggest financial firms, and individual investors to get an edge on the market. And research shows that skilled technical traders can bank gains as much as 90% of the time.Every week, we take an in-depth look at big names that are telling important technical stories. Here's this week's look at the technicals of
five high-volume stocks ready to move higher
.  
Apple
Let's start with a
,
Apple
(AAPL)
.
When we last checked in with Apple, the firm was testing resistance at $640 after pushing through two more intermediate resistance levels. $640 was a critical level for the stock -- it served as a major stumbling block for shares earlier this year when selling pressure from investors taking gains completely sapped any demand for shares and sent the stock lower. That's why it was such a big deal when Apple closed above $640 for the first time on Friday. That breakout was a buy signal for shares.
>>4 Stocks to Buy and Forget for 4 Years
For fundamental buy-and-hold investors, it may seem anti-intuitive to wait to buy a stock like Apple
after
it's gotten more expensive by moving through $640. But remember, $640 was a price where there'd previously been a glut of selling pressure. Until this stock could catch a bid above that price, the likeliest outcome of another test of $640 was a reversal lower as more sellers took gains. But buying this $640 breakout, investors have an opportunity to buy knowing that the glut of selling pressure has been absorbed by increasingly eager buyers.
The traders' mentality as simple as this: I'm happy to buy a stock when it gets more expensive, as long as it continues to get more expensive before I sell it. Apple fits that bill perfectly right now. If you decide to buy here, I'd recommend a
just below the
.
Apple, which was featured yesterday in "
5 Tech Stocks Rising on Big Volume
," also shows up on a list of
.
M&T Bank
M&T Bank
(MTB)
is one of the more attractive big regional banking names in the country, and it shows; from a technical standpoint this bank stock looks primed to make a move higher. Right now, M&T is forming an ascending triangle setup, a price pattern that says "buy" on a move above $88.
In short, an ascending triangle is formed by a horizontal resistance level (in MTB's case at $88) and uptrending support. As shares bounce in between those two technical levels, they're getting squeezed closer and closer to resistance above $88. Once that happens, buying MTB becomes a high probability trade.
MTB's ascending triangle is a textbook example of the pattern. Shares hit their head on $88 resistance the last three times they attempted to move above that level, and uptrending support (read buying pressure) has been in place since the June bottom.
Sliding volume over the course of the pattern is a good thing. We'll want to see a volume spike when the breakout happens. That means that buyers are participating in the move.
M&T, one of
, also shows up on a list of
5 Bank Earnings Winners From Jefferies
.
Berkshire Hathaway
It always strikes me as funny when
Berkshire Hathaway
(BRK.B)
pops up as a potential trade. After all, until recently, the Oracle of Omaha intentionally kept the prices of his firm's shares at high levels to dissuade trading. But since the decision to split shares of his Class B stock in 2010, liquidity has been high enough for trading opportunities to come through this stock.
Berkshire is enjoying a good run in 2012, rallying more than twice as much as the S&P over the last six months. But in the short-term, the setup to watch is the same ascending triangle that we're focusing on in MTB. $86 resistance has been a stumbling point for BRK in August. A breakout above that price is a buy signal for Berkshire.
>>5 Financial Stocks hedge Funds Love
adds some confidence to this trade right now -- the 14-day RSI has been in a long-term uptrtend that's remained unbroken for the last several months. Since momentum is a leading indicator of price, that's a good sign.
Coca Cola
Coincidentally, one of Warren Buffett's favorite stocks is looking strong from a technical standpoint too this week.
Coca Cola
(KO)
has been in a long-term uptrend since the end of 2011, rallying close to 18% since the end of November. That's some big performance for a staid $175 billion name like Coke.
The uptrend in Coke is significant because it has taken place within a clearly defined trend channel. That channel gives traders high probability expectations for the moves that Coke makes -- and it's providing us with a trade right now. In a trend channel, the ideal time to buy is when shares bounce off of trendline support -- almost exactly where Coke's sitting right now. The fact that KO has bounced higher off of support the last seven times it fell to that level bodes well for bounce number eight.
>>5 Consumer Stocks Hedge Funds Love
If you want to take the Coke trade, it's critical to wait for KO to actually bounce, and not to try to anticipate it. That's because trend lines do eventually break, and when Coke's does, you don't want to be left holding the bag. A bounce means that shares can catch a bid at support and that the channel remains intact.
I also featured Coca-Cola, one of
, in "
5 Rocket Stocks Worth Buying This Summer
."
Goldcorp
Goldbugs have been having a tough run in 2012, but that could be about to change.
From a macro level, I think that there's reason to like gold right now, particularly given the piling of investors into treasuries when rates are near zero and inflation is well above 2.2%. But macro theses take a long time to pan out, whereas the technical setup in gold miner
Goldcorp
(GG)
is likely to be a quick move.
Right now, Goldcorp is forming a double bottom, a reversal pattern that's formed by two swing lows that hit support at around the same level. The buy signal comes when GG breaks out above the peak that separates those two lows: $41.
It's worth noting that this setup isn't limited to Goldcorp. Peers such as
Newmont Mining
(NEM)
and
AngloGold Ashanti
(AU)
are forming nearly identical setups right now. With all three, it's crucial to wait for that peak to get broken before buying. That's the best indication that buyers are in control of shares.
To see this week's trades in action, check out the
Technical Setups for the Week portfolio
on Stockpickr.
-- Written by Jonas Elmerraji in Baltimore.
RELATED LINKS:
>>5 Rocket Stocks to Buy This Week
>>3 Big-Volume Stocks Spiking Higher
Follow Stockpickr on
and become a fan on
Facebook.
At the time of publication, author had no positions in stocks mentioned.
Jonas Elmerraji is the editor and portfolio manager of the
Rhino Stock Report
, a free investment advisory that returned 15% in 2008. He is a contributor to numerous financial outlets, including
Forbes
and
Investopedia
, and has been featured in
Investor's Business Daily
, in
Consumer's Digest
and on
MSNBC.com
.