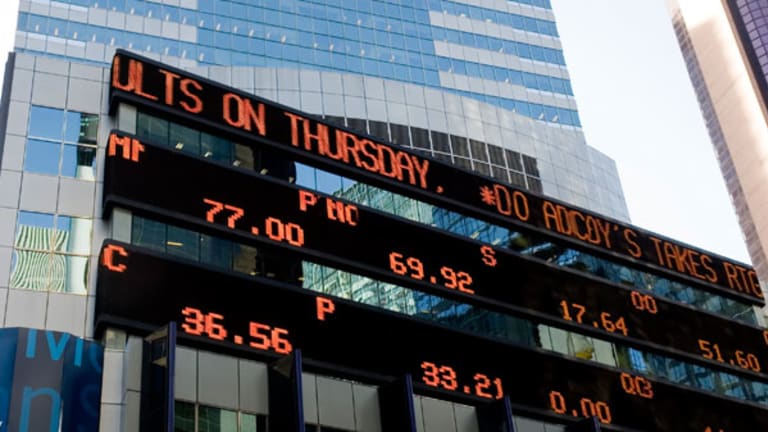 5 High-Yield Stocks Ready to Boost Dividends Again
These stocks could be about to increase their dividend payments in the next quarter.
BALTIMORE (Stockpickr) -- To paraphrase Charles Dickens, it's the best of times and the worst of times for income investors right now.
Yes, dividends have clearly caught investors' attention in the last few years, fetching the highest dividend yields for the S&P 500 in two decades -- and the record corporate profits to back up those payouts. But that income is streaming in at a time when the
has effectively pinned interest rates at zero and inflation rates
above
2%, creating a toxic rate for savers who want to get exposure to fixed income investments.
>>5 Stocks With Huge Insider Buying
One result of that combination is that income-seekers are relying on equities now more than they have in years past (with 10-year Treasuries yielding 1.51%, no one buying them is an income investor right now). And they're chasing yield in a way that hasn't been seen since back in 2008. But chasing yield is one thing -- and jumping in front of it is quite another. Today, we'll look into the crystal ball to try and find high-yielding firms likely to hike their payouts even more in the quarter ahead.
For our purposes, that "crystal ball" is composed of a few factors: namely a solid balance sheet, a low payout ratio, and a history of dividend hikes. While those items don't guarantee dividend announcements in the next month or two, they do dramatically increase the odds that management will hike their cash payouts, especially as investors start to get antsy about this mid-2012 rally.
>>ACTIVE STOCK TRADERS: Check out Stockpickr's special offer for Real Money, headlined by Jim Cramer, now!
Without further ado, here's a look at
five stocks that could be about to increase their dividend payments
in the next quarter.
Microsoft
Tech giant
Microsoft
(MSFT) - Get Free Report
announced its earnings on Thursday, upticking revenues and sending investors buying shares today. Microsoft has a long history of
sharing cash with shareholders
, spending $14.3 billion on dividends and stock buybacks in the last year. Now I think it's likely we'll see MSFT pay out even more of its profits back to shareholders with a dividend hike.
Microsoft is the standard bearer in the PC software market, earning the majority of its revenues through successful software franchises such as the Windows operating system and the Office suite of productivity tools. But the firm was one of the first big tech companies to expand its reach -- Microsoft's peripheral offerings include mobile phone software and video game systems.
>>10 Top-Rated Tech Stocks That Pay Big Dividends
Mobile devices in particular have been one area where MSFT has made some public missteps. The firm will need to deploy its massive $60 billion cash and investment reserve cautiously if it wants to provide the best return for shareholders.
I'd expect a bump to the firm's 20 cent dividend payout in the next quarter. After all, once the payout the firm announced last month goes out, Microsoft will have kept its dividend flat for four quarters.
Microsoft shows up on recent list of
5 Stocks to Buy if They Crash on Earnings
and
4 Earnings Reports Bigger Than RIM's
.
Lockheed Martin
Shareholders of
Lockheed Martin
(LMT) - Get Free Report
are having a solid year; the stock has climbed more than 9% so far this year on top of the hefty 4.52% dividend that LMT currently yields. Lockheed is the biggest defense contractor in the world, supplying everything from fighter jets to IT services to Uncle Sam. The firm currently pays out a quarterly $1 dividend.
Lockheed pays such a big yield for a good reason: investors are still anxious about how budgetary constraints at the Department of Defense could hamstring its profits. Last year's debt ceiling debacle didn't instill the most faith in Congress' ability to cope with the country's finances, and with Lockheed relying on the folks in Capitol Hills to pay their bills (and maintain this current spending level), investors are getting antsy.
>>5 Dividend-Paying Stocks for the Next Decade
To combat the potential for DoD budget cuts, Lockheed has been offering its services to other government agencies as an IT specialist. Perhaps more importantly, Lockheed has consistently been allowed to sell to our allies, diversifying its sales away from Uncle Sam's pocket book.
Despite headwinds, Lockheed is in good financial shape and generates mountains of cash. That should help support a dividend raise in 2012.
Lockheed shows up on a list of
9 High-Yield Stocks to Consider in Lieu of Bonds
.
Paychex
Payroll and HR outsourcing firm
Paychex
(PAYX) - Get Free Report
services more than 500,000 small and medium business clients worldwide. That's at least part of the reason why this stock has had such a low profile in recent years -- it's still seen as having too much exposure to the convalescing jobs market. Someone should tell that to Paychex, though; the firm has seen stair-step revenue and profit growth in the last few years.
Paychex has traditionally been a payroll company, providing services for small and medium-sized businesses that wanted to simplify the process of getting employees paid and taxes sorted. But PAYX has unlocked a profitable niche in the HR outsourcing business, upselling everything from 401(k) record-keeping to workers' compensation administration to its existing customer Rolodex.
>>5 Stocks Poised for Breakouts
While margins from the firm's float income (the interest income it earns by holding clients' cash until employees withdraw it) have slipped by a few points thanks to low interest rates, Paycheck is still on solid footing from a financial standpoint. The firm currently pays out a 32 cent dividend each quarter that adds to a 3.91% yield. I think that Paychex looks likely to hike that payout next quarter after four straight 32-cent payouts in a row.
Paychex also shows up on recent lists of
Tech Stocks That Pay Big Dividends
and
Dividend Stocks to Consider in Lieu of Bonds
.
ConAgra Foods
ConAgra Foods
(CAG) - Get Free Report
pays out an identical yield to Paychex right now: 3.91%.
This week, the firm announced that it would be paying a fourth-straight 24-cent dividend on August 29. I suspect that it'll be CAG's last payout at the 24-cent level -- after all, the $10 billion food stock earns plenty of cash right now. ConAgra owns a portfolio of well-known food and kitchen product brands, such as Parkay, Healthy Choice, and Chef Boyardee -- and relying on those brands has been CAG's saving grace in this market.
>>2 Stocks to Buy Because the Wealthy Rule America
That's because cost inflation has been squeezing margins at most food processing firms. Because CAG has a strong portfolio of sticky brands to fall back on, it's able to pass more costs onto customers than they'd tolerate from a private-label competitor. When the dust settles, private label brands are likely to become a more important part of ConAgra's sales again.
MeadWestvaco
Finally there's packaging supply firm
MeadWestvaco
(MWV)
. Even if you're not familiar with MeadWestvaco's product offerings, you've probably come in contact with them. The firm provides packaging solutions used for everything from cosmetics to cigarettes to food products. That consumer staple exposure is a big boon to the firm's sales, particularly now that it has unloaded its more economy-dependent office supply business from the corporate umbrella.
Emerging markets are a big growth area for MWV, where the firm already has significant exposure to Brazil (and has for more than 60 years) as well as a growing presence in India. As consumption increases at the hands of burgeoning middle-class populations in those countries, this packaging firm should benefit in a big way.
MWV currently pays out a 25-cent dividend, a payout that currently weighs in as a 3.42% yield. With ample cash generation capabilities and a manageable debt load, the way is paved for a dividend hike in the next quarter.
To see these dividend plays in action, check out the
on Stockpickr.
And if you haven't already done so,
today to create your own dividend portfolio.
-- Written by Jonas Elmerraji in Baltimore.
RELATED LINKS:
>>5 Stocks to Escape the Eurozone Crisis
>>5 Hated Stocks Set to Soar on Earnings
>>7 Stocks for a Housing Rebound
Follow Stockpickr on
and become a fan on
Facebook.
At the time of publication, author had no positions in stocks mentioned.
Jonas Elmerraji is the editor and portfolio manager of the Rhino Stock Report, a free investment advisory that returned 15% in 2008. He is a contributor to numerous financial outlets, including Forbes and Investopedia, and has been featured in Investor's Business Daily, in Consumer's Digest and on MSNBC.com.