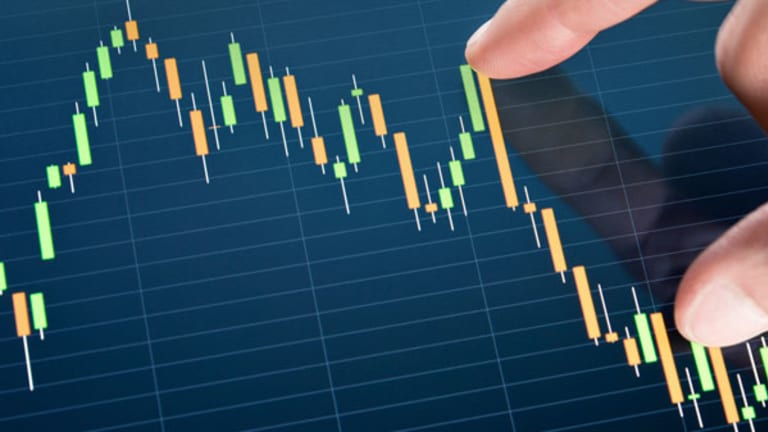 5 High-Yield Stocks Ready to Boost Dividends
These companies are likely to boost their dividend payouts in the next quarter.
BALTIMORE (Stockpickr) -- How's this for an income investing mantra: The only thing better than a big dividend payout is a bigger one.
The thing is, that's a harder goal to accomplish than it seems. Chasing yields, after all, will only get you so far; and all too often, big dividend payers have such big yields because investors are discounting the likelihood of a dividend rate cut.
But this week, we're not waiting for high-yielding firms to announce dividend hikes. Instead, we're focusing on the future, taking a look at five companies that are likely to boost their dividend payouts in the
next
quarter.
>>5 Stocks Under $10 Set to Explode Higher
For our purposes, our "crystal ball" is composed of a few factors: namely a solid balance sheet, a low payout ratio and a history of dividend hikes. While those items don't guarantee dividend announcements in the next month or two, they do dramatically increase the odds that management will hike their cash payouts, especially as investors start to get antsy about stock performance in 2012.
In other words, fundamentally solid companies realize that they need to hike returns for shareholders if they want to keep demand for their stock high. And historically, that sort of a dividend-centric strategy from management means much bigger returns for your portfolio:
Over the last 36 years,
have outperformed the rest of the
S&P 500
by 2.5% annually, and they outperformed nonpayers by nearly 8% every year, all while paying out cash to their shareholders, according to data compiled by Ned Davis Research. The numbers are even more compelling when looking at companies that consistently increase their payouts.
Without further ado, here's a look at
that could be about to increase their dividend payments in the next quarter.
Altria Group
First up is "sin stock"
Altria Group
(MO) - Get Altria Group Inc Report
, the $65 billion tobacco and alcohol giant that owns brands such as Marlboro in addition to a massive cellar of wine brands and a 27% stake in
SABMiller
(SBMRY: Pink Sheets), the second-biggest beer brewer in the world. That exposure to legacy tobacco and the alcoholic beverage business don't just make Altria the prototypical sin stock -- it also generates hefty dividend payouts for shareholders. Currently, MO pays a 41-cent quarterly dividend per share. We're counting on that to rise in the next quarter.
In recent years, Altria has made big moves to wring value out of its nontobacco assets and then shed them. The firm unloaded the last vestiges of its former ownership of
Kraft Foods
( KFT) in 2007, and in 2008 it split off its international business. The moves make Altria a pure play on alcohol and U.S. tobacco, a change that makes MO's valuation more transparent and has helped to unlock considerable value for shareholders in the last few years.
>>5 Value Stocks Insiders Are Snapping Up
Let's be frank: The firm's tobacco business is dying a slow death as American consumers slowly reduce their demand for cigarettes and smokeless tobacco products -- and that's just fine. Tobacco demand is decreasing quite slowly, and pricing hikes should help to offset any volume declines.
More important, enormous free cash flow generation means that Altria should continue to throw off increasingly large dividend payouts for shareholders as it continues doing what it knows best.
The firm has been paying out a 41 cent dividend, a 5.08% yield, for three straight quarters now. We'll see if a hike is on the way when management announced second quarter earnings.
I also featured Altria earlier this month in "
5 Rocket Stocks Ready for Blastoff
."
Duke Energy
It's been a pretty lukewarm year so far for
Duke Energy
(DUK) - Get Duke Energy Corporation Report
shareholders. Since the first trading day of January, the $29 billion regulated utility holding company has essentially traded flat, leaving investors turning to dividends for all of their return hopes.
With a 4.6% dividend yield, investors are at least up on the year with DUK's shares when those cash payouts are factored in. But Duke has been paying out the same 25-cent quarterly dividend for eight straight quarters now -- and the company has the wherewithal to hike those payouts right now.
Duke provides gas and electric service to customers in a handful of Southern and Midwestern states, in addition to the firm's generation and merchant power assets here in the U.S. and hydroelectric plants in Latin America. For income investors, regulated utilities are the goose that lays the golden egg: their profitability is consistent and recession resistant, and historically they hike dividends frequently. A pending merger with
Progress Energy
(PGN)
stands to make Duke the single biggest regulated utility in the country.
While Duke's other businesses add some volatility to earnings, they also add substantially more upside potential. Growth in Brazil has fueled most of its international successes in the past and should continue to make up the biggest part of the division in the future.
Despite a capital-intense business that's ramping up leverage to grow, cash coverage is more than sufficient to support a bigger dividend in 2012.
Duke shows up on a list of
10 Stocks That Will Let You Retire
.
Southern Copper
Southern Copper
(SCCO) - Get Southern Copper Corporation Report
may not be every income investor's first choice in a dividend stock -- but that's exactly why you should be paying attention to it.
The $25 billion miner lays claim to the world's largest copper reserves, at 146 billion pounds. Southern Copper also owns molybdenum and zinc reserves, the former giving SCCO minor exposure to rare earths. Copper has been the base metal equivalent of gold in the last few years, and Southern's margins show it -- the firm owns Mexican and Peruvian mines that are able to yank copper out of the ground at rock bottom costs, and as a result, it earns net margins approaching 35%.
Because around 80% of SCCO is owned by conglomerate Grupo Mexico, the firm is more conscious of shareholder returns than most, resulting in a payout ratio of approximately 80%. While profit volatility and currency translation has made SCCO's dividend fluctuate more than most, I think that the 6.98% yield is due for a boost (believe it or not).
A double-digit rally in copper prices in the last six months should fuel that dividend hike.
Southern Copper shows up on a recent list of
3 Natural Resource Stocks Yielding Up to 11%
.
Garmin
It's been a strong year for shareholders of
Garmin
(GRMN) - Get Garmin Ltd. Report
. The GPS maker has rallied close to 10% in 2012, over a period when the S&P 500 is struggling to hold onto gains that are half as high.
Garmin has consistently been a high-yield name (it currently pays 40 cents each quarter, a 3.66% yield) and a heavily shorted name -- two factors that could provide big cash payouts and capital gains for shareholders if shorts get squeezed in 2012.
Garmin makes global positioning devices for cars, boats, planes and fitness enthusiasts. That exposure to all corners of the GPS market is significant. It means that Garmin is able to pour R&D into big-ticket electronics (such as the $50,000 G1000 avionics suite for small planes) and then transition the tech to the more margin-sensitive consumer market. It's a strategy that's kept Garmin's offerings more interesting as rivals got squeezed in the highly competitive auto market.
>>5 Hated Stocks That You Should Love
Short-sellers have been counting on margins at Garmin to flatten out as competition in the for car GPS systems gets more and more intense. To date, that hasn't happened yet. And despite flops such as Garmin's Nuvifone, innovation should keep people buying Garmin products.
Watch for a dividend hike at the firm's June 1 shareholder meeting.
Microchip Technology
Microcontroller maker
Microchip Technology
(MCHP) - Get Microchip Technology Incorporated Report
is a $6 billion firm whose products are used in everything from remote controls to electric motors -- essentially any product that uses electronics falls within MCHP's target market. As a result, the firm boasts a massive customer Rolodex that includes OEMs that wouldn't fall under the "technology company" umbrella.
More recently, Microchip Technology has been targeting an even lower side of the market, eschewing the more complex side of the business where rivals are clustering and opting to sell massive quantities of microcontrollers that perform mundane tasks. The chips are cheap to make and that drives enviable profit margins for the firm.
One result of that is huge profitability -- MCHP's net margins weigh in around 25%. And because the firm isn't pouring as many resources into developing high-end chips, it's able to hike a higher payout for its shareholders. At 4.54%, MCHP is also one of the highest-yielding stocks in the tech sector. It's also one of the most consistent increasers -- the firm essentially hikes its dividend payout each quarter, and it did throughout the recession too. That makes MCHP one of the less-challenging dividend increaser forecasts I'm making, but no less investment worthy.
Investors looking for a big yield and tech sector exposure could do worse than this stock.
To see these dividend plays in action, check out the
High-Yield Dividend Hike portfolio
on Stockpickr.
And if you haven't already done so,
today to create your own dividend portfolio.
-- Written by Jonas Elmerraji in Baltimore.
RELATED LINKS:
>>5 Stock Charts Every Investor Needs to See
>>5 Stocks to Profit From a Snapback Rally
>>5 Stocks Your Pension Fund Loves
Follow Stockpickr on
and become a fan on
Facebook.
At the time of publication, author had no positions in stocks mentioned.
Jonas Elmerraji is the editor and portfolio manager of the Rhino Stock Report, a free investment advisory that returned 15% in 2008. He is a contributor to numerous financial outlets, including Forbes and Investopedia, and has been featured in Investor's Business Daily, in Consumer's Digest and on MSNBC.com.