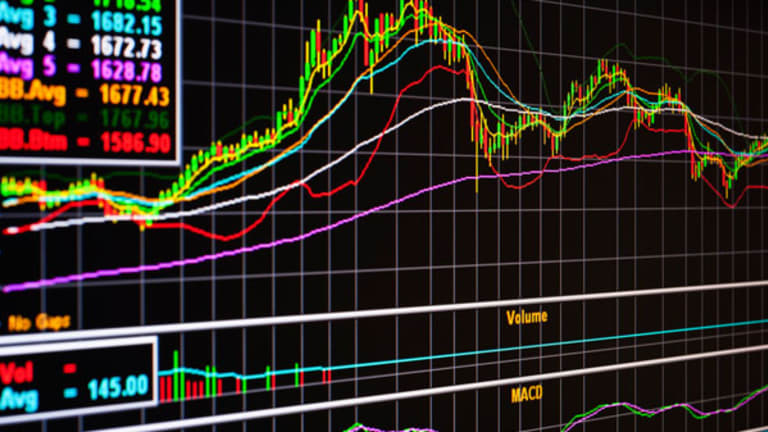 5 High-PEG Stocks to Stay Away From
These stocks, which have high price-earnings-to-growth ratios, invite too much risk into one's portfolio.
MILLBURN, N.J. (Stockpickr) -- In July 2011, I featured five stocks with high PEG ratios and recommended selling them or selling them short. Since then, the markets have endured a series of dramatic turns, both up and down, only to come out of it essentially unchanged.
All five of those high-PEG stocks, though, have declined over the past six month. Some have dipped more than others, but on average, the decline was well into the double-digit percentages.
With that performance in mind, here are
five more high-PEG stocks to avoid
.
Rollins
Rollins
(ROL) - Get Rollins, Inc. Report
, best known for its Orkin subsidiary, offers pest and termite control to residential and commercial customers. The company is best known as being the "Orkin Man." The company typically has a very slow yet steady rate of growth. Despite the housing bust, homeowners still call on the Orkin Man to get rid of those dangerous termites, dirty roaches and pesky mice.
>>5 Big Stocks to Trade for Gains
That said, 2011 was a banner year for Rollins due to the bed bug scare in the U.S. The media was obsessed with bed bug stories for several weeks last summer. Many people did not have bed bugs but still had their homes treated for the pests.
The stock, which corrected with the rest of the market in July and August, then took off like a 1990s technology stock, rising 33% from its summer trough and putting in a solid 13% gain for the year.
I just can't believe that the bed bug and pest control business is deserving of a premium multiple and PEG. Be careful, because one day the stock's valuation might be squashed like a bug.
CommVault Systems
New Jersey-based data management company
CommVault Systems
(CVLT) - Get CommVault Systems, Inc. Report
operates in a very hot sector, cloud computing. CommVault Systems has strategic relationships with other publically held companies such as
Dell
(DELL) - Get Dell Technologies Inc Class C Report
,
Hewlett-Packard
,
Microsoft
(MSFT),
Network Appliances
(NTAP) - Get NetApp, Inc. Report
,
VMware
(VMW) - Get VMware, Inc. Class A Report
and
Oracle
(ORCL) - Get Oracle Corporation Report
.
Cloud computing is all the rage right now, but it will deliver the same disappointments as did prior promising technologies such as dotcoms in the 1990s, solar energy, nano tech and VOIP. Cloud computing stocks will likely surge and then crater -- and some have already begun to do so, such as
Saleforce.com
(CRM) - Get salesforce.com, inc. Report
, one of those high-PEG stocks I said to avoid last summer. Competition in this space will become even fiercer, forcing pricing and margins to collapse.
I have written before to be cautious of stocks with very high levels of realized volatility. CommVault Systems has a one-year historical volatility of 50.59. This is more than twice that of the
Power Shares QQQ Trust
(QQQ) - Get Invesco QQQ Trust Report
, a tech-heavy indexed ETF.
LogMein
LogMein
(LOGM) - Get LogMeIn, Inc. Report
is a Web-based technology company that provides solutions for remote computer access, file sharing and data backup. I consider this company to be a quintessential good product company that has drawn in investors seeking riches. I even use LogMein for a small business that I own 220 miles away from home.
But the company's products are not unique, and competition is everywhere. For example, just look at GoToMyPC.com, owned by
Citrix Systems
(CTXS) - Get Citrix Systems, Inc. Report
, or remotepc.com. I can envision
Google
(GOOG) - Get Alphabet Inc. Class C Report
one day giving a similar product away for free.
Once again, I cannot fathom paying a premium multiple for a company that does not have a unique or proprietary product. As I mentioned for CommVault, LogMein has an extremely high historical volatility, which is a warning sign to a high valuation stock.
For another take on LogMein, check out
9 IT Services Stocks With Upside
.
Red Hat
Red Hat
(RHT) - Get Red Hat, Inc. Report
, one of TheStreet Rating's
, is a software application company that provides services and solutions for open source platforms such as Linux. Open source software is free and available to anyone who desires to avail themselves of its use.
Of course, there is a catch. You need to develop and maintain your own proprietary programs. This is sort of like the alarm company that provides free wiring and hardware but requires you to pay for the monitoring of the service.
Linux is one of the most popular and redistributed software programs around the world and is used in mobile phones, tablet computers, video games, supercomputers and desktops. Red Hat has grown rather consistently at a 15% to 20% annual rate, which places its valuation at the high end of reasonable. What has me concerned is that analysts do not expect as rosy a year in 2012 for the company. As a result, the company's stock faces potential P/E contraction.
Campbell Soup
Not all high-PEG stocks are those of technology companies. Even those safety stocks in your cupboard and medicine cabinet just may be overpriced. One such example is
Campbell Soup
(CPB) - Get Campbell Soup Company Report
, the processed and packaged foods company. Its most popular brand and product is Campbell Soup, but it also owns Pepperidge Farm cookies and V8 juices. The soup business is in decline for several reasons; the most glaring one is the shift in population over time from the cold northern states to the warmer southern and western states.
Be careful. The company stock has declined consistently since the late 1990s and pays an above-market-average dividend yield of 3.65%, making it one of the
top-yielding food and beverage stocks
. In my opinion, this makes Campbell Soup a classic value trap.
-- Written by Scott Rothbort in Millburn, N.J.
RELATED LINKS:
>>5 Rocket Stocks to Buy for Earnings Season
>>5 Stocks Insiders Are Loading Up On
>>5 Mobile Phone Stocks That Could Pop in 2012
Follow Stockpickr on
and become a fan on
Facebook.
>
At the time of publication, Rothbort had no positions in stocks mentioned, although positions can change at any time.
Scott Rothbort has over 25 years of experience in the financial services industry. He is the Founder and President of
, a registered investment advisor specializing in customized separate account management for high net worth individuals. In addition, he is the founder of
, an educational social networking site; and, publisher of
The LakeView Restaurant & Food Chain Report
. Rothbort is also a Term Professor of Finance at Seton Hall University's Stillman School of Business, where he teaches courses in finance and economics. He is the Chief Market Strategist for The Stillman School of Business and the co-supervisor of the Center for Securities Trading and Analysis.
Mr. Rothbort is a regular contributor to
TheStreet.com's RealMoney Silver
website and has frequently appeared as a professional guest on
Bloomberg Radio
,
Bloomberg Television
,
Fox Business Network
,
CNBC Television
,
TheStreet.com TV
and local television. As an expert in the field of derivatives and exchange-traded funds (ETFs), he frequently speaks at industry conferences. He is an ETF advisory board member for the Information Management Network, a global organizer of institutional finance and investment conferences. In addition, he is widely quoted in interviews in the printed press and on the internet.
Mr. Rothbort founded LakeView Asset Management in 2002. Prior to that, since 1991, he worked at Merrill Lynch, where he held a wide variety of senior-level management positions, including Business Director for the Global Equity Derivative Department, Global Director for Equity Swaps Trading and Risk Management, and Director for secured funding and collateral management for the Global Capital Markets Group and Corporate Treasury. Prior to working at Merrill Lynch, within the financial services industry, he worked for County Nat West Securities and Morgan Stanley, where he had international assignments in Tokyo, Hong Kong and London. He began his career working at Price Waterhouse from 1982 to 1984.
Mr. Rothbort received an M.B.A., majoring in Finance and International Business from the Stern School of Business, New York University, in 1992, and a B.Sc. in Economics, majoring in Accounting, from the Wharton School of Business, University of Pennsylvania, in 1982. He is also a graduate of the prestigious Stuyvesant High School in New York City. Mr. Rothbort is married to Layni Horowitz Rothbort, a real estate attorney, and together they have five children.