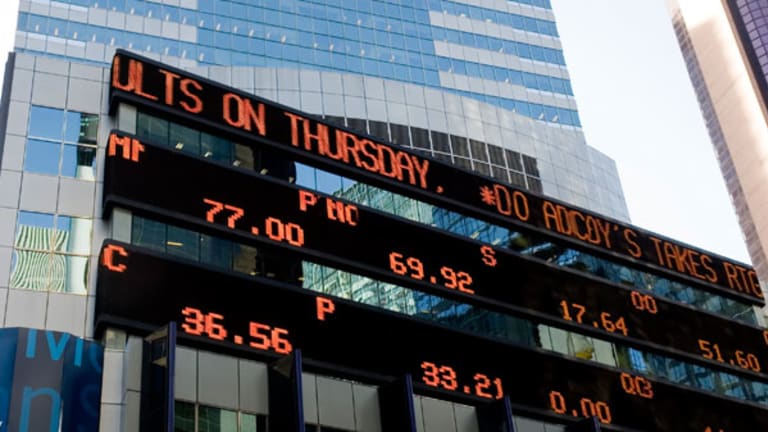 5 Hated Stocks That You Should Love
Short-covering could trigger quick upward moves for these five stocks.
NEW YORK (Stockpickr) -- After moving steadily higher throughout the first quarter, the markets were roughly flat in April and have been sliding in May. Could they be gearing up for their next upward move? After all, earnings have been quite robust, and corporate profits continue to trend nicely higher.
If we do get further gains, then it could pay to follow a strategy that paid off handsomely in the first quarter: focusing on risky and often heavily shorted stocks. As investors started to focus on riskier stocks, short-sellers got spooked and scrambled to cover their bearish bets. By doing so, they unwittingly added buying pressure to these stocks.
>>5 Stocks Set to Soar on Bullish Earnings
Assuming that scenario plays out again, let's look at the current crop of heavily-shorted stocks, identifying
five that may be subject to a major short squeeze
.
Ford Motor
With 148 million shares held by short-sellers,
Ford
(F) - Get Report
is the second-most-heavily-shorted stock on the market (behind
Nokia
(NOK) - Get Report
). These bearish investors are focusing on the dismal economic conditions in Europe. For every $5 that Ford made in the first quarter in North America, it lost $1 in the rest of the world.
Yet it's not clear that things are going to get any worse from here. Sure, the European economies could stumble further, but Ford is cutting a range of costs in that region (which accounts for 25% of sales) and is also rolling out a host of new vehicle this summer and fall. If European economies don't slump further, the net income drag from that region will likely diminish, allowing the profits from the remarkably profitable North American market to come into sharper focus.
Current EPS forecasts of $1.45 this year and $1.70 in 2013 could easily be surpassed in such an environment, causing short sellers to buy back many of those 148 million shares.
Ford, one of
Appaloosa Management's holdings
, also shows up on a recent list of
5 Beaten-Down Stocks to Invest in Now
.
Bank of America
The 142 million short position in mega-bank
Bank of America
(BAC) - Get Report
appears warranted -- at first blush. BofA has proven to be the most troubled major bank in the country, and current income statements continue to reflect past sins. In fact, there's little reason to expect significantly brightening results for at least a year or two.
Still, rising markets tend to lure investors into more challenged business models. That's why this stock rose from $5 to $10 in the first quarter. Value investors noted the stock's deep discount to book value, and short-sellers were forced to lighten their bearish bets.
Shares have pulled back recently and now stand closer to $7. That's likely attributable to a choppier market, along with rising fears of fresh problems in Europe -- that could destabilize the global banking system.
After the pullback, this is again a value play. BofA sports tangible book value of $11.91, more than 40% above the current share price. Book value should keep rising as this bank is now profitable, and at some point, short-sellers will have to abandon their position, rather than see the price-to-book gap widen.
Bank of America, one of
, also shows up on a recent list of
5 Large-C ap Bank Stock Buys From Guggenheim
.
Alcoa
Roughly 72 million shares of
Alcoa
(AA) - Get Report
are held in short accounts, a figure that has remained fairly constant even after the aluminum giant reported better-than-expected quarterly profits. Aluminum prices remain in a funk but management has done a very impressive job of controlling costs. That's why Alcoa was able to deliver a 10-cent-a-ahare profit versus an expected four cent a share loss.
Frankly, it's hard to understand why short-sellers expect to see further downside from this stock, which has already fallen from $40 in 2008 to a recent $8.60. After all, if aluminum prices fell any lower, Alcoa would likely reap benefits from reduced competition.
>>5 Stocks Setting Up to Break Out
The shiny metal currently trades for around 90 cents per pound on the spot market. At that price, Alcoa is modestly profitable, thanks to a global network of aluminum smelters that run on very inexpensive power sources. Key rivals lack those low power costs and they are unprofitable, and if aluminum prices fell more, they would need to take a major chunk of industry capacity off the market. That reduced capacity would help Alcoa take market share now, and set the stage for a price rebound later as demand starts to handily exceed supply.
What's a floor for this stock? Well, tangible book value is $8.27, not far below the current share price. And that price embeds a fairly hefty amount of written-down assets that would likely be worth far more on a replacement value basis. By that logic, book value is likely in the low teens.
Advanced Micro Devices
Chipmaker
AMD
(AMD) - Get Report
has had brushes with death on several occasions over the last decade. Yet a refreshed product line, sharply lower manufacturing costs (as production has been outsourced), and a new management team that is starting to deliver improving results makes this a compelling rebound candidate (and perhaps a troubling position for shorts, who control 70 million shares).
AMD's recent research and development efforts have been aimed at producing competitive micro-processors for both the PC environments and the server industry. That two-pronged approach appears to be paying off as AMD is now seeing rising market share in each segment. The relative freshness of those chips also enables firm pricing, and AMD's gross margins are back in the mid 40's and could be headed to the upper 40's within a year.
Meanwhile, shares are cheap at less than 10 times projected 2012 EPS of 75 cents and around 8 times projected 2013 EPS of 90 cents.
AMD shows up on a list of
10 Stocks That Boosted First-Quarter Mutual Fund Returns
.
Freeport-McMoran
Freeport-McMoRan
(FCX) - Get Report
sports a short position of 18 million may not look huge. Short-sellers think a slowing global economy will push copper prices down, imperiling profits for the world's largest copper producer. (The company is also a major gold producer.)
Barring the kind of economic cataclysm we saw in 2008, it's hard to see how this stock could fall much lower. It's already fallen from $55 last summer to a recent $32.56 and is now undervalued in the context of its valuable copper and gold mines. Merrill Lynch, for example, thinks the mines are worth $55 a share. Copper and gold prices may gyrate, but the value of those mines remains constant.
Shares will likely find solid buying support every time shares hit an air pocket, as value investors start to focus on those assets. The rising short position implies that a short squeeze could propel shares quickly higher if market sentiment strengthens in coming weeks and months.
As of the most recently reported quarter, Freeport was one of
.
To see these stocks in action, visit the
5 Stocks That Could Get Squeezed Higher
portfolio.
RELATED LINKS:
>>5 Cheap, Low-Risk Stocks to Buy
>>5 Tech Stocks to Buy Instead of Facebook
>>5 Stocks Ready to Boost Dividends
Follow Stockpickr on
and become a fan on
Facebook.
At the time of publication, author had no positions in stocks mentioned.
Stockpickr is a wholly owned subsidiary of TheStreet.com.