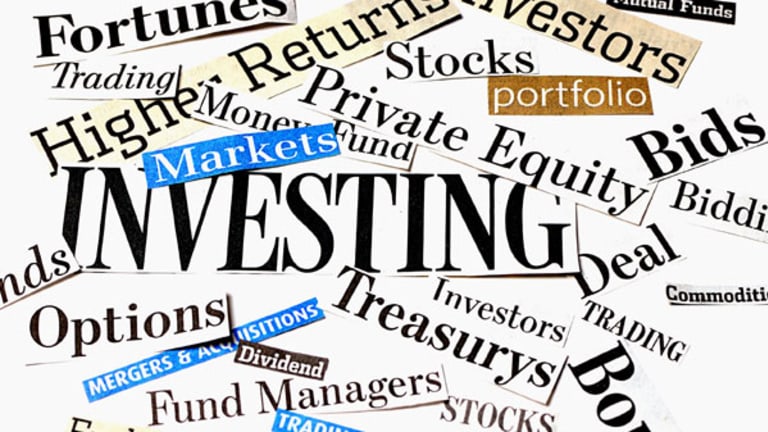 5 Hated Stocks Ready to Pop in 2014
These heavily shorted stocks could get squeezed much higher on any positive catalyst.
BALTIMORE (Stockpickr) -- Everything's hunky-dory over in the market right now. The S&P 500 has extended its year-to-date gains to more than 28%, consumer sentiment numbers are the highest they've been in months, and investors are feeling good again about the New Year.
>>5 Stocks Under $10 Set to Soar
But that doesn't mean that investors are bullish on everything right now. In fact, there's a long list of stocks they hate.
Hate is a powerful emotion in the markets. It's powerful because, more often than not, it's wrong. The fact is, the stocks that investors want to give coal to this Christmas are really the ones that could hand over the most gains in 2014. I realize that sounds anti-intuitive, but historically, buying Wall Street's hate list has paid off.
Over the last decade, buying the most hated and heavily shorted large and mid-cap stocks (the top two quartiles of all shortable stocks by market capitalization) would have beaten the S&P 500 by 9.28% each and every year. That's some material outperformance during a decade when decent returns were very hard to come by.
>>5 Stocks With Big Insider Buying
When I say that investors "hate" a stock, Im talking about its short interest. A stock with a high level of shorting indicates that there are a lot of people willing to bet on a decline in its share price and not many willing to buy. Too much hate can spur a short squeeze, a buying frenzy thats triggered by shorts who need to cover their losing bets. And with the rally we've been since last November, you can probably guess that there are lots of losing open short bets.
One of the best indicators of just how high a short-squeezed stock could go is the short interest ratio, which estimates the number of days it would take for short-sellers to cover their positions. The higher the short ratio, the higher the potential profits when the shorts get squeezed.
>>5 Dividend Stocks Ready to Pay You More in 2014
It's worth noting, though, that market cap matters a lot. Short sellers tend to be right about smaller names, with micro-caps delivering negative returns when the same method was used.
Today, we'll replicate the most lucrative side of this strategy with a look at five big-name stocks that short sellers are piled into right now. These stocks could be prime candidates for a short squeeze in the months ahead.

Sysco
Food service giant Sysco (SYY) - Get Sysco Corporation Report may not be a household name, but there's a good chance that you're very familiar with the company's wares. Thats because Sysco makes the food served at more than 400,000 restaurants, hotels and institutional dining facilities around the globe. If you've dined out recently, there's a good chance that Sysco stocks the kitchen.
That hasn't stopped short sellers from unloading this name en masse. Sysco currently sports a short interest ratio of 17.67.
Sysco's status as the biggest food service distributor in North America comes with some big size advantages. Food distribution is all about the tradeoff between cost and quality -- too pricey and restaurants cant afford to stock their kitchens, too low-quality and restaurants lose with patrons. Syscos size enables it to strike the balance very well with a more effective supply chain than smaller peers.
Those smaller peers are quite a bit smaller -- Sysco is five times the size of its next biggest competitor. The firm has achieved that footprint through a growth-by-acquisition strategy, buying its way into new markets that it didn't already have a foothold in. That's been an effective strategy, but it's running its course.
The biggest tailwinds come from organic growth in Sysco at this point; as restaurant sales continue to tick higher into 2014, short sellers look likely to lose their battle.

Host Hotels and Resorts
Host Hotels and Resorts (HST) - Get Host Hotels & Resorts, Inc. Report is a hotel REIT that owns 118 hotels across the world totaling more than luxury 62,000 hotel rooms in all. While it's easy to think of Host primarily as a conventional hotelier, the firm's REIT status also makes it a direct income play that's obligated to pay out the vast majority of its earnings out to shareholders in the form of dividends. And dividends are like kryptonite to short sellers.
At last count, Host's short interest ratio of 11.14 means that it would take more than two weeks of buying pressure for short sellers to exit their bets.
Host's properties skew heavily in the upscale and luxury segments, a portion of the hotel business that's (perhaps surprisingly) been a whole lot susceptible to down-swings in the wake of the Great Recession. As margins on the luxury side of the business remain strong, Host has been able to recover from the challenges of a leveraged balance sheet. The hotel ownership business is typically less attractive than management, which is service-driven and lacks the capital-intensity that owning the hotels requires; that said, our current low interest rate environment is well-suited to profitability for Host, and it isn't showing signs of abating.
Even though Host's model doesn't court the same kind of REIT investors that pile into commercial landlords, the structure has proven sensible for shareholders, particularly as the properties that HST owns continue to appreciate. Earnings on Feb. 17 could be a big catalyst in the near-term.

Under Armour
2013 has been a blockbuster year for Under Armour (UA) - Get Under Armour, Inc. Class C Report. Shares of the $9 billion athletic apparel brand have rallied 78% since the calendar flipped over to January, besting the S&P's impressive climb by a factor of three. Still, that momentum hasn't scares off the shorts -- it's only made them more eager to bet on a crash in UA. As I write, Under Armour sports a short interest ratio of 10.99.
UA started off making niche apparel for hardcore athletes, but it's emerged as one of the most exciting mainstream brands out there. That brand strength has been one of the keys that's helped Under Armour hold its own against the likes of incumbents such as Nike (NKE) - Get NIKE, Inc. Class B Report. The firm's extension in to new categories like footwear about five years ago should continue to drive top-line growth and premium dollars from consumers who see Under Armour as a performance brand.
UA has invested wisely in endorsement costs, opting to partner with younger athletes early in their careers, and courting collegiate sports. Hunting apparel has big a big growth segment for UA, one that conventional sports apparel makers have generally missed out on. As consumer spending continues to warm, UA should continue to get a bigger piece of the sports apparel pie. That's especially true as the firm expands its reach overseas where the Nikes and Reeboks of the world earn most of their revenues.
This is one serious momentum stock right now -- and that makes it a prime short squeeze candidate.

McCormick
At first glance, the spice business may not seem particularly exciting. But McCormick (MKC) - Get McCormick & Company, Incorporated Report proves that's not necessarily so. McCormick is the world's biggest manufacturer and distributor of spices, extracts and seasonings. That focus may be relatively narrow, but it gives McCormick serious command of your grocer's spice aisle. The firm's leading brands include Old Bay, Zatarain's and Thai Kitchen in addition to the McCormick label.
McCormicks reach goes beyond grocery -- it also serves restaurant chains and packaged food firms that use its seasonings in their respective products. Because few firms can boast MKC's operational expertise with spices, it's a go-to firm for clients who need help developing and mass-producing the seasonings they use in large-scale food manufacturing. Some of McCormick's most exciting tailwinds come from emerging markets, where consumers aren't strangers to spices but may be less familiar with the convenience of pre-packaged seasonings. If MKC can extend its margins into developing countries, shareholders stand to benefit.
Shareholder benefits are nothing new for this stock. The firm has paid out a dividend in each of the last 85 straight years, an impressive streak that's spanned both booms and busts. That dedication to shareholder value makes the 11.66 short interest ratio on this stock look overdone. Keep an eye out for Jan. 27 earnings as a potential catalyst.

Brown-Forman
Even if you don't know the name Brown-Forman (BFB) , you're probably familiar with some of the products this 142-year-old spirits distiller makes. The firm's portfolio includes Jack Daniel's, Finlandia vodka, Southern Comfort and Korbel champagne.
Right now, shares sport a short interest ratio of 12.47. At currently levels, it would take two and a half weeks for short sellers to cover their bets.
The liquor business is attractive for a variety of reasons. The first is industry-wide growth. Consumers are evolving their palates, and in turn, they're increasing their willingness to spend big on pricier small-batch spirits. That presents a huge opportunity for BF.B, one that the firm has taken advantage of with "sub-labels" of its extremely popular brands, such as Jack Daniel's Single Barrel. Those brands hold the keys to Brown-Forman's success. Buyers tend to be sticky when it comes to their liquor of choice, which means that price sensitivity isn't as much of a concern for Brown-Forman as it is for liquor sellers. The popularity of whiskey in particular in the last few years has been a big boon to BF.B considering the Jack Daniels marque makes up around half of the firm's total sales volume.
Like many so-called "sin stocks," Brown-Forman generates considerable cash. Around 25 cents on every dollar the firm takes in gets converted into profit, a hefty net margin for any business. Because of the size of the Jack Daniel's brand, this stock has historically been less internationally-exposed than many of its big spirit-producer peers. That leaves a lot of upside room as American whiskey gains popularity in markets like Russia and China.
To see these short squeezes in action, check out this weeks Short Squeezes portfolio on Stockpickr.
-- Written by Jonas Elmerraji in Baltimore.
RELATED LINKS:
>>4 Stocks Spiking on Big Volume
>>5 Rocket Stocks to Buy for a Santa Claus Rally
>>5 Stocks Poised for Breakouts
Follow Stockpickr on Twitter and become a fan on Facebook.
At the time of publication, author had no positions in stocks mentioned. Jonas Elmerraji, CMT, is a senior market analyst at Agora Financial in Baltimore and a contributor to TheStreet. Before that, he managed a portfolio of stocks for an investment advisory returned 15% in 2008. He has been featured in Forbes , Investor's Business Daily, and on CNBC.com. Jonas holds a degree in financial economics from UMBC and the Chartered Market Technician designation. Follow Jonas on Twitter @JonasElmerraji