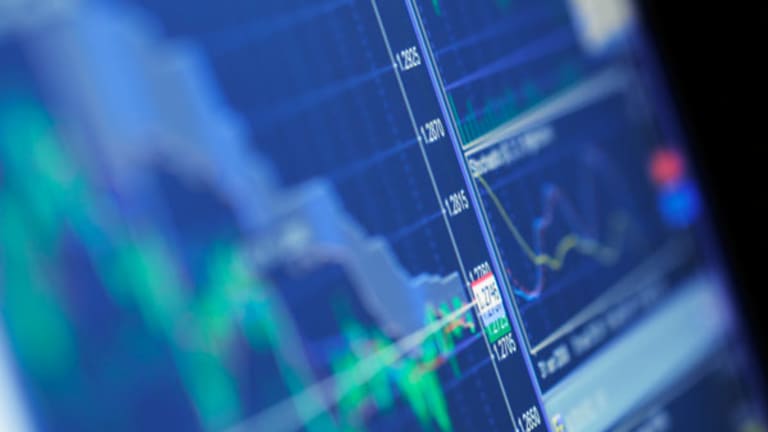 5 Foreign Stocks With Breakout Trade Potential
The technical setups in these stocks could deliver breakout gains to your portfolio this week
The technical setups in these stocks could deliver breakout gains to your portfolio this week
BALTIMORE (Stockpickr) -- As an investor, it's easy to ignore what's going on overseas and just focus on U.S. stocks. After all, in today's global markets, everything trades together, right?
Not really.
For a number of reasons, foreign stocks trading on U.S. exchanges tend to have lower correlations with the broad market here at home. That means that traders looking to find unique setups can often find trades in foreign stocks that aren't showing up in domestic equities. And with so much focus on how foreign markets in Asia and Europe are leading U.S. stocks in March, it makes even more sense to take a closer technical look at some of the setups showing themselves in foreign ADRs right now.
Today, we'll take a look at five foreign names that trade on U.S. markets.
>>5 Stocks Set to Soar on Bullish Earnings
For the unfamiliar,
is a way for investors to quantify qualitative factors, such as investor psychology, based on a stock's price action and trends. Once the domain of cloistered trading teams on Wall Street, technicals can help top traders make consistently profitable trades and can aid fundamental investors in better planning their stock execution.
Here's a look at a
that could deliver breakout gains to your portfolio this week.
Telecom Italia
First up is
Telecom Italia
(TI)
, one of the biggest mobile and fixed line operators in Italy, Brazil, and Argentina. While the firm has gotten beaten down in the last 12 months, falling close to 20% as the Italian economy came under siege, things are definitely starting to look up for shareholders.
Right now, the pattern to watch is a double bottom in shares of TI.
Telecom Italia formed the second bottom in its double bottom back in early February, setting strong support at $10 -- that's a key psychological level. Those two bottoms tell us that there's a major glut of demand at $10, where buyers suddenly become more eager to pick up a bargain than sellers are to unload shares. The fact that two bottoms hit at precisely the same level shows us that $10 is a price where there's a consistent pocket of demand, not just a short-term one.
>>5 Stocks Setting Up to Break Out
The
in TI is the peak at $13.50 that separates the two bottoms. When shares push up through that peak, we've got a signal that buyers are in control of this telco.
Until that happens, your best bet is to let buyers and sellers slug it out on their own.
KB Financial Group
South Korean financial firm
KB Financial Group
(KB) - Get Report
is a setup that ostensibly looks a lot like the one in Telecom Italia, save for a few important differences.
KB Financial made two bottoms at $30, back in late September and late December 2011. But this firm has the added input of particularly strong resistance at $42; with four failed attempts of the $42 level, it's a stronger barrier to KB's price action than $30 support is right now.
Despite the differences in the two setups, the trading implications are exactly the same. KB is just stuck in an if/then setup right now.
>>5 Cheap Bank Stocks With a Strong Earnings Future
Put simply, an if/then setup is a trading pattern whose direction is contingent on how shares of KB exit from their sideways channel. While the double bottom has upside bias, the strength of resistance at $42 means that this stock's direction isn't quite as clear. Instead,
if
shares of KB break out above $42 resistance,
then
this stock becomes a buy (just like in shares of Telecom Italia). Otherwise,
if
shares break down below $30,
then
the high-probability trade becomes to short KB.
While the channel that KB is bouncing around in is wide, remember that the price targets from the breakout or breakdown are proportional. That should leave ample room to profit from this stock.
Philippine Long Distance Telephone
Philippine Long Distance Telephone
(PHI) - Get Report
is another stock that's forming an if/then trade right now. PHI has had a massive run since its October lows, climbing close to 30% as buyers started flooding back into the market. The consolidation range that shares have been stuck in for the last couple of months makes a lot of sense; right now, market participants are trying to decide on their next move in this stock.
The important levels to watch in PHI right now are resistance at $66 and support at $60.
If
shares of PHI break out above that $66 resistance level,
then
this stock becomes a buy. Otherwise,
if
shares break down below $60,
then
it's a short candidate.
>>5 Uptrending Stocks That Could Pop
While shares were testing support at $60 late last week, they were able to catch a bid at that price and bounce higher in yesterday's session. That should give PHI a second chance at staging an upside breakout in early April.
Either way it pans out, it's crucial to wait for an exit from the consolidation range before taking this trade.
Banco Bradesco
Despite trailing Mr. Market by a couple of points so far in 2012, Brazilian banking stock
Banco Bradesco
(BBD) - Get Report
is looking more bullish-biased right now. That's thanks to an inverse head and shoulder setup that's currently forming in shares.
An inverse head-and-shoulders setup is a pattern that indicates exhaustion among sellers. This pattern has been forming since the middle of July, when shares started forming their left shoulder. More recently, this stock has been consolidating sideways, holding off on the breakout above BBD's neckline level that would constitute a buy signal in shares. Even so, the neckline is still the price level to watch for a breakout in BBD.
Even though the head-and-shoulders (and its inverse) is likely the most well known technical pattern, it's still a valuable one: an academic study conducted by the
Federal Reserve Board of New York
found that the results of 10,000 computer-simulated head-and-shoulders trades resulted in "profits
that would have been both statistically and economically significant."
When the breakout does happen, I'd recommend keeping a protective stop just underneath the 200-day
. To see these plays in action, check out the
Technical Setups for the Week portfolio
at Stockpickr.
Novartis
Last up is Swiss pharma giant
Novartis
(NVS) - Get Report
, a stock that's currently forming an ascending triangle bottom after selling off around 14% from its summer 2011 highs.
This setup in particular actually shares a few characteristics with the inverse head and shoulders in BBD. It should come as no surprise then that the buy signal comes at the equivalent spot in this pattern. Similarities aside, the ascending triangle is a pattern that's identified by horizontal resistance to the upside and uptrending support below shares. Essentially, as NVS bounces in between those two technically significant price levels, it's getting squeezed closer and closer to a breakout above resistance.
That's the buy signal for NVS.
Right now,
(as measured by the 14-day RSI) is stuck in an uptrend. Since momentum leads price, that's a good indication that the upside bias in NVS is still going strong. After the buy signal, I'd recommend keeping a protective stop just below the 200-day moving average on this trade as well.
Novartis shows up on a list of
Large-Cap Dividend Stocks to Buy
.
RELATED LINKS:
>>6 Dividend Stocks That Want to Pay You More Money
>>5 Rocket Stocks Worth Buying This Week
>>5 Stocks Insiders Love Right Now
Follow Stockpickr on
and become a fan on
Facebook.
At the time of publication, author had no positions in stocks mentioned.
Jonas Elmerraji is the editor and portfolio manager of the Rhino Stock Report, a free investment advisory that returned 15% in 2008. He is a contributor to numerous financial outlets, including Forbes and Investopedia, and has been featured in Investor's Business Daily, in Consumer's Digest and on MSNBC.com.