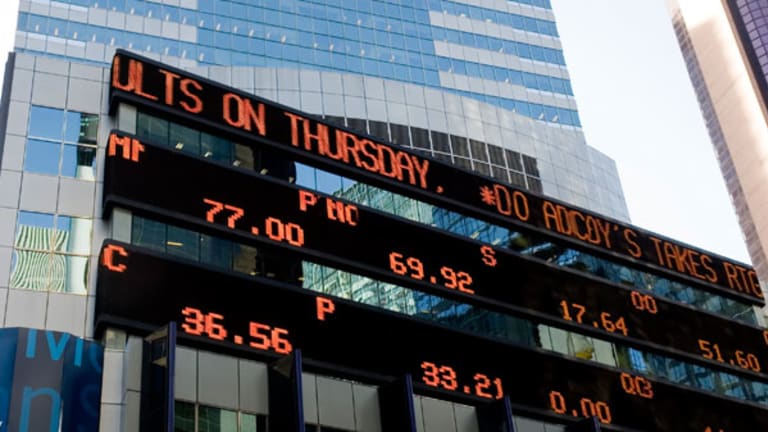 5 Foreign Stocks That Could Pop This Summer
With investor aversion to the risks of foreign stocks reaching highs, a handful of big overseas names are poised to pop from a short squeeze.
BALTIMORE (Stockpickr) -- "Buy American" has been a good catchphrase for investors in 2012. Even though the S&P 500's performance hasn't exactly been awe-inspiring of late, it's been a whole lot better than its foreign equivalents. While S&P's up around 4.5% so far this year, the MSCI Emerging Markets Index is down 2% and change on the year.
Emerging markets aren't alone. The
MSCI EAFE Index
, a world index, is down more than 4% so far this year. From the eurozone debt crisis to softening economies in markets like China, there's reason to steer clear of foreign stocks right now. But that doesn't mean that they're good reasons.
>>5 Stocks Set to Soar on Bullish Earnings
And now, with investor aversion to the risks of foreign stocks reaching highs, a handful of big overseas names are poised to pop from a short squeeze. Here's everything you need to know to take advantage:
In case you're not familiar with the term, a "short squeeze" is the buying frenzy that ensues when a heavily shorted stock starts to look attractive again to investors, causing share price to skyrocket. One of the best indicators of just how high a short-squeezed stock could go is the short interest ratio, which estimates the number of days it would take for short-sellers to cover their positions. The higher the short ratio, the higher the potential profits when the shorts get squeezed.
>>ACTIVE STOCK TRADERS: Check out Stockpickr's special offer for Real Money, headlined by Jim Cramer, now!
Naturally, these plays aren't without their blemishes -- there's a reason (economic or otherwise) that these stocks are being heavily shorted. But for investors looking for exposure to a speculative play with a beefier risk/reward tradeoff, these could be powerful upside plays for the coming year.
Without further ado, here's a look at our list of
foreign short squeeze opportunities
.
Chunghwa Telecom
No surprise, it's been a tough year for shareholders of
Chunghwa Telecom
(CHT) - Get Free Report
. Shares of Taiwan's biggest telecom operator have slid 8% in 2012, tumbling over fears of slowing growth in the East.
In years past, Chunghwa's growth has been breakneck as the firm grew to own the dominant share of the Taiwanese mobile, Internet and fixed-line markets, businesses that throw off considerable cash and are generally known for hefty dividend payouts. If you think dividends are impressive at U.S. telcos right now, take a look at Chunghwa: The firm currently yields 6.24%.
>>7 Dividend Stocks That Want to Pay You More Cash
Scale matters in the telecom business. Because of Chunghwa's dominant size, the firm is able to invest the cash it needs to upgrade its massive networks, upgrades that should help to cement Chunghwa as the league leader in the Taiwanese telco business. Revenue growth has been stair-step in the last few years, besting many analysts' expectations for the firm, and net income has slowly risen in kind. Coupled with a massive net cash position, Chunghwa is in solid position to continue outperforming, even if the short sellers don't believe it.
Right now, the firm has a short interest ratio of 11.1, a reading that indicates it would take two full weeks of buying pressure for shorts to cover their positions. That puts Chunghwa Telecom in a solid position to pop on any half-decent news that comes out this summer.
Imperial Oil
Canadian energy company
Imperial Oil
(IMO) - Get Free Report
isn't some unfamiliar business in a faraway land -- it's a Calgary-based integrated oil firm that produces, refines and sells oil in our neighbor to the North.
Still, as oil prices slip lower, short-selling pressure is hammering this foreign stock, and that's setting shares up for a pop. A short interest ratio of 12.6 means that it would take close to three weeks of buying pressure at current volume levels for shorts to exit their bets against Imperial Oil.
>>5 Energy Stocks T. Boone Pickens Loves Right Now
Imperial has significant resources in Canada's oil business. The firm's proven reserves currently stand at 3.78 billion barrels of oil equivalent, all most all of which is oil (rather than natural gas). That positioning makes IMO a slightly higher-beta play on the oil business, positioning that hasn't been great in the last couple of months, but is great when oil's looking stronger. It's an attractive enough mix that
Exxon Mobil
(XOM) - Get Free Report
is a big fan of the firm -- Exxon owns 70% of outstanding shares.
Imperial runs a tight ship. The firm is focused on improving efficiency, and its double-digit net margins are evidence of that, particularly when the dilutive effects of the low-margin refining business are factored in. Second-quarter earnings on July 26 could be a big catalyst for shares.
Aluminum Corp. of China
Aluminum Corp. of China
(ACH) - Get Free Report
, or Chalco, is another foreign resource stock that's getting heavily shorted by investors right now. The $5 billion aluminum producer is the biggest in the People's Republic, positioning that puts Chalco in good shape to service the domestic aluminum market. Chalco is also one of the lowest cost producers in a high production cost region for aluminum, which gives Chalco advantages over its peers at home but puts it at a disadvantage over foreign rivals that boast more bargain-priced production for the same market priced commodity.
In many ways, Chalco's reliance on the domestic market for aluminum in China is a good thing -- it also spares the firm from excessive exposure to Western markets, where aluminum demand is struggling. The Chinese government has been keen to prop up domestic markets for materials in the past, and Chalco's home team status could help the firm be first in line for support.
>>5 Stocks Immune to Europe's Problems
Chalco has also been working to better integrate its operations, adding fabricating plants to its business back in 2008 and 2009. That added capacity could eventually help boost margins that a fabricator would be earning on Chalco's aluminum production. Investors should keep a close eye on the unit's progress toward profitability.
Short-sellers have pushed the short interest ratio in Chalco up to 20.2, making it the most heavily shorted name on this list. At that level, it would take more than a month of buying pressure to cover shorts in ACH given current volume for the stock. Manufacturing data in China is likely to be one of the biggest catalysts for a sentiment change in this stock.
Lan Airlines
Chilean air carrier
Lan Airlines
undefined
is one heavily shorted foreign name that's actually having a strong year in 2012. Shares of the firm have rallied close to 12% since the first trading day of January, price action that's got to be painful for short sellers right now. With a short interest ratio of 11.1, it would take shorts more than two weeks to exit their positions at current volume levels.
The airline won't be called Lan for long. Following a merger with Brazil's
TAM
(TAM) that closed on Friday, the combined firm will be called LATAM and will begin trading under that name on the
NYSE
tomorrow.
>>5 Bargain Stocks With Tons of Cash
Lan is the flag carrier for Chile, positioning that gives the firm advantages over others in its homebase. Size gives the combined LATAM group other advantages -- the merger makes LATAM the biggest carrier in Latin America and should provide the combined firms with as much as $700 million in cost savings annually.
Lan has been a perennial short target for U.S. investors in the past year or two. Lower costs and a bigger footprint should help to shake out the week hands once the combined firm starts trading.
Oi
Last up is
Oi
(OIBR)
, the Brazilian telecom giant. Oi is the largest fixed-line operator in Brazil with more than 20 million subscribers, and it's one of the biggest mobile carriers in the country, with 41 million cellular subscribers -- a 20% share of the market.
Oi's business isn't unlike that of a telecom company here at home. Fixed lines provide consistent (albeit atrophying) cash generation, while mobile is the path to growth. A recently launched satellite TV service is another growth avenue for Oi, and subscribers have been piling onto the network's service in the last year and change.
That diversification in networks (wireline, mobile, and satellite) is interesting -- it allows Oi to bundle services without tying the firm down to a single mode of communication. As a result, Oi will hypothetically be able to jettison its fixed-line business one day without incurring big capital write-offs. That's something you don't see among telcos here at home.
Still, competition is fierce in the Brazilian telecom industry, and short sellers are largely positioned against Oi. Currently, the firm's short-interest ratio weighs in at 12, a number that means it would take two and a half weeks of buying pressure for shorts to get out. Second quarter earnings this summer could be a catalyst for a short squeeze.
To see this week's short squeezes in action, check out the of
Foreign Short Squeezes portfolio
on Stockpickr.
-- Written by Jonas Elmerraji in Baltimore.
RELATED LINKS:
>>4 Stocks Poised to Break Out
>>5 Rocket Stocks Worth Buying This Week
>>5 Stocks Under $10 Set to Soar
Follow Stockpickr on
and become a fan on
Facebook.
At the time of publication, author had no positions in stocks mentioned.
Jonas Elmerraji is the editor and portfolio manager of the Rhino Stock Report, a free investment advisory that returned 15% in 2008. He is a contributor to numerous financial outlets, including Forbes and Investopedia, and has been featured in Investor's Business Daily, in Consumer's Digest and on MSNBC.com.