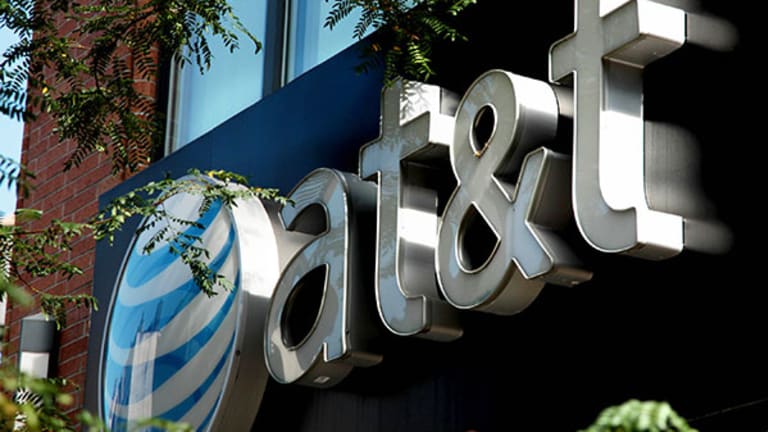 Publish date:
5 Fear Trades for a Volatile Market: AT&T, Sprint and More
These heavily shorted stocks could get squeezed much higher on any positive catalyst.
These heavily shorted stocks could get squeezed much higher on any positive catalyst.
BALTIMORE (Stockpickr) -- Volatility is getting squeezed back into stocks this week, brought on by crashing Ruble and oil prices and a correcting stock market. That means that the "fear trade" is back in play, a fact that's evidenced by the 75% gain in the VIX Volatility Index since the first week of December.
Put simply, there's a lot of hate that's getting dumped into the markets this week.
The good news is that you can use all of that hate to your advantage. You see, hate is a powerful emotion in the financial markets -- because, very often, it's wrong. That's not just my opinion; the data bear it out as well. Over the last decade, buying the most hated and heavily shorted large and mid-cap stocks (the top two quartiles of all shortable stocks by market capitalization) would have beaten the S&P 500 by 9.28% each and every year.
When I say that investors "hate" a stock, I'm talking about its short interest. A stock with a high level of shorting indicates that there are a lot of people willing to bet on a decline in its share price -- and not many willing to buy. Too much hate can spur a short squeeze, a buying frenzy that's triggered by short sellers who need to cover their losing bets to exit the trade.
One of the best indicators of just how high a short-squeezed stock could go is the short interest ratio, which estimates the number of days it would take for short-sellers to cover their positions. The higher the short ratio, the higher the potential profits when the shorts get squeezed.
Today, we'll replicate the most lucrative side of this strategy with a look at five big-name stocks that short sellers are piled into right now. These stocks could be prime candidates for a short squeeze in the months ahead.
AT&T
Telco giant AT&T (T) - Get Report tops off our list. This $167 billion communications stock tips the scales as the largest company with a double-digit short interest ratio. AT&T's short interest ratio of 12.6 means that it would take two and a half weeks of buying pressure for shorts to cover their bets at current volume levels. AT&T is also a double threat thanks to its huge 5.7% dividend payout; dividend erode short returns, making them a lot like kryptonite for short sellers.
AT&T is the number-two U.S. wireless carrier, with almost 100 million customers. It's also the incumbent local phone company in 22 states, with approximately 27 million fixed phone lines and 17 million internet subscribers. AT&T's TV business has been a major point of investment lately. A pending deal to buy DirecTV (DTV) should close next year, adding 20 million satellite TV subscribers to the firm's customer list. Much of the short interest in AT&T right now comes from the pending merger.
AT&T looks cheap relative to peer Verizon (VZ) - Get Report right now. The firm has a comparable subscriber count in its core cellular business, with less debt relative to its total assets (Verizon upped its borrowings to overpay for the part of its wireless business that it didn't own). AT&T currently trades for just 10-times trailing earnings, a valuation that looks cheap compared to the frothy multiples found elsewhere in this market.
Look for next month's fourth-quarter earnings call as a potential upside catalyst here.
Medtronic
2014 has been a stellar year for shareholders of Medtronic (MDT) - Get Report . Since the calendar flipped to January, this $70.7 billion medical device maker has rallied more than 25%, besting the broad market by a large margin. And all along the way, that outperformance has been grinding away at short sellers. Right now, Medtronic's short ratio of 10.15 means that it would take more than two weeks of buying at current volume levels for shorts to get out.
Medtronic develops everything from pacemakers and defibrillators to stents and insulin pumps. Heart products have traditionally contributed around half of MDT's sales, a solid positioning given the sheer number of people around the world who suffer from heart disease and related ailments. With more than $17 billion in annual sales, Medtronic is one of the biggest pure-play medical device makers in the world, and it's planning on get considerably bigger. The firm is in the process of acquiring Covidien (COV) for more than $46 billion in a deal that's expected to close next summer (shareholders vote early next month).
As with AT&T, the pending merger is a big factor in the high short interest in Medtronic right now. But ultimately, it doesn't matter why the short trade is crowded, only that it is crowded. Keep an eye out for the event risk surrounding the Covidien deal as a potential short squeeze catalyst in MDT.
AutoZone
Auto parts retailer AutoZone (AZO) - Get Report is another stock that's had a stellar run in 2014 despite huge short bets on shares: AZO has moved more than 25% higher since the start of January. There are some major tailwinds that have helped to spur shares higher this year. For instance, the average car age is currently 11.4 years old in the U.S., older than it's ever been before. As consumers try to extend the lifespans of older cars, demand for parts has skyrocketed at AutoZone's nearly 5,000 U.S. stores.
That exposure to the U.S. aftermarket parts market extends beyond do-it-yourselfers. AutoZone has built commercial centers in 3,800 of its retail locations, offering part delivery to garages and dealers around the country. The increased stocking of private label brands at AutoZone stores has been a major contributor to margin growth in recent years. Currently, AutoZone's margins sit above 10%.
But AZO hasn't limited its exposure to the U.S. The firm now has approximately 400 stores throughout Mexico, as well as a small presence growing in Brazil with five locations. Both of those markets have large vehicle fleets that are older on average than those in the U.S., so as AZO's ex-U.S. business scales up, it should begin to materially contribute to the larger firm.
Right now, shorts are piled into AutoZone, giving the retailer a short interest ratio of 10.55.
Sprint
AT&T isn't the only mobile phone carrier on short sellers' list right now. Another is Sprint (S) - Get Report , the No. 3 cellular carrier in the U.S. Sprint currently has 45 million subscribers on its network, plus approximately 10 million more on MVNO partners who use the Sprint network to serve calls. Sprint also owns wireless broadband provider Clearwire, which has integrated its CLEAR service offerings under the Sprint brand.
Sprint may be the No. 3 carrier in the country, but it's a very distant third. That positioning means that it doesn't get the economies of scale that its biggest rivals do by spreading infrastructure costs across a much bigger pool of subscribers. That said, Sprint has some incredibly valuable assets, and a big investment from Japan's Softbank means that the firm has capital in place to make the best use of its spectrum.
As cellular service becomes increasingly commoditized, Sprint benefits. That's because it's found some success in using innovative marketing to attract non-traditional subscribers. If Sprint can use lower costs to lure lucrative post-paid customers too, then it should be in a position to capitalize on a deep value price tag.
Short sellers have been right about Sprint for most of 2014, but with a short interest ratio of 15.22, it would take more than three weeks of buying for shorts to exit their bets against this stock. That makes it a prime short squeeze candidate, even if it's one you should own a smaller piece of.
CarMax
CarMax (KMX) - Get Report has built a huge business by taking the used-car experience out of buying used cars. The firm sells cars through a network of 140 sprawling sales locations. Today, used sales make up approximately 80% of revenues (the firm has a small presence in new cars, but they only contribute 2% of sales). The balance comes from wholesale vehicle sales, service plans, and repairs.
Like AutoZone, CarMax is enjoying some big tailwinds as an aging nationwide car fleet either needs repair or replacement. AutoZone's stores offer no-haggle pricing and a reputable guarantee, factors that make consumers more comfortable about buying used. At the same time, KMX collects much fatter margins by sticking in the used space. On a per-unit basis, used cars earn significantly more profit at retail than new ones. With extremely low interest rates and consumers eager to trade up, CarMax sold more than 526,000 cars at retail last year.
The rest of the automotive industry has failed to step into KMX's core market. Used car retail remains incredibly fragmented today, and that's left a big opportunity for CarMax to continue to leverage its reputation to grab share in new markets. While shares aren't exactly cheap here, momentum is on the side of buyers. With a short interest ratio of 14.8, investors should look for earnings on Friday as a potential upside catalyst.
-- Written by Jonas Elmerraji in Baltimore.
Follow Stockpickr on Twitter and become a fan on Facebook.
At the time of publication, author had no positions in the stocks mentioned.
Jonas Elmerraji, CMT, is a senior market analyst at Agora Financial in Baltimore and a contributor to TheStreet. Before that, he managed a portfolio of stocks for an investment advisory that returned 15% in 2008. He has been featured in Forbes , Investor's Business Daily, and on CNBC.com. Jonas holds a degree in financial economics from UMBC and the Chartered Market Technician designation.
Follow Jonas on Twitter @JonasElmerraji
Jonas Elmerraji, CMT, is a senior market analyst at Agora Financial in Baltimore and a contributor to
TheStreet
. Before that, he managed a portfolio of stocks for an investment advisory returned 15% in 2008. He has been featured in
Forbes
,
Investor's Business Daily
and on
CNBC.com
. Jonas holds a degree in financial economics from UMBC and the Chartered Market Technician designation. Follow Jonas on Twitter @JonasElmerraji.