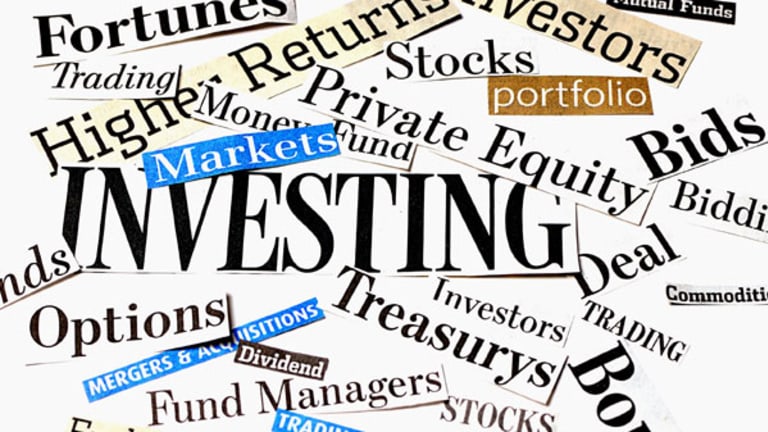 Publish date:
5 Fast-Growing Mid-Caps for a Rebounding Economy
A rebounding economy can be quite favorable for mid-cap stocks.
A rebounding economy can be quite favorable for mid-cap stocks.
NEW YORK (Stockpickr) -- When the U.S. economy has slipped into recession, the subsequent snapback is usually quite robust. Pent-up demand is unleashed, and it's not unusual to see the economy grow at a 3% or 4% pace after the recession ends.
Not this time. The U.S. economy seems to have never quite recovered from the recession of 2008 and 2009 and at times has even threatened to tip back into recession. The next few quarters should bring more of the same. Struggles in Europe and Asia, along with policy questions relating to the "fiscal cliff" here at home could leave economists singing the winter blues.
>>5 Stocks Ready for a Dividend Boost in 2012
But signs of a longer-term thaw are already occurring. Recent consumer surveys have shown a bit more optimism, leading retailers to hope that this coming holiday season will being some cheer. And the housing sector, which has an impact on many other sectors of the economy, appears to be in the early stages of a long-awaited upturn. That's why we may finally be on a path toward robust expansion as we get closer to the middle of the decade.
A rebounding economy can be quite favorable for mid-cap stocks. These firms are more stable and solid than smaller-capitalization companies, yet are more nimble than the nation's biggest companies. Of equal importance, these firms tend to have more a domestic exposure in their sales mix than the globally-focused large caps. No small consideration when the rest of the world is wobbling.
>>Dow 55,000? It's Closer Than You Think
Here are
with solid long-term track records and rising forward sales projections.  
B/E Aerospace
After thousands of takeoffs and landings, airplanes get tired. Their interiors become dingy, their seats get stained, and their food preparation equipment can no longer heat the food and brew the coffee like when new. That's where
B/E Aerospace
(BEAV)
comes in. This company, the largest refurbisher of airplane interiors in the world, has contracts with more than a dozen leading airlines.
>>5 Stocks Hedge Funds Love -- and So Should You
In recent years, B/E Aero has made a few acquisitions that broadened its product offering, and airlines are starting to work more closely with the company to configure the interiors of newly-built planes. An expanding number of products for sale to airliners and a deeper roster of clients has enabled B/E Aero to boost sales at least 25% in four of the past six years. And analysts expect sales to grow another 22% in 2012 to around $3 billion.
Though growth is expected to slow into the teens next year, the long-term picture remains quite bright as all those planes in the sky will need to be freshened up in coming years.
Cree
If Thomas Edison were alive today, he would marvel at
Cree's
(CREE) - Get Report
products. Cree makes light-emitting diodes that consumer little energy and can last for decades. Edison's incandescent bulbs simply can't compete. At least that's the conclusion drawn up by a number of large companies and even some countries. China, for example, is making a big push to install LEDs -- often using Cree's products -- in a bid to cut power demand from lighting.
Cree spends more than $100 million every year on R&D to maintain its technology leadership in this industry. In recent months, the company has rolled out a series of new lighting products that are alradt capturing buzz in architect's offices.
>>3 Tech Stocks Hedge Funds Are Buying
Cree's sales have risen from $400 million in fiscal (July) 2007 to more than $1.1 billion in fiscal 2011. The still-slow global economy is only a speed bump for this company as sales are expected to grow at a mid-teens pace in both fiscal 2013 and fiscal 2014.
Concerned that growth will slow soon thereafter? Know that LED lighting still accounts for less than 5% of the global lighting market, implying room for ample growth before this market matures.
Cree was also featured recently in "
5 Stocks Set to Soar on Earnings
."
Panera Bread
In the "fast casual" dining space, investors have been in a frenzy over the impressive growth posted by
Chipotle Mexican Grill
(CMG) - Get Report
. But they may have overlooked
Panera Bread
(PNRA)
, the steady-as-she goes provider of sandwiches, baked goods and coffee (and free wi-fi I might add). Panera has boosted sales at least 14% in eight of the past nine years, and analysts anticipate more of the same for 2013 and 2013.
Clearly, there are profits to be made by offering menu items at price points a bit higher than fast food. For example, burger chain
Wendy's
(WEN) - Get Report
typically generates 25% gross margins and 5% operating margins. In that light, Panera's 60% gross margins and 12% operating margins are a lot more impressive.
Skyworks Solutions
Landing
Apple
(AAPL) - Get Report
as a big customer for its various computer chips has been a huge boon to
Skyworks Solutions
(SWKS) - Get Report
, which offers a range of semiconductors such as amplifiers, attenuators, circulators, detectors, diodes, directional couplers, front-end modules, hybrids, infrastructure RF subsystems, isolators, mixers/demodulators, phase shifters, and many more. Apple presumably chose Skyworks because the company could provide so many components for the company's popular iPads and iPhones.
>>4 Chip Stocks Apple Fans Should Love
The Apple relationship helps explain why Skyworks was able to boost sales 33% in both fiscal (September) 2010 and again in fiscal 2011. Sales are likely to grow at a more modest low-teens clip in the fiscal year that just ended (2012) as well as the one that just began in early October. Management is looking to expand the customer base so sales growth can continue, even if Apple loses its mojo.
Meanwhile, shares trade for a quite reasonable 10 times projected fiscal 2013 profit forecasts.
Oceaneering International
Oceaneering International
(OII) - Get Report
cut its teeth as a supplier to the U.S. Navy, building entire sub-systems that would go into newly built submarines and aircraft carriers. The company had just $640 million in sales back in 2003 but finished 2011 with more than $42 billion in sales.
With military budgets unlikely to keep rising in future years, Oceaneering has wisely been diversifying into the energy industry, helping oil exploration firms build and operate massive offshore rigs that can drill deep below the ocean floor. Massive new oil discoveries off the coast of West Africa and Brazil should ensure solid demand for the company's products and services for the foreseeable future.
In the near-term, analysts see sales rising 24% this year to around $2.7 billion, on its way to a projected $3.1 billion in sales next year.
To see these stock in action, check out the
portfolio on Stockpickr.
RELATED LINKS:
>>4 Stocks Under $10 Showing Strength in a Weak Market
>>5 Stocks Set to Soar on Bullish Earnings
>>5 Rocket Stocks Ready to Rally
Follow Stockpickr on
and become a fan on
Facebook.
Stockpickr is a wholly owned subsidiary of TheStreet.com.